Brock Lesnar Walks out of 'Smackdown' After Vince McMahon's Sudden Retirement
Brock Lesnar stormed out of the building after WWE CEO Vince McMahon announced his retirement but eventually returned to close the show.
After weeks of damning reports and speculation, WWE CEO Vince McMahon suddenly announced his retirement on Friday, July 22. There was a wide range of reactions to the news from around the WWE universe and the world. One WWE superstar, Brock Lesnar, who is scheduled to headline SummerSlam in a week, reacted poorly, walking out of Friday Night Smackdown. 
Brock Lesnar walked out of 'Smackdown' but returned to close the show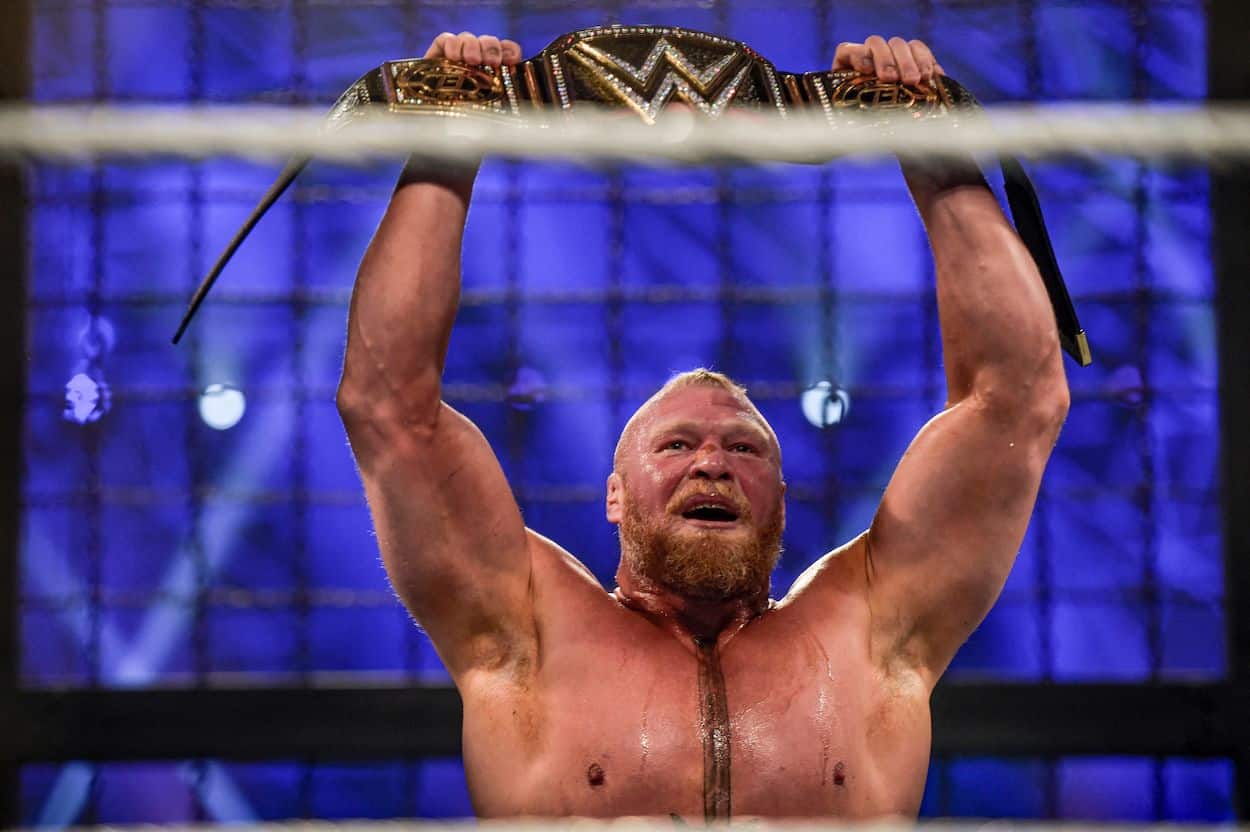 At 4:05 p.m. EST on Friday — just four hours before Friday Night Smackdown kicked off on Fox — Longtime WWE CEO Vince McMahon announced his retirement.
In a short tweet, McMahon wrote, "At 77, time for me to retire. Thank you, WWE Universe. Then. Now. Forever. Together. #WWE #thankful."
Shortly after the bombshell tweet, WWE superstar Brock Lesnar reportedly stormed out of the building ahead of the Friday night wrestling show. According to pro wrestling insider Dave Metzler in Wrestling Observer, writers re-wrote the final segment of the show that Lesnar was scheduled to appear in.
However, "The company felt it was imperative to get him back. They did not want it to look like things were not in control on the first day Vince was gone." So, the new powers that be — likely involving new co-CEOs Stephanie McMahon and Nick Khan as well as Executive Vice President of Talent Relations Paul Levesque (aka Triple H) — got Lesnar to return to TD Garden in Boston.
Lesnar returned to the arena around 8:30, a half-hour after the show started. And with just minutes left to go in the program, Lesnar made a dramatic entrance and issued a beatdown to Money in the Bank briefcase-holder Theory.
The confrontation keeps the SummerSlam storyline on track and makes it seem as though things are OK with Lesnar for now.
SummerSlam 2022 will take place at Nissan Stadium in Nashville, Tennessee, on Saturday, July 30. The main event is between Undisputed WWE Universal Champion Roman Reigns vs. Brock Lesnar in a "Last Man Standing" match.
As Mr. Money in the Bank, Theory could figure in as well. As the briefcase holder, he gets a title shot whenever he cashes in the contract inside the case. The end of a "Last Man Standing" match could be a smart time to do so.
Like Sportscasting on Facebook and subscribe to our YouTube channel.