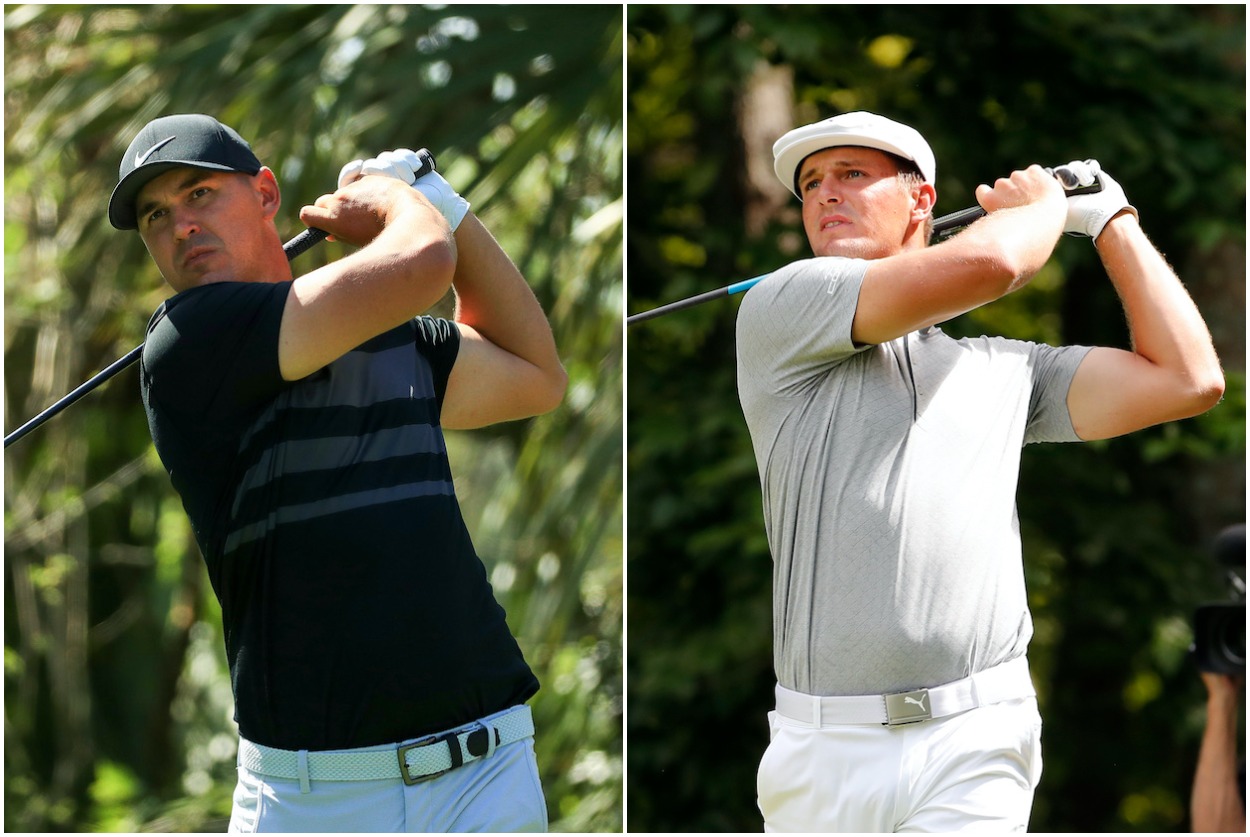 The Brooks Koepka-Bryson DeChambeau Feud Just Took Another Dramatic Turn Ahead of the U.S. Open
Brooks Koepka and Bryson DeChambeau have captivated the golf world with their feud, and the USGA may have stoked the fire ahead of the U.S. Open
Brooks Koepka and Bryson DeChambeau have been the talk of the golf world over the past few weeks. Not because of anything they've accomplished on the course, but because of their bubbling feud that has captivated the PGA Tour.
It all started at the PGA Championship last month when a video surfaced of Koepka looking visibly annoyed as DeChambeau trotted behind him during an interview. The two have since taken their beef online, and now the rivalry has taken another dramatic turn ahead of the 121st U.S. Open at Torrey Pines this weekend.
Brooks Koepka and Bryson DeChambeau have major beef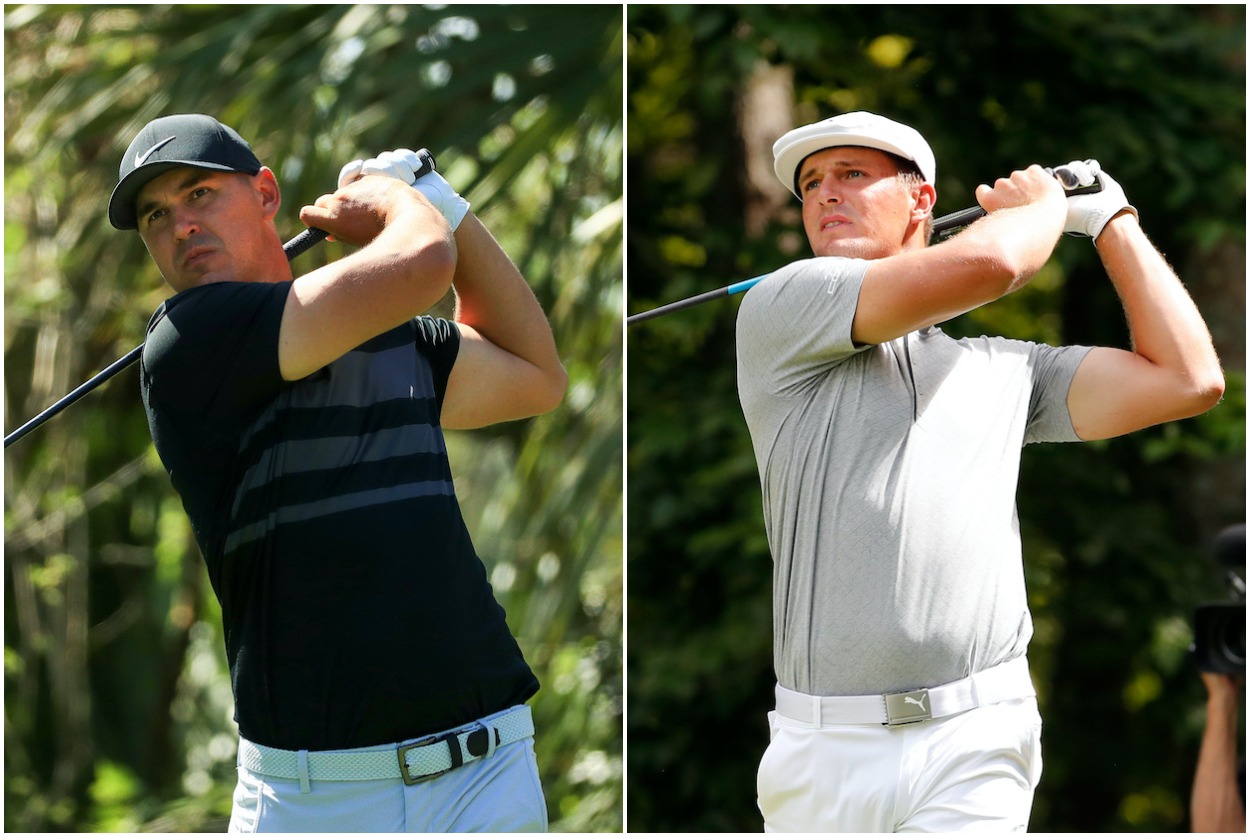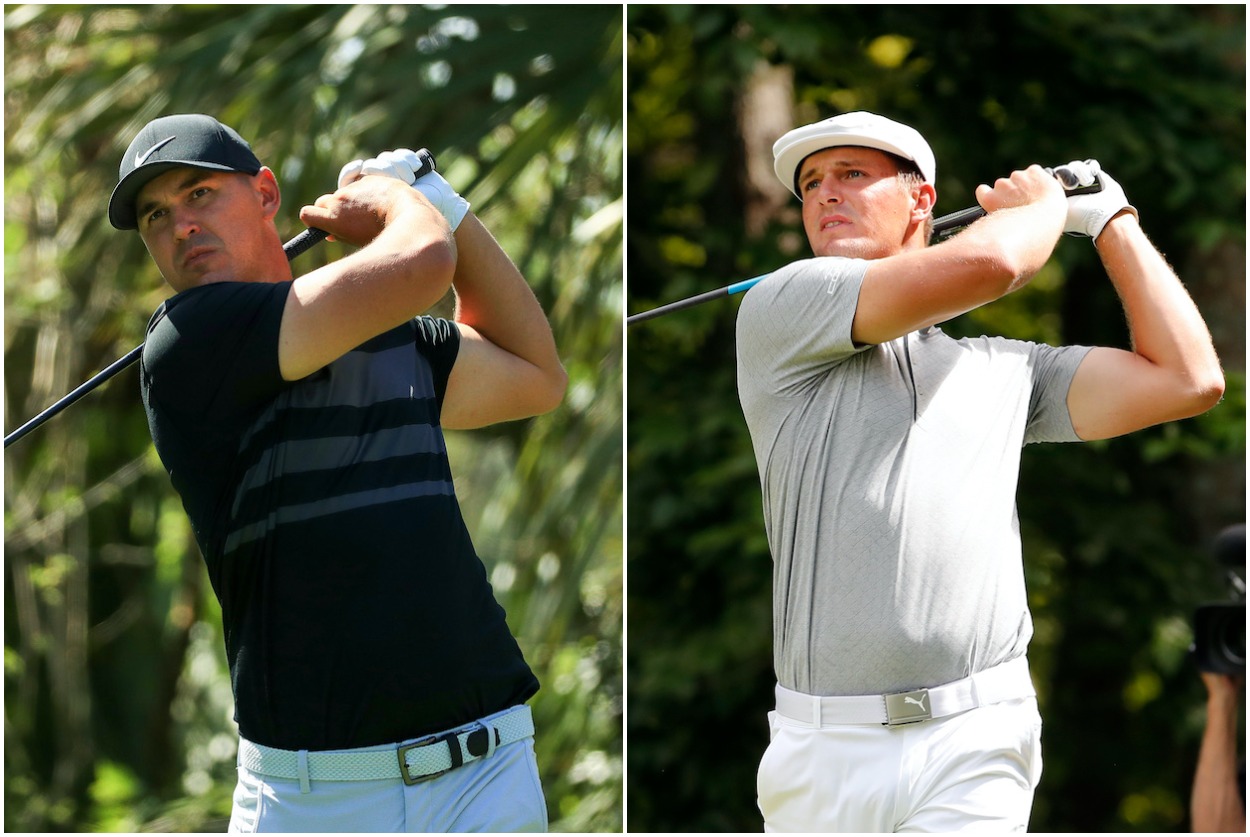 After Phil Mickelson won the 2021 PGA Championship last month to become the oldest major championship winner in PGA Tour history, the full spotlight should've been on Lefty and Lefty only. But it wasn't. Instead, all golf fans could talk about was Koepka's bizarre post-round interview in which he scoffed at DeChambeau as he walked by.
The viral video was quickly scrubbed from the internet by the PGA Tour, but the memes will still last forever.
A few days later, Koepka and DeChambeau took their spat to Twitter, as most do nowadays. Koepka originally tweeted, "Sorry bro" to Aaron Rodgers after it was announced that the Green Bay Packers QB would be DeChambeau's partner in an upcoming golf match against Mickelson and Tom Brady. DeChambeau replied to the tweet with a dig at the four-time major winner.
"It's nice to be living rent free in your head!" he wrote.
Koepka then replied back with a video of DeChambeau getting angry at fans for calling him "Brooksy" at the PGA Championship. Expert-level trolling all around.
Some fans and media pundits surely believe the back and forth is childish and distracting to the game of golf, but Koepka couldn't disagree more.
"I think it's good for the game. I really do," he said from the Palmetto Championship at Congaree last weekend, per ESPN. "The fact that golf's on pretty much every news outlet for about two weeks pretty consistently, I think that's a good thing. It's growing the game."
Koepka-DeChambeau feud just took another dramatic turn
As Koepka and DeChambeau have been trading jabs online, fans have been petitioning the USGA to pair the two bombers together in the upcoming U.S. Open at Torrey Pines. I mean, who wouldn't want to see that?
Well, it turns out the USGA was reportedly open to the idea, according to Brad Faxon. The eight-time PGA Tour winner and current golf analyst for Fox Sports appeared on SiriusXM PGA Tour Radio Tuesday and said the USGA asked DeChambeau for permission to pair him with his bitter rival.
"I found out last night that the USGA actually did call Bryson DeChambeau and his agent to ask if they would be OK with that, and Bryson declined," Faxon said.
Who's living rent free in whose head now, Bryson?
But hold on just a minute.
Almost immediately after the snippet went viral online, DeChambeau's agent, Brett Falkoff, vehemently denied the report.
"The USGA did not reach out to Bryson regarding a potential pairing the first two rounds with Brooks Koepka," Falkoff said in a statement to Golfweek. "Bryson is fully focused on defending the U.S. Open at Torrey Pines this week."
Oh, man! Looks like we've got a classic he said, she said on our hands. This would be a tough look for DeChambeau if proven to be true. But true or not, the USGA ultimately decided not to pair him with Koepka this weekend.
U.S. Open provides a golden opportunity to get a leg up in the rivalry
Koepka and DeChambeau won't be playing together for the first two days of the U.S. Open this weekend, but there's still a chance the two will be paired up for a weekend round at Torrey Pines.
Just imagine it. Koepka and DeChambeau both stalk the top of the leaderboard all week. They both fire blistering rounds on Saturday to tie for the lead, setting up a dream final pairing and an epic Sunday duel. You can't write a better finish for the 2021 U.S. Open.
Even if the two rivals don't end up playing together this weekend, all eyes will be on the leaderboard to see which name finishes in front of the other. Either Koepka or DeChambeau will take a decisive lead in their feud depending on who records a better finish at Torrey Pines.
The time for talking (and tweeting) is over. Let's take this thing to the course, baby.