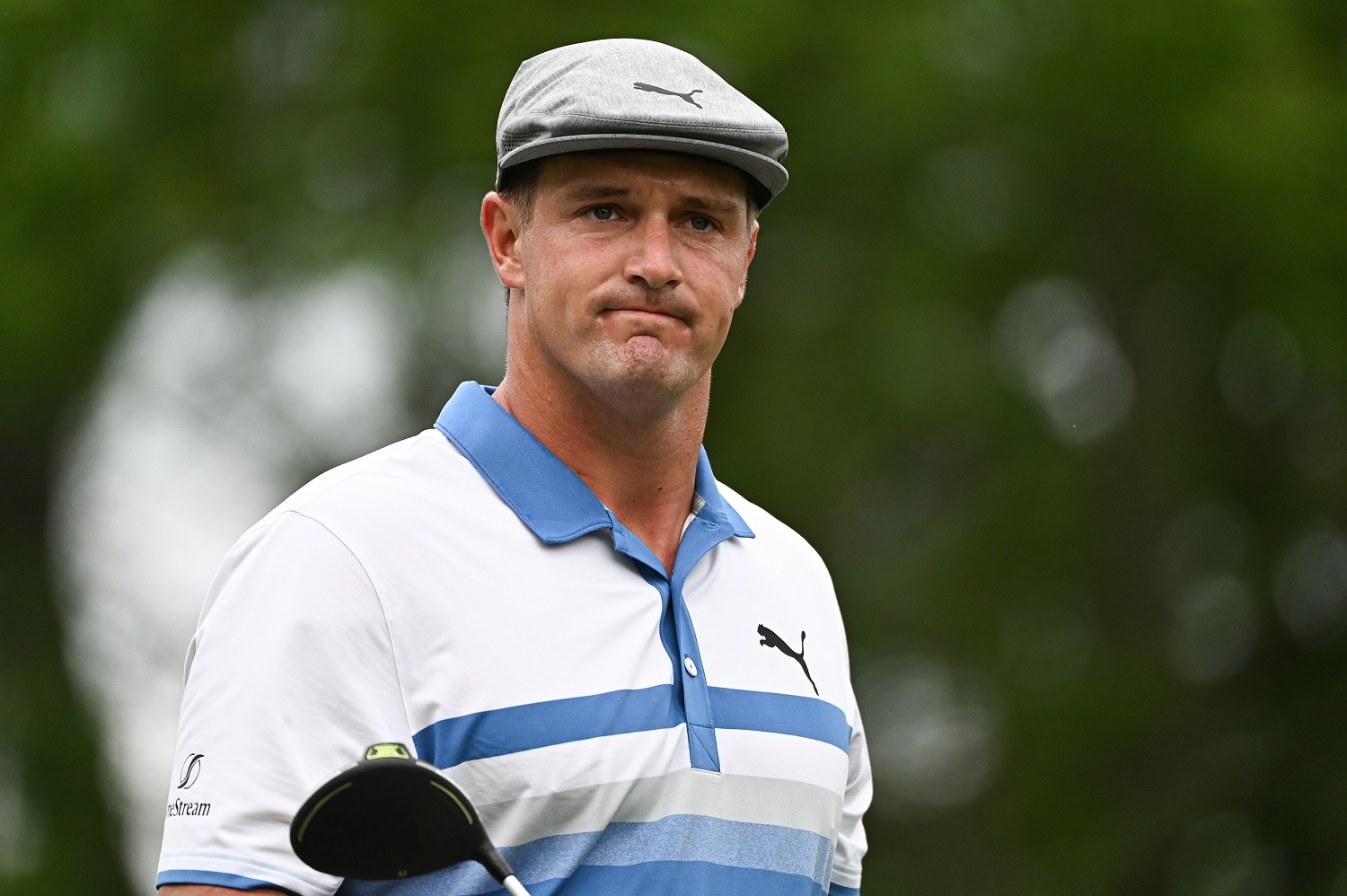 Brooks Koepka Trolling Bryson DeChambeau Makes Golf Worth Watching Even When It's Not 1 of the 4 Majors
Bryson DeChambeau has become the subject of 'Brooksy' taunts by fans of rival PGA Tour pro Brooks Koepka.
Remember when the PGA Tour announced it was awarding $40 million to golfers this year based on their combined FedEx Cup ranking and social media presence? Well, Brooks Koepka is threatening to pocket the whole $40 million, after which he may send a couple of cases of beer to Bryson DeChambeau.
The animosity between the two appears genuine. They ratcheted it up another notch this weekend as fan participation escalated beyond those shouts of "You da man!" For a while, anyway, golf is worth watching even if it isn't a major tournament.
Brooks Koepka and Bryson DeChambeau are feuding
Koepka took the week off and apparently is home in Jupiter, Florida. But that doesn't mean he isn't living rent-free in DeChambeau's head a thousand miles away in Dublin, Ohio.
DeChambeau is competing in the Memorial Tournament, which is Jack Nicklaus' annual stop on the PGA Tour. Jon Rahm playing some masterful golf should have been the story through 36 holes. Instead, all that people could talk about was DeChambeau struggling to break par while tormented by Koepka fans calling him "Brooksy."
It's the latest escalation of bickering that began with Kopeka complaining about slow play, DeChambeau mocking his rival's physique, and Kopeka bragging about having won way more majors. Casual fans unaware of the animosity loved watching Koepka flub an interview at the PGA Championship DeChambeau distracted him by walking past.
Koepka has intertwined 'Brooksy' and beer
A video clip on social media showed DeChambeau taking umbrage at a fan calling him "Brooksy" at the PGA Championship last month. Knowing that the comment's effect, more fans started in on him with the same taunt this week, and it resulted in security removing them from the gallery.
Whether the crackdown originated with a request from DeChambeau or tournament officials is irrelevant. What matters is that it blew up into a huge story that overshadowed the rain-delayed tournament on Friday.
Watching from afar, a delighted Koepka dropped a video onto social media. You knew it would be dynamite as soon as Koepka opened with, "What's up guys? It's Brooksy!" Vaguely referencing the taunting, he announced a deal for free cases of beer for fans whose time was "cut short" at the Memorial.
Boom! The clip reached 1 million views on Twitter in just over 20 hours, practically guaranteeing further fan shenanigans throughout the weekend. Some casual golf fans exhausted by the pandemic lockdowns undoubtedly said, "Aw, screw it. I can handle being indoors one more weekend. I think I'll watch some golf on TV and see if DeChambeau loses his mind."
Koepka vs. DeChambeau is both funny and worrisome
As rivalries go, Koepka vs. DeChambeau isn't Nicklaus vs. Palmer or even Tiger vs. Phil, for that matter. But it does bring eyeballs to a sport that launched the $40 million "Player Impact Program," in which connecting with fans is a crucial piece of determining who collects the cash.
Fans chirping "Brooksy" is relatively harmless – until it leans to boorish behavior from the gallery while someone is standing over a 15-foot putt on the 72nd with huge money on the line.
If PGA Commissioner Jay Monahan can't broker a truce between DeChambeau and Kopeka that takes the fan behavior out of the equation, then Steve Stricker should sue for peace.
Stricker is the captain of the U.S. Ryder Cup team, and the two golfers are all but certain to earn spots in the competition. He doesn't have to pair them in the first two days of competition, but he does need them to co-exist at team functions that week. Sending them to their rooms without supper if they can't get along isn't an option, and they're sure not going to work out their issues over a beer by themselves the week of the Ryder Cup.
Like Sportscasting on Facebook. Follow us on Twitter @sportscasting19.