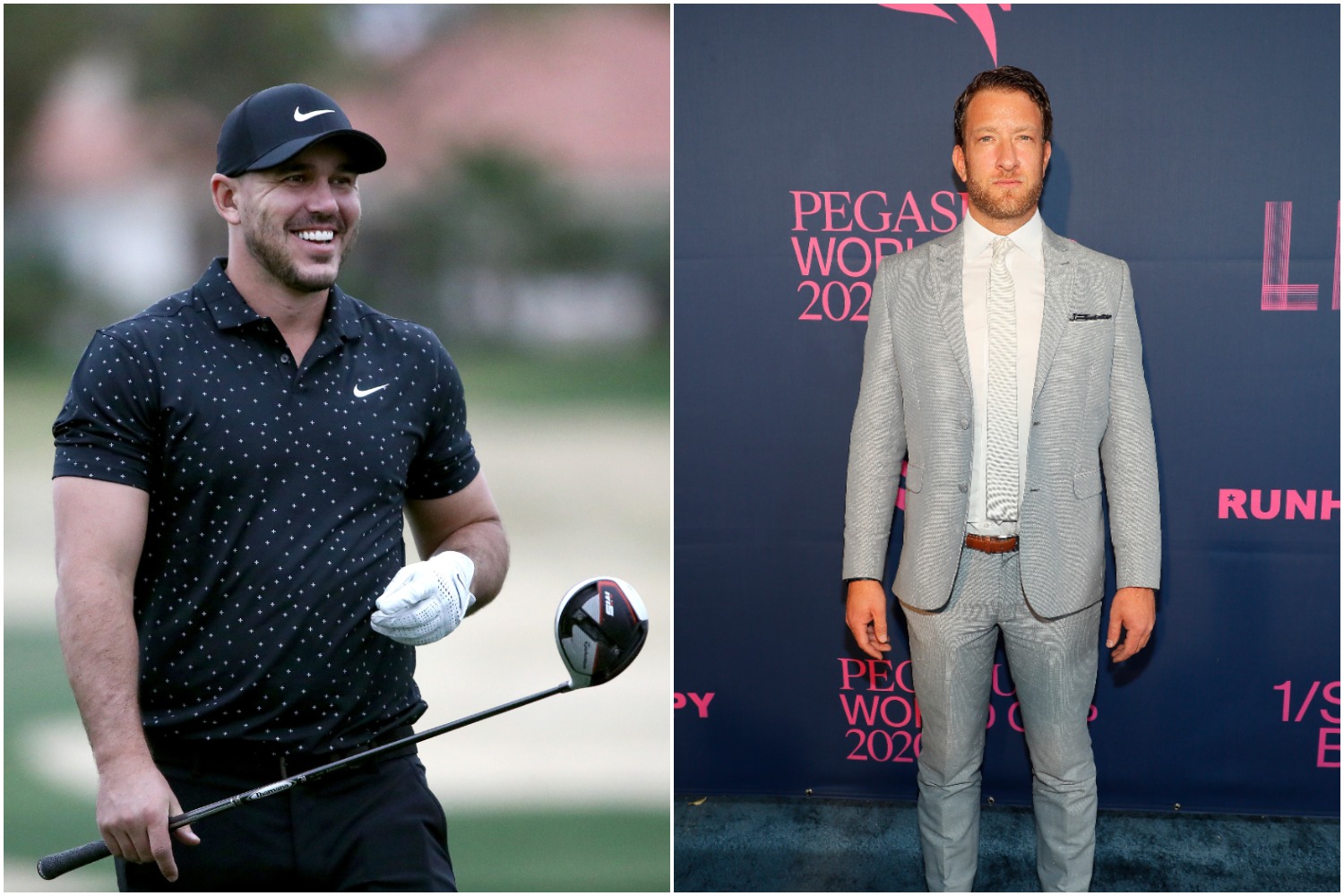 Brooks Koepka Just Stuffed His Own Wallet by Putting $250,000 on the Line for Charity Against Barstool Sports' Dave Portnoy
Brooks Koepka can turn his charity event with Dave Portnoy into a lucrative payday thanks to the PGA Tour's new Player Impact Program.
Brooks Koepka has made a lucrative living by becoming one of the top golfers in the world. And although his recent trip to Augusta didn't end in glory, he has a chance to get back on track when he takes on Barstool Sports founder Dave Portnoy in a unique golf challenge.
The ironic part? By putting $250,000 on the line for charity, Koepka just stuffed his own wallet in the process.
Brooks Koepka will battle the founder of Barstool Sports for a good cause
Coming off a disappointing Masters performance, Brooks Koepka has extra motivation to show he still has what it takes to win. His next opponent, however, doesn't get paid to play golf professionally.
What started as an entertaining Twitter exchange between Koepka and Dave Portnoy turned into an official challenge. After the pro golfer said a pair of autographed pictures would be worth more with his name on it, Portnoy fired back by saying, "Buddy I beat you by like 20 strokes."
Koepka then claimed he could beat him by shooting left-handed. To little surprise, Portnoy gladly welcomed a bit of competition. Only he needed to know when, where, and how much money will be on the line.
Koepka quickly answered that last question by pledging to donate $250,000 to the Brooks Koepka Charity Foundation or The Barstool Fund—an organization Portnoy started to help provide COVID-19 relief to small businesses—if he loses.
The date and location remain a mystery. But the event should generate substantial buzz given the star power involved. And that has big ramifications for Koepka's bank account.
Koepka just stuffed his wallet by putting $250,000 on the line against Dave Portnoy
It pays to be popular. At least, that's how it goes in the golf world. So for Brooks Koepka, taking on a high-profile figure like Dave Portnoy in a charity event will not only increase his own visibility but also his checking account balance.
The PGA Tour recently unveiled the Player Impact Program—a bonus system designed to reward the sport's top stars. Recognizable names like Tiger Woods and Rickie Fowler can cash in on their popularity without even needing to worry about their personal performance.
As reported by Golfweek, a pool of $40 million will get distributed at the end of the year among 10 players. The most valuable golfer will collect $8 million.
Koepka seems unlikely to finish in first. But a simulated scoring determined he would have been a top-five finisher in 2019. His lefty charity challenge should make for an exciting event and draw plenty of eyeballs.
And with Portnoy bringing his larger-than-life personality (and golf skills) to the mix, the event should certainly provide plenty of entertainment value. An increase in popularity, brand exposure, and Q rating should help Koepka land a nice chunk of change from that $40 million pool.
Dave Portnoy holds a sizable lead over Brooks Koepka in a net worth battle
Even if Brooks Koepka snags a few million dollars from the PGA Tour's new bonus program, he still won't come close to matching Dave Portnoy's net worth. In fact, the gap is much bigger than you'd probably expect.
According to PGA Tour records, Koepka has amassed $34.3 million in career earnings. He has made just north of $2.8 million this season. Factoring in his endorsement deals, the Florida native has an estimated net worth of $18 million.
Not too bad, right?
Well, when you stack up Koepka's net worth next to that of his future opponent, that $18 million figure looks awfully small.
The man who goes by "El Presidente" or "Stool Presidente" possesses far more spending power than his skilled adversary. The most recent estimate pegs Portnoy's net worth at a cool $120 million.
In other words—he doesn't need to worry about winning a popularity contest to line his pockets even further.
All net worth data courtesy of Celebrity Net Worth.