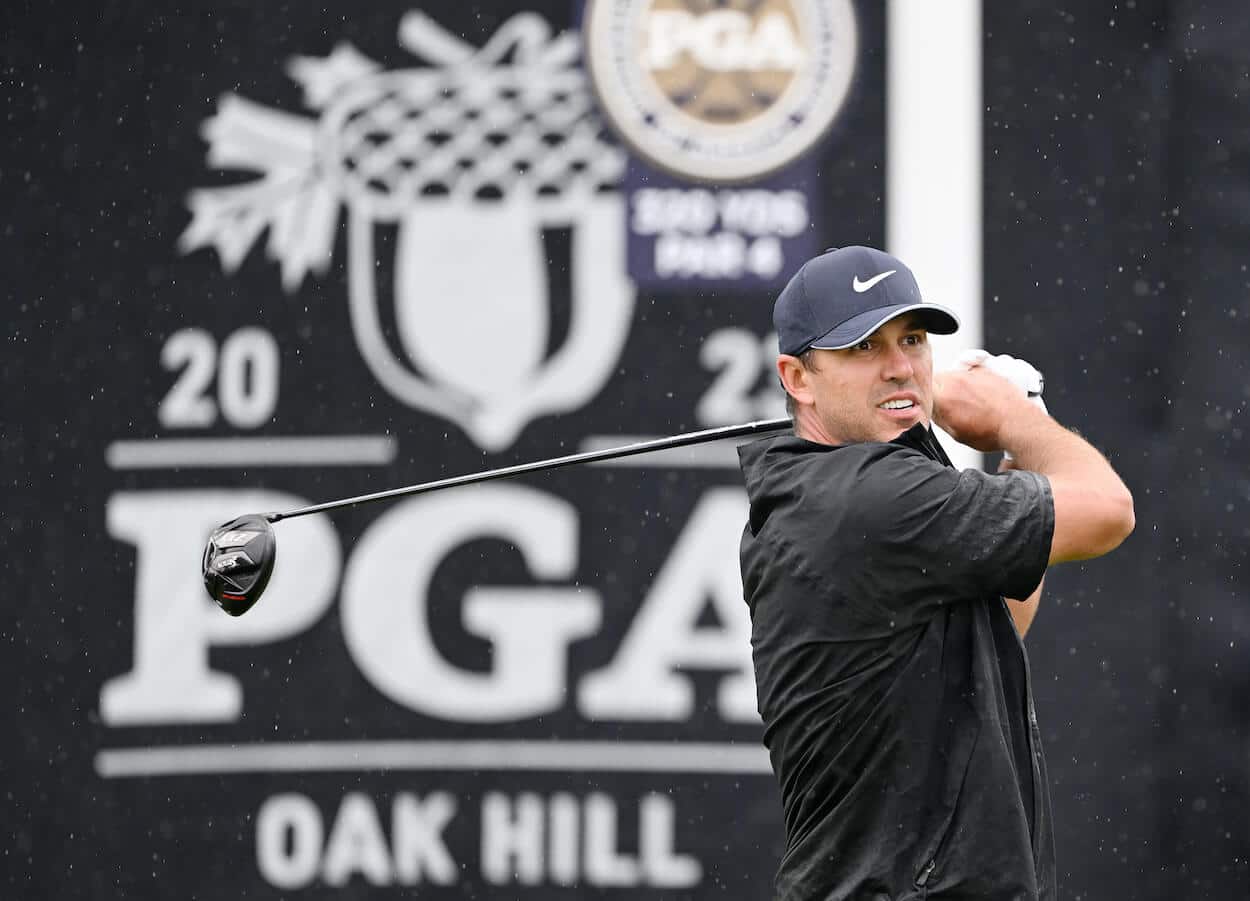 Brooks Koepka 'Choked' Away the Masters, Promises Not to Make the Same Mistake at the PGA Championship
Brooks Koepka is confident he will close out the PGA Championship after choking away the first major of the year.
Brooks Koepka is a stone cold killer in major championships. The big-hitting American has won four majors and totaled 17 top-10 finishes in 32 starts since 2014. Before the 2023 season, Koepka was 3-for-3 converting 54-hole leads into wins at majors.
That changed when he self-admittedly "choked" away a two-shot advantage heading into the final round of the Masters, shooting a 3-over 75 on Sunday to let Jon Rahm clip him by three strokes in the end.
Koepka knows what he did wrong at Augusta National Golf Club one month ago, and although he won't tell us what that is, he vows not to make the same mistake at the PGA Championship.
Brooks Koepka admits he "choked" away the 2023 Masters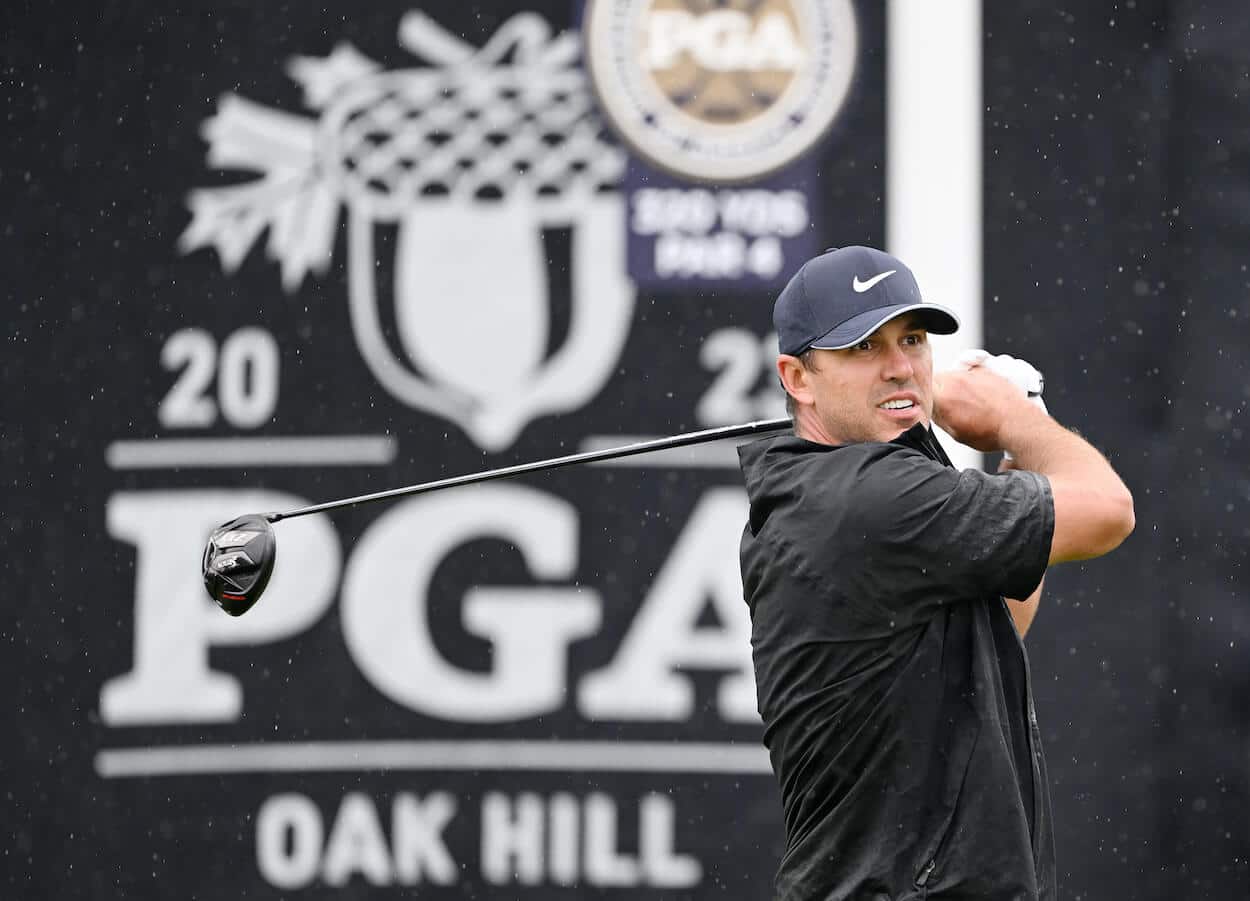 Before thunderstorms interrupted the third round of the 2023 Masters, Brooks Koepka was cruising along with a four-shot advantage he didn't plan on surrendering. The 33-year-old has made a habit of converting major leads in his career, and this looked no different.
But after the rain delay, Jon Rahm cut Koepka's four-stroke lead in half with one putt. Koepka was still in control after 54 holes with a two-shot lead, but a final-round 75 allowed Rahm to catch him and win his first green jacket. It marked the first time in four tries that Koepka blew a 54-hole lead in a major championship.
Ahead of the PGA Championship, Koepka joined Barstool Sports' Pardon My Take podcast and reluctantly admitted he choked away a golden opportunity to win his fifth major.
"Yeah, I'd characterize that as a choke," Koepka said. "It was pretty bad. I mean, c'mon, you've got a four-shot lead. All you've got to do — I was playing good and just choked it away. But it's all right. We'll figure it out."
And figure it out he has, as Koepka kicked off the PGA Championship with rounds of 72, 66, and 66 to take a one-shot lead into the final round. Now comes the hard part.
Brooks Koepka promises not to make the same mistake at the PGA Championship
With the wind whipping and the rain coming down sideways at Oak Hill on Saturday, Koepka fired a 4-under 66 in the third round to set the low score of the day. He'll enter the final round of the PGA Championship with a one-shot lead over Corey Conners and Viktor Hovland.
Koepka doesn't plan on making the same mistake he did a month ago.
"I can't give away all my secrets, but I know what I did. I promise I won't show up like that tomorrow," Koepka told Amanda Renner of CBS after the third round. "I won't have that thought process. It'll be completely different, and we'll see where it puts me. It's kinda irritating. I'll never do it again, but it's just one of those things where if you can do what I'm trying to set out to do, then it's just up to playing good. And I should be alright then."
What was "it" exactly? We're not sure, but Koepka has proven to be a brilliant closer in major championships over the years. He wasn't at Augusta National, but don't expect that to happen again at Oak Hill.