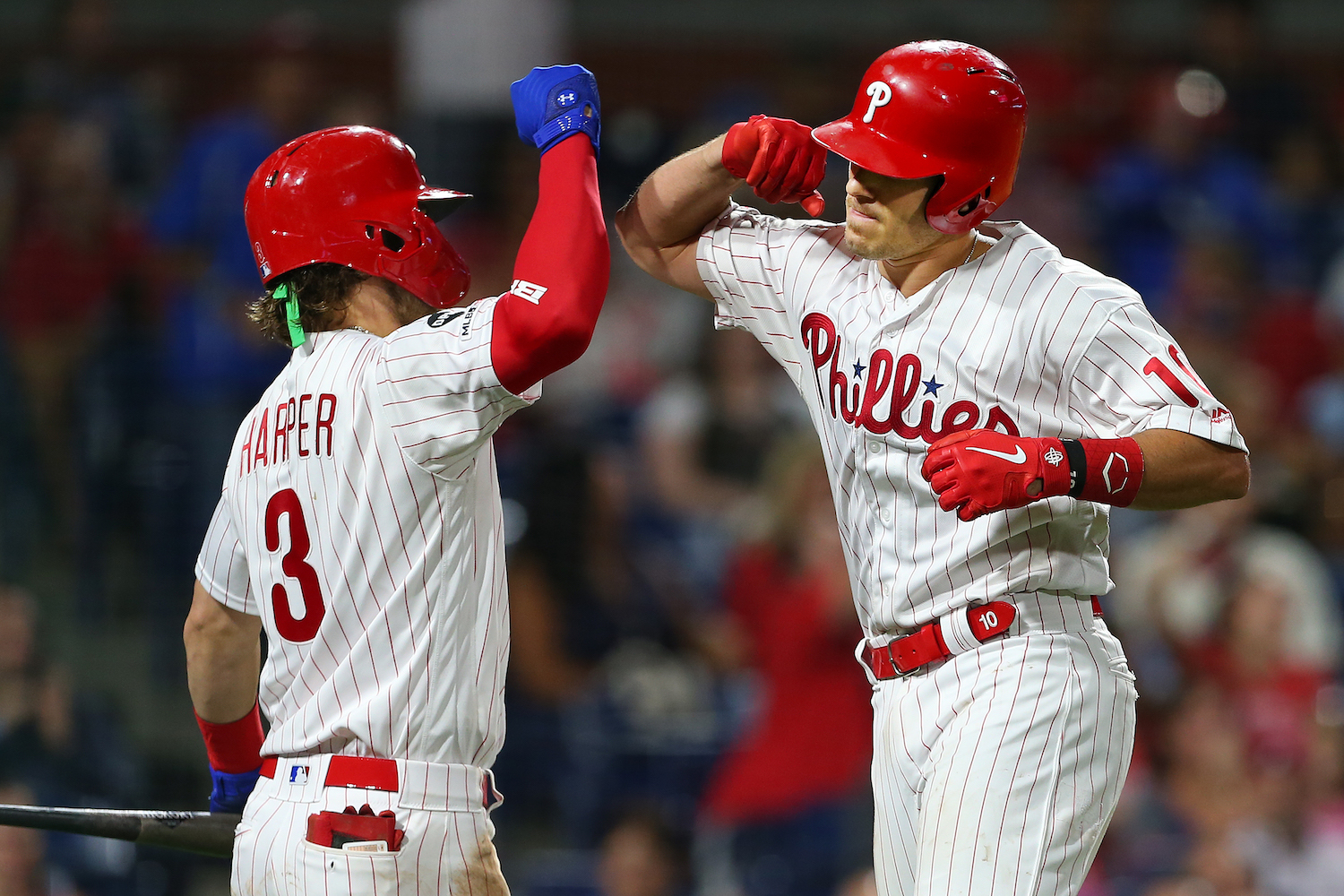 Bryce Harper Sent a Stern Message to the Phillies About His Star Teammate
Bryce Harper signed one of the richest contracts in sports history last year, and now he wants his team to pay his star teammate too.
Bryce Harper made history last year when he signed his 13-year, $330 million contract. It was the largest contract in baseball history until Mike Trout took the top spot with his record contract a month later. Although the money is prolific, Harper wants to win a World Series above all else.
Recently, he's been advocating for the Philadelphia Phillies to hook up J.T. Realmuto with a hefty contract. He even sent a not-so-subtle shot at management regarding the matter.
Bryce Harper signed a 13-year, $330 million with the Phillies last year
When Bryce Harper became a free agent in 2019, the entire baseball world knew he was due for a massive contract. Harper was a superstar ever since he was in high school in Las Vegas, Nev., and some team was going to make him a very rich man.
However, not everyone expected Harper to sign the richest contract in baseball history. That's exactly what he did when he signed with the Phillies for 13 years and $330 million.
In the first year of his record contract, Harper batted .260 with 35 homers and a career-high 114 RBI. He struggled in the first half of the 2019 season, but he was one of the most dominant hitters in the entire MLB down the stretch.
Despite his solid debut in Philadelphia, the Phillies went just 81-81 and missed the playoffs. Harper chose Philly for more than just money. He believes they can win a World Series trophy, but he needs his star teammate there for the long term.
J.T. Realmuto is due for a long-term contract with the Phillies, and Harper agrees
J.T. Realmuto was one of the Phillies' best all-around hitters for the entire 2019 season. He batted .275 with 25 home runs and 83 RBIs. Realmuto always seemed to produce the biggest hit in close games for the Phillies last season.
He was also a steady presence behind the plate on a team devoid of talent at the catcher position. Realmuto played in a career-high 145 games last year and won a Gold Glove in 2019.
Despite his essential role on the team, Realmuto is set to earn just $3.7 million in 2020. The Phillies have been under pressure to sign the All-Star to a long-term deal before he walks next season, and Harper is a clear proponent of keeping Realmuto in Philly.
Harper recently sent a stern message to the Phillies about signing Realmuto
During a team scrimmage earlier this month, J.T. Realmuto crushed an opposite-field home run with Harper on base. When Harper jogged in to touch home plate, he sent a not-so-subtle message to the Phillies' ownership about Realmuto's current contract.
"Sign him!" Harper yelled to the skies as he entered the dugout.
It's clear Harper thinks highly of his star teammate, and he believes Realmuto deserves the long-term contract he received in 2019. Harper doesn't want to lose a crucial piece of the franchise two years after he arrived, so he decided to send management a stern message himself.
Will the Phillies listen to their superstar outfielder?
All stats courtesy of Baseball Reference