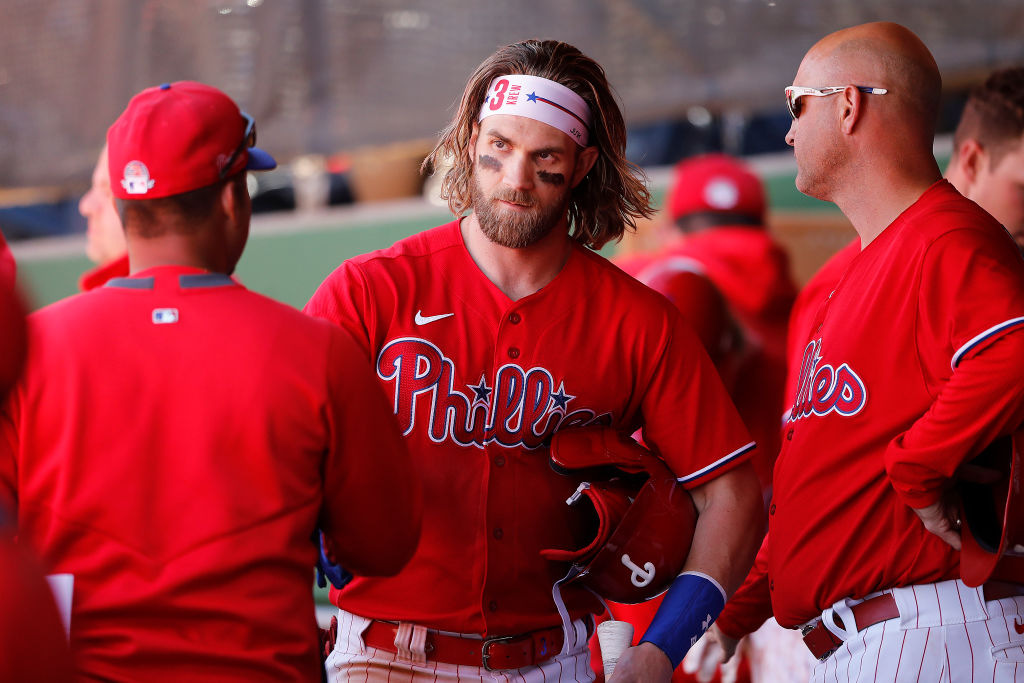 Phillies Slugger Bryce Harper Has a Lead on a New Job If There's No MLB Season
Bryce Harper is brainstorming career options while waiting for a resolution of the dispute between baseball's owners and players.
Hey, what's a guy to do when his company's still waiting to restart in the aftermath of the pandemic and there's no money coming in? If you're Bryce Harper, you start putting feelers out there for other employment options.
Harper's most recent line of work involved using a round bat to hit a round ball squarely over fences in baseball stadiums across the country. Naturally, he's started the job search in fields in which he can continue hitting things.
Bryce Harper wants to play for the Philadelphia Eagles
OK, OK, we get it. It's a joke. We know Philadelphia Phillies slugger Bryce Harper isn't really considering the possibility of playing for the Eagles. We know this because:
Even at 6-foot-3 and 220 pounds, Harper isn't cut out for the brutality of a collision sport. He's only played as many as 140 games in a season in half his eight major-league seasons, and the aches and pains pile up a lot faster in football than baseball.
He's already banked just shy of $87 million in his big-league career, so he's not sitting home at the moment fretting about how he's going to pay the gas and electric bill.
Football has COVID-19 problems of its own.
The Harper-to-the-Eagles schtick started Friday when he appeared on the Instagram show hosted by hulking Eagles lineman Lane Johnson. Naturally, the conversation turned to the standoff between owners and players regarding how to go about starting the 2020 season, with owners wanting players to accept less than 100% of their pro-rated salaries.
Every passing day without an agreement makes it less likely that there will be baseball this summer. There's a real possibility that everyone involved could throw in the towel by the end of the month.
"Man, you know what, if baseball doesn't come back, I'll just go play for the Eagles," Harper joked with Johnson.
Harper knew early on that baseball was his ticket to stardom and big money, but he did dabble in football while attending high school in Las Vegas. He played fullback and linebacker.
"I lined up kind of like Lawrence Taylor on the outside," he said. "I'd rush sometimes and I'd drop back into coverage too." 
Bryce Harper is getting himself established in Philadelphia
Bryce Harper is fitting in nicely in Philadelphia on and off the field. He's given up his allegiance to the Dallas Cowboys, clearing up one potentially awkward situation in a sports-crazy city.
His first season on the diamond with the Phillies was at least marginally successful. While it's true that he missed out on a World Series ring by leaving the Washington Nationals via free agency, he'll have time to make up for it.
Harper, who'll turn 28, this fall, hit .260 with 35 home runs and a career-best 114 RBIs in 2019. If and when baseball resumes, job No. 1 for the 2012 National League Rookie of the Year will be to cut down on strikeouts. He whiffed 178 times last season and fell below 100 walks for just the second time in five years.
The Eagles really do need help right now
On a more serious note, the Philadelphia Eagles suddenly find themselves with a hole to fill in the starting lineup. As big as he is, Bryce Harper is definitely not a candidate to help. In fact, there aren't many football professionals with the necessary qualifications.
Right offensive guard Brandon Brooks tore his left Achilles tendon while doing some routine running during a workout on Monday and has to be presumed lost for the 2020 season.
Brooks, 30, had been rehabilitating a dislocated shoulder that required offseason surgery. That injury happened in the final 2019 regular-season game, causing him to miss the playoff contest against the Seattle Seahawks.
Brooks tore his right Achilles during a 2018 playoff game but made it back in time to start last season, at the end of which he was selected to the Pro Bowl for the third straight season.
Brooks was drafted by the Houston Texans in 2012 and joined the Eagles as a free agent in 2016.
All statistics are from Baseball-Reference.com.