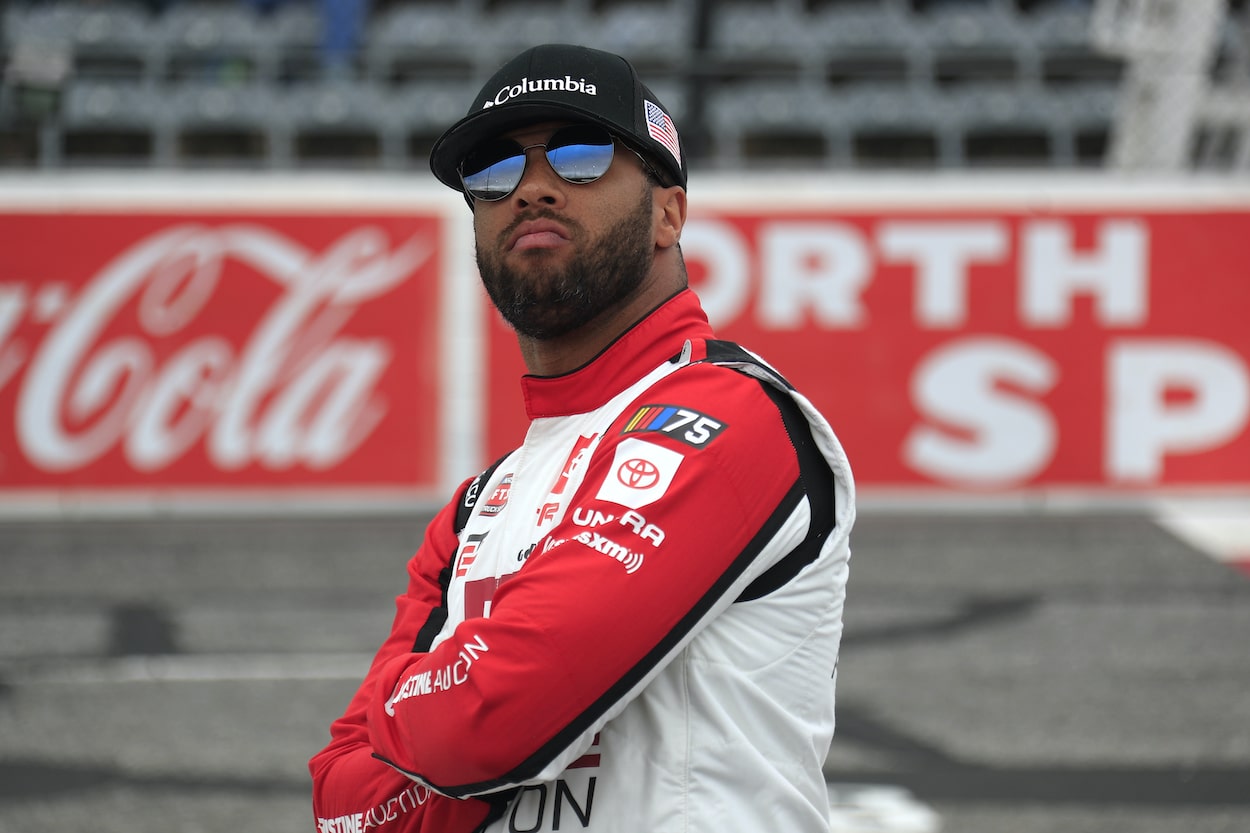 Bubba Wallace Surprisingly Admits Guilt for His Past Remarks and 'Throwing Pit Crew Under Bus'
Bubba Wallace has been harshly critical of his pit crew in the past. This weekend at North Wilkesboro, the 23XI Racing driver admitted he's sometimes been quick to throw the team under the bus for their mistakes.
Bubba Wallace is an emotional guy. The 29-year-old would be the first one to admit it. Sometimes those emotions get the best of him. In the last year, on numerous occasions, the source of those frustrations has been repeated mistakes committed by the pit crew.
This weekend at North Wilkesboro Speedway as part of the All-Star Race festivities, the 23XI Racing driver talked about his pit crew during the Pit Crew Challenge and readily acknowledged that he's been extremely hard on them in the past.  
Bubba Wallace criticized pit crew on multiple occasions in 2022
Looking back on Bubba Wallace and the 2022 NASCAR Cup Series season, you see a definitive moment when the No. 23 team got things going in the right direction. It happened just after the halfway point of the season. 
Before that, there was a litany of mistakes, and a lot of them occurred on pit road. One of the first and most obvious happened early in the year at Circuit of the Americas when the 23XI Racing car met the same fate of numerous other teams in the first year of the Next Gen car and lost a wheel, which resulted in a four-race suspension for crew chief Bootie Barker and two pit crew members.
At Kansas in the spring, the crew committed a couple of infractions, including a member over the wall too soon and a loose tire, forcing Wallace to drive from the back of the field twice en route to earning a 10th-place finish. 
In Nashville, Wallace suffered another loose wheel off of pit road, but this time the problem was compounded when Barker instructed his driver to stop, and Tyler Reddick, who was following right behind, drove into the back of his car.
On that trip around the track, the driver didn't hold back his frustration with the mistakes.
"You mother f******," Wallace said. "Leave me the f*** alone. Don't talk to me the rest of the race."
Wallace addresses pit crew troubles at last year's All-Star Race
During last year's All-Star Race weekend at Texas Motor Speedway, Wallace met with reporters and talked about the issues with his pit crew and admitted a lot of the missteps were due to inexperience.
"They're young. Some of them, it's their first year in Cup," Wallace said. "There's a lot of potential there with our group, and they have to realize that, in the moment, you're going to make mistakes, but you got to forget and move on. 
"No matter who says what or what's thrown at you, you've got to erase the bad and be ready to show up again. You have multiple times where you come down pit road and it's your opportunity to shine and compete every time. I look at that as opportunity. For me, it's an opportunity to showcase what you have."
Admits to throwing pit crew under the bus in past
This year, there's been a noticeable drop-off in mistakes on pit road for Wallace. And the overall results reflect that. Through 13 races, the No. 23 has four top-10 results, including three top-fives. At this same point last year, the team had earned one top 10 and one top five.
Before this year's All-Star Race on the historic track, the driver met with Fox's Josh Sims during the Pit Crew Challenge and talked about his crew, which ranks fifth overall in this year's pit crew standings. 
"It's nice to give those guys the spotlight, right," Wallace said. "I think oftentimes, I'm guilty of it, throwing those guys under the bus after bad races. It's just cool kind of bringing that Pit Stop Challenge back. Our pit crew this year has been solid. They've been really good. Kansas was really good for us. Rebounded last week from that first stop. 
"I'm excited. I was talking to those guys. I think we have a legit shot at laying down a good time. We just got to go and execute."
The No. 23 team finished 23rd in the Pit Crew Challenge final results. Ironically, it was the driver who didn't execute as he stopped short in his box and forced his crew to chase the car, resulting in a slower stop.
To stay up to date on the latest happenings in NASCAR, including breaking stories you can't find anywhere else, follow Kyle on YouTube and Twitter.