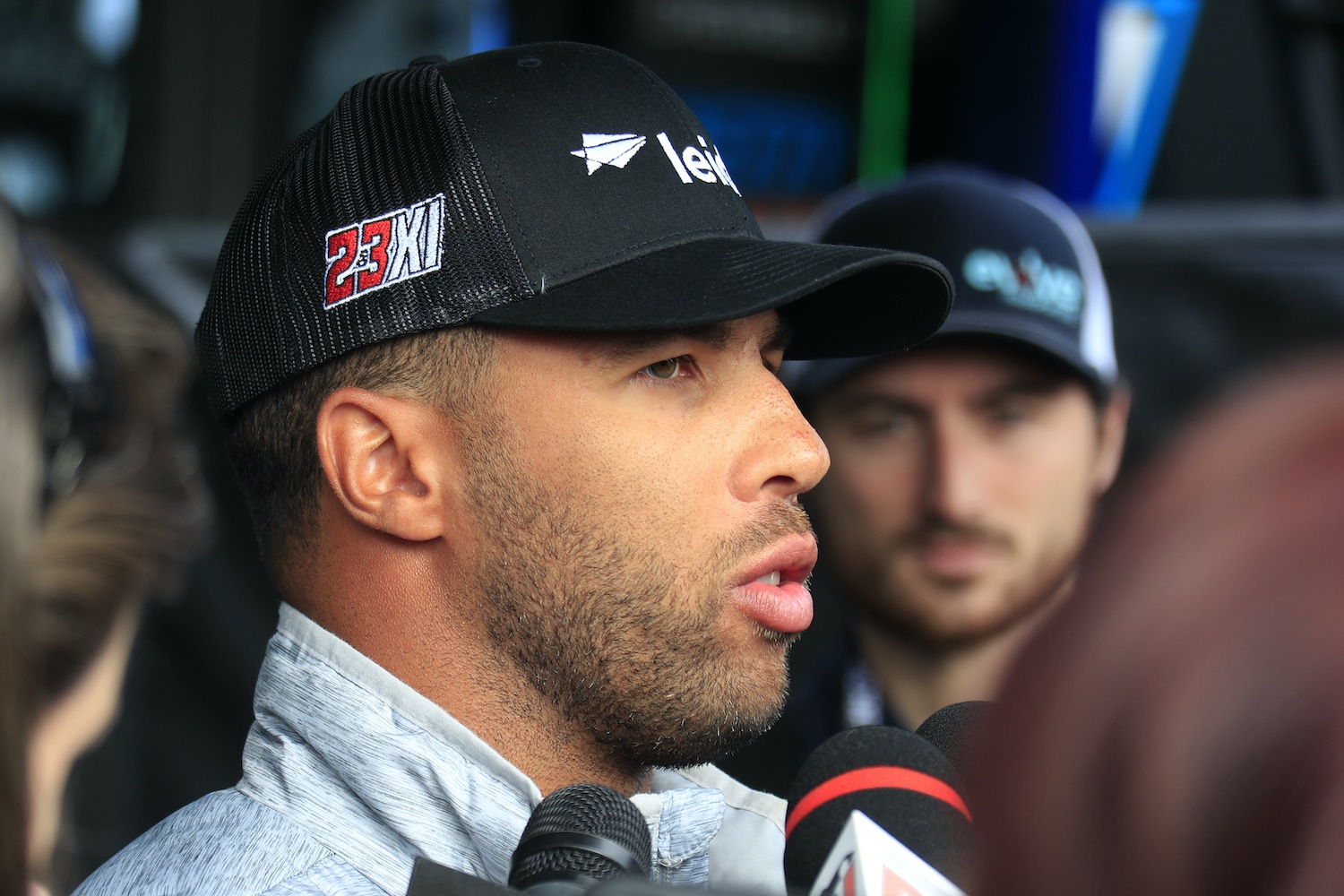 Bubba Wallace Breaks Silence and Speaks for First Time Publicly After Suspension, Accepts Being Example, and Ready to Move Forward
Bubba Wallace broke his silence and met with reporters on Saturday to talk about the Kyle Larson incident. He said he accepts the penalty and being made an example and is ready to move forward.
Bubba Wallace has avoided publicly addressing the ugliness from his on-track incident and confrontation with Kyle Larson at Las Vegas since the day it happened, outside of an apology tweet the day after. Last weekend he declined an interview during NBC's prerace show. 
This week, after serving his one-race suspension, the 23XI Racing driver held a session with reporters, where he talked about what he learned about himself in the last two weeks, what his team owners had to say to him, how he accepts being made an example by NASCAR, and what he hopes comes from the penalty moving forward.
Denny Hamlin made first public comments after NASCAR penalized Bubba Wallace 
A day after Bubba Wallace posted a tweet apologizing for his actions at Las Vegas, NASCAR announced it had suspended him for the next weekend's race at Miami. The driver and team remained quiet until last Saturday when 23XI Racing co-owner Denny Hamlin addressed the situation with the media and talked about what he told his driver.
"I obviously voiced from the team side where we ended up and how we felt about it," Hamlin told reporters. "We didn't approve of the way he reacted there. Obviously, support NASCAR's decision. It's just not a good look for our team. He's also got to learn. I truly believe if he had it to do all over again he would do it different."
Wallace declines interview with NBC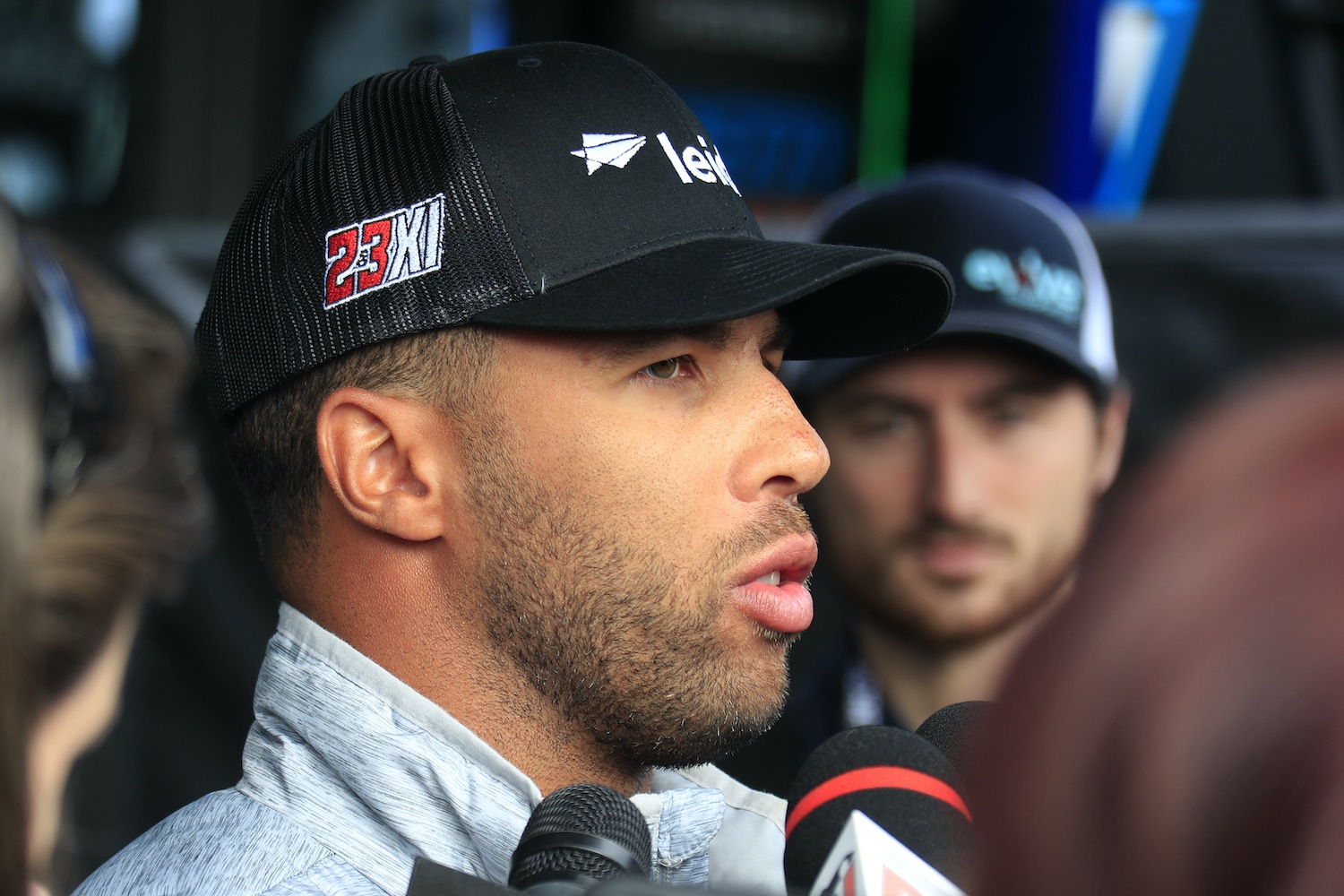 A day after Hamlin's remarks, NBC reported on its Countdown to Green prerace show that Wallace had been invited for an interview and declined. Analyst Kyle Petty, who had said days before that NASCAR got it wrong with its penalty and should have suspended the 23XI Racing driver for the rest of the season, made it abundantly clear that he viewed Wallace's refusal to talk as a bad decision.
"I applaud Bubba and I applaud 23XI for putting this out," Petty said of the social media apology posted earlier in the week. "But in a world, and I'm cynical — so let's just go ahead and say that — in a world of social media where we post everything, silence sometimes says more than the words that are written and we have heard nothing from Bubba Wallace since this incident happened. 
"We have heard nothing publicly, until yesterday, Denny Hamlin finally spoke up and kudos to Denny Hamlin for speaking up on behalf of 23XI. But the silence from that camp has been deafening."
Speaks publicly for first time
On Saturday at Martinsville, Wallace met with reporters for the first time since Las Vegas and Fox's Bob Pockrass asked what the toughest part was for him. 
"Sitting out. Not being part of your normal routine," he said. "It's unfortunate, but I tried to play a different part of the team than I was in the driving aspect and being there for the race and helping John Hunter try to get the feel that he needed for practice, qualifying and in the race."
The Athletic's Jeff Gluck then asked his thoughts on the penalty. 
"I totally accept the penalty and the repercussions that came from my actions," the 29-year-old said. "I talked to (Steve) O'Donnell, and I talked to (Steve) Phelps and I said, 'Hey, I'm good with being the example because if we can keep this consistent moving forward because it's happened multiple times this year, and it's something that may still continue to happen for other drivers down the road.'
"I've definitely learned my lesson but we have to be consistent with this no matter if it's here in Martinsville or if it's at Daytona or Talladega we've got to keep it consistent across all the boards and all the series. That was the conversation. It was a good conversation."
Wallace also acknowledged that he had a "great" conversation with Kyle Larson this week and they both understood each other's perspective and are ready to move forward and put the incident behind them.
Have thoughts on this topic? Keep the conversation rolling in our comments section below.