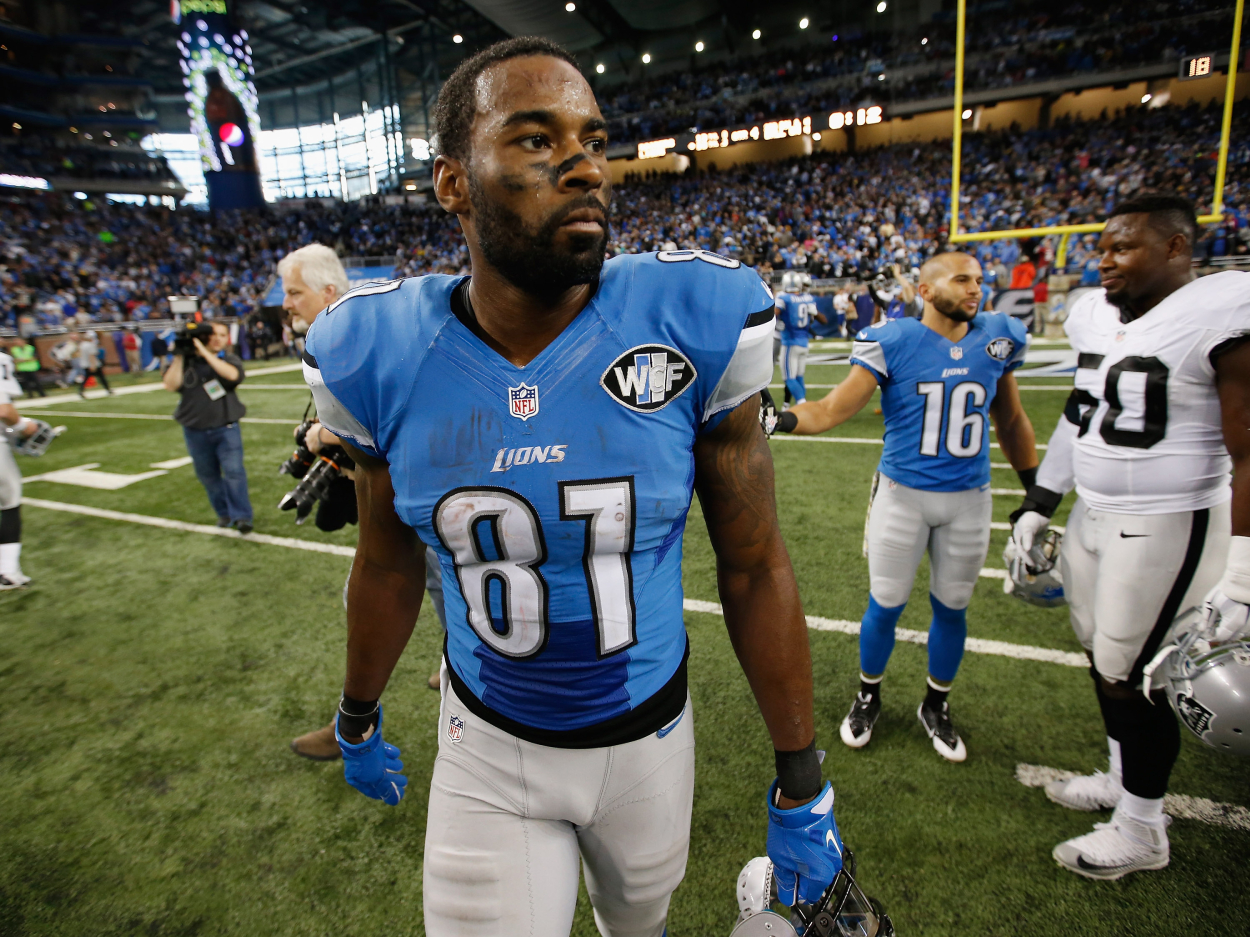 Calvin Johnson Refuses to Claim That the Detroit Lions Are Cursed but Says, 'There's Definitely Bad Vibes There'
Calvin Johnson was one of the greatest wide receivers in NFL history, but he ultimately retired early. He was not the first Detroit Lions player to retire early, either, so he recently gave his thoughts on whether the franchise is cursed, especially since he has had issues with the organization in recent years.
Detroit Lions fans have endured some horrible moments over the years. Not only have they seen their team go nearly three decades without a playoff win, but they have also watched some of the best players in Lions history call it quits at a young age: Calvin Johnson and Barry Sanders.
Because of this, some have speculated whether the franchise is cursed. How can one team have that much bad luck? Johnson — who will soon enter the Pro Football Hall of Fame — recently addressed that issue.
The Detroit Lions have had multiple star players retire young
Barry Sanders went to the Lions with the No. 3 overall pick in the 1989 NFL Draft, and he quickly became a legend. He earned first-team All-Pro honors in each of his first three seasons and five times in his first seven seasons.
Sanders also helped lead the Lions to a 12-4 record and the NFC Championship Game in 1991.
However, although Sanders gained over 1,000 rushing yards in each of his 10 seasons in Detroit, led the NFL in rushing four times, and won the 1997 NFL MVP award, Sanders retired before the 1999 season at only 31 years old.
Calvin Johnson, on the other hand, went to the Lions with the No. 2 overall pick in the 2007 NFL Draft and was one of the best receivers in football by his second year. Johnson gained over 1,000 receiving yards in all but two seasons in his career. He also led the NFL in receiving yards twice, gaining an incredible 1,964 yards in 2012. Megatron also made six Pro Bowls in Detroit and earned three straight first-team All-Pro selections from 2011 through 2013.
However, after the 2015 season at only 30 years old, Johnson retired, continuing to break Lions fans' hearts.
Calvin Johnson won't say the Lions are cursed
Since his retirement, Johnson hasn't shied away from criticizing the Lions.
According to CBS Sports, Johnson claimed earlier this year that, before retiring, he asked if he could go to another team, but Detroit wouldn't grant his request. The Lions also made him give back at least $1 million of his signing bonus when he called it quits, similar to what they made Sanders do when he retired, per Sports Illustrated.
Like Johnson, Sanders ultimately had a poor relationship with the team, but the two sides seem to be in a much better place now.
While preparing for his induction into the Pro Football Hall of Fame later in August, though, Johnson recently appeared on The Pat McAfee Show. And McAfee eventually asked him whether the Lions are cursed or not.
"I'm not gonna say anything about curses, but there's definitely bad vibes there for sure, it's bad energy there when you do that; 100%," Johnson said on the Aug. 2 episode. "You got your best players there, and they're not on good terms with the team; of course, that's bad energy."
So, how does he feel about the Lions now?
Calvin Johnson is supportive of the Lions' coaches and players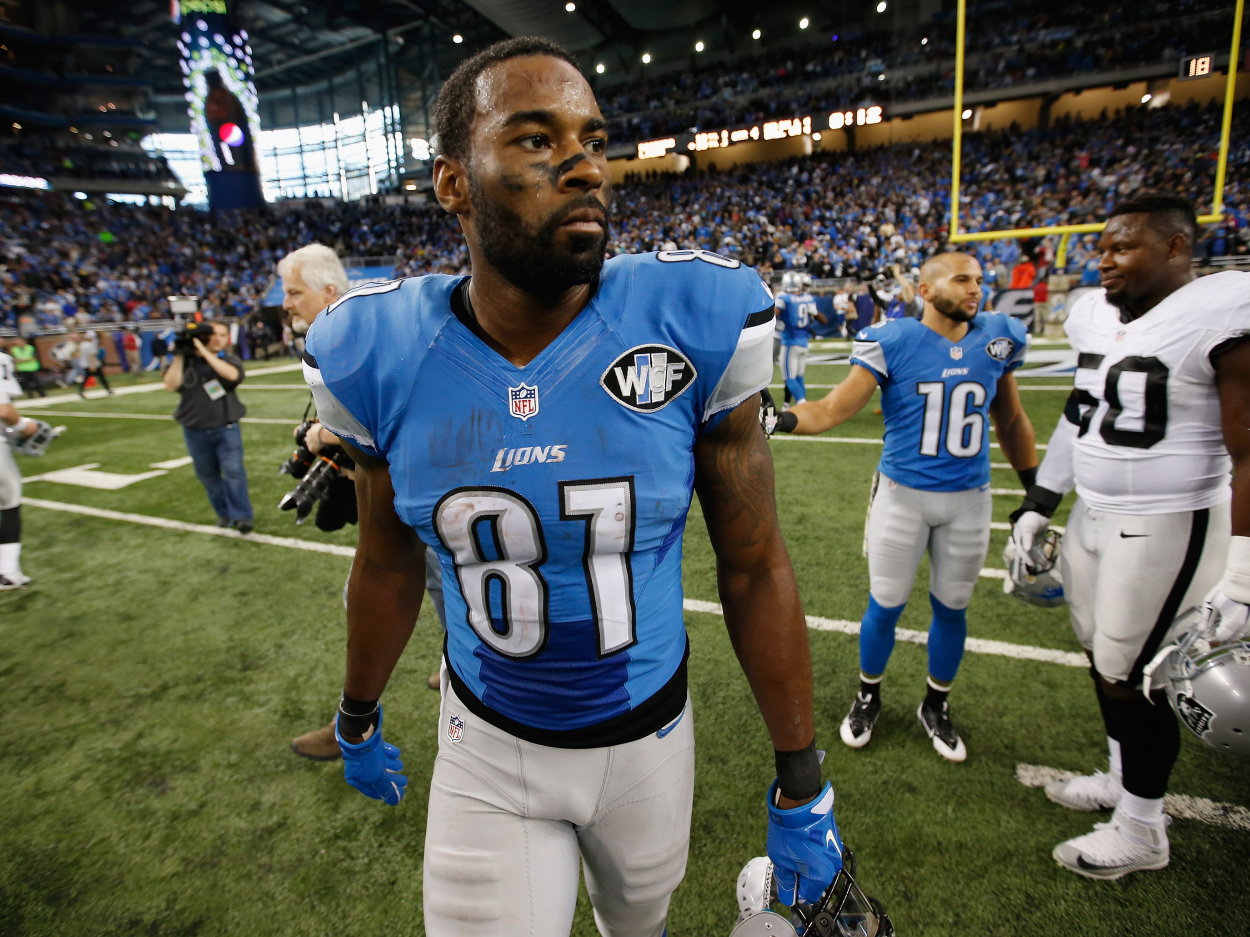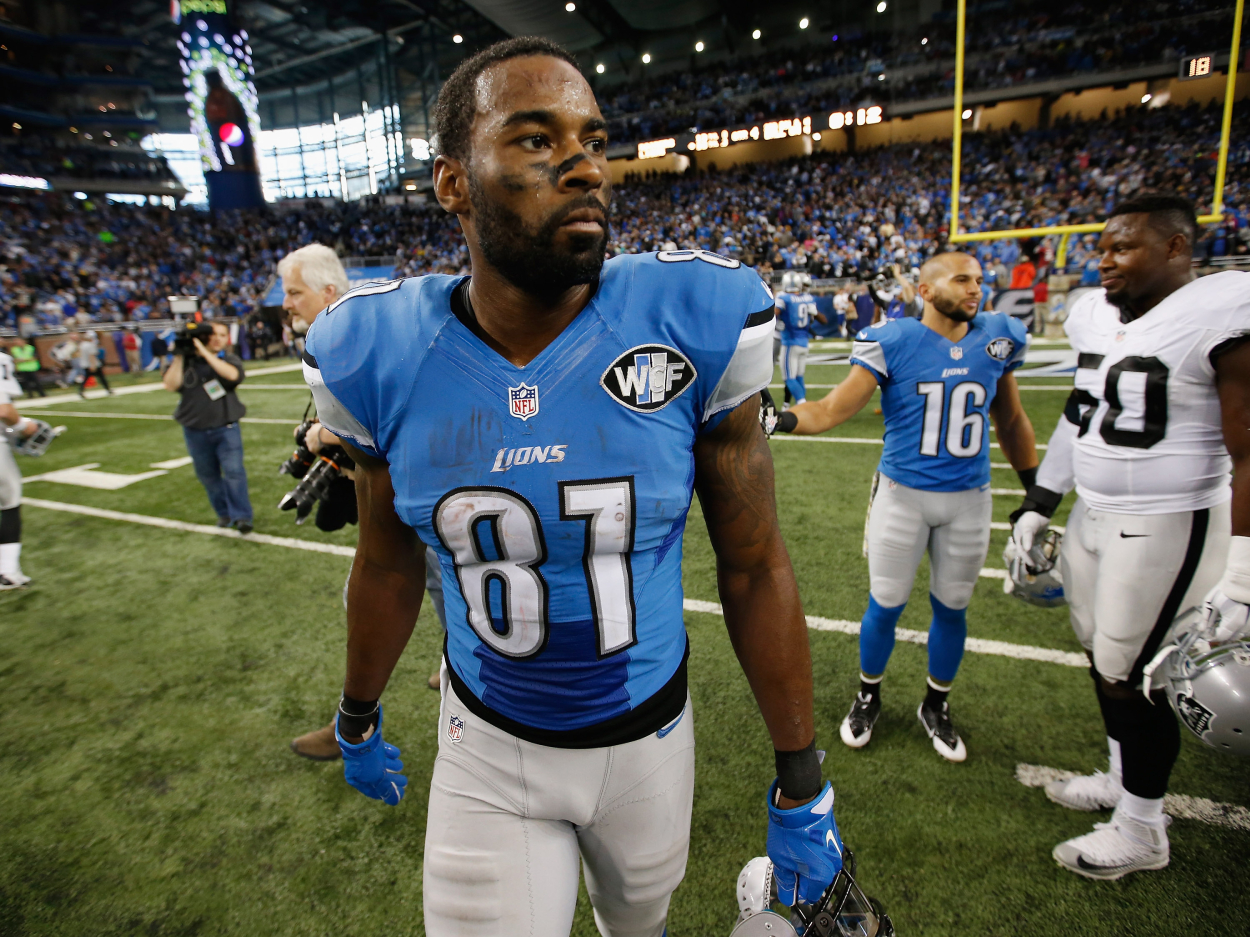 According to Sports Illustrated, not a lot has changed between Johnson and the Lions since his retirement.
"It's kind of been a standstill there," he said in July, per SI. "I'm five years out now. I'm not wasting any time waiting on them."
However, Johnson told McAfee that he's supportive of new head coach Dan Campbell, who he played with on the Lions for two years, as well the players.
"It's two different parts, it's the administration, and you got the team, the players," he said. "I love the players, I want to love on the players. I pour into them anything I got, and I've been able to do that still."
But when asked about his issues with the front office, Johnson said his communication with it was "minimal" during his career.
"Even now, I've had some conversations with (owner) Sheila [Ford Hamp], but it's more so just really around the Hall of Fame," he said.
For the sake of the fans — who have been through a lot — hopefully, the Lions can eventually repair things with Johnson. After all, he was one of the few bright spots in the franchise's history. He deserves to be celebrated.
Stats courtesy of Pro Football Reference