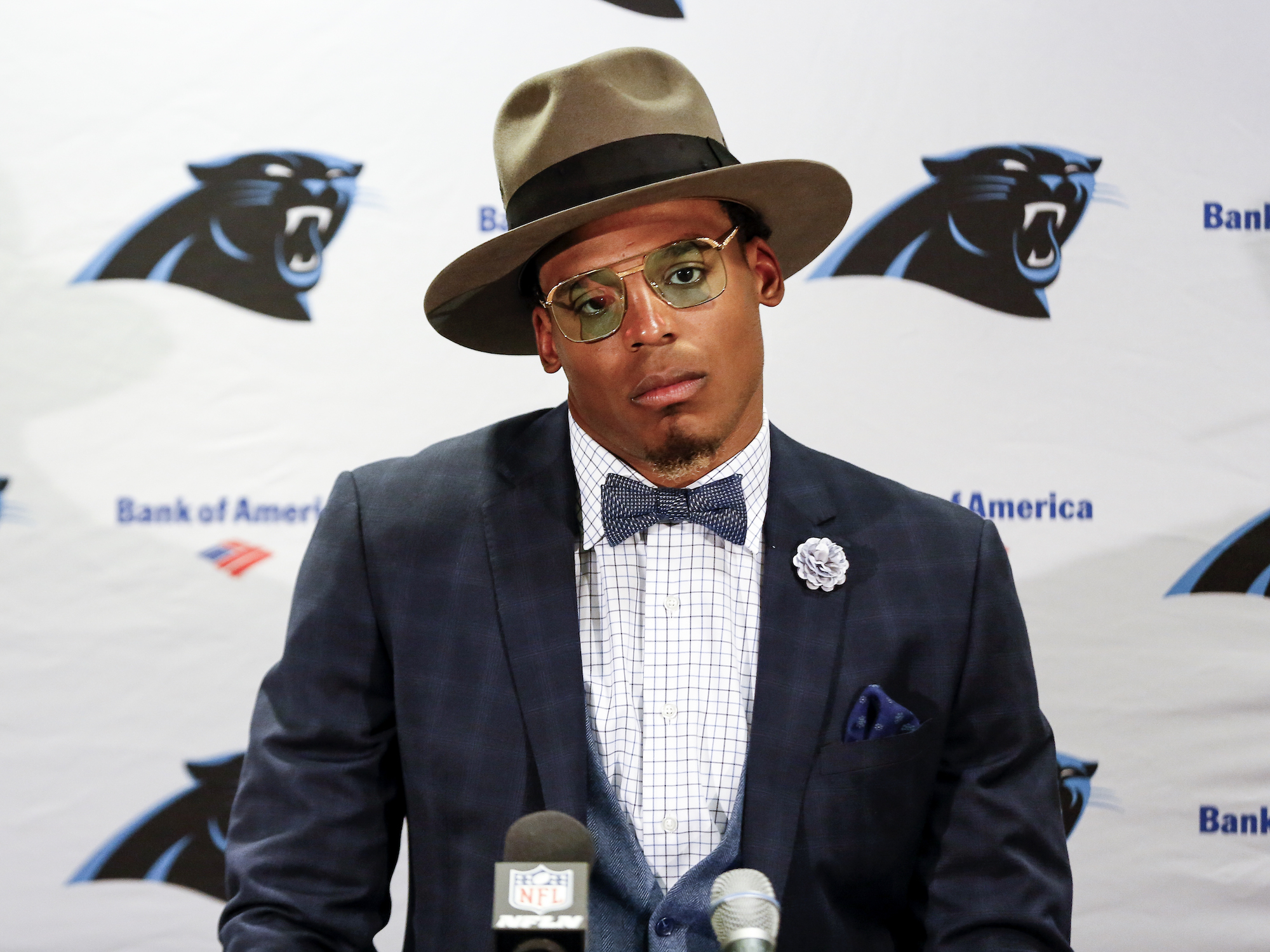 Cam Newton Has Already Explained the Real Reason for His Bizarre Instagram Captions
Cam Newton has never been shy about expressing himself. That reality helps explain his unconventional choice of Instagram font.
These days, very few athletes remain confined to the sporting realm. Some NFL players become businessmen or take up charitable endeavors; the biggest stars become brands onto themselves. New England Patriots quarterback Cam Newton understands that modern reality, as evidenced by his Instagram presence
If you follow the quarterback on Instagram, though, you've probably noticed his unconventional captions. In reality, though, there's a simple reason behind Cam Newton's choice of font.
Cam Newton is one of the NFL's 'most marketable players'
Based on his recent injury issues, Cam Newton's stock has fallen over the past few seasons. Despite that reality, the New England Patriots quarterback still has some serious star power.
After winning the Heisman Trophy during his senior season at Auburn, Newton entered the 2011 NFL draft. The Carolina Panthers selected the quarterback with the first-overall pick and immediately handed him the starting job. Cam immediately lived up to the hype, piling up 4,757 yards of total offense and 35 touchdowns en route to Offensive Rookie of the Year honors.
Despite that hot start, Newton's career has proved to be a series of fits and starts. He struggled through injuries in 2014, but led the Panthers to a 15-1 season and a Super Bowl appearance the following year; the quarterback also claimed the NFL MVP award. He then tore his rotator cuff in 2016, missed more time in 2018, and sat out virtually all of 2019 with a Lisfranc injury.
Despite those struggles and some other incidents—in 2017, for example, Newton made a sexist comment toward a reporter—Newton still has some serious star power. Forbes noted that he "remains one of the NFL's most marketable players" and has endorsement deals with the likes of Under Armour, Beats, Atrium Health and Vinta Supply. The quarterback also has his own Youtube channel and a strong presence on Instagram.
Making a statement on social media
In 2020, it's almost impossible to avoid social media. That's even more true for professional athletes like Cam Newton.
The new Patriots quarterback maintains an active presence on Youtube, Twitter, and Instagram. The former channel has almost 400,000 subscribers and primarily features vlogs, providing a glimpse into Newton's life; in the past, he's done everything from discussing his diet and workouts to highlighting his Met Gala outfit. Cam also has 1.1 million follows on Twitter, and uses that account in a fairly standard way, sharing his own content and retweeting the likes of Colin Kaepernick and Barack Obama.
While Newton's Instagram account mostly consists of personal content—we've recently seen videos of the quarterback's workouts, for example—the account does have one defining trait: virtually every caption is written in a bizarre font, blending lowercase letter, capital letters, and symbols. You can still discern the message, but it takes some work to wrap your mind around what you're reading.
Why does Cam Newton use such a strange font on Instagram?
Upon first glance, it's not clear why Cam Newton uses his signature font on Instagram. Is it an elaborate marketing technique? A commentary on the modern social media landscape? In reality, the quarterback has a much simpler motivation.
"A person that knows nothing about me may go on my social media and say 'why do you write like that? What is that decoded crap that you put out there?" Newton explained in an interview shared by ThePostGame. "One thing it makes you do, it makes you focus on what I'm saying. … Everybody's different, and my mind works a different way."
Beyond forcing readers to slow down and engage with his posts, Newton also spoke about his desire to authentically express himself. "For me, it's being able to express yourself and being uniquely you," he told Francesca Amiker in 2019 "For me, we all are different, and we all possess things that make us different than the next person, from spelling, typing, or even speaking."
While Cam Newton's Instagram posts may look a bit jarring, it all comes down to a simple message. In theory, social media is a means for athletes to express themselves and speak directly to their fans; by using an unconventional font and forcing readers to take more time to engage with his message, Cam is trying to accomplish that goal in his own unique way.
Stats courtesy of Pro-Football-Reference