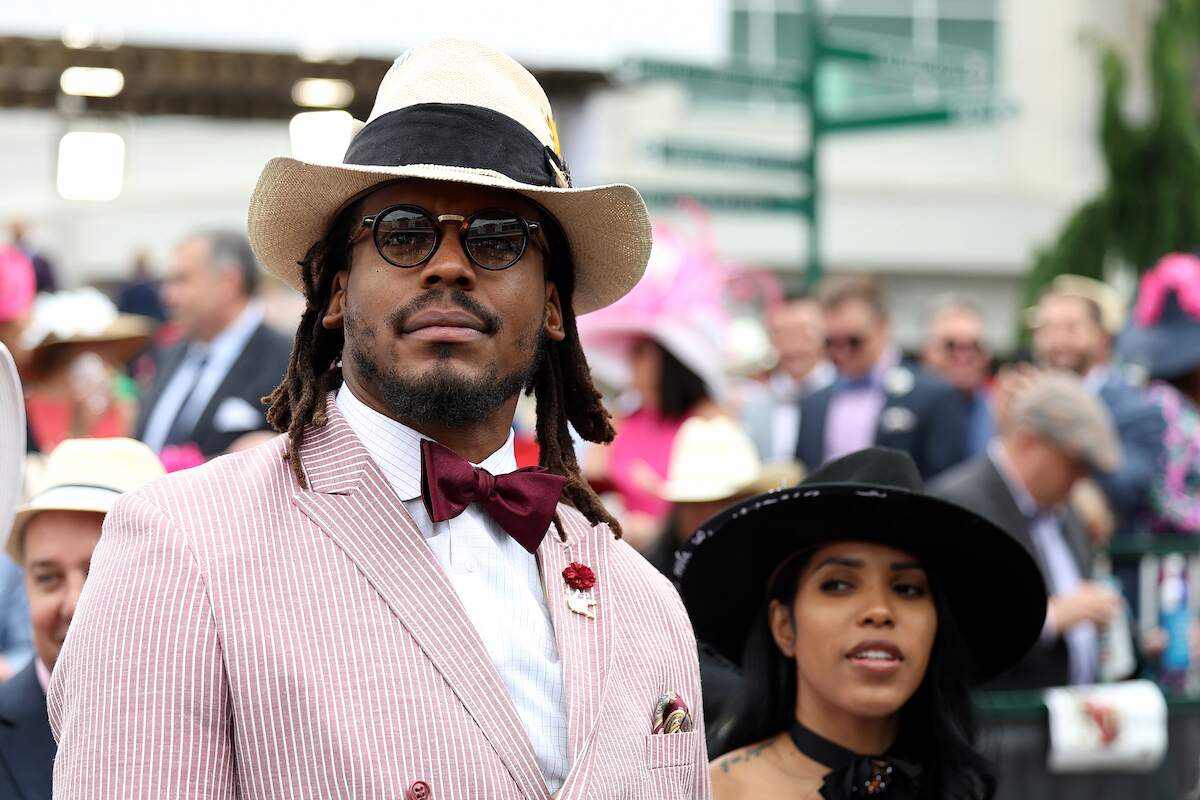 Cam Newton Net Worth: The Quarterback's Stats, Endorsements, and More
No matter his future in football, Cam Newton's net worth is evidence of his successful decade-plus career in the NFL.
Hailing from Auburn University, Cam Newton has made his presence known since first joining the league in 2011. After being a star quarterback for the Carolina Panthers for a decade, Newton has accumulated an impressive net worth. Here's a look at the 34-year-old's net worth, stats, endorsements, and family life. 
Cam Newton net worth 
As the No. 1 pick of the 2011 NFL Draft, Newton is no stranger to fame and money. According to Celebrity Net Worth, he holds a net worth of around $75 million. Taking Newton's football salary and sponsorships into consideration, it's no surprise the quarterback has accumulated a lot of money. 
Newton signed his first NFL contract with the Carolina Panthers in 2011. This initial contract was a 4-year deal worth $22 million, which allowed the NFL newcomer to earn $5.5 million per year. In 2015, the Panthers offered a five-year extension worth $103.8 million.
While this allowed Newton to bring in over $20 million a year from his time with the Panthers alone, the franchise released the QB in March 2020 after he experienced several injuries. 
Cam Newton stats 
During his first nine seasons with the Panthers, Newton put up some impressive stats, winning the 2011 NFL Offensive Rookie of the Year, 2015 NFL Most Valuable Player, and 2015 NFL Offensive Player of the Year. After the Panthers released him in 2020, Newton signed a 1-year deal with the New England Patriots. 
After playing a single season for coach Bill Belichick, Newton returned to the Panthers for the 2021 season when starting QB, Sam Darnold, suffered an injury. Newton's new one-year contract with the Panthers guaranteed him $4.5 million with the opportunity to earn more through a roster bonus of $1.5 million.
His contract was not renewed following the 2021 season, leaving him a free agent ever since. During Newton's 11 seasons in the NFL, he played 148 games, completed 59.9% of his passes, gained 32,382 passing yards, threw 194 touchdown passes, and threw 123 interceptions. 
Cam Newton endorsements 
Newton is busy with many endorsements, sponsorships, philanthropic efforts, and children. According to Forbes, Newton's endorsements total around $5.5 million. Most of this money comes from his partnerships with companies like Gatorade, Under Armour, Dannon, Belk, and Beats by Dre. However, Newton's public behavior led to him having some of his sponsorships pulled. 
Yogurt company Dannon cut all ties with Newton after his sexist and disparaging comments in a press conference. The exchange happened after Jourdan Rodrigue, a Charlotte Observer reporter, asked Newton a tactical question.
Newton laughed after the question was asked and commented about how it was "funny to hear a female ask a question about routes." The then-28-year-old felt immediate pushback for his comments, both financially and in the media. Dannon released their statement, sharing, "We have shared our concerns with Cam and will no longer work with him."
Newton's off-handed comments led to him losing a major endorsement deal. But his overall financial status wasn't hindered too harshly by the loss of this sponsorship. That's a good thing, too, considering Newton lives a lavish lifestyle and large family. 
Cam Newton children 
Cam Newton's children consist of five biological children and two stepchildren. He was in a long-term relationship with Kia Proctor, the mother of four of his biological children, including Sovereign-Dior, Cashmere, Chosen, and Camidas. Newton also acts as a father to Proctor's daughter, Shakira, from a previous relationship. 
According to Hollywood Life, Newton also had an alleged affair with Instagram model La Reina Shaw. She gave birth to Caesar, another of Newton's biological children. Shaw had Caesar while Proctor was pregnant with one of Newton's children. Additionally, Newton now acts as a father to Shaw's son, Jaden, from a previous relationship.
Netwon appears to be present in the lives of all seven of his children, as they are routinely featured on his Instagram page and YouTube channel.
Figures courtesy of Pro Football Reference and Spotrac.