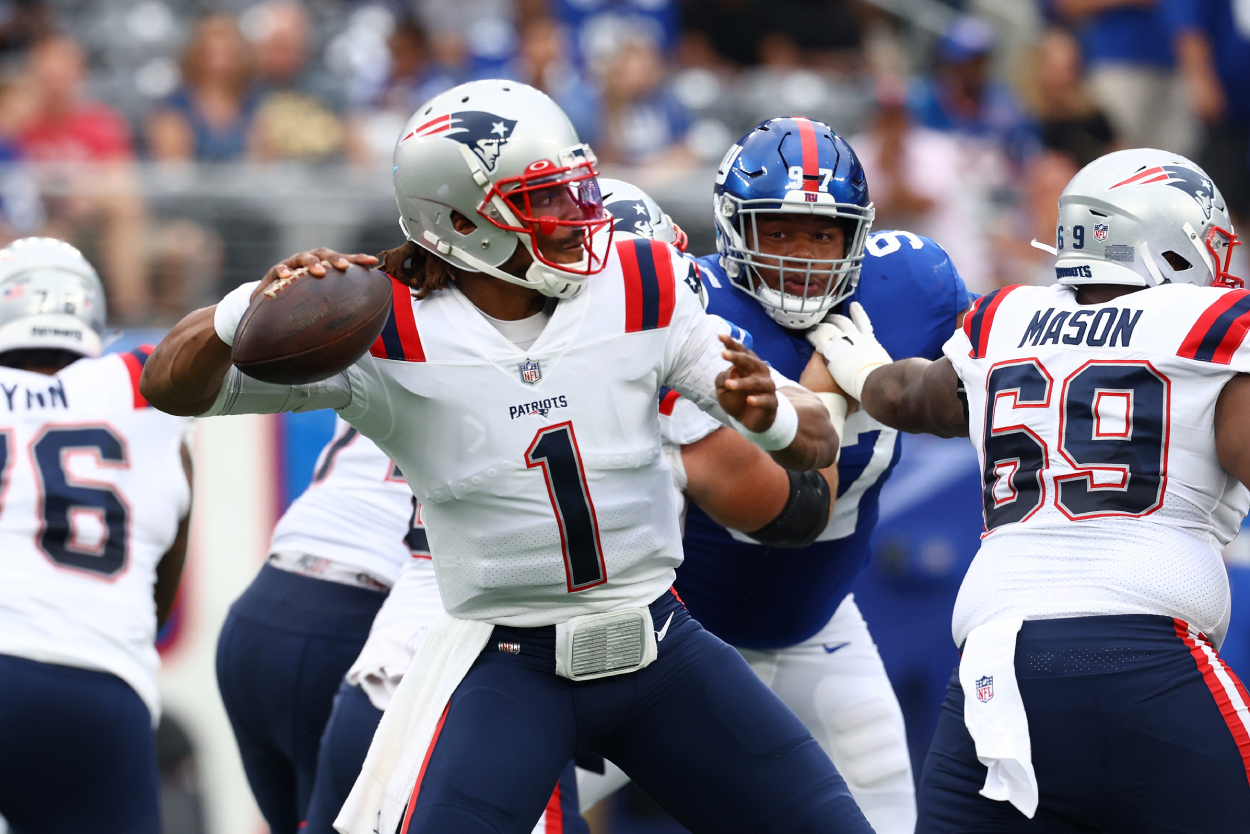 Cam Newton Receives Apology From Former Patriots QB for 'Racially Insensitive' Comment
Cam Newton received an apology from a former New England Patriots quarterback.
Cam Newton has always been in the spotlight since he began his time with the New England Patriots. The team signed the former MVP to replace the legendary Tom Brady in 2020. Now, the veteran finds himself in a battle for the starting quarterback job with rookie Mac Jones.
Last year, Newton and the Patriots struggled. Offensively, the team was a mess. One former Patriots quarterback recently offered his theory on why Newton had a tough time by issuing a "racially insensitive" comment.
Cam Newton had a tough first season with the New England Patriots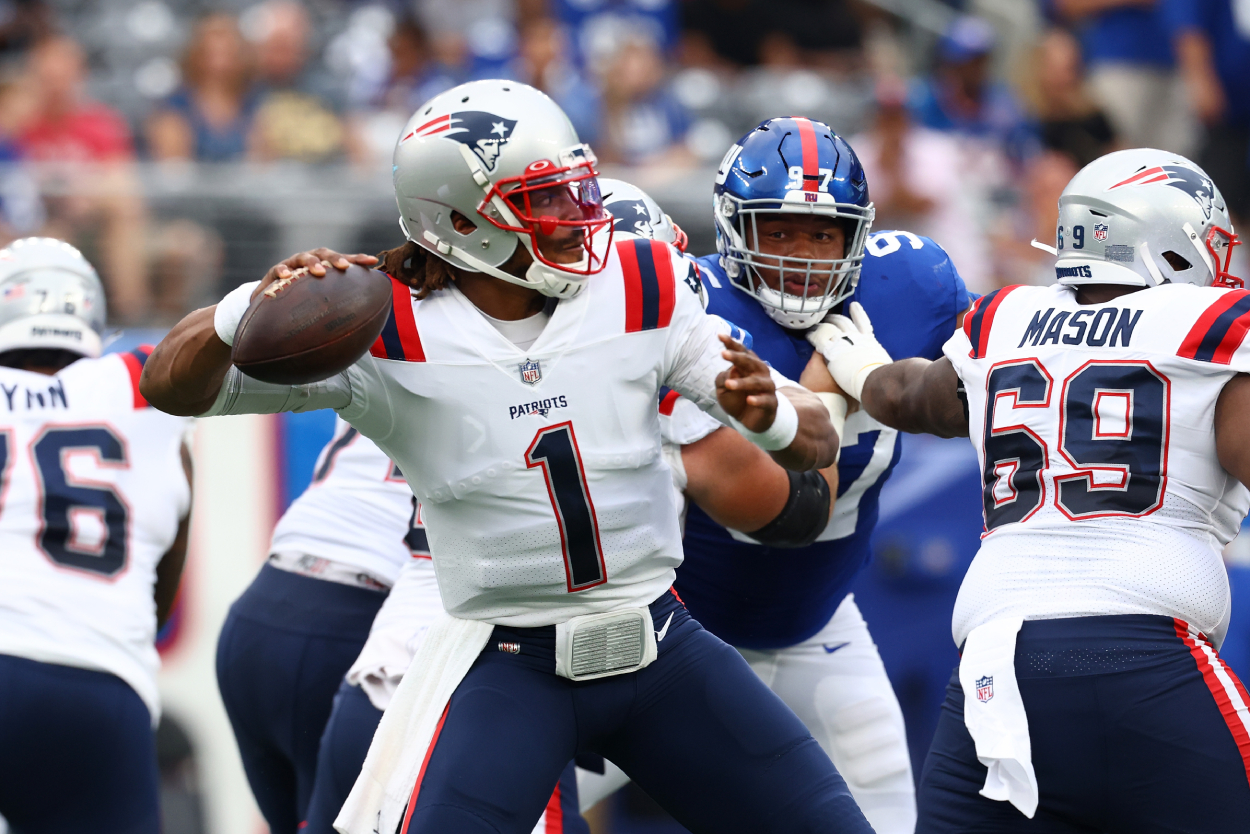 It's difficult to pin the the Patriots' first losing season since 2000 solely on Newton. New England went 7-9, and the offense struggled, but there was plenty of blame to go around. The former MVP tossed just eight touchdown passes in 15 starts and went 7-8 in games he started under center.
Newton had the unenviable task of replacing Brady, who bolted for the Tampa Bay Buccaneers via free agency. Newton was signed as a late replacement and was unable to develop a rapport with his new teammates because of the pandemic. In-person meetings were replaced by Zoom calls. He wasn't able to get on the field often to develop timing and get a true feeling for the new playbook.
Newton also tested positive for COVID-19 after the Patriots began with two wins in their first three games. He missed one game after the diagnosis, but the team lost its next four games.
Newton wasn't blessed with top-notch weapons around him, especially after top wide receiver Julian Edelman missed most of the season because of injury. His tight ends were non-existent. Jakobi Meyes was New England's top receiver with 59 catches, 729 yards, and zero touchdown receptions.
Former Patriots quarterback Scott Zolak has his own bizarre reason why Cam Newton struggled
Scott Zolak, a former backup quarterback with the Patriots, has a theory why Newton sputtered in his first year with the Patriots. Zolak, a radio announcer for the team who also is part of a midday sports talk show on 98.5 The Sports Hub, blamed rap music for the quarterback's struggles. He made that statement on Thursday's edition of the show.
"I'd turn off the rap music, first of all, because I think it's distracting for Cam here," Zolak said, according to The Boston Herald. "Because in between every throw, he's dancing. He can't help himself, to where Mac (Jones) looks like he came to work again. Like, he's here to work. And everything's attention to detail. It's nothing different."
Zolak continued and said Newton was "jacking around" during practice. His comments made their way around social media, causing quite a stir. Zolak had not been on the air until Sunday as he traveled to New Jersey for the Patriots' final preseason game against the New York Giants.
Zolak apologized in person to Newton and then publicly on the air Sunday
During the Patriots' pregame show Sunday, Zolak took the time to apologize for his comments regarding Newton.
"It was Cam's first day back at practice, and we had some issues back in studio, so (cohosts) Hardy and Adam were back there," Zolak told host Mark Bertrand. "I was trying to evaluate Cam through the process of his first couple throws, and I blamed music for being a distraction in his preparation in between a couple throws that he had. And I reference the genre of rap that was being played. That's something I know that's drawn attention to for being racially insensitive. I'm sorry for that comment and I didn't need to make that comment.
"I should not even ever bring any sort of music into play, because I have no clue what's going on in a player's head. It's been a rough last couple days here, and I wanted to do this on air. It's the first time I've been on air since Thursday; Friday was an off-day, we traveled down here (Saturday) and I didn't want to do a call-in or anything like that. Chris (Gasper), I'm sorry if my comments offended you personally. … I'm passionate about this team, the position. Playing the position, that's basically the only position I watch, really, in practice."
Zolak said he spoke with Newton earlier in the day to offer a personal apology.
I wanted to talk to him before I talked about this, to let him know," he said. "I got a chance to talk to him, and Cam's nothing but class. Great guy. He handled it perfect. I mean, that's between me and him. So that's where I stand by it."