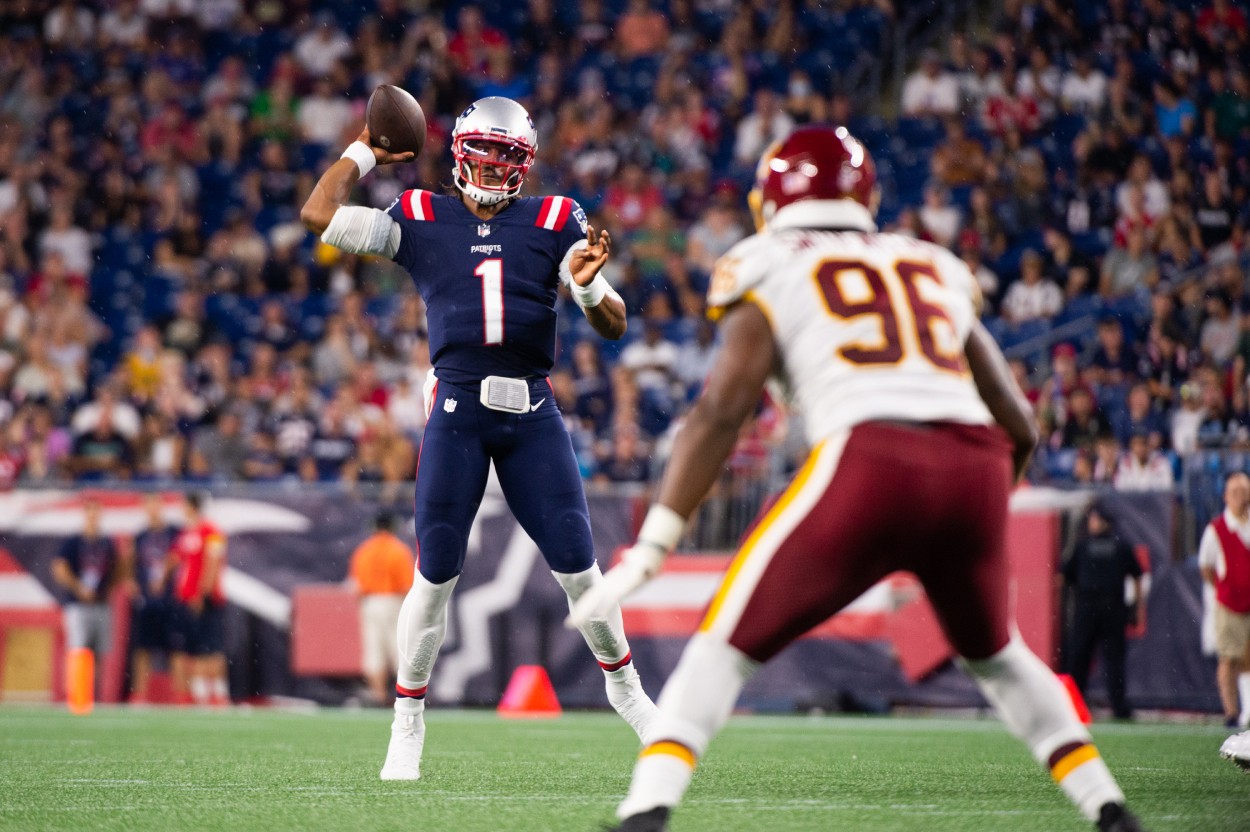 Cam Newton Clears Things Up Regarding His 'Loyalty' Instagram Post
Cam Newton addressed his 'loyalty' Instagram post on Monday.
A day after the New England Patriots defeated the Washington Football Team 22-13 in the first preseason game of the year, Patriots quarterback Cam Newton put out an Instagram post that raised a few eyebrows. Newton, locked in a battle with rookie Mac Jones for the starting job, wrote, "I'm far from perfect…. but loyalty, I deserve it."
Many folks believe the post was related to his competition with Jones, who completed 13 of 19 passes in his pro debut. Newton went 4-for-7 for 47 yards. On Monday, following a combined practice with the Philadelphia Eagles, Newton was asked about the post, and he cleared some things up.
Cam Newton hasn't been told he's starting Week 1 for the Patriots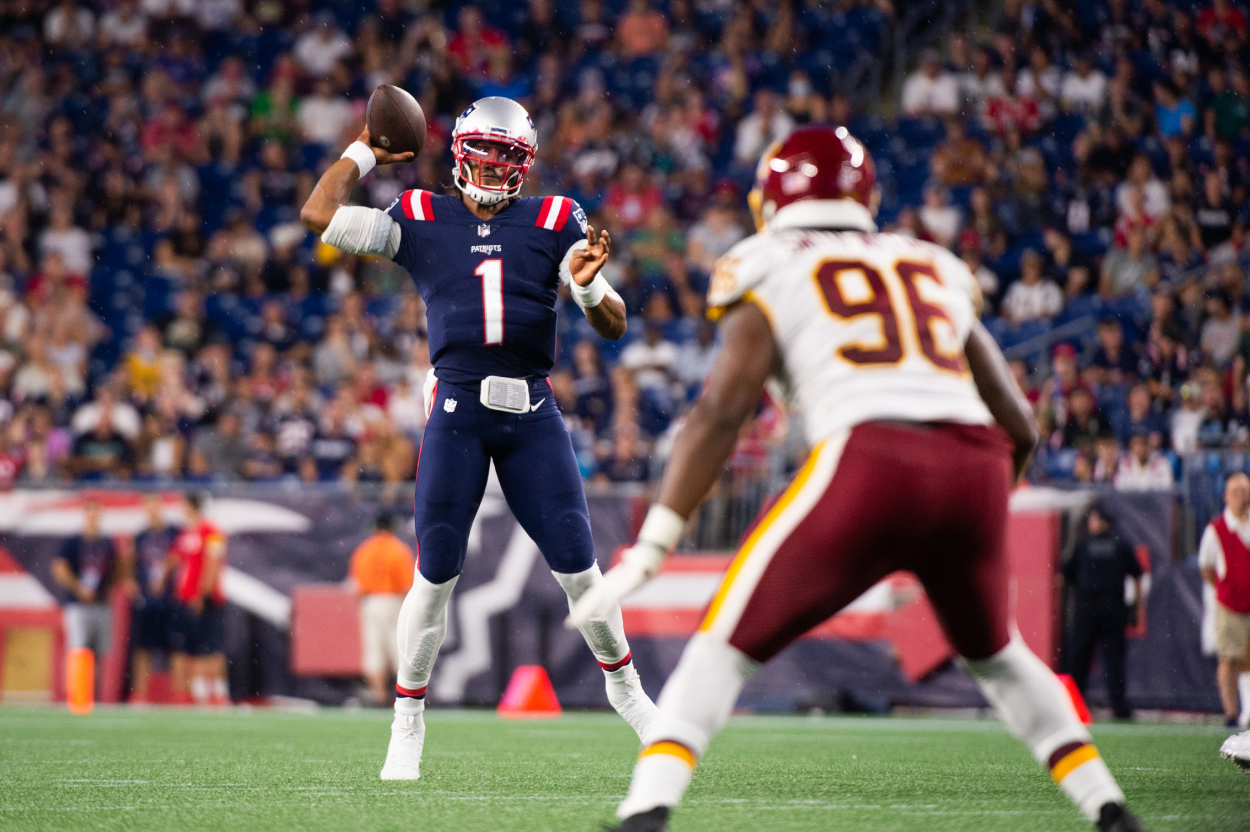 Newton joined the Patriots last season after nine years with the Carolina Panthers. He had the unenviable task of filling in for Tom Brady, who bolted for the Tampa Bay Buccaneers after 20 seasons with the Patriots. Under Newton, the Patriots suffered their first losing season since 2000, finishing 7-9.
The Patriots have revamped their offensive personnel, bringing in veteran receivers and tight ends. Bill Belichick also drafted Jones, an Alabama quarterback, in the first round in April's draft. Newton and Jones have been battling throughout camp, but Belichick hasn't given any indication which quarterback will be starting Week 1.
Newton has been taking the first-team reps during camp and has been the favorite to be behind center when the Patriots take on the Miami Dolphins on Sept. 12. On Monday, Newton said he's not worried about Week 1 yet.
"I do know those things like that, I can't worry about," he said, according to ESPN. "Because each and every day, I don't necessarily care about who's starting. I mostly care about making sure I put the best product out there for me. I know Mac is feeling the same, and I know Brian (Hoyer) is feeling the same way, and everyone else, going down each and every position. As far as Week 1, we have so much to worry about prior to Week 1. That's where my focus is right now."
Cam Newton addressed his Instagram post on Monday
Newton started the preseason game against the Washington Football Team, playing in two series. He went 4-for-7 passing for 49 yards. One of his drives ended in a field goal.
Jones came in after Newton and played five series. As he jogged onto the field, he received a loud ovation from the crowd. He looked sharp, completing all but six of his 19 passing attempts.
The following day, Newton took to Instagram with a black and white photo of himself and a caption that read, "I'm far from perfect…. but loyalty, I deserve it." Newton never implied the post was about football, but one could certainly take it as a post about the quarterback competition. On Monday, he addressed it, although he was surprised the topic came up.
"Having a close talk with people, that's just the type of vibe I have been on — as a father, as a friend," he said, according to WEEI. "It's deeper than football in most cases with my Instagram. I use my social platform to really become a human and I don't really talk about football things. I try and post minimal football things because at the end of the day I'm a human being. That statement wasn't for football. It was more so like a human.
"Like, I'm a person who is away from my kids a lot, especially during the year. Away from my family a lot, away from my friends a lot, away from the people who know me most a lot. I'm not perfect by that and that's what I was kinda meaning by that. For somebody to take that interpretation as far as I don't know how, but (it had zero) to do with football."
Mac Jones will keep applying the pressure to Newton
Newton likely will enter Week 1 as the starter, but he'll probably get a quick hook if things don't go well early. Jones admitted he still has some work to do, and starting the opener isn't his main focus.
"For me, honestly, I've always just been blessed to be a part of a team," he said, according to ESPN. "You never know when your time is going to come. I'm just ready to keep working. Obviously, I have a lot of work to do. That's very clear. But I'm going to keep working every day, and everything will just work out how it's supposed to play out."
Jones was taken with the 15th overall pick in the 2021 NFL Draft. He was the fifth quarterback selected. Jones criticized himself after his performance against Washington.
"I think I could actually slow down a little bit and just take it in, and stick to my rules," Jones said. "I didn't feel like I was out of place or anything … (but) I felt like I left a lot of plays on the field. You have to take it for what it is worth and tell the guys 'My bad' and keep moving forward."