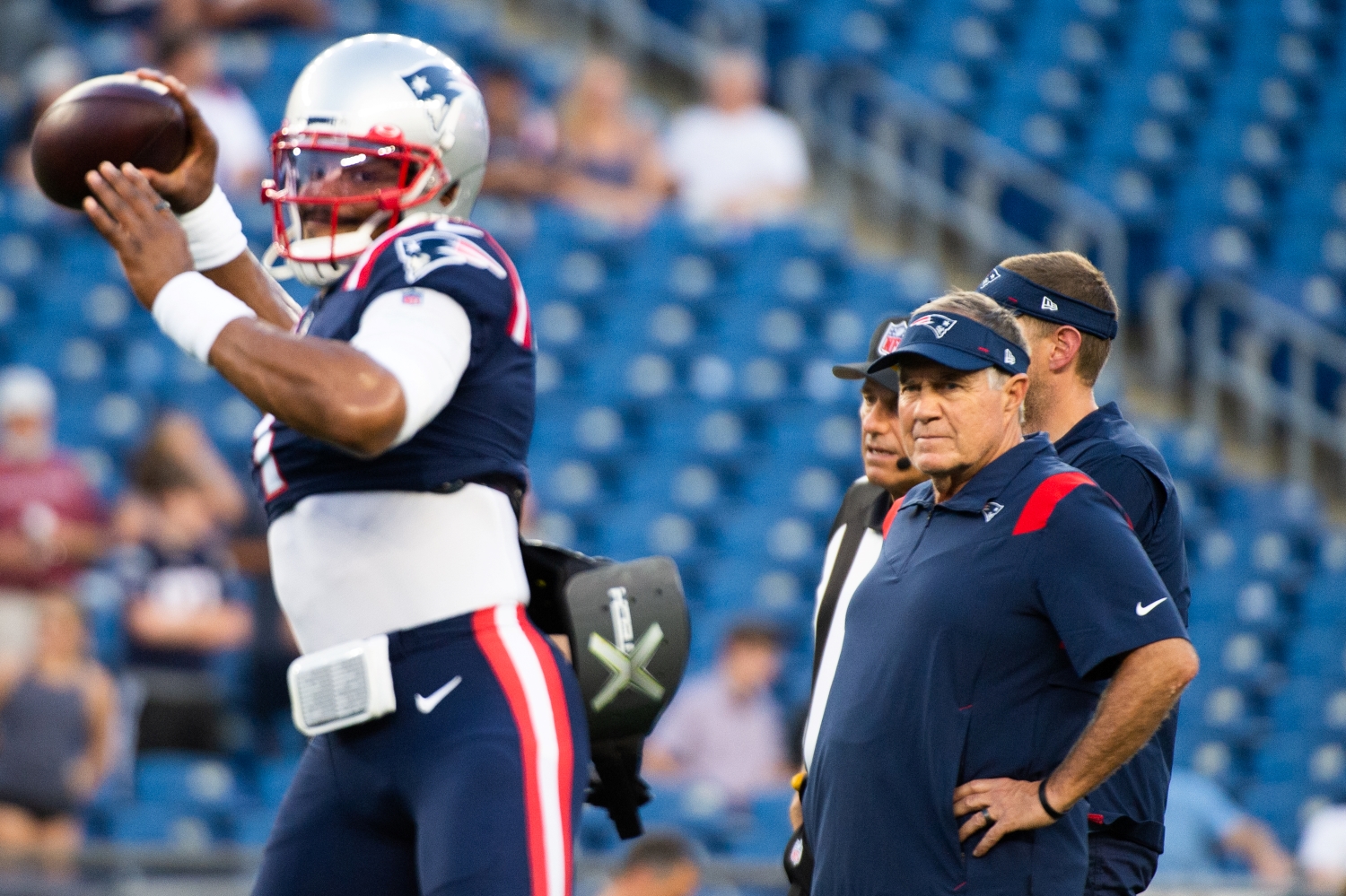 Bill Belichick's Blind Loyalty to Cam Newton is Officially in Danger of Coming to an End
Between his impressive work in training camp and his promising preseason debut, Mac Jones should make it easy for Bill Belichick to finally pull the plug on Cam Newton. Will the Patriots head coach truly do what's best for the team? Or will his blind loyalty to Newton continue to hold New England back?
Does Cam Newton still have a good chance to start for the New England Patriots in Week 1?
Absolutely.
Should the former Carolina Panthers star feel comfortable about his place on the depth chart?
Absolutely not.
Even though Bill Belichick stuck by a struggling Newton in 2020 and signed the veteran quarterback to another one-year, incentive-laden contract this spring, his blind loyalty to a washed-up version of Superman is officially in danger of coming to an end. And if Belichick plans on competing for Super Bowl titles again, he needs to make a franchise-altering move at the most important position in sports before the regular season begins.
Bill Belichick has strangely shown Cam Newton nothing but love despite the quarterback's obvious issues
Belichick must have seen something in Newton that convinced him to keep him in the lineup. However, based on how the 2015 NFL MVP looked operating New England's offense, it's difficult to explain why the Patriots didn't attempt to at least give Jarrett Stidham one start during the 2020 season.
Despite Newton's obvious struggles, Belichick refused to end the experiment. While a lack of weapons certainly didn't help, Tom Brady's replacement left Patriots fans frustrated with his lack of command, waning accuracy, and inability to put points on the scoreboard.
Yet that didn't stop Belichick from bringing Newton back on a one-year deal worth up to $14 million. As much as teammates and coaches seem to appreciate the quarterback's positive attitude, strong work ethic, and leadership skills, that doesn't change the fact that Newton is an aging, injury-prone player whose thrown eight touchdowns and 11 interceptions since 2019.
Luckily for Patriots fans clamoring for a fresh face at the position, Belichick landed a potential star in the first round of the 2021 NFL Draft by taking Mac Jones with the 15th overall pick. Regarded as a picture-perfect fit for New England's horizontal-based passing attack, the promising rookie joined an offense that received significant boosts via free agency.
Still, even with Jones in the fold, Belichick has backed Newton as his starter for the upcoming season.
Belichick's blind loyalty to Newton is officially in danger of coming to an end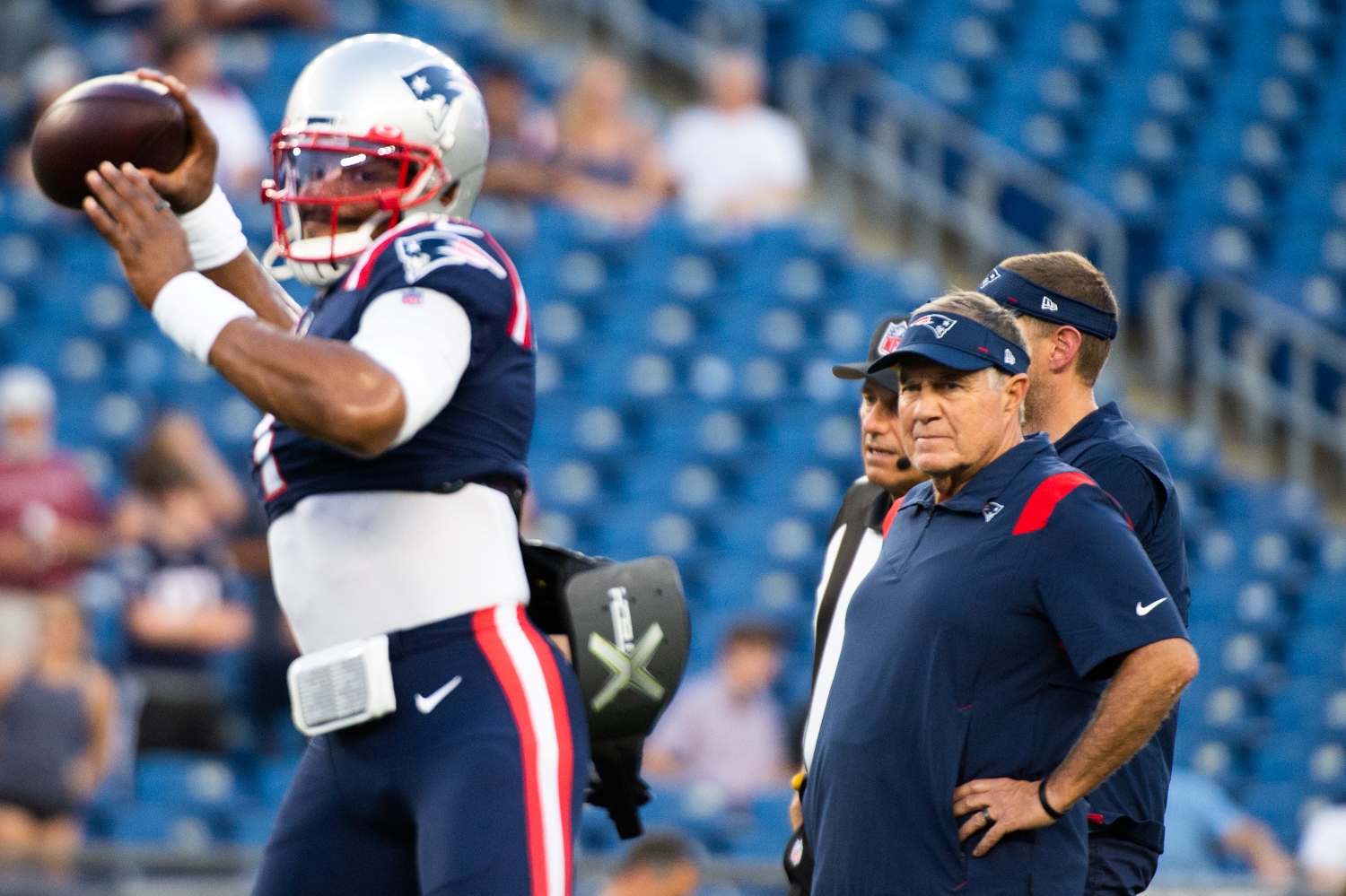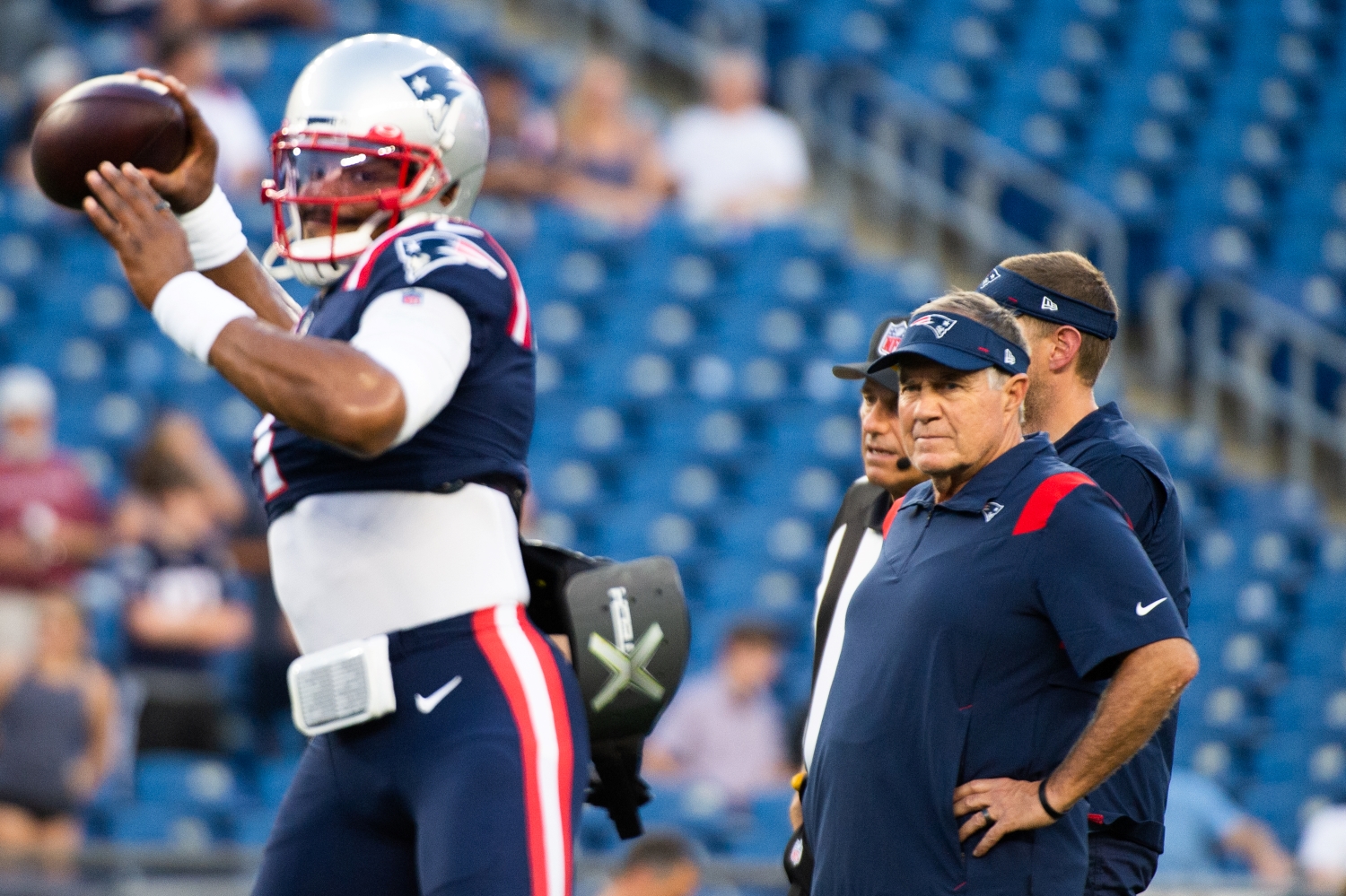 Belichick may have turned a blind eye for an entire season, but he can't afford to keep backing Newton any longer. At least, not if the quarterback continues to look overmatched on the field.
But after watching Jones make his NFL debut Thursday night, Belichick's bizarre loyalty to Newton is officially in danger of coming to an end. While a one-game sample size is obviously small, there should be little doubt about which quarterback gives the Patriots a better chance to win moving forward.
And it's not Newton.
Jones didn't have a perfect outing against Washington. He didn't throw a touchdown, and he finished the night with only 87 passing yards on 13 completions.
However, context matters.
Jones should have had a touchdown, but Kristian Wilkerson couldn't come up with a perfectly thrown deep ball. The promising wideout also dropped another pass that would have beefed up Jones' 68% completion rate.
Patriots coaches have to be encouraged by what they saw from the 6-foot-3, 217-pound signal-caller. Jones appeared poised in the pocket, displayed excellent footwork, and found open receivers. Plus, he didn't seem to have any issues calling out protections and changing plays at the line of scrimmage while running the two-minute offense. Jones didn't look exactly like TB12, but he certainly didn't seem out of place.
Meanwhile, Newton's up-and-down performance that included a few ugly plays did nothing to further the narrative that he made significant strides this offseason. Belichick needs to stop believing that the veteran can make a dramatic leap in his 11th year in the league and roll with a quarterback who has all the tools needed to run Josh McDaniels' scheme.
The Patriots shouldn't think twice about benching their incumbent starter for Mac Jones
Starting a rookie quarterback may seem sacrilegious to Belichick. He often forces first-year players to ride the bench, but in this case, the Patriots need to take a different approach.
Why sign big-name free agents like Hunter Henry, Jonnu Smith, and Nelson Agholor and then put Newton under center? The 31-year-old has yet to show any sort of dramatic change in his game, so it makes little sense to roll things back if he can't fully take advantage of his upgraded weaponry.
Rather than risk losing games because of Newton's deficiencies as a quarterback, Belichick should bite the bullet and make Jones his Week 1 starter.
Will the rookie have growing pains?
Absolutely.
However, New England has an excellent offensive line, a deep stable of running backs, two highly-paid tight ends, and a group of receivers that should be much better in 2021. Seems like an ideal situation for a rookie to step into, right?
Bill Belichick invested significant financial resources to make sure the unit has enough firepower to compete for a Super Bowl title this season. If he wants to get his money's worth, he needs to abandon his dream of making Cam Newton great again and put Mac Jones atop the depth chart once and for all.
All statistics courtesy of Pro Football Reference. All contract data courtesy of Spotrac.