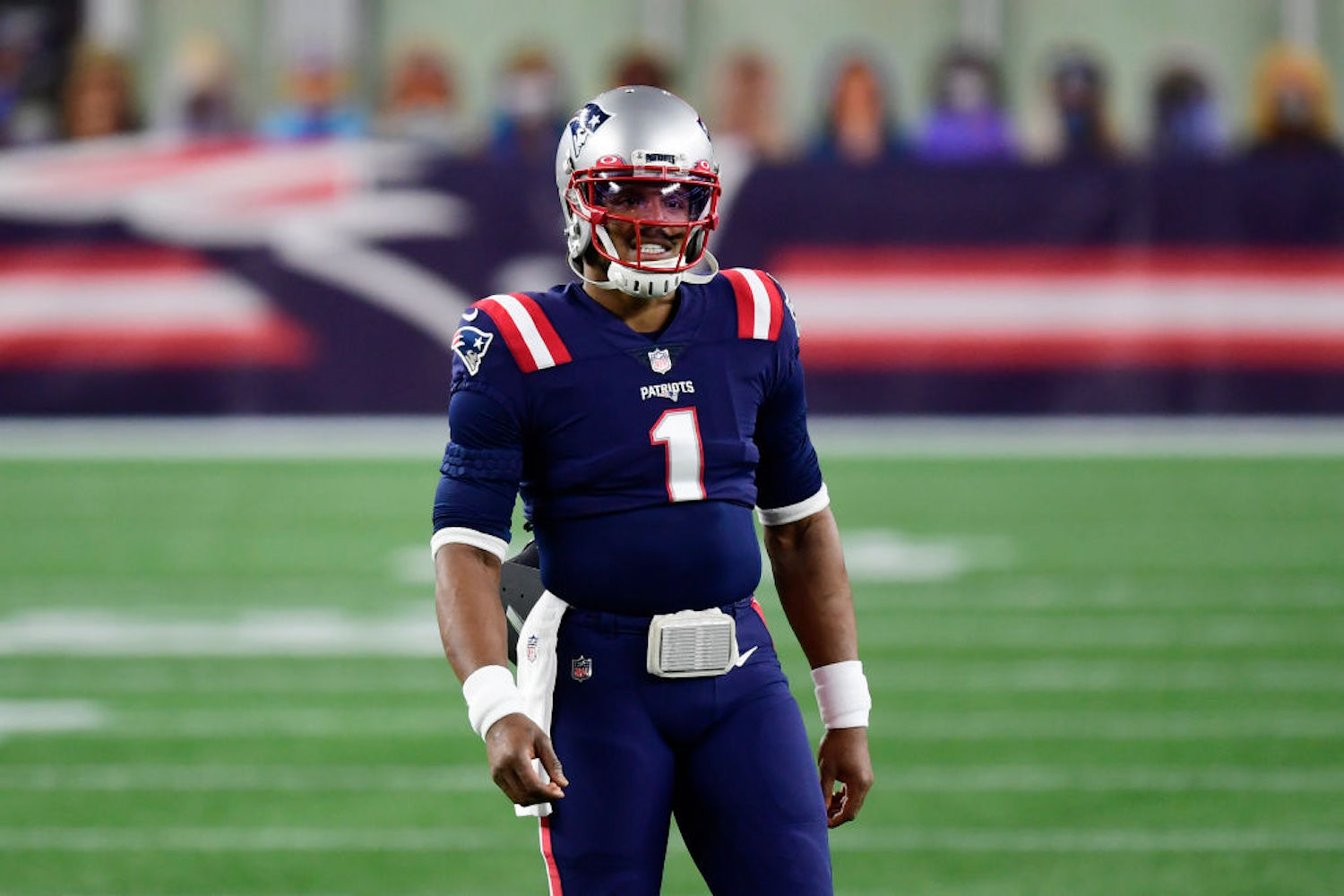 Cam Newton's Insane Sleep Schedule Might Be the Reason for His Struggles This Year
Cam Newton recently revealed his sleep schedule and morning routine, and now the NFL might have to put him in an insane asylum.
Some say sleep is the best medicine, but New England Patriots quarterback Cam Newton clearly doesn't subscribe to the age-old adage. Newton recently revealed his sleep schedule and morning routine for the 2020 season, and let's just say it might explain why he's been one of the worst statistical quarterbacks in the NFL this year.
Cam Newton has had a disappointing 2020 season
When the Patriots signed Cam Newton off the street in June, New England fans believed Bill Belichick could help him return to his MVP self from 2015. Newton was expected to replace Tom Brady and keep the Patriots' long-standing dynasty alive through the 2020 season.
Newton started off the year on fire. The veteran QB threw for 714 yards and rushed for 149 more over the first three games of the season. He recorded six total touchdowns and just two interceptions during that span, and he led the Patriots to a 2-1 record to begin the year.
But Newton has regressed steadily as the season has worn on. Now through 14 starts, Newton has thrown only five touchdown passes to 10 interceptions. He ranks second-to-last in terms of passing yards per game (172.5) and 29th in QBR (45.1) among qualifying quarterbacks.
Over his last five games played, Newton has thrown for over 200 yards just once. He threw for less than 100 yards three times, and he only has one touchdown pass since Week 11.
With Newton under center, the Patriots have gone an underwhelming 6-9 this season, and they're about to miss the playoffs for the first time since 2008.
Cam Newton has the most insane sleep schedule in the NFL
There have been numerous theories thrown around all season as to why Newton has struggled so mightily with the Patriots. Is his shoulder injury still lingering from last season? Does his game not mesh with Josh McDaniels' offense? Are the weapons around him just so poor it's impossible for him to succeed?
But maybe the answer is much simpler. Maybe Newton just isn't getting enough sleep.
During the Patriots' Monday Night Football game against the Buffalo Bills in Week 16, ESPN revealed Newton's sleep schedule and morning routine for the 2020 season, and it's shocking, to say the least. Newton claims he goes to sleep at 11:30 p.m. and wakes up every morning at 4:20 a.m.
What's even crazier? Newton doesn't even have his first sip of coffee until 8 a.m. — nearly four hours after he wakes up!
Maybe if Newton was getting more than five hours of sleep, he'd be sharper on the field this season.
Cam Newton's future in New England is uncertain
Newton won the league MVP award just five years ago, but he was one of the worst quarterbacks in the NFL this season. The Patriots inked Newton to a one-year deal in the offseason, so it would be a shock if they re-signed him to another contract after watching him play in 2020.
Newton's career might be over in New England. Is it possible his football career is over as well? The QB is only 31 years old, but his regression and injury setbacks in recent years don't bode well for a comeback next year.
A desperate team might take a chance on Newton next season, but it's likely the former MVP isn't a starting quarterback in 2021.
All stats courtesy of Pro Football Reference