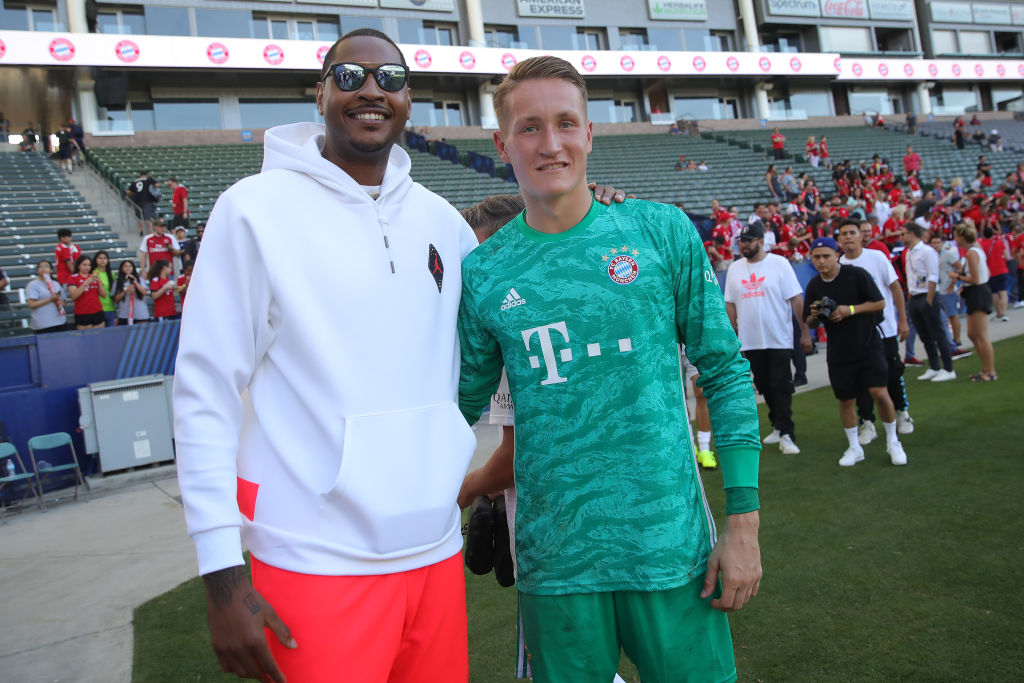 Carmelo Anthony Made so Much Money in the NBA He Bought a Soccer Team
Carmelo Anthony has always loved soccer, so once he made enough money in the NBA he bought his own team in 2015.
Carmelo Anthony has earned almost $250 million in the NBA over 17 seasons. His career earnings combined with his many endorsements allowed him to purchase his own professional team in 2015. Only, it wasn't an NBA team. It wasn't even a basketball team of any sort. Anthony actually used his massive wealth to buy his own soccer team, Puerto Rico FC.
Carmelo Anthony has earned $250 million in the NBA
Anthony has done incredible things on the court, but what he's accomplished in terms of his bank account might be even more impressive. Over 17 years and counting in the NBA, Anthony has earned $248.9 million from contracts alone.
The legendary scorer started out with the Denver Nuggets in 2003, but he made most of his coin with the New York Knicks. From 2011-2017, Anthony earned over $125 million just from the Knicks.
Outside of NBA contracts, Anthony made a ton of money on his signature shoe line with Jordan. Anthony teamed up with the famous brand to create 13 different models. Their deal ended in 2017.
Anthony's net worth today stands at $160 million, according to Celebrity Net Worth. Along with his professional soccer team, Anthony has also invested in New York restaurants such as Nobodys Pizza and the Ainsworth.
Anthony bought Puerto Rico FC in 2015
In 2015, Anthony purchased Puerto Rico FC. At the same time, Melo announced his team would be joining the North American Soccer League in 2016.
Puerto Rico FC made perfect sense for the star baller. Anthony is of Puerto Rican descent, and he even used to train there during the offseason. Melo grew up loving soccer
"My passion for soccer has always been there," Anthony told ESPN FC's Jeff Carlisle in 2015. "I just always kept it to myself and among my circle. Going to games, sneaking into games and just watching and being around the sport over the years. The more time I started spending in Puerto Rico over the past six, seven years I realized that there was kind of a void down there on my island. The island didn't really have anything that they could kind of call their own, that they could represent not just on the island but from a global standpoint."
Puerto Rico FC hasn't played a game since 2017
Anthony's club began play in July of 2016. Puerto Rico FC got its first win in the NASL on July 23 against Rayo OKC. Ironically, Anthony went on to play for the OKC Thunder a few years later.
Puerto Rico FC went 5-8-9 in 2016. They never won more than two matches in a single month. Anthony's club played its last game for the NASL in October of 2017.
At that time, Hurricane Maria ravaged the country of Puerto Rico and destroyed the team's home stadium, Juan Ramón Loubriel Stadium.
The NASL was forced to cancel the 2018 season, and many teams decided to switch leagues after the announcement. Puerto Rico FC stayed put, but the league hasn't been able to recover. Anthony's club hasn't played a game since 2017.