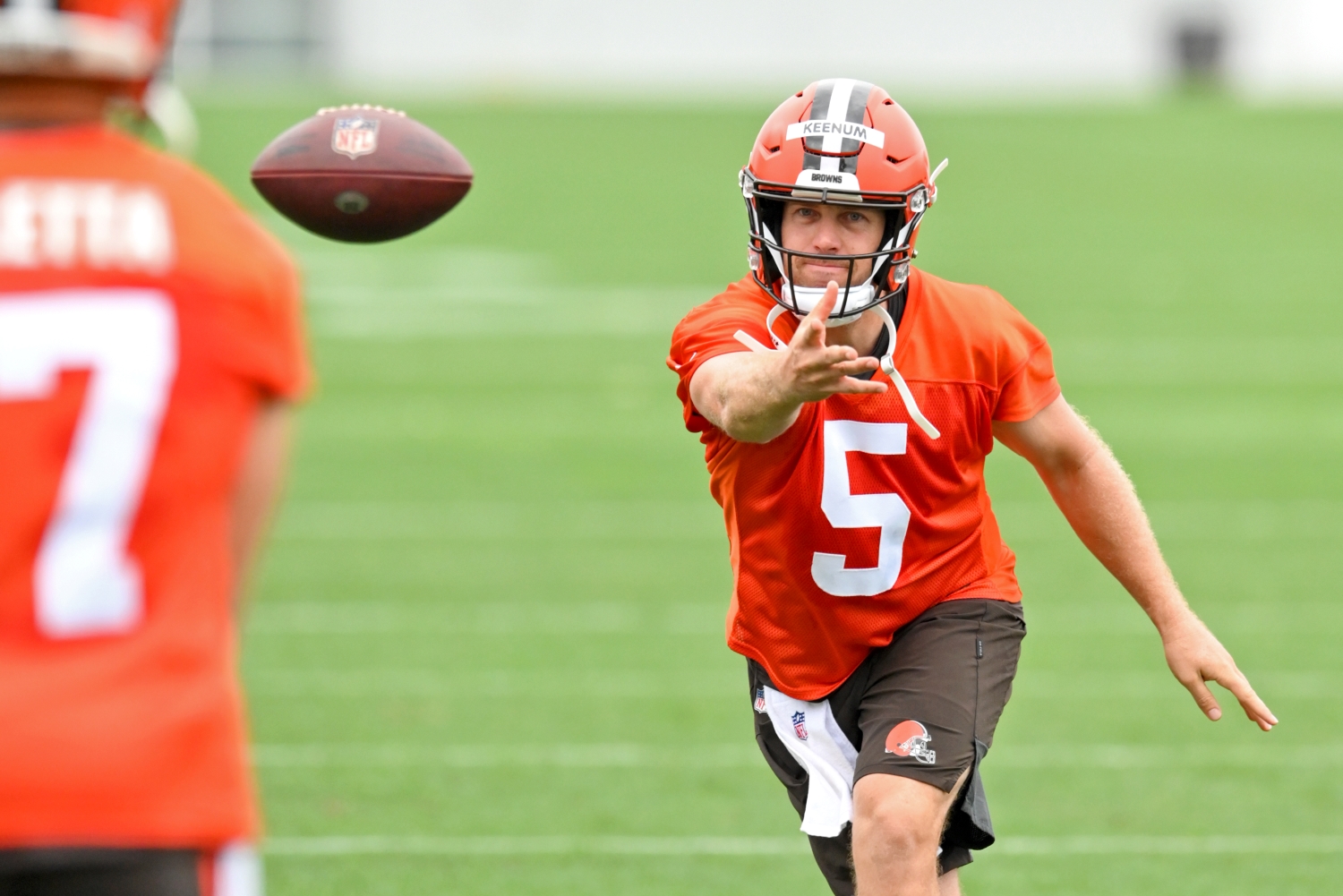 Journeyman QB Case Keenum Has Racked Up $44 Million in Career Earnings Thanks to a Single Magical Season That Ultimately Ended in Heartbreak
Case Keenum is the very definition of a journeyman QB. However, the Cleveland Browns signal-caller has made more than $40 million in the NFL thanks to a magical year that ultimately ended badly.
You don't have to develop into an elite NFL quarterback to become wealthy. After all, despite being the very definition of a "journeyman" player, Case Keenum has racked up an impressive amount of career earnings during his time in the league.
Of course, the humble signal-caller owes much of his financial success to a single season that ended in heartbreak. And even though Keenum has fallen off the map since his breakout 2017 campaign, he has a chance to cash in again if he takes advantage of a prime opportunity with the Cleveland Browns.
Case Keenum finally has a chance to showcase his skills in Cleveland
Although Ryan Fitzpatrick remains the ultimate definition of a journeyman (he's started for nine teams since 2005), Keenum has taken his talents all across the country, too. After going undrafted out of the University of Houston in 2012, the Lone Star State native stayed close to home by signing with the Houston Texans. Since then, he's suited up for five other teams.
Following one-year stints with various NFL franchises, Keenum finally found some semblance of job security and continuity by coming to Cleveland. But after spending most of the 2020 season on the sidelines, he suddenly finds himself atop the depth chart. With Baker Mayfield dealing with a torn labrum in his non-throwing shoulder, head coach Kevin Stefanski will call upon Keenum to run a top-10 offense.
While the well-traveled veteran doesn't boast the same upside as the No. 1 overall pick from the 2018 NFL Draft, he does bring a wealth of experience to the table. And if the Browns plan on competing for a playoff berth, they need Keenum to provide smart, steady play from the most important position in sports.
Luckily for Cleveland fans, the resume of Mayfield's replacement includes an unforgettable season in which he put up fantastic numbers for a Super Bowl-caliber team. However, while Keenum's magical year with the Minnesota Vikings helped him land a life-changing raise, his brief time with the NFC North franchise ended in heartbreak.
The journeyman QB has earned more than $40 million in the NFL thanks to a magical season that ended in heartbreak
Sometimes, all it takes is the right situation for an NFL player to shine.
That couldn't have been more true for Keenum in 2017.
After joining the Vikings on a one-year, $2 million deal with a paltry signing bonus of $250,000, he wasted little time proving he deserved a substantially higher salary. Stepping in for an injured Sam Bradford, Keenum showed excellent accuracy and command of an offense that finished 10th in scoring at 23.9 points per game. With Adam Thielen, Stefon Diggs, and Kyle Rudolph as his top targets, the 6-foot-1, 215-pound quarterback completed 67.6% of his passes for 3,547 yards, 22 touchdowns, and only seven interceptions.
Most importantly, Keenum went 11-3 as a starter and helped the Vikings capture their second division title in three seasons. And when the playoffs arrived, he gave fans a moment they'll never forget.
Although "The Minneapolis Miracle" brings up painful memories for the New Orleans Saints, it certainly stands out as one of the greatest moments in franchise history for the Vikings. With time expiring, Keenum connected with Diggs on an improbable 61-yard touchdown that sent Sean Payton's squad home with a tough-luck postseason loss.
Unfortunately for Mike Zimmer's team, its dream of eventually hoisting the Lombardi Trophy came to a swift and painful end courtesy of the Philadelphia Eagles. Yet even though the Vikings suffered a crushing 38-7 defeat in the NFC Championship, Keenum proved a big winner in the offseason.
Thanks to his breakout year in Minnesota, he entered free agency as a coveted commodity. The Denver Broncos signed him to a two-year, $36 million contract with $25 million guaranteed at signing, and while Keenum only stuck around for one year, he certainly did well to capitalize on his success with the Vikings.
Keenum can boost his bank account further by playing well for the Browns
With $44.1 million in career earnings, Keenum has made quite a bit of money for someone who hasn't convinced a team to retain him as a starter for more than a year. After spending one season in Denver and starting eight games for Washington in 2019, he signed a three-year, $18 million deal with Cleveland during the 2020 offseason.
What does the future hold for the 10th-year pro?
That depends on what he does with the latest opportunity that's been presented to him.
Although Keenum entered the season as a relative afterthought, he could become a prominent name to monitor moving forward. With Mayfield injured and not exactly living up to expectations, his 33-year-old mentor might make things interesting in Cleveland.
If Keenum plays well, will Stefanski still want to hand the keys to the offense back to someone who's compiled a career-low QBR of 41.6 through six games? Considering Mayfield posted a career-high 72.2 QBR a year ago, it's safe to say he has not taken a leap forward in his fourth season with the Browns. But if his replacement steps up and plays mistake-free football, that could lead to a quarterback controversy of sorts in Cleveland.
This situation may end up benefitting Keenum's bank account in the end. Sure, he may not have an overly impressive physical skill set, but with a decade of experience and a decent track record of success, he offers plenty of value as a high-end backup or low-level starter as the bridge guy to a young quarterback.
If his latest chance to start for an NFL team turns out well, he could get the Browns to give him a raise, or he could become an attractive trade-and-extend target for another franchise.
Plus, with Baker Mayfield's financial and football future hanging in the balance, maybe Case Keenum will force Cleveland to consider making some drastic changes at the quarterback position.
All statistics courtesy of Pro Football Reference. All contract data courtesy of Spotrac.