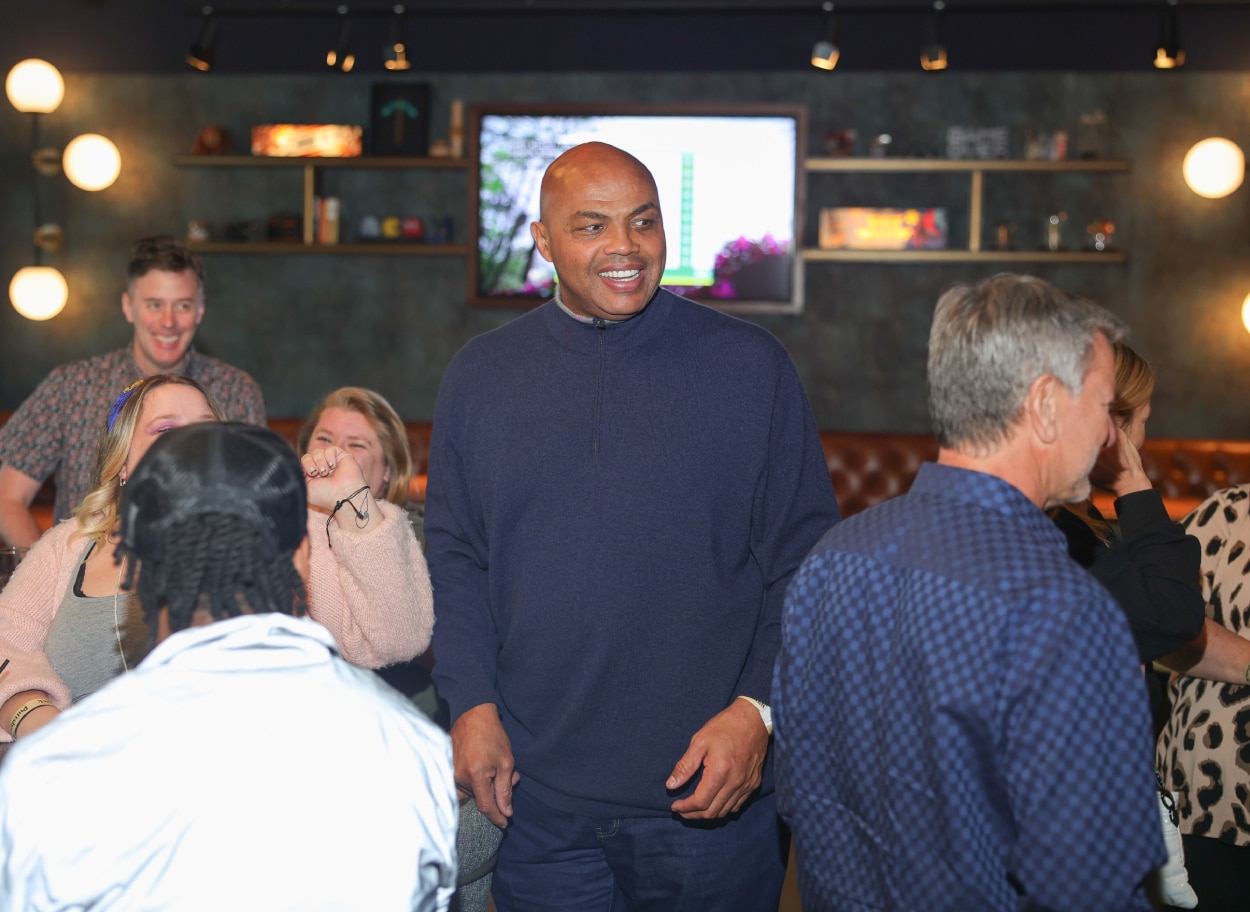 Charles Barkley Offers His Suggestion on How to Deal With Obnoxious Fans After Chris Paul Incident
Charles Barkley weighed in on Sunday's incident involving an NBA fan and Chris Paul's family.
Charles Barkley might not be the guy you want to determine the necessary steps when it comes to dealing with fan behavior at NBA games. The former Philadelphia 76ers star and current TV analyst has his share of on- and off-the-court incidents involving fans.
Video showed Phoenix Suns guard Chris Paul screaming at a young fan after an incident involving Paul's family during Game 4 of the Suns' series with the Dallas Mavericks. Barkley suggested how to deal with obnoxious fan behavior.
Chris Paul fired up after an incident involving his family and an obnoxious fan
It wasn't an overly happy Mother's Day for Paul. His mother, wife, and kids were involved in an incident involving a fan, who allegedly harassed and physically contacted them at the game Sunday.
A fan allegedly pushed Paul's wife during Game 4 in Dallas, and video showed Paul yelling at a young fan in a Mavericks jersey. Paul was heard yelling "I'll see you later" to the fan, who walked away.
In a statement after the game, Mavericks said the fan in question was "swiftly removed" from the game.
"The Dallas Mavericks are aware of an incident between a fan and the family of Chris Paul," the statement read. "It was unacceptable behavior and will not be tolerated. The Mavericks, along with American Airlines Center, swiftly removed the fan from today's game."
Paul took to Twitter after the incident. He was not happy.
"Wanna fine players for saying stuff to the fans but the fans can put they hands on our families … f*** that!!" he wrote.
Charles Barkley explains how he'd handle a situation involving an obnoxious fan
Although the Mavericks pulled out a 111-101 victory to get even in the series with the visiting Suns, much of the postgame focus centered around Paul. The Suns point guard had a rough afternoon, finishing with more fouls than points. He fouled out early in the fourth quarter and finished with five points.
The topic then quickly shifted to Paul's family. TNT's postgame crew discussed the incident, with Barkley offering his opinion on how he'd handle things.
"We can just put an end to all of this stuff," Barkley said on Inside the NBA. "Some of the stuff these fans say. Let's take it right down to center court for five minutes. I've always said that."
Then he got a bit more descriptive on the steps he'd take to make sure these incidents don't happen.
"Just give me five minutes at center court with him," Barkley said. "You ain't gonna press no charges. Ain't nobody gonna be sued civilly. Say what you just said to me right to my face for these five minutes. I'ma beat your ass. I'ma beat the hell out of you. I'm gonna take my time and I'm not gonna beat him up quickly. I'm gonna jab him a little bit, then I'ma lay the haymakers on they ass."
"I hear you, Foreman," Shaquille O'Neal said. "Charles Foreman."
Barkley had his share of encounters with fans
One of Barkley's most famous incidents involving a fan helped turn his life around he said. The night was March 26, 1991, and Barkley spat toward a heckling fan, and it ended up landing on a young girl.
Earlier in his career, Barkley said he was an angry basketball player. He said he was mad at his father and a Spanish teacher named Ms. Gomez, who gave him a failing grade in high school. The night of the spitting incident, he went to his hotel room and took a good look in the mirror.
"That night, first of all, I got suspended, which I should have," Barkley once told Dr. Phil, "but I was sitting in the hotel that night, and I said, 'Boy, you've gotta calm down.' If you play on the edge, it's just a matter of when you're going to go over that edge.
"I sat down and said I forgive my dad. He wasn't there. We grew up poor. It sucked. But I gotta play basketball for me. Secondly, I said it's actually my fault I flunked Spanish. It's really not Ms. Gomez's fault. I flunked the exam. From that point on, my whole basketball life changed. I said I just want to be a great player and have success for myself. In high school and college, I was trying to stick it to everybody."
Barkley has been in bar fights and street fights with heckling fans. Most times, he's taken care of business himself. Chuck just might not be the right guy to solve those disciplinary issues among NBA fans.
Like Sportscasting on Facebook. Follow us on Twitter @sportscasting19 and subscribe to our YouTube channel.