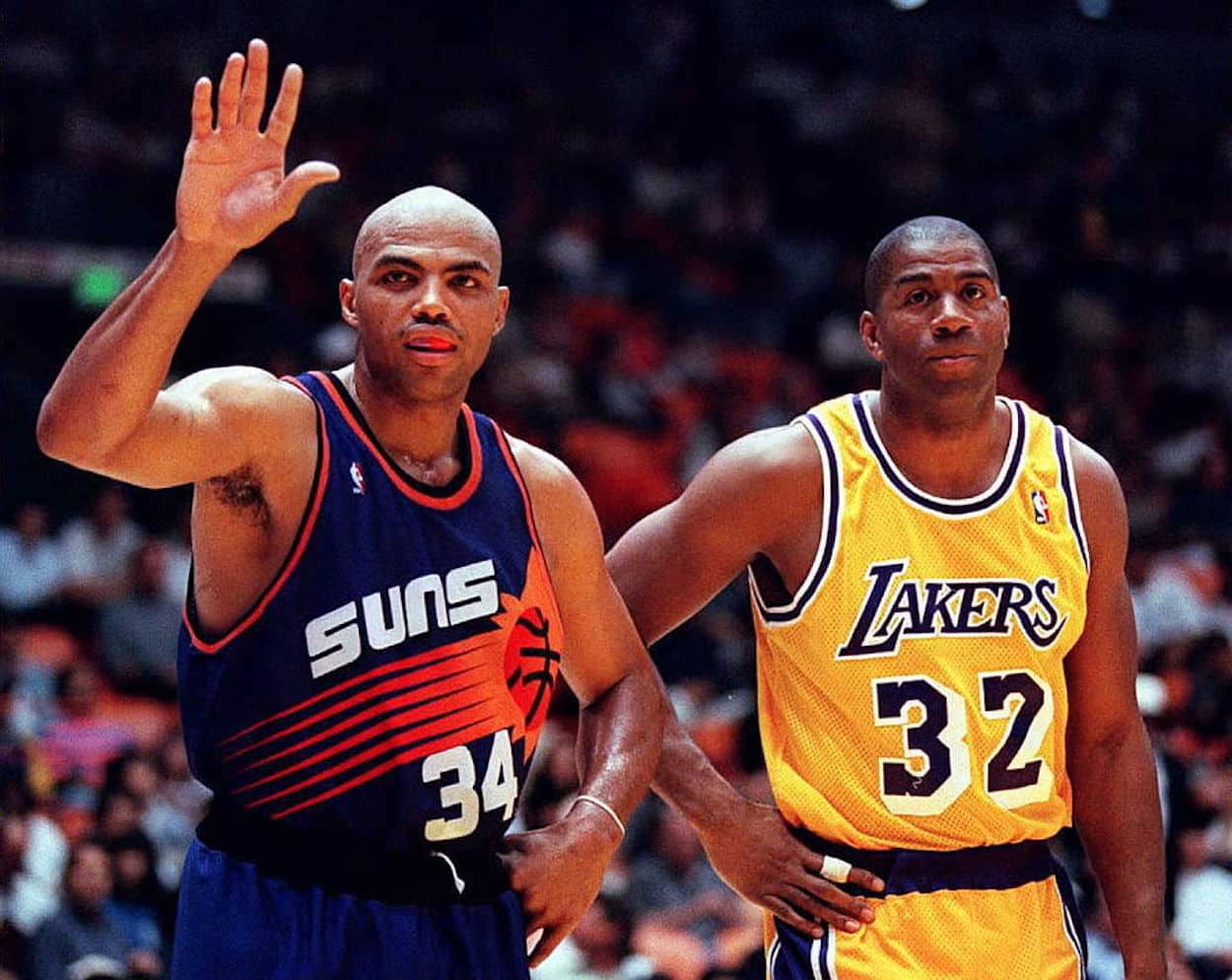 Charles Barkley Remembers Taking Control of the Suns After Arriving in Phoenix: 'It's Not Kevin's Team Anymore, It's My Team'
These days, Charles Barkley has no problem speaking his mind on TV. During his playing career, he held the same sort of conviction.
These days, it's easy to think of Charles Barkley as little more than a TV personality. That assessment, however, would be overlooking a key reality: Sir Charles was a talented player on the hardwood, even if he retired without a championship. And, during his time in the Association, the forward was certainly confident in his own talent. Just ask Cotton Fitzsimmons about that.
Ahead of the 1992-93 season, Barkley left Philadelphia and headed West to join the Phoenix Suns. There, he met with the coach-turned-executive and immediately made one thing clear: He, not Kevin Johnson, would be running the show in Arizona.
Charles Barkley said the Suns were his team immediately after arriving in Phoenix
When you watch Charles Barkley on TNT, you'll quickly realize that he isn't one to hold his tongue or censor his opinions. That's not a recent phenomenon, though.
After making a name for himself in Philadelphia, Barkley and the 76ers eventually decided to part ways. Ahead of the 1992-93 season, the famous forward headed west and joined up with the Phoenix Suns. While the Western Conference team already had some talent on the roster, Sir Charles was immediately in charge.
"So, when I got there, I remember when I got there, I was sitting down with the owner and Cotton Fitzsimmons," Chuck remembered on The Bill Simmons Podcast. "And they says, 'OK, now this is Kevin [Johnson's] town.' I said, 'No, it's not Kevin's team anymore. It's my team.' I said, 'I'm the best player here.'"
While that comment left his new bosses a bit stunned, Barkley wasn't done yet.
"I says, 'Hey, I want Kevin to play great. I want [Dan] Majerle to play great, Mark West. I want everybody to play great, but let me tell you something. I came here, and we're going to the Finals,'" he continued. "I said, 'We're going to the Finals.' They said, 'How do you know that?' I said, 'Cause I think I'm the best damn player in the world.' I said, 'Michael Jordan's just better than me because he's got better players. I'm playing with bums in Philly.' I says, "I going to the Finals, I guarantee you guys that.' And I says, 'You boys better get on my back.' When I got there, I said, 'Kev, you do your thing. Dan, you do your thing. I know the game at some point is going to come to me. It's gonna come to me, and I'm gonna deliver.'"
Barkley came pretty close to living up to those words
When you talk a big game, it's imperative to back it up on the court. Thankfully for Sir Charles, he came pretty close to producing a fairy-tale first season in the desert.
During that 1992-93 campaign, Chuck played some of the best basketball of his career. While the forward had posted individually higher numbers in Philadelphia, he performed across the board. The forward averaged 24.5 points and 11.7 rebounds per outing that year, leading the team in both categories. It's safe to say that counts as delivering when the game came to him.
On the back of that performance, Barkley also claimed the 1993 NBA MVP title. While you could debate what that award truly indicates — Maybe Michael Jordan was the quote-unquote best player that season, and Sir Charles was simply the most valuable — it still backs up the forward's claims. He said he was the best player around and, for that campaign, he was certainly in the conversation.
With all of that being said, though, it is worth remembering that the Suns feel short of the ultimate prize. They did reach the NBA Finals but fell to Jordan and his Chicago Bulls. Once again, though, Barkley did lead the Suns in both points and rebounds; he also came finished second in assists, trailing Kevin Johnson by six helpers.
In all likelihood, you won't make the best impression if you start a new job by telling your new boss how you're now the best employee on the team. Charles Barkley, however, is always one to do things his own way.
Have thoughts on this topic? Keep the conversation rolling in our comments section below.