Charles Barkley Reveals 'the Only Thing' That Bothers Him About Shaquille O'Neal
Although they've long since retired from professional basketball, Charles Barkley and Shaquille O'Neal still have something of a rivalry. The two legendary NBA players currently do battle on the TNT set, though. Inside the NBA is nominally about the night's games, but it can sometimes turn into a sparring match between the two legends, who love to throw verbal jabs about championship rings, knowledge of the sport, and everything in-between.
Despite that on-air reality, though, Shaq and Chuck have a rather strong relationship. In fact, Barkley admitted that there's only one thing that bothers him about his famous coworker. O'Neal, it seems, doesn't always put in the most effort when it comes to gifts.
Charles Barkley doesn't appreciate the way Shaquille O'Neal gives gifts
From afar, it probably seems like a pretty sweet deal to receive a gift from Shaq. Not only is the living NBA legend wealthy, but he's something of a big kid; if anyone theoretically understands the importance of having fun, it's him. If we take Charles Barkley at his word, though, you might want the Diesel to draw your name in the metaphorical Secret Santa.
During an appearance on Jimmy Kimmel Live, the conversation drifted to the topic of Chuck's birthday and the gift-giving habits of his coworkers.
"Ernie [Johnson] and Kenny [Smith] will probably do something nice and thoughtful," Barkley explained. "And Shaq is probably gonna do what he do every Christmas: give us stuff that he's endorsing. I'll tell ya'll, like, me, Ernie, and Kenny, we always get something like, 'What can I get Jimmy?' Something nice and thoughtful. And our gift come down to 'What crap is Shaq endorsing?' Like, 'Yo, man. You in this commercial. This is not a gift.'"
While that's pretty descriptive — as Kimmel joked, you can almost see O'Neal handing out big boxes of Icy Hot — Sir Charles wasn't done there.
"[Shaq's] got a jewelry line of watches," Chuck continued. "And we're like, 'Yo, man. You endorsed this. There's no thought here.' But I know Kenny and Ernie are gonna be thoughtful, but that's the only thing that bothers me about Shaq. He never gives you like an original gift. He's like, 'I'm endorsing this. Here.' … He's a really thoughtful guy. He loves making people happy. I love working with him, but that being said, you gotta put some thought into people's gifts."
Beyond that, though, Shaq and Chuck apparently get along rather well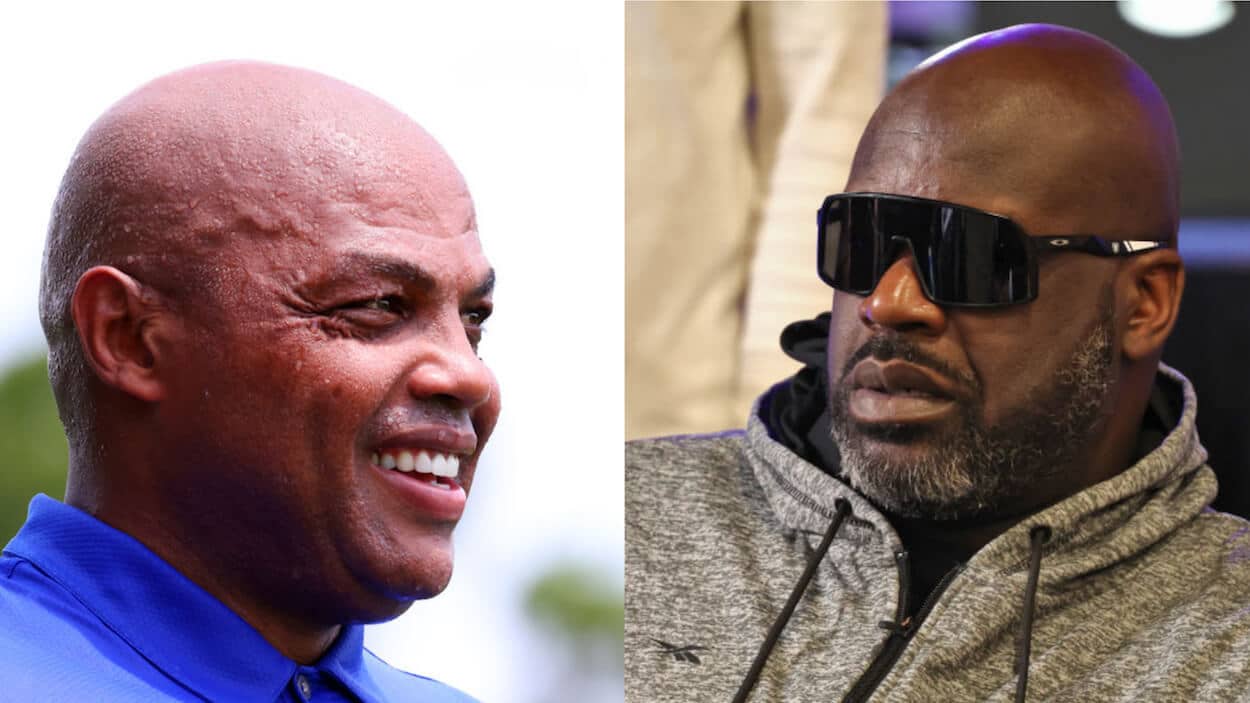 As you might have noticed, Barkley made sure to compliment O'Neal and note that he enjoys working with the legendary center. For all of their on-air banter, the two stars do apparently have a good working relationship.
During their playing careers, Barkley and O'Neal got into an on-court altercation. While that could have ended any hope of friendship, it turned out that their mothers had known each other for quite a while; in a move that only a pair of matriarchs could pull off, they told their (large, adult) sons to meet in the hallway and put the differences aside.
As Shaq explained on one occasion, both he and Chuck "are mama's boys," so they made peace, and the rest is history.
While the two men have a slightly different relationship now — they work on the same team and trade insults regularly — there's apparently no animosity behind-the-scenes.
And, if we take Chuck at his word, the only way things could be better is if Shaq put more thought into his gifts.