Charles Barkley Sent Bill Laimbeer a 2-Word Note Prior to Their Key 1990 Meeting That Ended in an Epic Brawl
Bill Laimbeer wasn't the most pleasant person to play basketball against. He earned the reputation of being the most hated player in the NBA. Charles Barkley, on the other hand, was one to always say what was on his mind — or in this case, write what was on his mind. That combination culminated in Barkley sending a short, simple note to Laimbeer prior to a key 1990 game before all hell broke loose.
Charles Barkley and Bill Laimbeer went at it, and it all started with a short note
Barkley and his Philadelphia 76ers were gearing up for the playoffs and a shot to clinch the Atlantic Division on the Detroit Pistons' home court on April 19, 1990. Barkley and Laimbeer never got along, and the Sixers forward ignited what turned out to be an epic brawl with a two-word note he had delivered to Laimbeer before the game.
According to United Press International, several writers witnessed Barkley write the short note (the second word being "you"). The note was addressed to Laimbeer, and Barkley had a ball-boy deliver it to the Detroit locker room.
The Sixers captured their first division title in seven years that night, with Barkley leading the way with 36 points in a 107-97 win. He played 47 minutes before getting ejected in the final one. The game had been physical as most Sixers-Pistons games were back then. Isiah Thomas threw a weak punch at Rick Mahorn, who laughed it off.
Things got ugly after a late Mahorn basket when Laimbeer shoved the ball back in Mahorn's face. Barkley went after Laimbeer. Punches were thrown, benches cleared, and even fans got involved.
After the game, Charles Barkley and Bill Laimbeer traded verbal jabs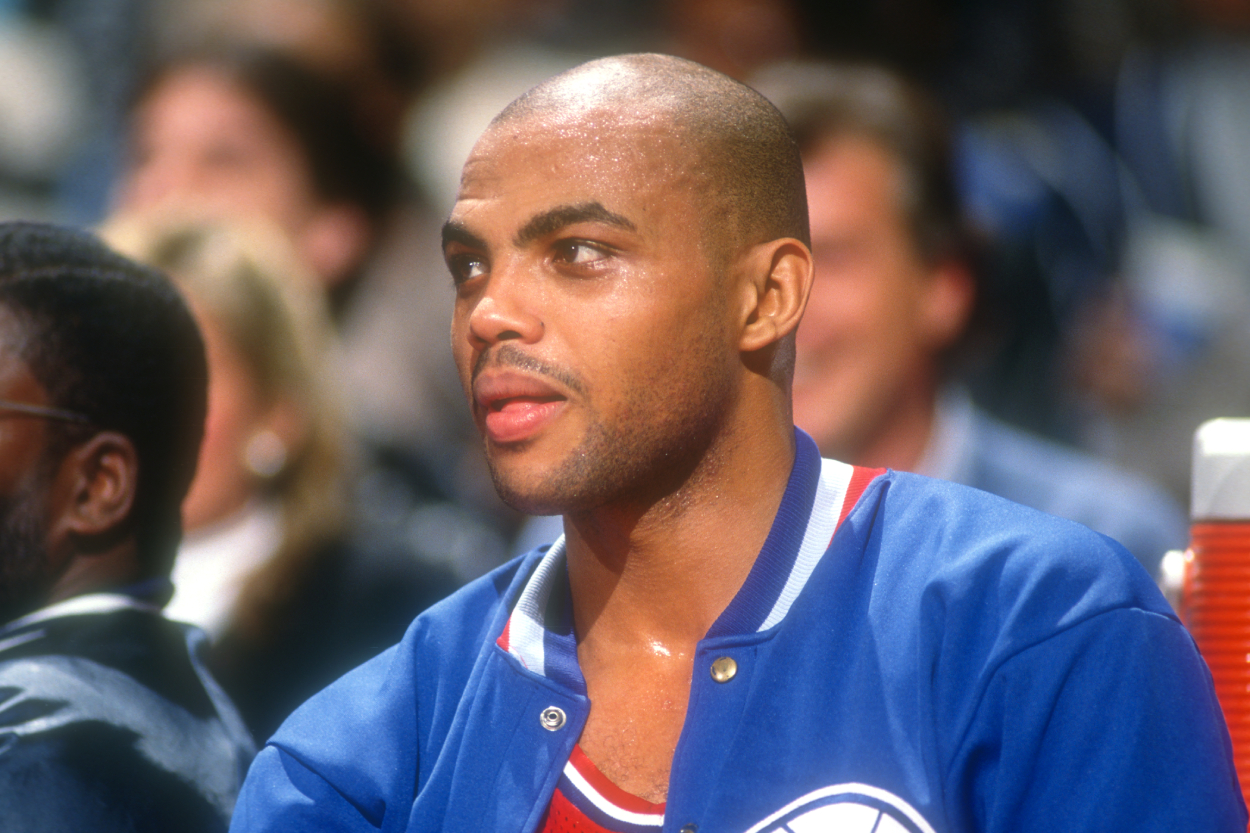 Barkley and Laimbeer were ejected with 14 seconds remaining in the game. When the game ended, however, the verbal jabs continued. Laimbeer said Barkley drew first blood.
"He did. He hit me first," Laimbeer said, according to UPI.
Barkley said something to the Pistons center as he left the court. Laimbeer, who waved at Barkley, didn't reveal what Barkley said.
"What he said was insignificant," said Laimbeer. "I asked him why he ran away. I don't know what he said to me. It was unintelligible. That's basically how he talks."
Barkley claimed victory in the game and in his fight with Laimbeer.
"It was very cheap what they tried to do," Barkley said. "But there was no way we were going to get out of here without a win. He (Laimbeer) had a shot at the (boxing) title — and he lost. I got in 3-4 good punches."
Barkley still talks about Laimbeer and his so-called fighting
Barkley was a guest on the Dan Patrick Show during last year's showing of ESPN's The Last Dance docuseries. Patrick brought up those days of the Bad Boys and specifically asked him about Laimbeer.
"Only two guys on that team could fight," Barkley said. "Isiah and Joe Dumars. (Dennis) Rodman couldn't fight. (John) Salley couldn't fight. Mahorn couldn't fight. Laimbeer couldn't fight. Vinnie Johnson and James Edwards, they'd fight. But those main four guys I just mentioned, none of them could fight a lick.
"Go back and look at the tape. Laimbeer was always getting punched in the head. Just because you got punched in the face, doesn't mean you can fight."
Thirty years after that ugly brawl, Barkley is still swinging at Laimbeer.