Charles Barkley Had the Yugoslavians Scratching Their Heads in 1983: 'Just Because He's Fat Doesn't Mean He Can't Play Basketball'
Charles Barkley has always found a way to surprise people. Whether it's on the basketball court or in the NBA studios, Sir Charles has a way of raising eyebrows. It's nothing new, either. Before he was drafted into the NBA, Barkley found a way to stun the Yugoslavian players during the International Invitational Basketball Tournament in 1983.
For Charles Barkley, size never mattered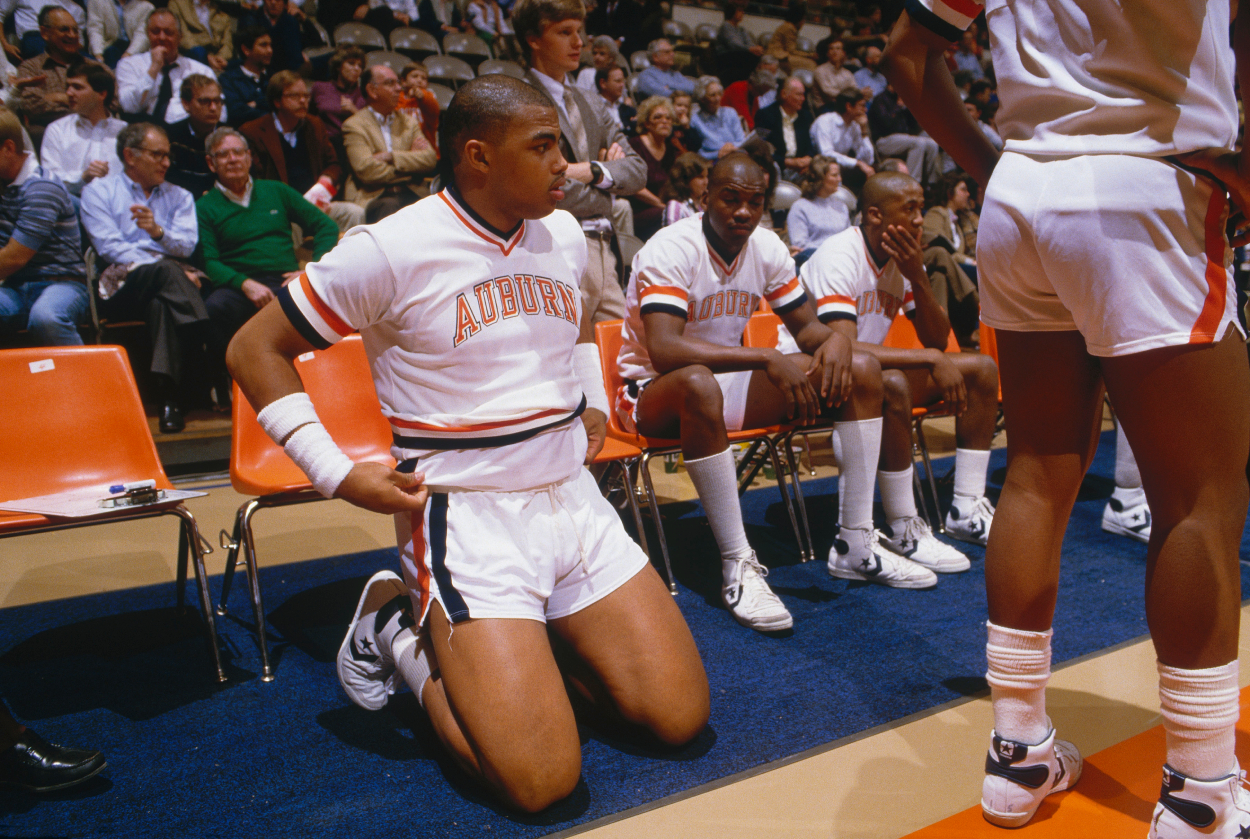 At Auburn, the school exaggerated Barkley's height, listing him at 6-foot-6 on the roster. In his book, I May Be Wrong but I Doubt It, Barkley stated he was 6-foot-4.
None of that seemed to matter for the man known as the Round Mound of Rebound while playing for the Tigers. At Auburn, he was the model of consistency. Listed at 6-foot-6, 252 pounds, although he was more like 6-foot-4, 260, he cleaned up the boards, averaging 9.6 rebounds in his college career.
Barkley played center for the Tigers, but when he grabbed a rebound, it wasn't all that uncommon for him to show off his athleticism and go coast-to-coast and finish with a dunk. At Auburn, he averaged 14.1 points and shot 62.6% from the floor.
In his final year at Auburn, Barkley guided the Tigers to their first NCAA Tournament in school history. He earned a tryout with the 1984 U.S. Olympic team, although he was a late cut.
The Philadelphia 76ers made him the fifth overall selection in the 1984 NBA Draft. He was an 11-time All-Star and a league MVP. Barkley was inducted into the Naismith Memorial Basketball Hall of Fame in 2006.
Charles Barkley had the Yugoslavians scratching their heads in 1983
In June 1983, Barkley and several other college and soon-to-be NBA players took part in the International Invitational Basketball Tournament. The international game was much different than what was played here. Each position had its own role. The guards were the playmakers. The forwards were the scorers, while the centers were mainly responsible for the rebounding.
According to United Press International, Barkley stole the show for the United States World University Games team in a surprisingly lopsided 98-74 win over Yugoslavia on Day 2 of the three-day tournament. He finished with 14 rebounds, 11 points, three assists, two dunks, and two blocked shots.
He opened the eyes of many, especially Yugoslavian coach Dusan Ivkovic.
"Just because he's fat doesn't mean he can't play basketball," said Ivkovic. "He's something of a new kind of player in modern basketball. He's a strong player and a good rebounder. You can always use a player like that no matter what his size."
Barkley teamed with Louisiana Tech's Karl Malone, who had 10 first-half points to help the U.S. take a 47-34 lead into the locker room at halftime.
The 76ers were concerned about Barkley's weight when they drafted him
Barkley's athleticism and talents on the basketball court were never in question. His weight, however, was a concern.
"Charles was about 6-4, he weighed 290, and he could take the ball off the backboard and go the length of the floor," said then-Sixers general manager Pat Williams, per USA TODAY. "There's never been anybody quite like him, really.
"We took him, somewhat fearful. He weighed 290 pounds. I said, 'Charles, you need to eat a more balanced diet. A Big Mac in both hands is not a balanced meal.'"
"I remember him when he first came out to training camp," said former Sixer Bobby Jones. "I told Julius (Erving), 'I don't know if his back and knees are going to take it.' He came into camp 305 pounds. We didn't know if his body would take the pounding that we knew he would have to take to play a lot of years."
While his weight was always a concern, it never became a problem. Barkley dominated during his eight years in Philadelphia. When he was traded to the Phoenix Suns, he became the MVP of the league.
"We worked the contract, had all sort of weight clauses in it," Williams said. "As it turned out, we never checked them one time. He came back in the fall at 250 (pounds) and was an absolutely spectacular NBA player."