Charles Barkley Delivered His Own Impressive Version of Allen Iverson's 'Practice' Rant 12 Years Earlier
In 2002, Philadelphia 76ers star Allen Iverson went on his now-famous rant about practice. The Sixers guard went off during a media session where he was questioned about his commitment to practice. He rattled off the word "practice" 22 times during the press conference in a rant that continues to live on.
Iverson's tirade, although more famous, wasn't the first sound-off about practice in Philadelphia. Twelve years earlier, Charles Barkley, another young Sixers star, gave the media his thoughts on game preparation.
Allen Iverson's practice rant continues to live on
In 2002, Iverson sat at a press conference four days after his Sixers were eliminated by the Boston Celtics in the postseason. According to Sports Illustrated, the purpose of the press conference was to announce Iverson was returning to the Sixers after a series of trade rumors and some clashing with head coach Larry Brown took place during the season.
The previous season, Iverson and the Sixers appeared in the NBA Finals. In 2002, they had a first-round playoff exit after a disappointing 43-win regular season.
At the media session, Iverson was questioned about his commitment to practice.
"We sitting in here — I'm supposed to be the franchise player, and we in here talking about practice," Iverson said. "I mean, listen: We talking about practice. Not a game. Not a game. We talking about practice. Not a game. Not the game that I go out there and die for and play every game like it's my last. We talking about practice, man."
As it was later disclosed, Iverson's frustration came after dealing with a tough basketball season and the death of his best friend, Rahsaan Langford, who was shot and killed seven months earlier.
Charles Barkley had his own rant about practice in 1990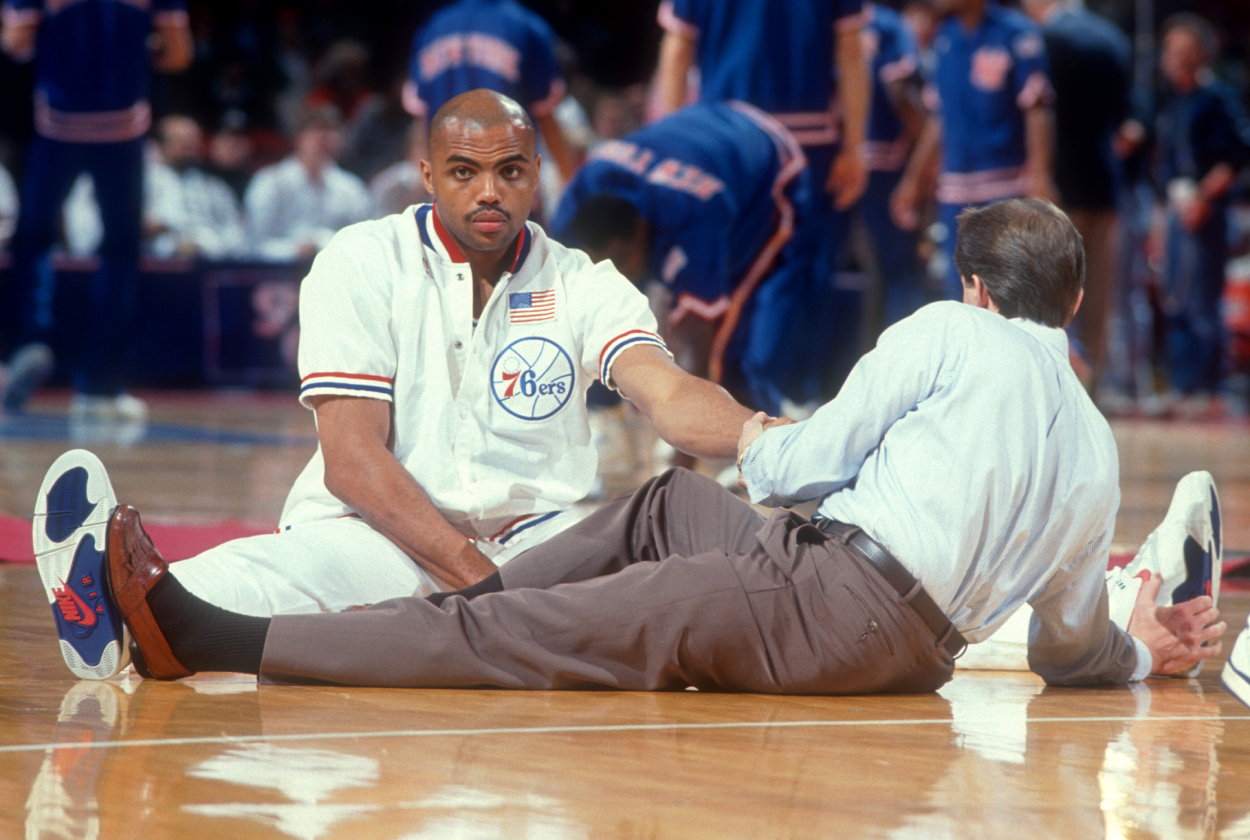 During the 1989-90 season, although not as pronounced as Iverson's, Barkley gave his own take on what he thought about practice. The Sixers had just defeated the Indiana Pacers 112-108 on the road for the ninth straight victory. The win put Philadelphia at 27-16. Barkley finished the night with 31 points and 16 rebounds and felt pretty good about himself and the team.
Ahead of him was a 6:30 a.m. bus ride and then a practice Thursday in preparation for the Sixers' game Friday against the Milwaukee Bucks. An angry Sir Charles wanted no part of either.
"Practice? We haven't lost nine in a row," Barkley said, according to United Press International. "We should have the rest of the week off. Forget the games, too. If we have a practice, they're going to have to just take the money out of my check cause I'm going to sleep in and enjoy this."
He continued.
"If we don't lose another game before the all-star break, I'm going to take a vacation — go away somewhere and celebrate and enjoy it," he said. "I'm as serious as a heart attack."
Barkley and the Sixers extended their winning streak
The Sixers were on fire and were meshing. Everything was clicking, and Barkley could feel it.
"We're playing extremely well, but we've got to keep it going," Barkley said. "Our chemistry has finally meshed. We've just jelled. Our confidence is high."
As much as he didn't want to, Barkley practiced and then played against the Bucks. The Sixers made it 10 straight with a 119-109 victory over Milwaukee. Barkley remained red hot with 33 points and 14 rebounds.
Philadelphia then posted another victory over the Bucks, winning 105-102. They made it 12 straight with a convincing 114-89 win at home against the Utah Jazz.
The streak ended at 12 on Feb. 7, 1990, when the Golden State Warriors outlasted the Sixers 113-112.
The Sixers finished the season in first place in the Atlantic Division with a 53-29 mark. They lost to the Chicago Bulls in five games in the Eastern Conference Semifinals.
Barkley played two more seasons with the Sixers before they traded him to the Phoenix Suns. Unfortunately for Barkley, he still had to practice in the Western Conference.