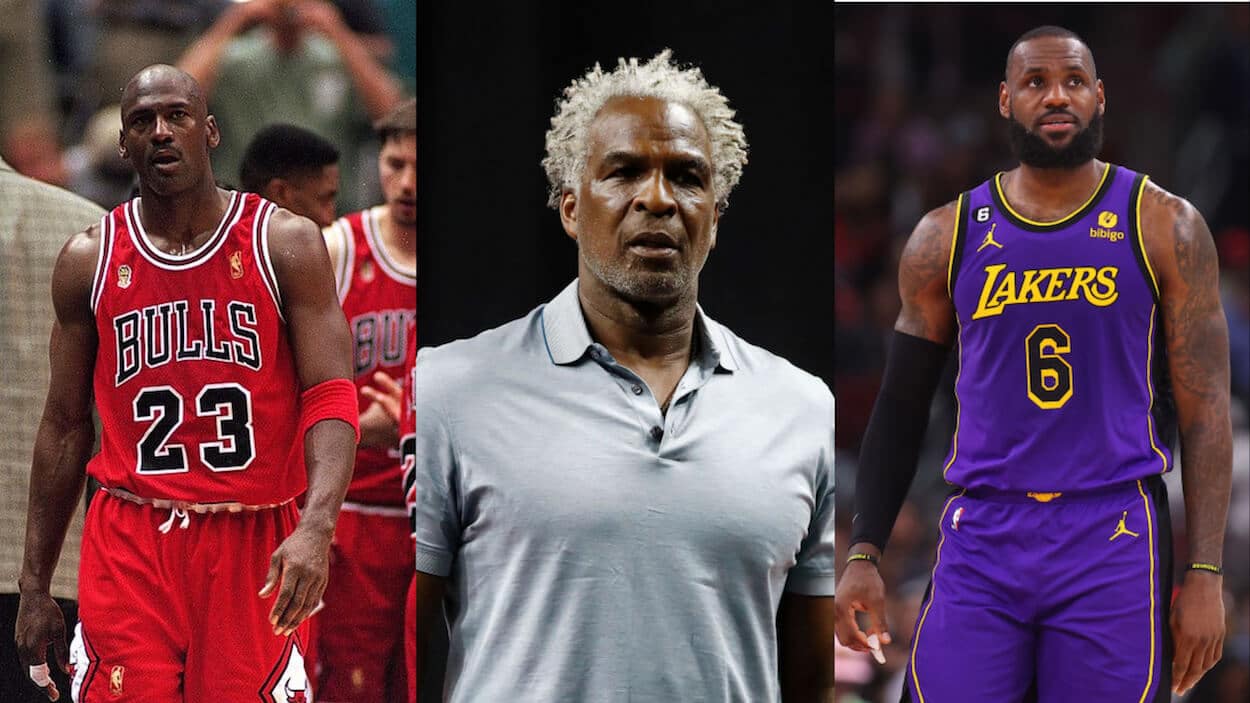 Charles Oakley Admits That He'd Rather Play With LeBron James Than His 'Best Friend' Michael Jordan With a Weird Cereal Analogy
Charles Oakley forged a great bond with Michael Jordan, but the forward would rather team up with LeBron James than His Airness.
In the world of sports, loyalty is a pretty powerful force. While there are some exceptions to the rule, most athletes will side with those who they know. Whether that means reuniting with old teammates or taking the opportunity to praise a former coach, you (usually) remember those who have helped you out in the past. Charles Oakley, however, is somewhat deviating from the norm.
As basketball fans will remember, Oak Tree spent some time with Michael Jordan and developed quite a bond with His Airness. That reality, however, doesn't earn MJ the big man's ultimate honor. Instead, LeBron James got the nod.
Yes, you read that correctly. Oakley admitted that, while Jordan is still his "best friend," he'd rather hit the court with King James.
Charles Oakley thinks highly of LeBron James and even said he'd rather play with him over Michael Jordan
Like it or not, each era's top basketball talent is bound to be compared to Michael Jordan. Just ask LeBron James about that reality. While that debate usually ends in Mike's favor — he is Michael Jordan, after all — King James recently got a major endorsement from a former Chicago Bull.
During a Showtime Basketball conversation with Kevin Garnett, Charles Oakley praised King James. In his mind, the current Laker does a great job, both on and off the court. And, when push comes to shove, the forward certainly appreciates LeBron's willingness to share the rock, which isn't always a given when you're talking about a superstar.
"Anybody who got a son wants LeBron because, if you're open, he'll pass your son the ball," the Virginia Union man explained. "It ain't like some guy who look at you, then shoot it. So, they said LeBron ain't the guy who want to take a big shot, but it ain't about taking the big shot if somebody checking him, you know? They always said, 'Well, Mike would take the shot. LeBron would pass the shot.' I mean, LeBron's the guy. They asked me, 'Who you gonna play with, LeBron or Mike?' I said LeBron, but Mike's my best friend."
Thankfully, Oakley didn't drop that bomb and leave it at that. He did offer an explanation, even if things got a bit muddy as the conversation continued.
Mike ain't passing me the ball. He don't care if I get a shot today or tomorrow, but, you know, that's how he got to be Mike, you know? So, when they always make that comparison, "Who you like, LeBron or Mike," I say, "It's Frosted Flakes. Corn Flakes. Mike. LeBron." So, LeBron got no sugar, Mike got the sugar. So the sugar I ain't have, I'm going LeBron because I was Corn Flakes.

Charles Oakley
And while it's not exactly clear what the sugar refers to in this scenario — the direction of the conversation suggests it's flash or killer instinct/willingness to take the shot, but it's not completely fair to say LeBron doesn't possess those — Oakley does have a point. James' assist numbers are, like it or not, better than Jordan's.
The big man's desire to play with someone who's more likely to pass the ball also makes sense when you take a moment to think about it. While it's easy to say that Oakley wasn't a scorer, so playing with a better passer is irrelevant, every pro athlete is confident in their abilities. You know how you dreamed of hitting a game-winning jumper as a kid? That impulse doesn't go away. There's probably a part of Oak Tree's mind that says, for all of his success, he could have been a bigger offensive force if things were a bit different.
But, as the NBA veteran was (probably) trying to suggest, there's no going wrong with either LeBron James or Michael Jordan.
Which one of those stars would you team up with? Let us know in the comments below.