Michael Jordan Forged a Bond With Charles Oakley Through a Prophetic Act of Kindness
When you hear the name Michael Jordan, a very specific image probably comes to mind. Whether you're thinking about his time on the hardwood or any of his extracurricular activities, MJ is a fierce competitor. There's no time for niceties or kind words during the heat of the moment; it's all about the relentless pursuit of the top spot.
And while there may be an element of truth to that, it isn't the entirety of the story. Consider, for example, an interaction that His Airness had with a young Charles Oakley.
During the big man's first season in Chicago, he didn't have anything to do during the All-Star break. Jordan realized that and, in a prophetic move, invited him to enjoy the NBA's festivities with him. From there, the rest was history.
Michael Jordan thought highly of a young Charles Oakley and extended some kindness to the forward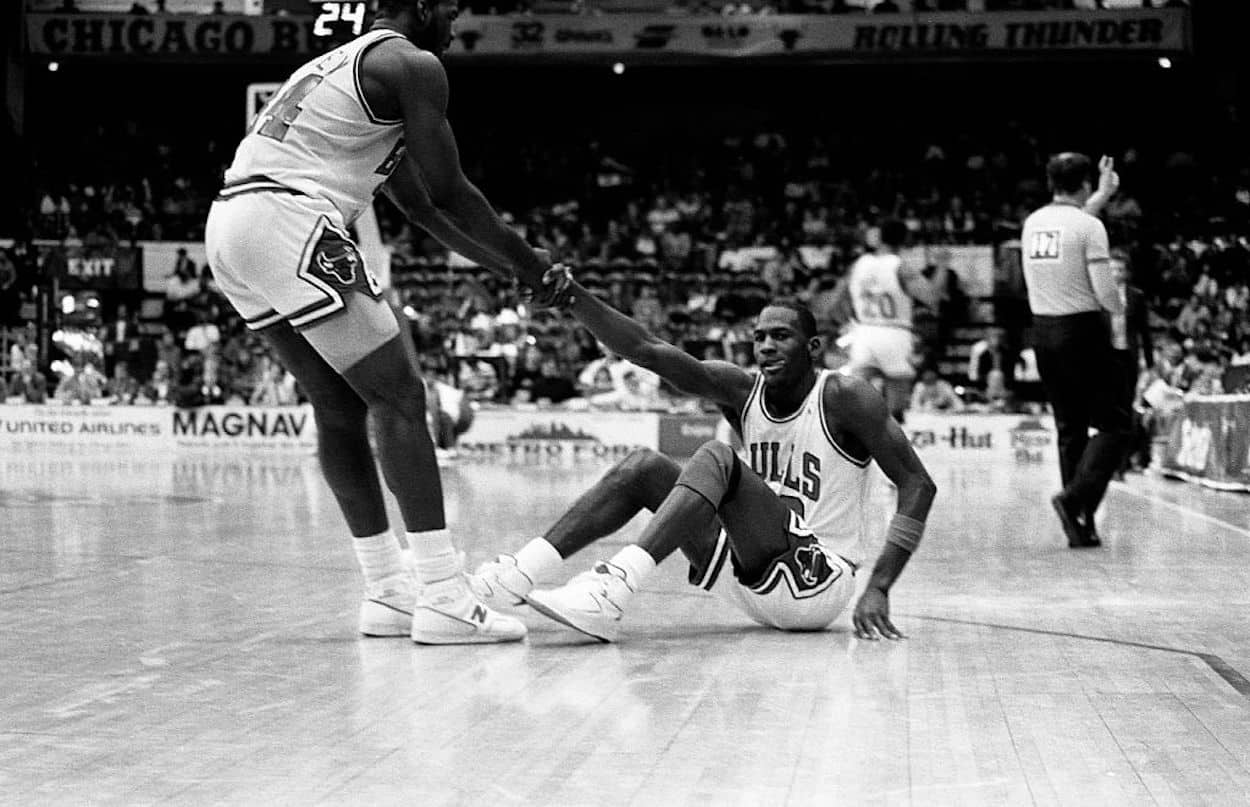 During his time in the Association, Jordan's most famous running mate was Scottie Pippen. In the Windy City, though, His Airness also formed quite the bond with Charles Oakley.
As documented in a 1986 Chicago Tribune piece, Jordan, who was still relatively new to the NBA scene, formed a bond with the rookie. In fact, MJ extended quite the gesture to the former Virginia Union man.
"Take one look at whom Michael Jordan is escorting around on All-Star Weekend and you come to understand a little bit more about the man who is heart of the Bulls," Bob Sakamoto wrote. "… But instead of being arm in arm with a beautiful woman, Jordan is side by side with Charles Oakley. Jordan led the balloting for the Eastern Conference team, but a broken foot he suffered in the third game of the season was going to keep him home until the NBA persuaded him to appear for public relations' sake. They rewarded him with an all-expense-paid weekend for the guest of his choice, and he invited Oakley, the Bulls' rookie."
That wasn't the end of the story, though. Jordan had some rather kind words to say about his protector.
Last week, I asked him what he was doing over the All-Star break. He didn't know what to do, being a rookie and all. I felt sorry for him. I told him to come with me and that he wouldn't have to pay for anything. I made sure everything was taken care of. He really is a nice guy. I like Charles Oakley. This will give him something to look forward to in the coming years, a goal for himself. He'll see all the best players in the league, and one day maybe he'll be here playing. It's an experience, something you can cherish after you get older.

Michael Jordan
And, as if that wasn't enough kindness, MJ pushed even further. Beyond calling Oak his "bodyguard," the Chicago Bulls star explained how he wanted to care for the forward, in addition to everyone else in the locker room.
"That's my bodyguard," Jordan added. "I'm going to be like a big brother to him. We have a great relationship, and that's how the whole team has to be. One person has to care for another person. We've got to learn to help each other out in bad situations."
Oakley certainly seemed to appreciate Jordan's efforts
In Sakamoto's article, we never heard from Charles Oakley himself. Based on everything we know, though, it's safe to assume that he appreciated what Jordan had done for him.
While the pair's time together didn't last too long, Oak has spoken about his affinity for MJ. After The Last Dance, for example, the forward explained that he and the living legend simply clicked.
"We got to be friends, and whenever I called, he answered the bell," Oakley explained. "The thing about me and Mike, we talked mess to one another, but we never crossed the line. There's so much respect. We're just tight. We don't fight. We don't do this or that. We're just the best of friends. He put me in The Last Dance, he put me in the Hall of Fame speech, he put me in Space Jam, so I'll wait for the next show."
That connection eventually brought the big man to Washington, D.C., where he reunited with his old partner. And, even in retirement, the "bodyguard" is still coming to His Airness' aid. During a 2022 appearance on All the Smoke, for example, the Cleveland native had no problem going after Isiah Thomas.
"He [Jordan] said a lot about a lot of people," Oakley said at the time. "… Isiah talked about himself. Don't nobody like Isiah no more. I don't know what's up with Isiah. He's just too sneaky. He always says, 'I ain't do it,' but he did it. It's like, 'We got you on camera; you did it.' He still wanna be Mike. Mike do not want to be your friend, Isiah. I'm telling you for the fifth time. He do not want to be your friend. Stay on ESPN. Keep talking on TNT. Now you're trying to say everybody better than Mike. It's OK. You not better than Mike. He came to your city and took your city. That's why you really mad: He took over Chicago. I know."
It's also worth noting that, beyond the fact that Jordan's gesture seems to have struck a tone with Oakley, His Airness was also correct in his judgment. He hoped that the All-Star trip could inspire his teammate to earn his way onto the big stage, and Oak Tree did just that in 1994.
Is MJ always the nicest guy? No, but he was certainly onto something by taking Charles Oakley to All-Star Weekend with him.