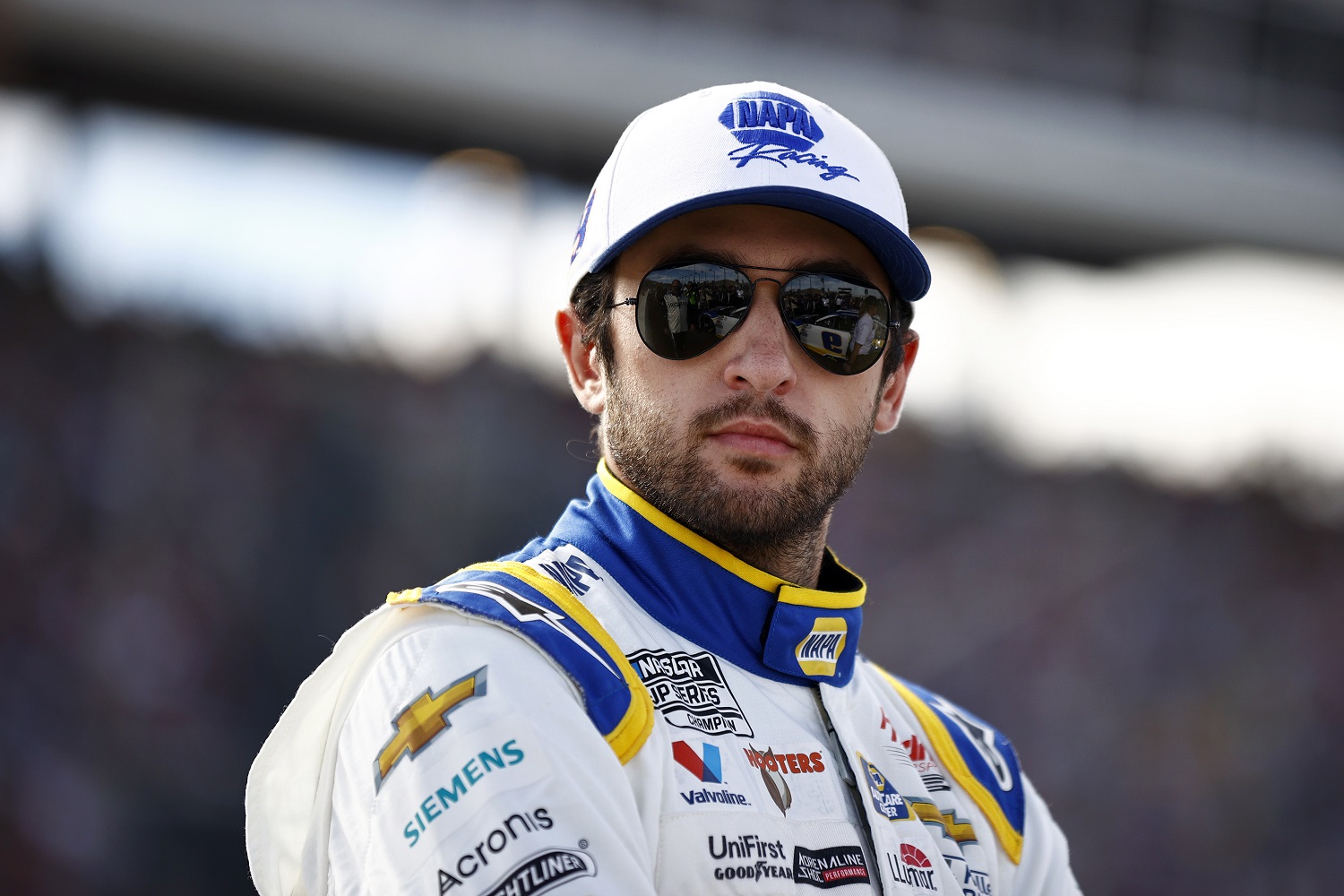 Chase Elliott Assessed His Predicament While Airborne and Upside Down: 'Yeah, This Isn't Going to Be Good'
Chase Elliott's crash at the 2022 Chili Bowl Nationals in Tulsa, Oklahoma, caught the attention of race fans. Elliott's take as it happened: 'Yeah, this isn't going to be good.'
It takes a convergence of events, usually beginning with another driver's mishap on a superspeedway, to send a NASCAR Cup Series car airborne and upside down. As Chase Elliott can now confirm, all it usually takes on a tiny dirt track is for the day of the week to end with the letter "Y."
Elliott, a relative novice on the midget car circuit, saw his title bid at the 2022 Chili Bowl Nationals end in an abrupt fashion destined to make him a YouTube celebrity forever. His wreck wasn't Vinko Bogataj bad, but it was still pretty awful.
Chase Elliott has won at the highest level, but Chili Bowl Nationals marked a career first
A lot of people see multi-car crashes in NASCAR Cup Series races and assume racing can't get much wilder. "The Big One," a staple of the superspeedways at Daytona and Talladega, reinforces the perception.
For the record, those are some of the most intense and dangerous spectacles in sports. However, stock cars are engineering marvels, built with safety in mind and constantly improved. There has not been a fatality in one of NASCAR's three national series since Dale Earnhardt's crash on the last lap of the 2001 Daytona 500.
The midget cars that took over the Tulsa Expo Center in Oklahoma for a week in mid-January are nothing like their big brothers in appearance, but safety on the quarter-mile dirt track is no afterthought. Chase Elliott, the 2020 Cup Series champion, can be grateful for that following his epic wipeout, the likes of which the 26-year-old from Dawsonville, Georgia, had never experienced.
"Up until then, I had never flipped any race car," Elliott said on the Garage Talk with the Garage Guys podcast. "That was my first time upside down. I've been off the ground a couple of times and things get really quiet and weird until you hit something hard the next time."
Chase Elliott assessed his predicament while airborne and upside down
Nearly 400 drivers showed up for endless heats over six days at the Chili Bowl Nationals. By unofficial count, 65 of them flipped their midget racers during the week. None attracted more attention than Chase Elliott in the "F" feature race, courtesy of his name recognition and the hang time.
Elliott made contact with a tire on a car to the inside, and suddenly he was gliding along on just his right rear tire. He went into a 270-degree roll and landed hard on the left rear tire and bumper. That bounced the car high into the catch fence. Hitting a support post might have been the only thing keeping Elliott from getting hung up in the fence and maybe into the stands, perilously close to the crowd. Instead, he made a hard landing on the vehicle's side.
Start to finish, the incident in one of Hendrick Motorsports teammate Kyle Larson's car, lasted less than 2.5 seconds, even if it felt like forever to the driver.
"Being open wheeled, the way they're shaped they can take some aggressive digs into the ground and abrupt stops," Elliott said on the podcast, transcribed by TobyChristie.com. "But I think I got pretty fortunate on mine. I was thinking it was going to be a little worse than what it was. But seats and helmets and all of those things have come a long way too, which was nice."
'Yeah, this isn't going to be good'
Eighteen of Chase Elliott's 221 NASCAR Cup Series race starts since 2015 have ended with crashes (Kevin Harvick tried hard to make it 19 at the Charlotte roval), most of a high-speed nature on big asphalt tracks. Wrecking on a quarter-mile dirt track with spectators so close to the action was a new experience. Even though everything happened in a relative blink of an eye, Elliott had time to fear the worst.
"I will say once I hit that, boy, I was like, 'Yeah this isn't going to be good,' and you try to brace for impact," he said. "I opened my eyes at one point, and I saw the first row of the grandstands and I was like, 'Oh s***, this is going to be bad.' I think the fence kind of caught me and landed there in a fairly fortunate position."
The crash ended Elliott's week, but he came out of it uninjured and with plenty of time to turn his attention to the Busch Light Clash and then the Daytona 500.
Like Sportscasting on Facebook. Follow us on Twitter @sportscasting19.