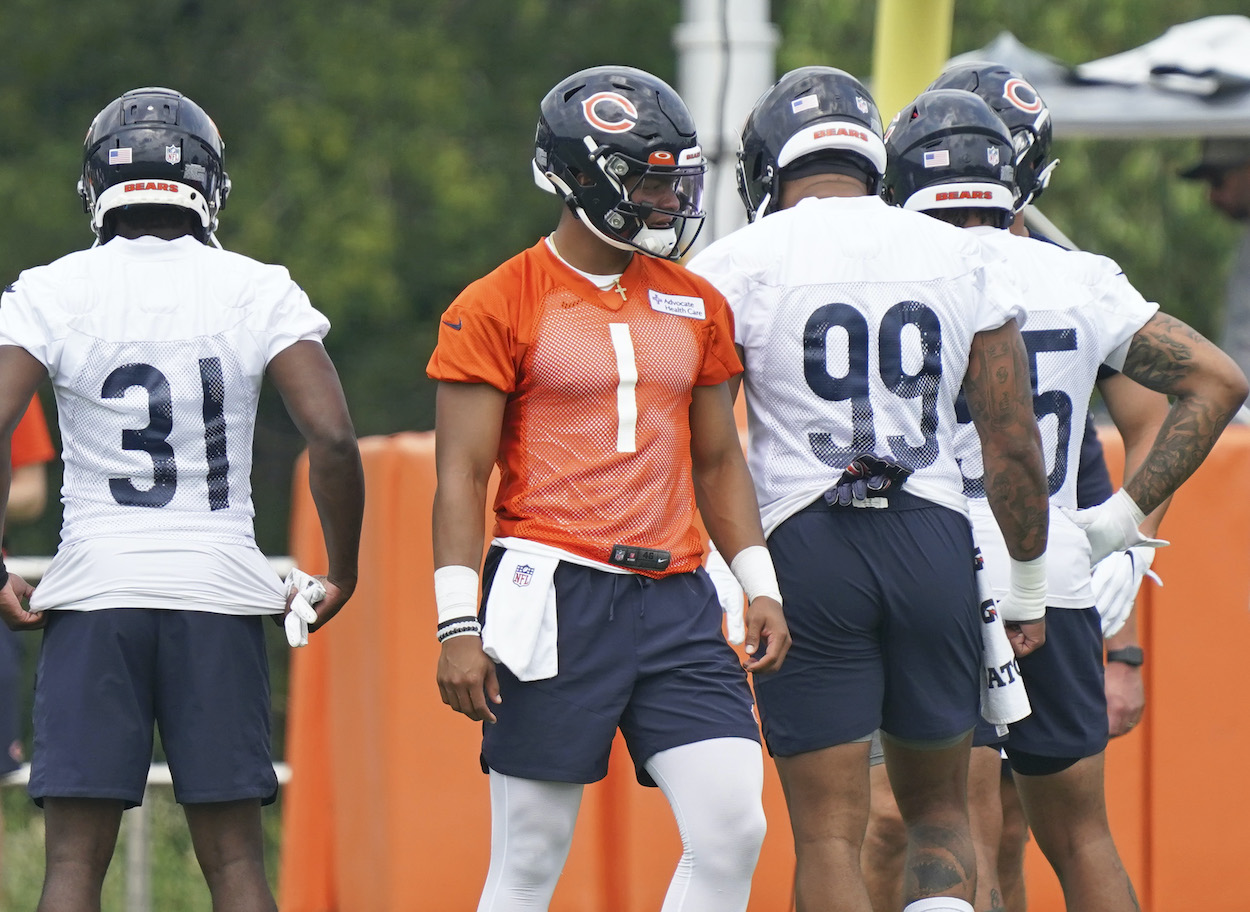 Chicago Bears Fans Get an $18.8 Million Scare Thanks to an Aggressive Pass Rush and Terrible Blocking
Chicago Bears rookie first-round QB Justin Fields got roughed up during an early training camp practice as Bears fans held their breath. The incident turned out to be relatively minor but did illustrate that the team doesn't have much depth on the offensive line going into the 2021 NFL season.
If you've ever seen an NFL practice, you know that the D wears one color jersey, the O wears another, and the quarterbacks wear a third. That third, usually bright-colored shirt indicates one thing to the team: DO NOT HIT THE QUARTERBACK.
The vaunted Chicago Bears defense and the depleted offensive line apparently didn't get this memo in training camp, and the team's new $18.8 million investment got an unwelcomed surprise.
The Chicago Bears drafted QB Justin Fields No. 11 overall in the 2021 NFL draft
The Bears haven't had great luck at QB since Sid Luckman took snaps for the franchise. Since then, names like Jim McMahon and Jay Cutler have been the best Bears fans have seen.
In 2017, the team traded up one spot to draft Mitchell Trubisky. The former North Carolina Tar Heel had some good times at Soldier Field, with a playoff and a Pro Bowl appearance, but, overall, he didn't work out great.
Chicago declined to re-sign Trubisky in the 2021 offseason. The franchise decided it was better to trade up yet again and take the former Ohio State Buckeye, Fields, at No. 11 in this year's draft.
The Georgia native got a big contract that comes with his draft slot and is now the great hope for Bears fans desperate for a franchise QB.
The Bears D roughed up Fields during an early training camp practice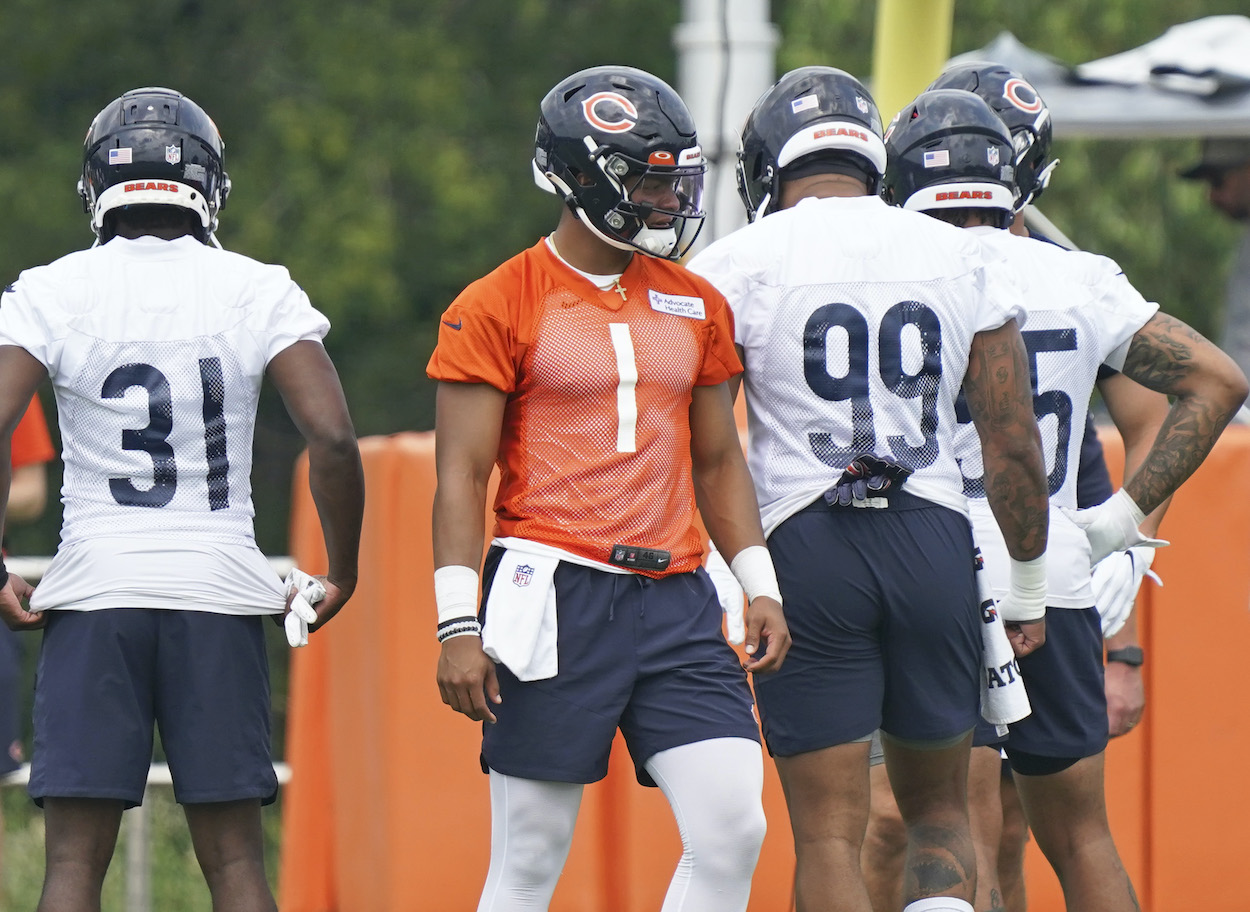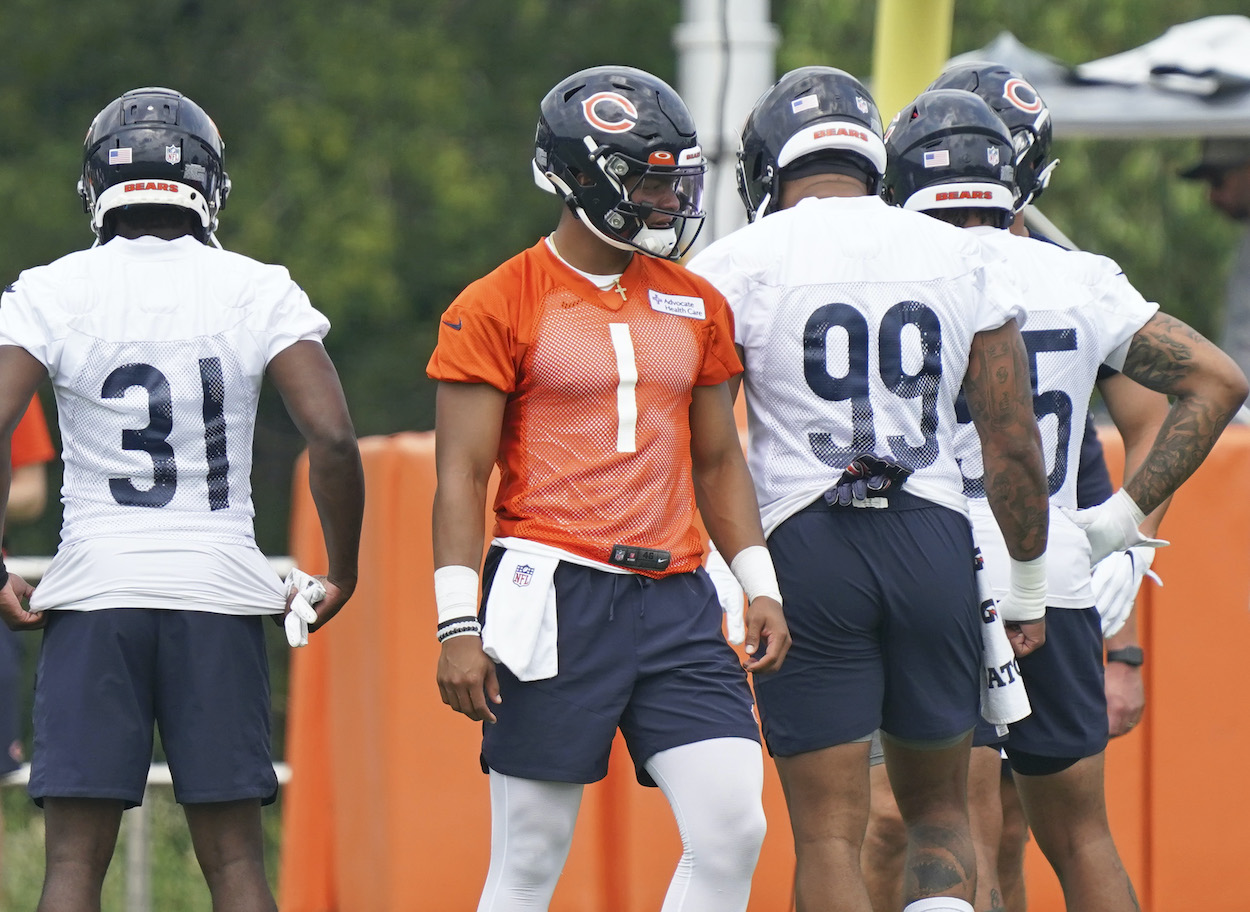 Fields is a 6-foot-3, 228-pound quarterback who threw for 5,373 yards at Ohio State and ran for 867 more. He accounted for 78 total touchdowns as well. He is a prototypical modern NFL QB, and the Bears hope he can become the next Josh Allen or Patrick Mahomes.
The first thing the Bears have to do to get Fields to that point is to keep him healthy until Week 1. In this respect, they got a scare early in training camp. Sports Illustrated reports:
It was a scary moment near the end of Saturday's Bears practice. … Fields was besieged throughout practice by the pass rush. On one play, the rush came through so hard the rookie quarterback was knocked to the ground. He seemed a bit more stunned than anything, and for good reason. There is no touching of the quarterback allowed in practice, let alone knocking him to the ground, although in this case, it wasn't like he had been clobbered, but someone in a scrum made contact as he followed through.

Sports Illustrated report on Chicago Bears training camp
Fields ultimately got up and seemed fine. He was chatting calmly with head coach Matt Nagy shortly afterward, but the incident did illustrate an issue for the 2021 Bears. Both left and right tackles, Teven Jenkins and Germain Ifedi, were out, replaced by backups Elijah Wilkinson and Lachavious Simmons. The team has precious little depth up front on offense, and that could become a problem for Fields or Andy Dalton under center when the pass rush is real.
Reports from camp say Fields is very confident
With the season about a month away, Nagy is sticking to his guns, saying that Dalton will be the Week 1 starter for the Bears. However, the former Cincinnati Bengal and Dallas Cowboy isn't the most mobile signal-caller. If the offensive line woes continue, it could present a significant issue from the 11th-year pro.
This could force Nagy's hand and put Fields under center sooner rather than later. That shouldn't be a problem for Fields if it happens, though, as his coach says he has an abundance of confidence.
Confidence is a great word," Nagy said of Fields. "Because he's not cocky. He's very confident in himself."
That confidence likely won't be on display when the Bears kick off September 12, on Sunday Night Football against the Los Angeles Rams, but don't be surprised if we see Fields soon thereafter.
All stats courtesy of Sports Reference