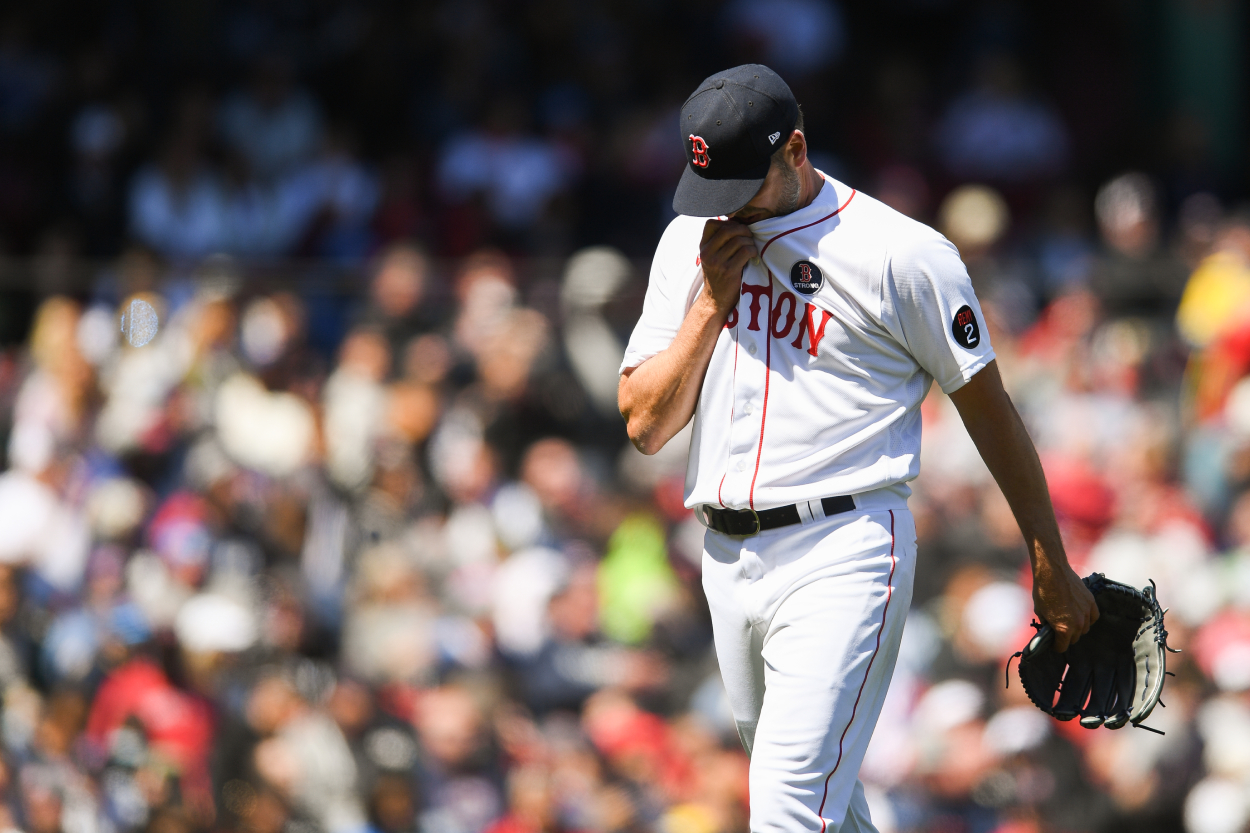 Choked-Up Red Sox Pitcher Rich Hill Shows Grit During Emotional Start on the Mound
Boston Red Sox pitcher Rich Hill threw with a heavy heart against the Minnesota Twins on Monday.
It wasn't the results he wanted, but Rich Hill knew he had to be out there. The veteran Boston Red Sox pitcher went 4.2 innings, surrendering four runs, all earned, as the Sox fell to the Minnesota Twins 8-3 on Monday.
While it wasn't Hill's day, the left-hander earned the respect from his teammates and manager Alex Cora after taking the mound with a heavy heart.
Rich Hill pitched for the Red Sox days after the death of his father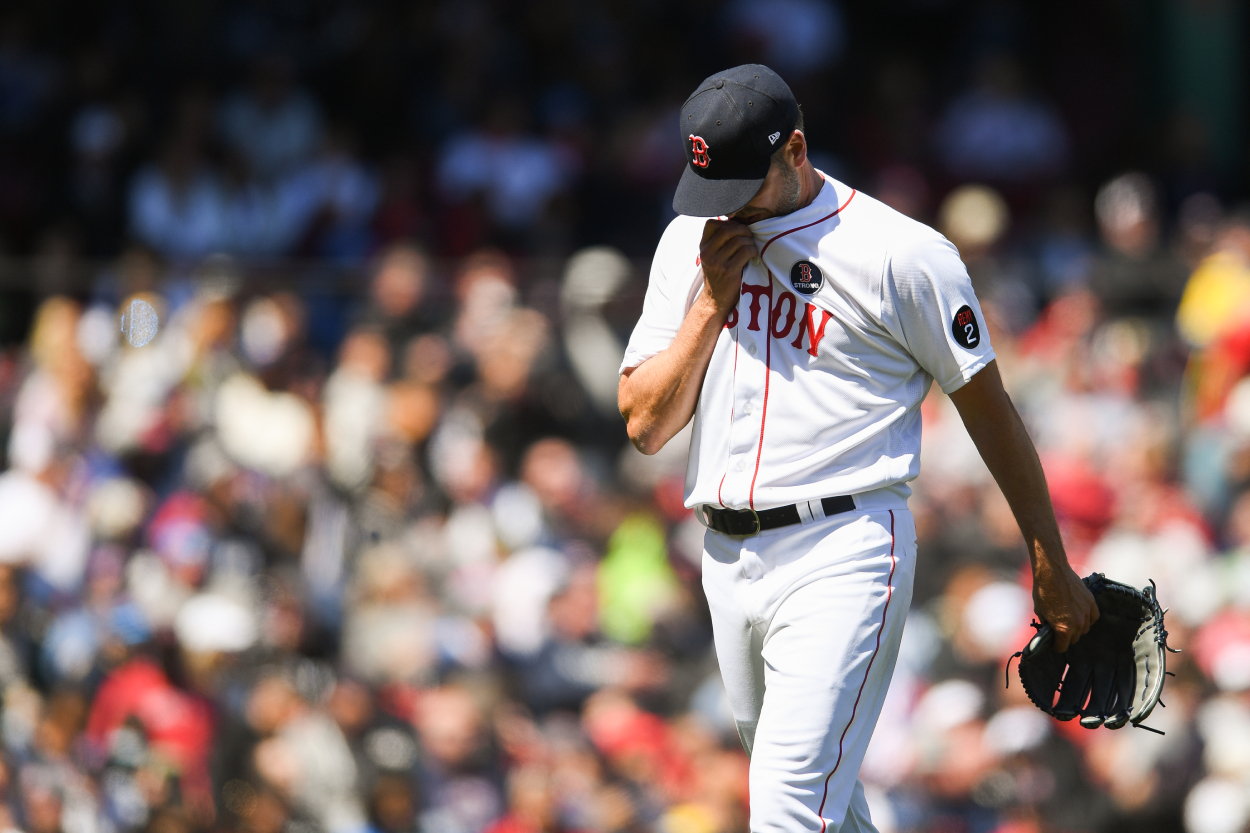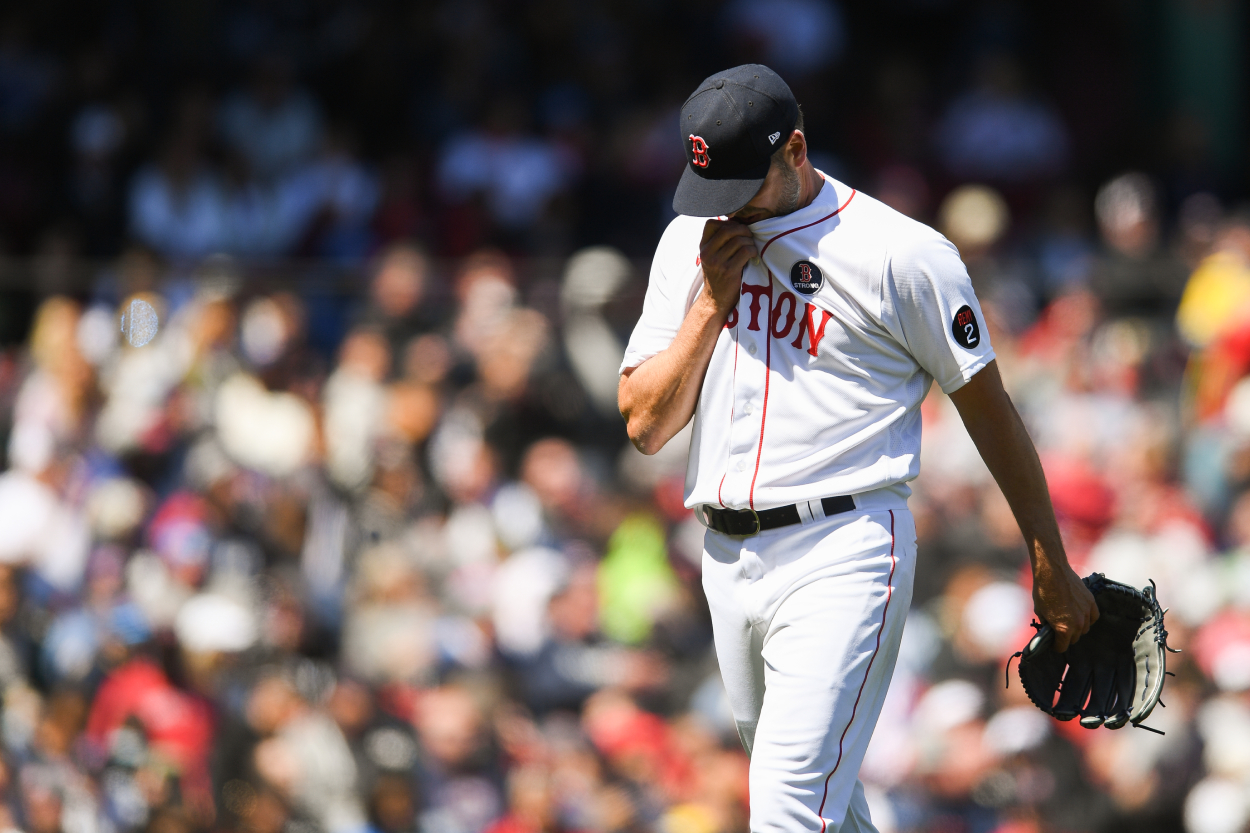 Hill could have taken the day off. He didn't want to. He learned a lesson from his father, Lloyd Hill Sr., who died Friday at the age of 94.
"Yeah, it's been, you know, it's gonna be a long week," said an emotional Hill after Monday's game, per MLB.com. "It was a tough weekend.
"But the job is to be a professional and show up and, you know, no matter what circumstances there are outside of the clubhouse, or outside of the lines, that you show up and you're a pro and that's something that I learned from my dad."
Pitching with his father on his mind, Hill, a Massachusetts native, who threw for 11 teams in his career, allowed a pair of home runs and faced a 4-0 deficit through three innings against the new-look Twins. He threw 80 pitches, gave up six hits, and walked four while striking out four. It was his first decision of the season.
Rich Hill earned the respect of his Boston Red Sox teammates and manager Alex Cora
Hill may not have gotten the results he wanted, but he certainly received support within the clubhouse. Cora had nothing but praise for the 42-year-old veteran after his gritty performance.
"I can't even imagine the emotions and the feelings and everything," said Cora. "Like I told him, we're very proud of him. We're family and we're here for him, and for him to go out there and compete, that was good enough.
"He did a lot today. He showed his team a lot, too. He's a guy we respected playing against and all these guys who played with him before. But having him in the clubhouse with us is a different story. We're very proud of him, and my thoughts and prayers (are with) the Hill family. Obviously Lloyd lived a great life. For his son to go out there and compete the way he did, he should be very proud."
Red Sox third baseman Rafael Devers was "proud" of his teammate.
"Of course, we feel sad for him," he said. "He's a really good competitor and he did a tremendous job out there today. We feel really proud of him and the way he pitched today."
Hill was tough on himself after taking the loss
When the game was over and the Sox fell to 5-5 on the traditional Patriots Day game that began at 11 a.m., Hill blamed himself. He made zero excuses.
"I've got to throw the ball better, that's all," said Hill. "I know that this is a game of results, and that loss is on me."
He said giving up two first-inning runs set the tone for a tough rest of the day.
"And we came up short because I didn't set the tone right away, and that's difficult because I want to go out there and do that as a starting pitcher," he said. "That's my job. I want to go out there and put us in a better position to win next time, and that's what I'm going to work on."
When the game ended, Hill's thoughts, of course, focused on his dad, especially when the pitcher saw runners from the Boston Marathon heading toward the finish line.
"Well, I mean, he ran 37 of them," Hill said.
"He had a great life and taught me a lot of lessons, and one of them is to show up and do your job even when things aren't perfect on the outside."