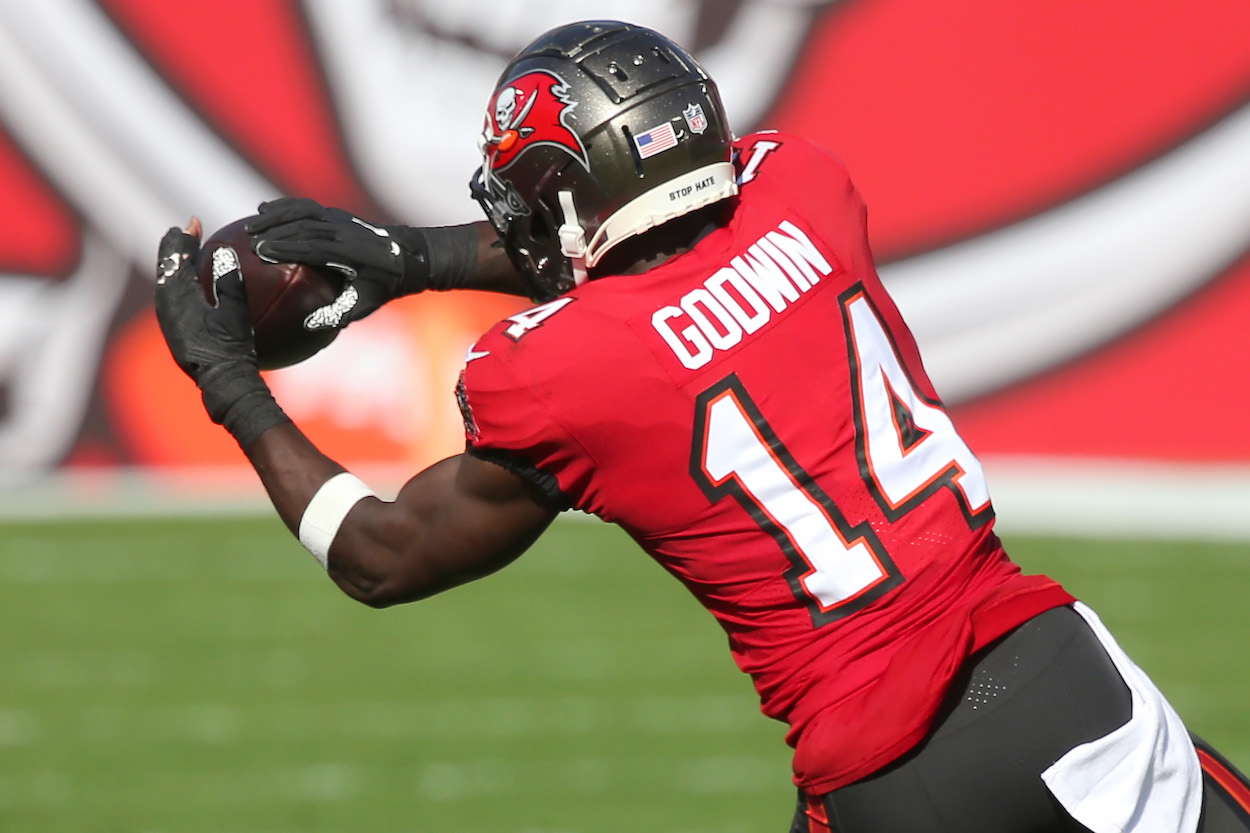 Chris Godwin and a Surprise Police Encounter Revealed the Pro Bowl Receiver's Passion for Animals
Chris Godwin has made an impact on the field for the Buccaneers making the 2019 Pro Bowl. Off the field, he's making a huge difference by saving animals lives.
Chris Godwin has made a difference on the field for the Tampa Bay Buccaneers since he arrived in 2017, including a Pro Bowl invitation last season. Off the field, he has made an impact in the community with his foundation, which provides financial support for pets in need. 
In 2019, Godwin showed just how much he cared about animals when he made a surprise visit to the local police department to recognize an officer who had saved a dog's life.
Chris Godwin has already made a Pro Bowl in his young career
The Tampa Bay Buccaneers selected Chris Godwin in the third round of the 2017 NFL draft. The former Penn State wide receiver got a couple of starts his rookie season and finished the year with 34 catches and a touchdown. 
In his second season, Godwin received increased playing time, which resulted in a dramatic production improvement, hauling in 59 receptions for 842 yards and seven touchdowns. 
During the 2019 season, Chris Godwin had a breakout year under first-year head coach Bruce Arians and his pass-heavy offense. He was targeted 121 times and ended the season with 86 receptions, 1,333 yards, and nine touchdowns. He earned his first Pro Bowl invitation.
This season, the first with Tom Brady, Godwin's production has seen a drop-off. He finished the 2020 campaign with 65 receptions for 840 yards and seven touchdowns.  
Chris Godwin making difference in community with foundation
Off the field, Chris Godwin has become a welcomed member in the community for his work with the Team Godwin Foundation. Godwin and his wife Mariah started the organization to make an impact for pets in need by providing financial assistance to local shelters and rescue groups. 
Programs like the Second Chance Fund provides financial support for life-saving treatments for animals in need, while various advocacy programs help promote the importance of animal adoption. 
In 2019, Godwin launched his Receptions for Rescue campaign, which invited fans to make a donation for every catch he made that season. The goal was $10,000. By season's end, the campaign had raised more than $10,500. 
Makes kind gesture and recognizes officer for saving dog
In September 2019, at the start of Chris Godwin's Pro Bowl season, he was watching the local news when a story caught his attention. It was about a small dog that had been hit on a busy highway, but miraculously survived, thanks in large part to the heroic actions of a Pinellas Park police officer named Joseph Puglia.
Like most who watched the story, Godwin was moved. He knew he had to do something. 
"I was at work when I saw the video and instantly, you know, my heart went out to that dog," Godwin told ABC Action News. "Just seeing officer Puglia hop out of his car in the middle of traffic and just doing an act of kindness really touched me, and right then I knew I wanted to do something for him," Godwin said.
Godwin went down to the Pinellas Park Police Department and surprised Officer Puglia with a signed ball and jersey. Godwin also announced the officer as the newest member of his foundation's board. It was a special moment for Puglia, who was very grateful for the Bucs receiver and his generosity.
"It feels good. On behalf of all police officers that are out here trying to do the right thing, you know, for people and for animals."
Chris Godwin makes a lot of Bucs fans happy on Sundays, but it's what he does on the other days of the week that's truly making a life-saving difference in his community.