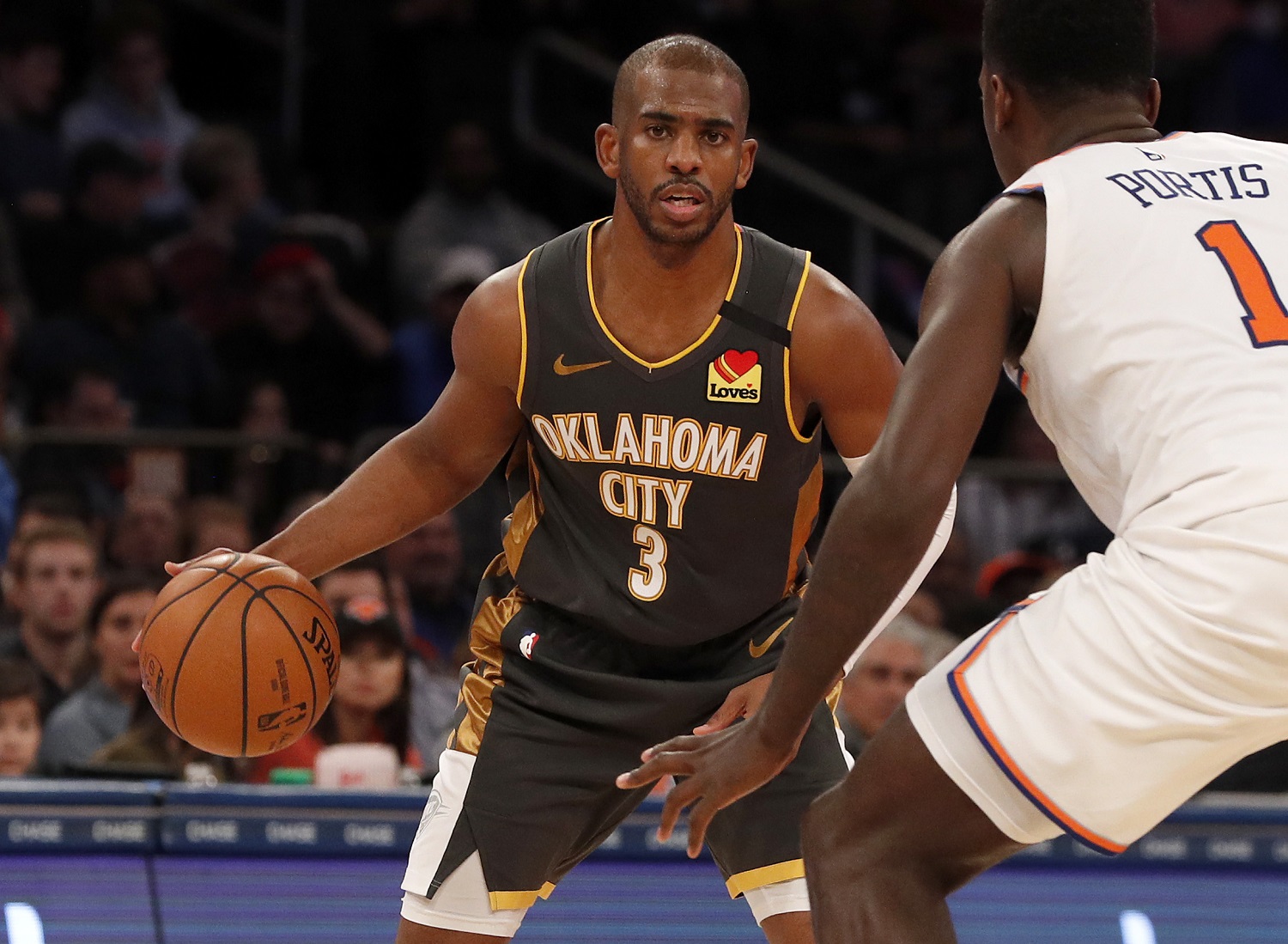 Chris Paul Should Be Aware of the Expression About Snitches Getting Stitches
Veteran Oklahoma City Thunder guard Chris Paul has been labeled a snitch, even if it's probably just a joke.
It doesn't take much for a guy to get a reputation. In the case of basketball star Chris Paul, being active in players union matters and having a working knowledge of the NBA rulebook is enough to get the Oklahoma City Thunder guard branded as a snitch, even if it's just a joke.
Chris Paul is both a player and an executive
Oklahoma City Thunder guard Chris Paul is president of the National Basketball Players Association, which requires a balancing act. On one hand, he's working alongside NBA league executives and team owners to grow the game, which translates into more money for players. But he's also had to be a disruptive force by threatening to call for a boycott of games if Donald Sterling wasn't forced out as the owner of the Los Angeles Clippers.
In the midst of one of his better seasons in 15 years in the league and seven years as the union president, he's been walking the fine line between getting the season restarted so that players get paid as much of their salary as possible while also pushing for safety measures that likely contributed to the resumption of the NBA season coming weeks later than it needed to be.
Paul also sometimes finds himself caught between factions of the players association. Every time Paul and union executive director Michele Roberts push for changes to the collective bargaining agreement that may benefit veterans, it has the potential to work against younger players, or vice versa.
Chris Paul helped steal a win by knowing the rules
Chris Paul, who turned 35 in May, is in his first season with the Oklahoma City Thunder after two largely frustrating seasons with the Houston Rockets. The two-time Olympic gold medalist is showing his best shooting touch in a decade at 48.9% from the field while logging his usual minutes on his way to what will almost certainly be enshrinement in the Naismith Memorial Hall of Fame after he retires.
The Thunder are 40-24 in the interrupted season thanks in large part to what Paul has been doing night after night on the court. There was one game in particular that he stole, and it's probably the entire basis for his being labeled a snitch.
Early in December, the Thunder trailed the Minnesota Thunderwolves, 121-119, with just over a second remaining and Karl-Anthony Towns at the foul line for his second free throw. Minnesota tried substituting Jordan Bell into the game, but Paul noticed his jersey was untucked.
The 10-time NBA All-Star alerted referee Scott Foster to the transgression, and Minnesota was whistled for its second delay of game violation of the night. OKC's Danilo Gallinari made the technical free throw, and then Towns made his free throw to restore the two-point margin. Against all odds, OKC's Steven Adams was able to throw long to Dennis Schroder for a bucket to force overtime, and the Thunder went on to a 139-127 victory.
The NBA bubble isn't a snitch-free zone
The NBA is taking the COVID-19 pandemic seriously as it attempts to restart its season and then conduct playoffs in the so-called bubble environment of Disney World.
Players and personnel were tested ahead of arrival in Orlando, Florida, and the process continues. The NBA announced that the latest batch of 346 player tests came back with no positive results, which is a confidence-builder with the return to action now just days away.
As a precaution, players violating protocol are sent into quarantine for two weeks, which tripped up Richaun Holmes of the Sacramento Kings and Bruno Caboclo of the Houston Rockets shortly after their arrival in Orlando.
NBA executives are aware that keeping track of everything that goes on 24/7 isn't possible, so they announced last month that they were operating an anonymous tip line for players and team personnel to report violations of protocol. Naturally, that led to jokes about Chris Paul.
Appearing on The Steam Room with TNT announcer Ernie Johnson, Paul said he wasn't aware that he was the target of jokes on social media about the tip line until his wife mentioned seeing some tweets.
 "My wife cracked a joke about it," he said. "But I mean, it is what it is. I can't control that."
What it may mean, though, is that besides living at Disney World, CP3 gets to live rent-free between the ears of rival players.