Chris Sale Reveals His Bizarre Good Luck Charm – a 'Daddy Long Neck' Shirt
Chris Sale had hit a streak of bad luck. The Boston Red Sox pitcher finally appears to be nearing his return to the big league after undergoing Tommy John surgery. Sale recently completed his fourth rehab start and has one more to go before he's expected back at Fenway Park.
Sale might not have been able to make it back to the majors with the help of his good luck charm. If you're not up on your social media stars, you'll have no idea what this good luck charm is we're talking about.
Chris Sale had Tommy John surgery in March of 2020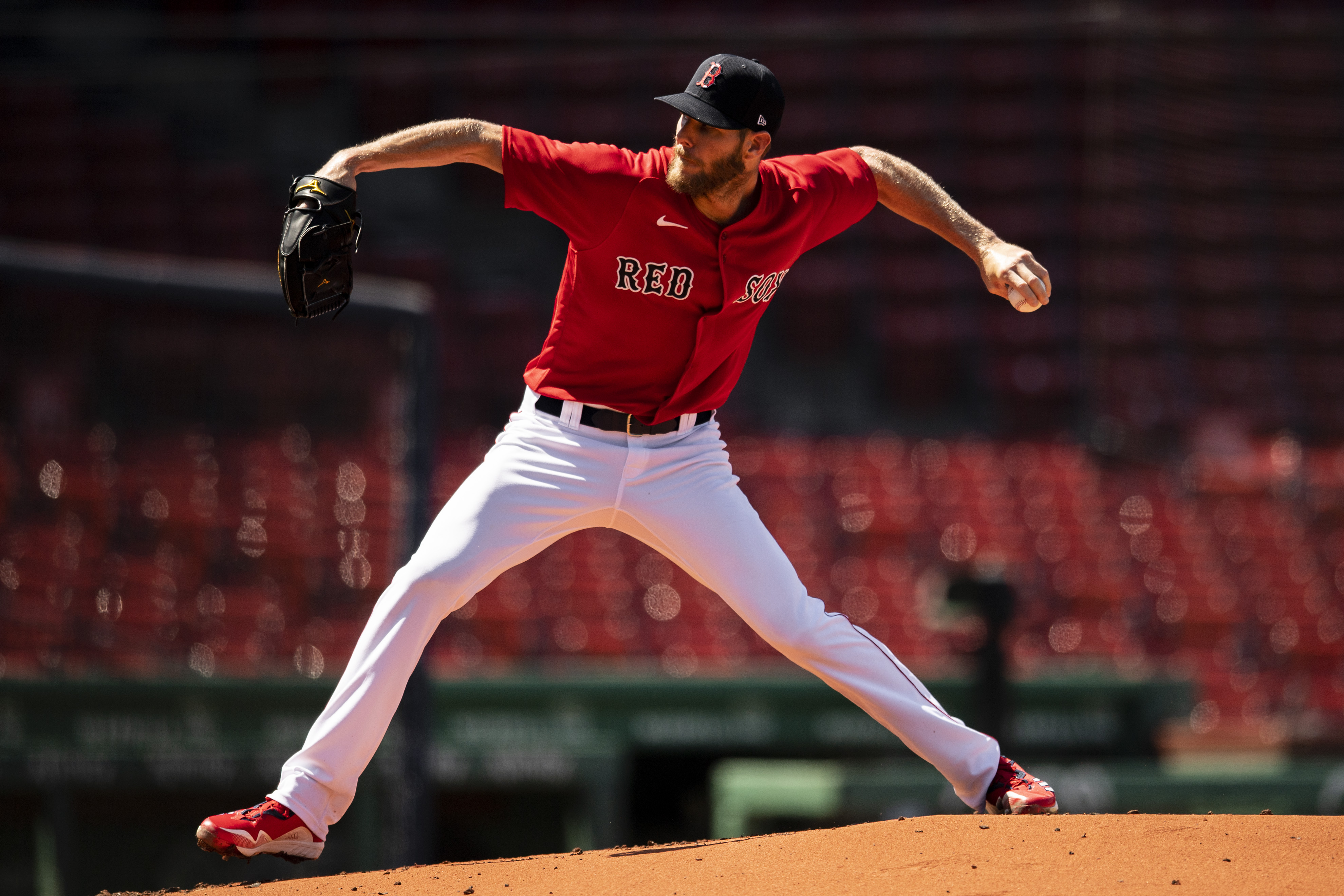 The last time Sale threw a pitch in the big leagues was in 2019. It was a disappointing season personally for the hard-throwing left-hander, who went 6-11 and had his season cut short with elbow problems. It was the worst season of his career as he had a 4.40 ERA in 25 starts. In each of the previous six seasons, he finished in the top five voting for the Cy Young Award.
The injury was the first major one of his career. He never missed any significant time before.
"This was the first real struggle or real hurdle that I've had in my career. Big injury. I've never missed a year," Sale said in February, according to ESPN. "I've missed a month. I've missed a few weeks here and there. But this was the first big thing that ever happened. I know on the back side of this, my mentality and what I've done physically and what I've learned about my body and things I need to prepare myself mentally, just having to be tougher."
In Sale's fourth rehab start Saturday, he allowed one run on five hits while striking out seven and walking one. He hit 96 mph on the radar gun and threw 81 pitches.
Chris Sale reveals his good luck charm is a shirt of social media star Daddy Long Neck
After Sale's five-inning stint Saturday in Worcester, Massachusetts, he spoke to the media outside Polar Park. Most of the questions revolved around his outing and how he was feeling. As he was speaking, one couldn't help but notice the shirt he was wearing, triggering an off-topic question.
Sale was sporting a colorful tank top that featured social media star Daddy Long Neck. Daddy Long Neck, whose real name is David Samuelson Jr., has a rare condition called Marfan Syndrome that prevents him from gaining weight. He's used that to his advantage by making videos of himself showing off without a shirt.
Daddy Long Neck has quite the following. He has 1.8 million Instagram followers and 4.5 more on TikTok. He now has another fan in Sale.
Sale is thin, but not that thin. He's listed at 6-foot-6, 183 pounds. When asked about the shirt, Sale joked, "He might be the only person in the country who can make me feel jacked."
Sale admitted he wears the shirt every game day and bullpen day.
Sale close to returning to the Boston Red Sox
The last time Sale pitched in a big-league game was Aug. 13, 2019. He's scheduled to make one more start at the Triple-A level again later this week and then the team will decide what to do with him.
Before Sunday's game against the Tampa Bay Rays, Red Sox manager Alex Cora spoke about the plan for Sale.
"We'll re-address the situation after (his next start) but he's getting close," Cora said to ESPN. "We'll see where it takes us." Cora did say that Sale "felt great" after his last outing.
Sale could prove to be a big lift for Boston, which had dropped four of its last five games heading into Sunday's game.
At the very least, maybe the rest of the Red Sox players should sport some Daddy Long Neck shirts as they try to right the ship.