Cincinnati Reds: Hunter Greene, the LeBron James of Baseball, Makes Thunderous Statement in MLB Debut
Pitcher Hunter Greene was deemed baseball's LeBron James in 2017, and the young phenom recently made a thunderous statement in his MLB debut with the Cincinnati Reds.
You might remember when LeBron James graced the cover of Sports Illustrated 20 years ago, and the magazine deemed him "the chosen one." Fifteen years later, SI featured high school baseball player Hunter Greene on its cover, and it called him "the star baseball needs." It also wondered whether he was "baseball's LeBron or the new Babe."
Yes, there were high expectations for Greene when the Cincinnati Reds drafted him No. 2 overall in the 2017 MLB Draft. He was an elite pitching prospect who threw over 100 miles per hour and a talented hitter. Scouts believed he had a chance be like Los Angeles Angels star Shohei Ohtani before we even knew who Ohtani was.
Now, five years after dominating Sports Illustrated's cover, Greene is finally in the MLB, and he's ready to take the league by storm.
Hunter Greene entered the pros with high expectations
As mentioned above, baseball scouts were salivating at the thought of Hunter Greene's potential during his high school days.
At 17 years old, he was already reaching 102 mph on the radar gun. He had also hit balls out of Petco Park and Wrigley Field with a wood bat (h/t his famous Sports Illustrated feature). And that doesn't mean he just hit homers – Greene smashed baseballs out of those big league stadiums entirely.
Some wondered if he would be the next great two-way player. But after going to the Reds with the second overall pick in the 2017 draft, Greene has since focused on pitching.
He threw in a few games on Cincy's rookie-level team in 2017 and then registered a 4.48 ERA in 18 starts at Single-A in 2018.
However, the phenom then went two years without competitively pitching at all.
He suffered an elbow injury and had Tommy John surgery in 2019, which led to him missing that entire season. The COVID-19 pandemic then kept him from playing in 2020.
Greene returned to the mound in 2021 and showed everyone why there was so much hype around him. The now 22-year-old recorded a 1.98 ERA in seven starts at the Double-A level before pitching 14 games in Triple-A, registering a 4.13 ERA.
Heading into 2022, the Reds changed their rotation completely. They traded Sonny Gray and didn't pick up Wade Miley's contract option in a pair of moves that didn't gain the front office any favor with its team's fans. But they also opened the door for Greene to make his long-awaited debut.
Greene dazzled in his MLB debut
Hunter Greene made his MLB debut on April 10 and had a challenge right from the get-go. He had to face the reigning World Series champion Atlanta Braves.
But the moment wasn't too big for him.
He struck out six of the Braves' first 10 batters and had 20 pitches go over 100 mph. The Sherman Oaks, California Notre Dame High School product finished with seven strikeouts and three earned runs in five innings pitched. He also earned his first-ever win after Cincy beat Atlanta 6-3.
"I felt great out there," Greene said, per Cincinnati.com. "I felt like I was at home. A lot of people were like, 'don't look up.' But I looked up right when I got out there. I wanted to take it all in and enjoy it. I felt really comfortable out there."
Greene showed moments of both greatness and youth, but he proved one thing in his debut: He's ready to take the MLB by storm.
Hunter Greene won't be the LeBron James of baseball, but he can still become a star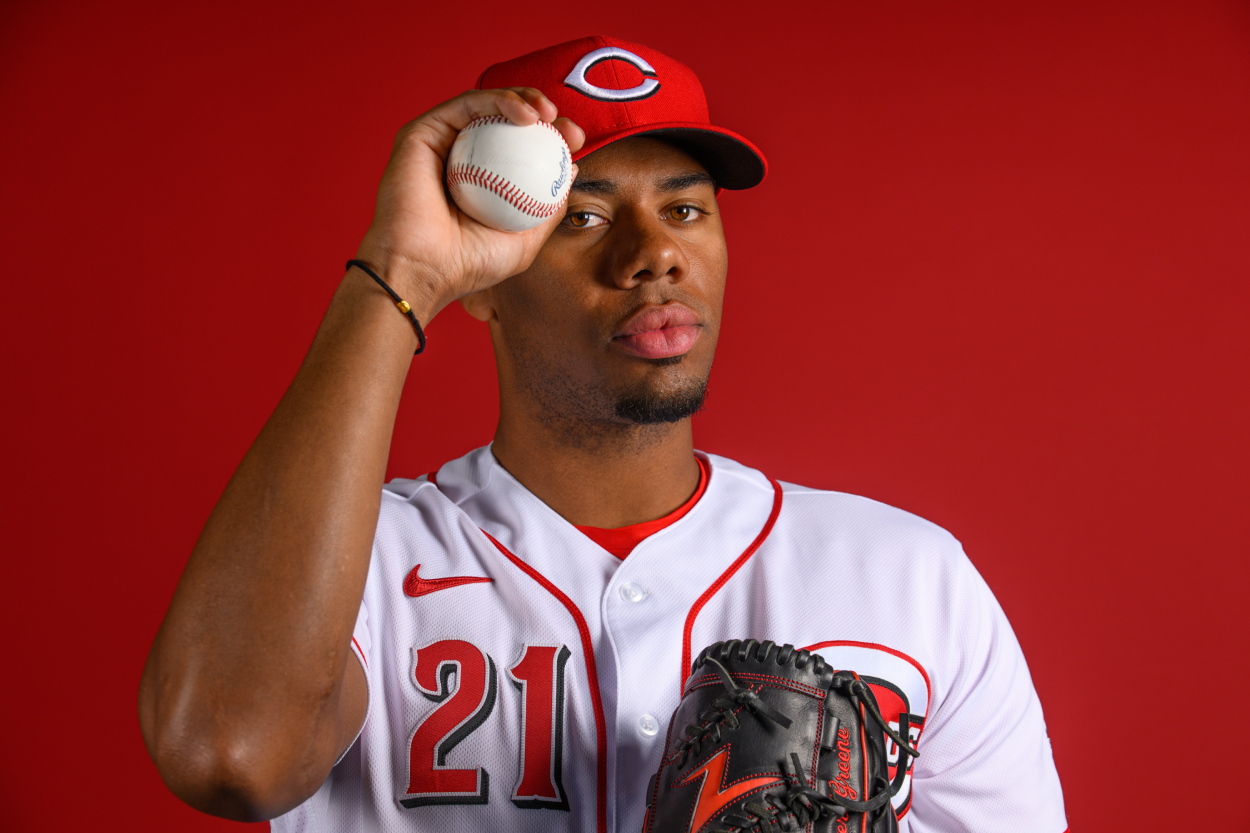 Calling him baseball's LeBron James may have been a little much, especially considering he was just 17 years old. And since he will just be a pitcher and likely won't make too many plate appearances given the new universal designated hitter rule, Greene likely won't reach Shohei Ohtani or any elite slugger level of stardom.
But he can still become a great MLB pitcher.
Greene is the second-youngest pitcher currently playing in the majors and the eighth-youngest player overall. Despite his youth, he still looked composed on the mound, even striking out Austin Riley, a 2021 NL MVP candidate, on three pitches in the first inning.
"He throws really hard obviously," Joey Votto said prior to Greene's first start, per Cincinnati.com. "He looks like he wants to be out there. And he looks like he has the demeanor for a starting pitcher."
Will he be the LeBron James of the MLB? Probably not, but Hunter Greene is a star in the making.
Stats courtesy of Baseball Reference