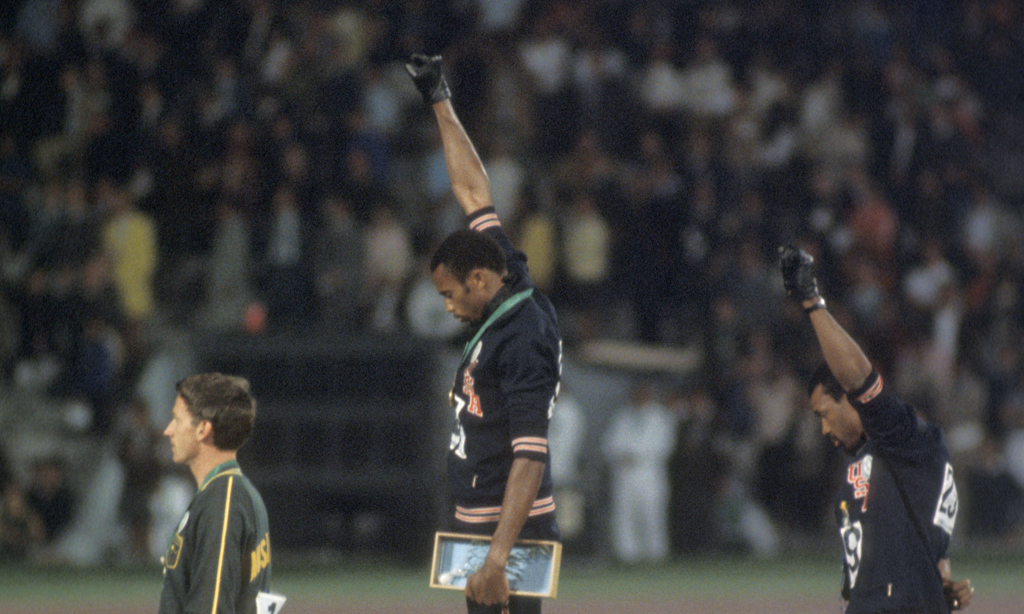 Colin Kaepernick Paid a Small Price in Comparison to John Carlos and Tommie Smith
Tommie Smith and John Carlos staged a protest in the Olympics nearly half a century before Colin Kaepernick began kneeling at NFL games.
Colin Kaepernick's name has come up frequently in recent days in the aftermath of the killing of George Floyd in Minneapolis and the protests than ensued across the country.
Kaepernick's decision to sit or kneel during the national anthem before games in the 2016 NFL season as a protest against police brutality and race discrimination created controversy, and he went unsigned as a free agent following the season.
At least Colin Kaepernick can say he got paid
After going unsigned as a free agent in 2017, former San Francisco 49ers quarterback Colin Kaepernick filed a grievance against the NFL, alleging that owners of the 32 teams colluded to freeze him out of football. He reached a settlement with the league in February 2019, with terms undisclosed.
Kaepernick came into the league in 2011 as a second-round draft pick and started 58 games over his final five seasons with 72 touchdowns and just 30 interceptions. OverTheCap.com estimates that he made more than $43.3 million in salary as a player. Additionally, he earned endorsement money, including a deal with Nike that's remained in place while he's been out of football.
With starting quarterbacks routinely paid eight-figure salaries annually, though, the former University of Nevada quarterback has obviously missed out on substantial additional money the past three seasons.
John Carlos and Tommie Smith made a more powerful statement
Many sports figures have spoken up this week to express outrage over the killing of George Floyd at the hands of a police officer in Minneapolis. The incident is being widely condemned as racially motivated, putting the issues of discrimination and social injustice center-stage once again.
Colin Kaepernick's protests in 2016 received attention via weekly NFL game telecasts and social media, keeping the issue front and center in the country for a sustained time. For sheer impact, however, protests on the part of Kaepernick and fellow NFL players were minor-league compared to the statement made on an awards podium in Mexico City in 1968.
Competing in the men's 200-meter dash final at the Olympics, Tommie Smith and John Carlos, the gold and bronze medalists, respectively, raised gloved fists into the air while on the podium for the national anthem at the biggest sporting event in the world. And they did so just months after the assassination of civil rights leader Martin Luther King Jr.
The demonstration against racial injustice earned Smith and Carlos expulsion from the Olympic village and death threats at home.
The fallout for two U.S. athletes
Decades after the protest, the image of Tommie Smith and John Carlos staging their Mexico City protest remains powerful. The image stuck in the minds of powerful forces back home, creating years of problems for the two medalists.
Opportunities for black athletes to cash in on their achievements – Tommy Smith's winning time was a world record – would have been slim in 1968 under any circumstances. Returning home with the label of troublemakers effectively shut the door on whatever opportunities might have been available, and they were suspended from the U.S. Olympic team.
Carlos ended up playing in the CFL for the Montreal Alouettes and then working for Puma and becoming a coach. Smith had a brief stint with the Cincinnati Bengals, then went into coaching and working as a physical education instructor.
It was only last November – 51 years after competing in Mexico City – that Carlos and Smith were finally inducted into the U.S. Olympic Hall of Fame.