Commercial Tracker: 2023 NASCAR Cup Series Spring Race at Phoenix
Each week we are tracking the number of commercials shown during the television broadcast for each NASCAR Cup Series race in the 2023 season, breaking it down by total number of commercial breaks, including side-by-sides, total ads, total amount of time spent in a commercial break, and total laps missed by the television viewing audience.
Here's a look at the United Rentals Work United 500 from Phoenix Raceway.  
The NASCAR Cup Series United Rentals Work United 500 begins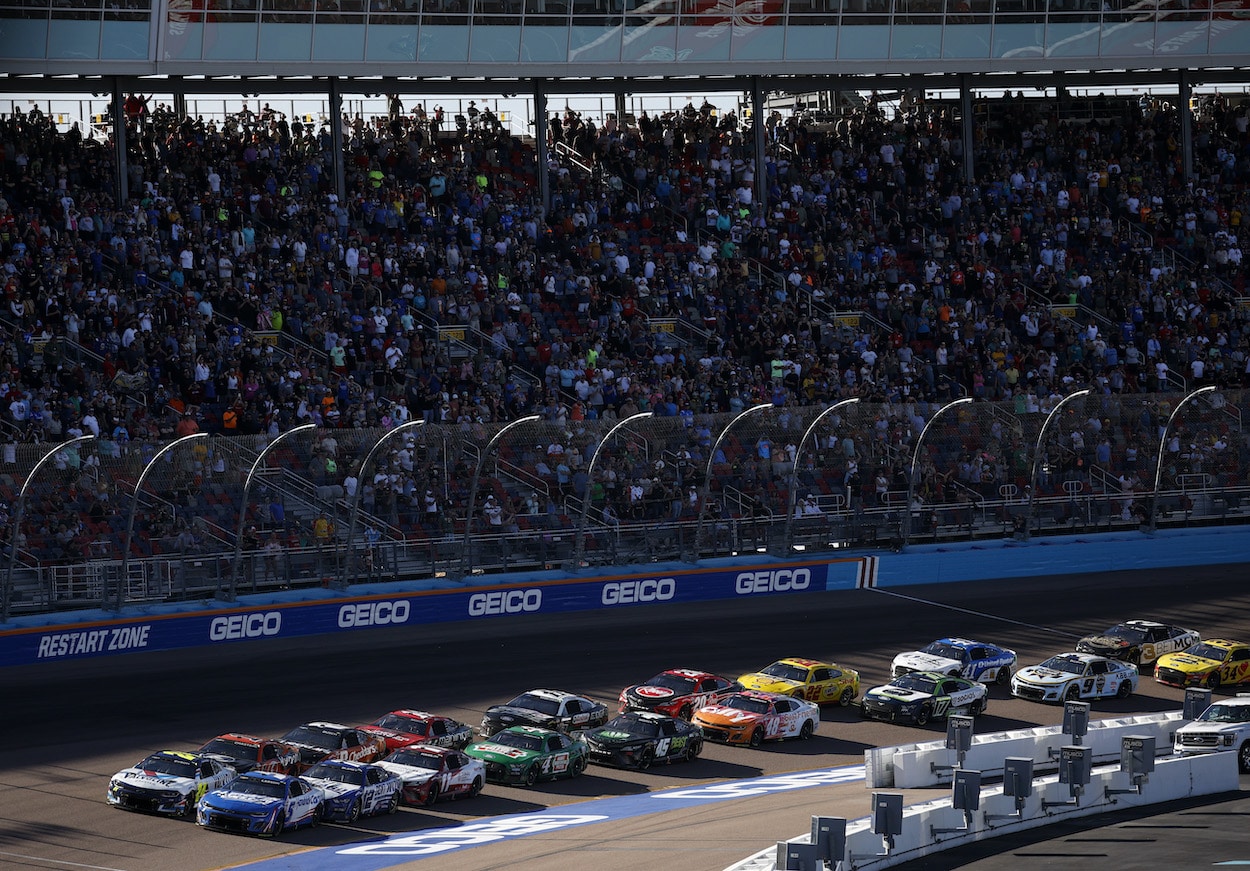 The green flag for the United Rentals Work United 500 at Phoenix Raceway waved at 3:49 ET. The first commercial break came just 13 laps into the race, featured five commercials, lasted 2:15, and fans at home missed five laps of green-flag racing. 
On Lap 28, Fox ran its second break that included six spots and lasted 2:45. Viewers missed another seven laps of action. 
During another caution-free first stage (same as last week), Fox aired a total of five commercial breaks (including two during the stage break), with one side-by-side. The final breakdown for Stage 1 included 29 commercials, which lasted 12:35, and fans missed 12 laps of green-flag racing.  
Fans miss the most action in Stage 2 with numerous green-flag ads
With a single caution for cause in Stage 2 this week, Fox had to run most of its commercials during green-flag racing. The first break came on lap 77, included six ads, and lasted 2:45. Fans missed seven laps of racing. 
The next three breaks all came under green conditions, and included 17 commercials that lasted 7:30. Fans missed 16 laps of action. 
The first caution of the day came on Lap 140 and included a couple of breaks. The first was a four-spot break that lasted exactly two minutes, while the second also featured four ads that ran for 2:45. 
Fox included its side-by-side on break No. 7 that featured eight commercials, running 2:40. The network got in a pair of breaks at the stage conclusion that included 15 commercials and ran for a total of five minutes.
When it was over, Stage 2 had nine breaks (one side-by-side) and 55 commercials that ran for 22:40. Fans missed 23 laps of racing. 
NASCAR fans get fewest commercial breaks in final stage
Phoenix was similar to the final stage in previous races in that it featured the fewest number of commercials. Fox went with two full-screen and two side-by-side commercial breaks. Those four breaks included 26 commercials that lasted 10:35. Fans missed 13 green-flag laps during the full-screen breaks.
However, with a late caution, the network added a fifth, full-screen break that aired five commercials and lasted 1:30. 
Final numbers from Phoenix
| | |
| --- | --- |
| Total Time of Race (Green to Checkered) | 3 Hours 00 Minutes |
| Total Commercial Breaks (Side-By-Sides) | 19 (4) |
| Total Commercials | 114 |
| Total Time of Commercials | 47:50 (26.57% of race broadcast) |
| Total Laps Missed by Viewing Audience | 48 green-flag laps |
| Longest Commercial – Paxlovid | 1:30 |
For the latest breaking news and information about NASCAR's three national series, check out @kdsportswriter on Twitter.