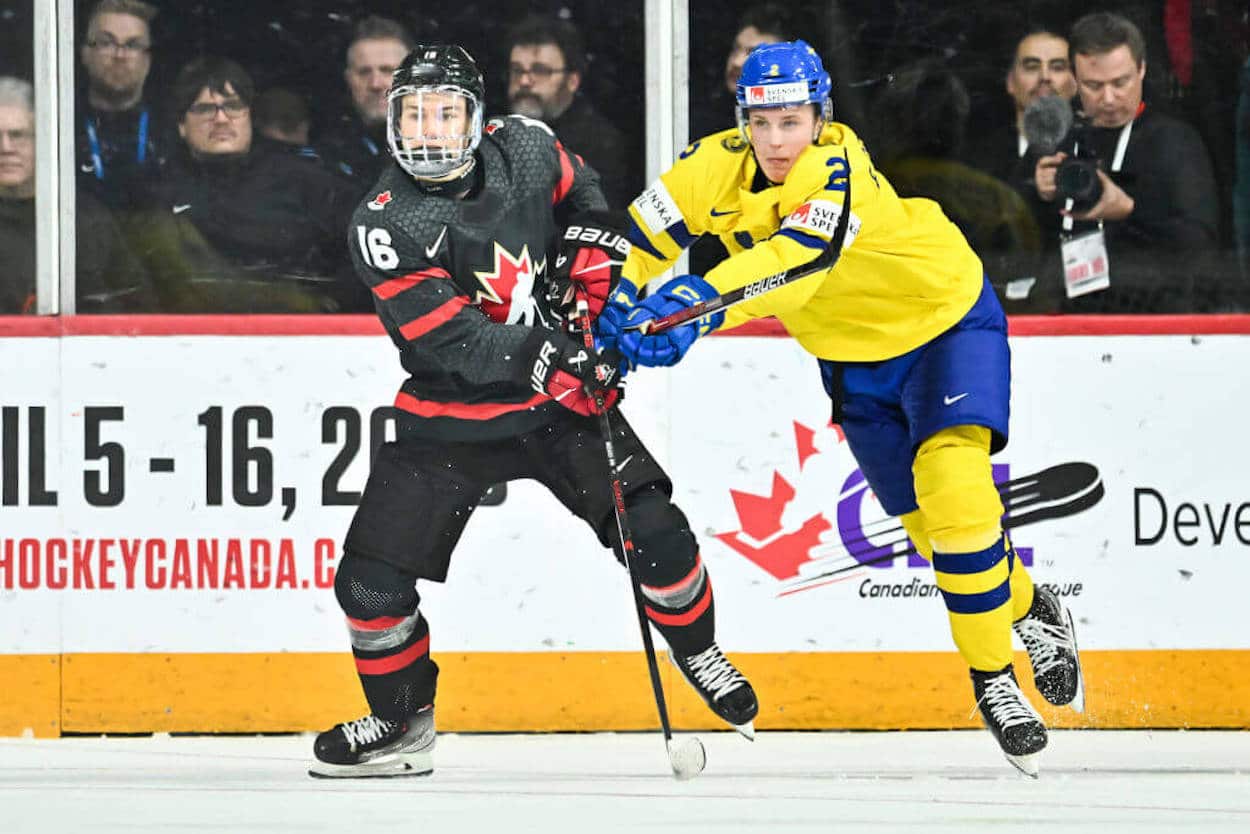 Connor Bedard's Physicality Could Help His NHL Career, but Not In the Way You'd Think
Connor Bedard has been impressing scouts with his physicality. When he reaches the NHL, that could make a big difference to the right coach.
Depending on your perspective, physicality in hockey can be a divisive topic. Some argue that toughness and hitting are key parts of life on the ice; you have to earn your space, and you don't do that by avoiding contact. On the other side of the aisle, though, others argue that the importance of hitting is overstated. NHL players today are incredibly skilled, and they'd be better served making plays rather than worrying about finishing checks and fighting. No matter your perspective, though, just about everyone can agree that Connor Bedard looks like he's going to be a special player.
With that being said, though, the current Regina Pats star isn't exactly known for his physical play. The young center is on the smaller side and, as he proved at World Juniors, is capable of weaving magic in the offensive zone. If you're hoping to see him lay the body along the boards, you're only setting yourself up for disappointment.
At the same time, though, scouts have been noting that Bedard is tougher than you think. And, no matter your perspective, that could be invaluable for his early NHL career.
Let's break it down.
Connor Bedard is impressing scouts with his physicality in addition to his scoring
At this point in his journey to the NHL, there isn't much left to be said about Connor Bedard. The forward's performance in the WHL and on the international stage has made him a virtual lock to become the first pick in the 2023 NHL Draft. That presumably takes some of the work off of scouts' plates — you're not really trying to figure out if you want to pick him or not — but it doesn't mean that he isn't worth watching.
As laid out by Steven Ellis of Daily Faceoff, scouts are still learning about the teenager. Take, for example, his willingness to play rough.
"He looks quite comfortable throwing hits for someone that's mainly out there to inflict pain with the puck," an unnamed scout said. "He's confident in himself. And that goes a long way."
Earlier in this piece, I mentioned that the North Vancouver native isn't the biggest player around. And while that's certainly true — he clocks in at 5-foot-10 and 185 pounds — that doesn't seem to be a limiting factor. If anything, it gives Bedard the element of surprise.
"Players underestimate him because of his frame," another scout added. "Don't judge a book by its cover, I guess."
And while it's cliche to say that a young player needs to grow into his body and hit the weights, that's what another observer believes separates Bedard from the top level. Once he does that, the forward will (theoretically) be unstoppable.
"Imagine if he added a bit of extra muscle," that scout noted. "He'd truly be a complete player."
That toughness could help Bedard earn his coach's trust as much as anything else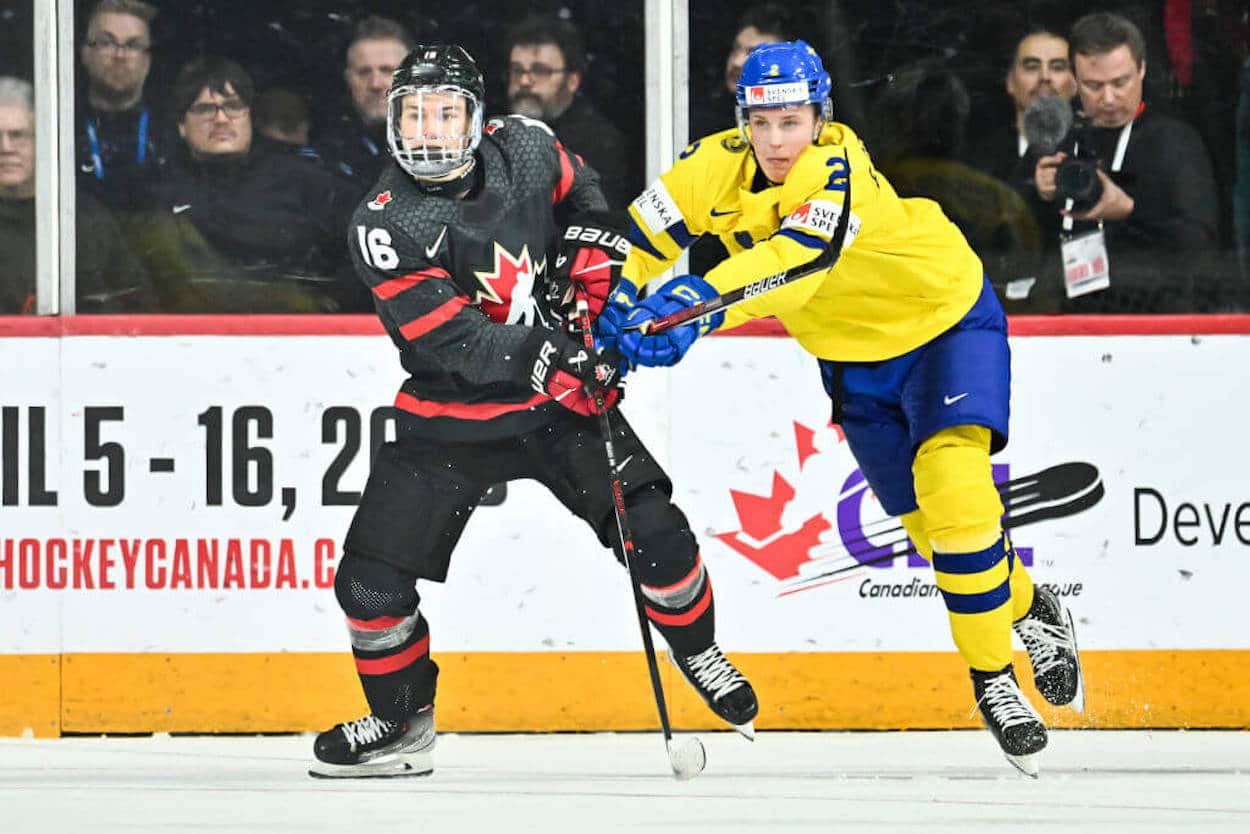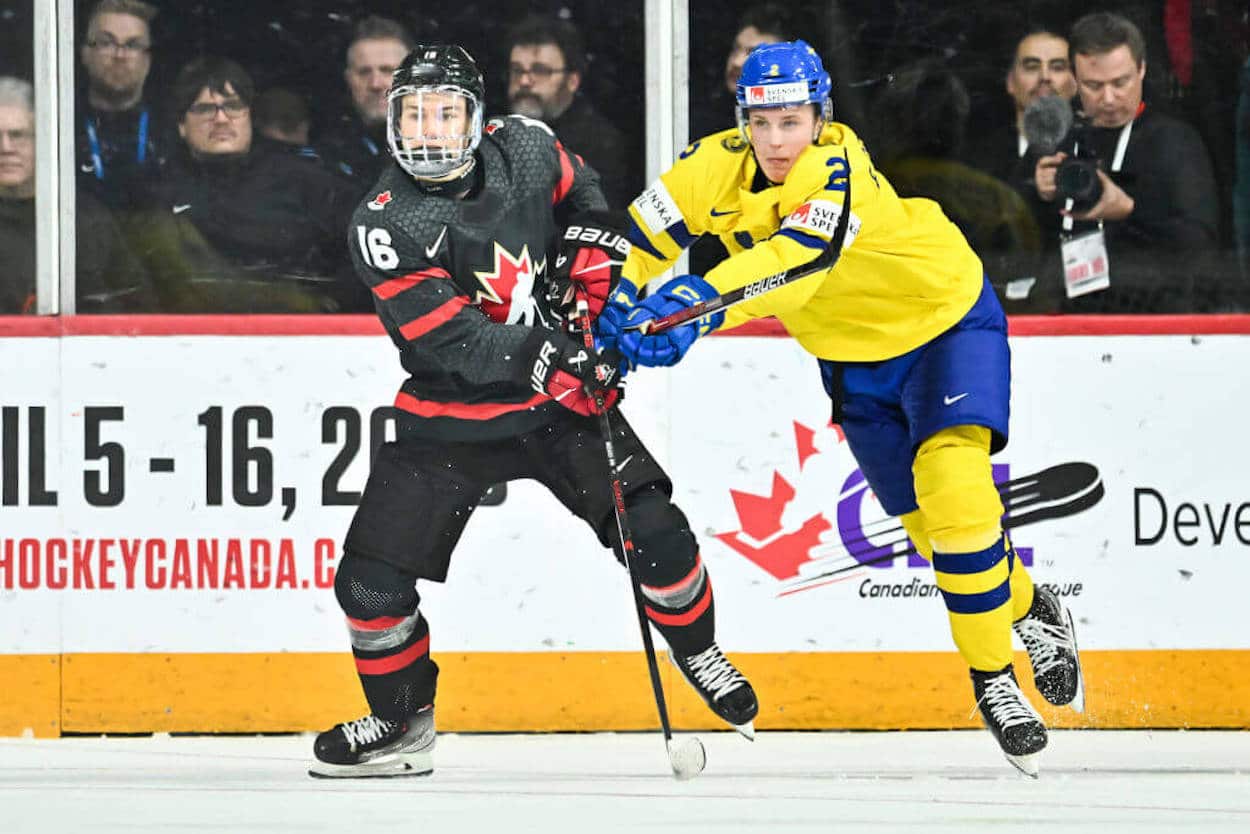 Despite the comments about Connor Bedard throwing hits and adding muscle, it's unlikely that his physicality will make that much of a difference on the ice. While you don't want to be seen as a soft touch, the center's size and draft status make it unlikely that he'll ever be expected to really lay the body. With that being said, though, that perception could still help his NHL career get off to a good start.
While there's no telling where he'll end up, it's possible that Bedard's professional career will start under a more old-school coach like John Tortorella. In a situation like that, it will be incumbent on the rookie to earn his ice time by doing the little things, like finishing checks and being responsible in the neutral zone.
Is that the ideal way to get the most out of a young talent? I'd argue no, but under certain coaches, that's just the way it is. In New York, for example, Gerard Gallant has scratched both Kaapo Kakko and Alexis Lafreniere on occasion.
For an alternate riff on the same topic, consider what Scott Wheeler wrote about Bedard in The Athletic. While he noted that the teenager will probably be more of a Patrick Kane rather than a Sidney Crosby — meaning the center has elite offensive upside but won't make a true two-way impact — the idea of earning ice time reared its head.
"I do, however, think he has point-per-game (or at not far off) potential next year in the right situation, though," Powers explained. "He's going to play PP1 right away and rack up points there," Wheeler continued. "With the right linemates and deployment at five-on-five (he'll probably need a coach who is going to play him 17 to 19 minutes per game), I don't think 35-40 goals or 70-80 points is out of the question at all."
Would landing in the right situation with a supportive head coach be ideal? Of course, but no one knows how the ping-pong balls are going to bounce. And while Bedard shouldn't change what's made him successful to this point, the majority of bench bosses would probably appreciate him showing a bit of physicality. If that earns him some extra trust and, in turn, ice time, it will probably be worth it.
Sometimes, you have to play the game in more ways than one.