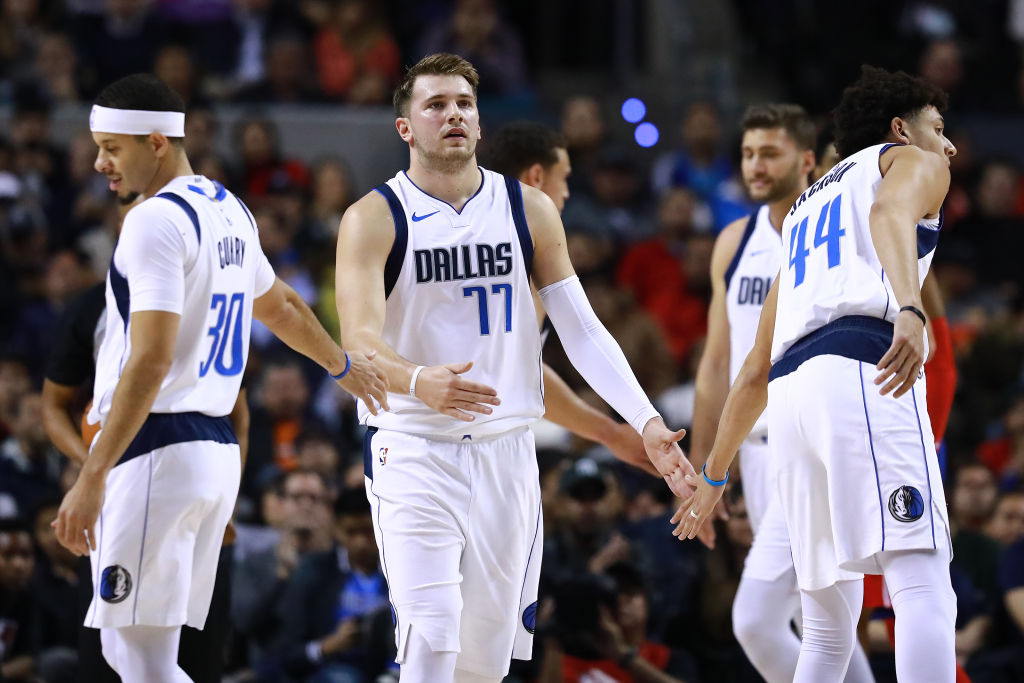 Could Luka Doncic's Injury Make the Dallas Mavericks a Better Team?
The Dallas Mavericks are facing a brutal stretch of the schedule without their best player. But could losing Luka Doncic help in the long run?
The NBA season might less than two months old, but plenty of storylines have already emerged. Injuries have put the Golden State Warriors dynasty on hold. Both the Los Angeles Lakers and Los Angeles Clippers are proving to be legitimate contenders. Pascal Siakam is keeping the Toronto Raptors relevant, even without Kawhi Leonard. Perhaps the most impressive one, however, has been Luka Doncic's assault on the record books.
But the young Slovenia star isn't going to be breaking any records for the next few weeks; he's currently on the sidelines with an ankle injury. But could his absence be a blessing in disguise for the Dallas Mavericks?
Luka Doncic's season so far
After plying his trade with Real Madrid, Luka Doncic made the jump to the NBA in 2018. It's safe to say that he adjusted pretty well to North American basketball.
After the Mavericks landed Doncic in a draft-day trade, head coach Rick Carlisle said that they could have a franchise player on their hands; those comments proved to be prophetic. The forward averaged 21.2 points, 7.8 rebounds, and 6 assists per game on his way to a nearly unanimous Rookie of the Year award.
This season, however, Doncic has taken his game to the next level. The 20-year old is averaging nearly a triple-double each night, dropping 29.3 points, 9.6 rebounds, and 8.9 assists every time he takes the floor. He's breaking records with ease, putting his name alongside the likes of LeBron James and Michael Jordan, and forcing his way into the MVP conversation. But then injury struck.
How long will Luka Doncic be out injured?
During December 14's game against the Miami Heat, Luka Doncic went down injured shortly after tip-off. He landed on Kendrick Young's foot while driving to the basket, rolled his ankle, and didn't return to action.
After the game, the young forward was officially diagnosed with moderate right ankle sprain; while he was projected to miss a few weeks of action, there was no sign of a larger-scale issue. In fact, Doncic was reportedly on an underwater treadmill during halftime.
"He is responding well to treatment," head coach Rick Carlisle said prior to the Mavs' victory on Monday night. "He is progressing well." While there still isn't a target date for Doncic's return, he's expected to miss a couple of weeks; the team will understandably be cautious and ensure that their franchise player is 100% before allowing him to return to action.
Will this help the Mavericks in the long run?
While no one would suggest that the Dallas Mavericks are a better team without Luka Doncic in the lineup, they didn't seem to miss him too much on Monday night. The Texas team rallied past the Milwaukee Bucks, making a statement of intent to the entire league.
So far this season, Doncic has dominated the team's offense, but, with him on the shelf, Kristaps Porzingas surged to life. While the Latvian has been slumping this season, he seemed to respond to being the Mavericks' main man; he dropped 26 points, which included going 4-8 from long range and pulled down 12 boards in the win. Jacob Brunson stepped up as a creator, while Seth Curry added another 26 points from the bench.
While Monday night was just one game, it was a reminder that, despite what we've seen this season, the Dallas Mavericks can be much more than the Luka Doncic show. If his absence can get the rest of the team—especially Porzingas—rolling offensively, the club will be better off in the long run. If nothing else, Doncic will get a chance to rest his back after carrying the team for this long.