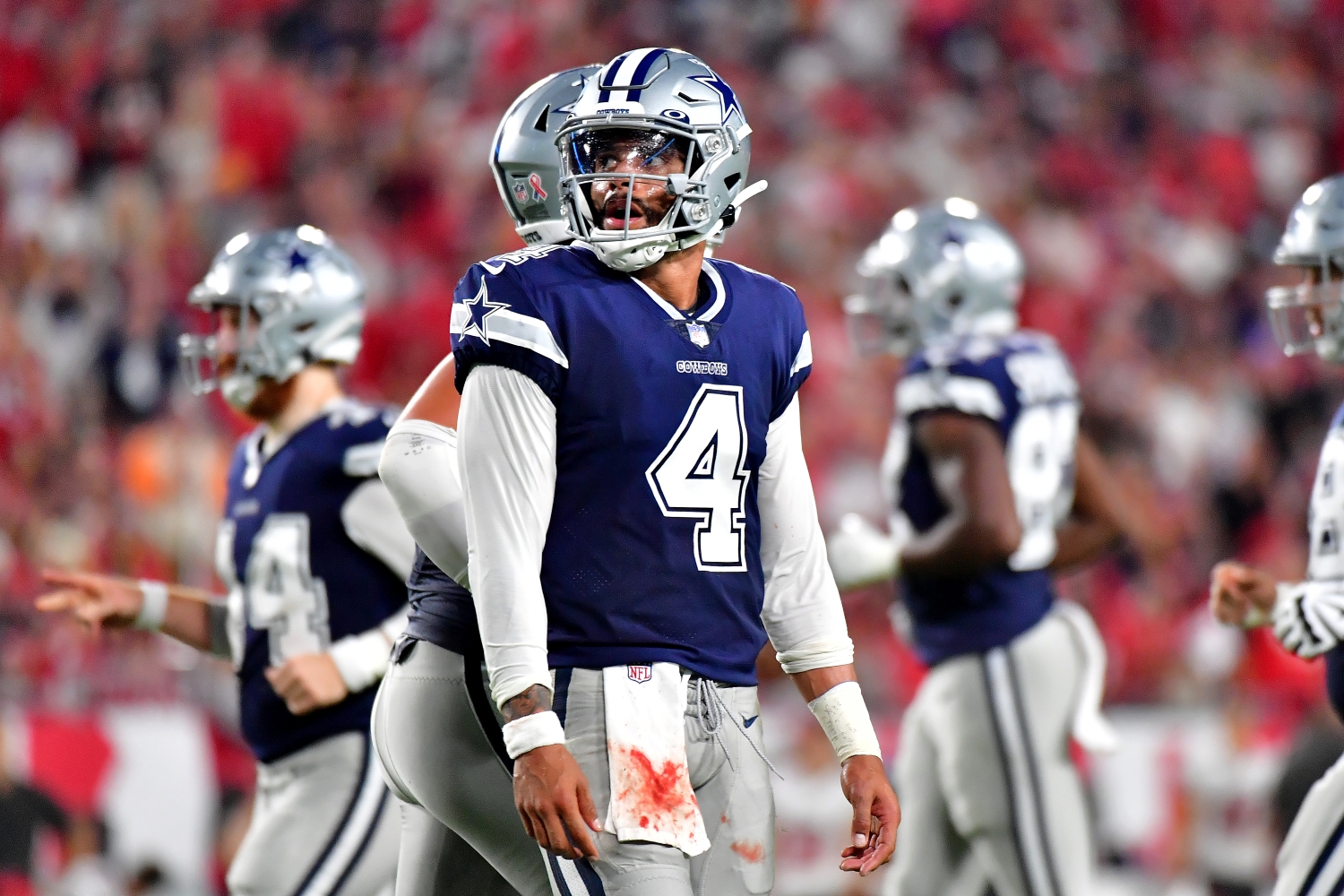 Cowboys Suffer Brutal Injury Blow That Derails Dak Prescott's Chances of Leading Dallas to the Playoffs
Dak Prescott may be one of the best quarterbacks in the NFL, but he has no shot of playing in January if the Cowboys can't find a way to overcome a brutal early-season injury blow.
Dak Prescott entered the 2021 season with plenty of pressure on his shoulders to lead the Dallas Cowboys to a Super Bowl title. After all, Jerry Jones didn't sign him to a $160 million contract extension just to contend for division titles.
While the star quarterback looked terrific against the reigning Super Bowl champions, he still fell short of beating the Tom Brady-led Tampa Bay Buccaneers. Already sitting at 0-1, the Cowboys can't afford to fall behind in the standings by getting off to a slow start.
Unfortunately for Prescott, a brutal injury blow has derailed his chances of leading Dallas to the playoffs.
The Cowboys won't have their most accomplished defensive player available for quite some time
Coming off a year in which many of their top players dealt with injuries, the Cowboys once again have a problem staying healthy. In fact, it only took a few quarters for Dallas to suffer a significant personnel blow. Talented wideout Michael Gallup sustained a calf strain that will keep him out three to five weeks and force Prescott to rely even more on Amari Cooper and CeeDee Lamb.
However, Gallup's early-season setback doesn't measure up to what happened Wednesday.
According to ESPN, DeMarcus Lawrence suffered a broken foot in practice that will sideline him for six to eight weeks.
"Obviously, losing DeMarcus, he's a prime-time player for us. I thought he had a nice start in Tampa," head coach Mike McCarthy said Thursday. "You hate to see these injuries to any of your guys, but what it does is it gives opportunities to the other players. How we will spread that out will be done through game plan. We'll work on that today, tomorrow, and Saturday. Specifically, we'll get into that when we play the game."
With Lawrence out for an extended period of time, the Cowboys' suspect defense looks even less capable of slowing down opposing offenses. And based on their schedule and current personnel, they look bound to miss the postseason despite having an elite quarterback.
DeMarcus Lawrence's injury derails Dak Prescott's chances of leading Dallas to the playoffs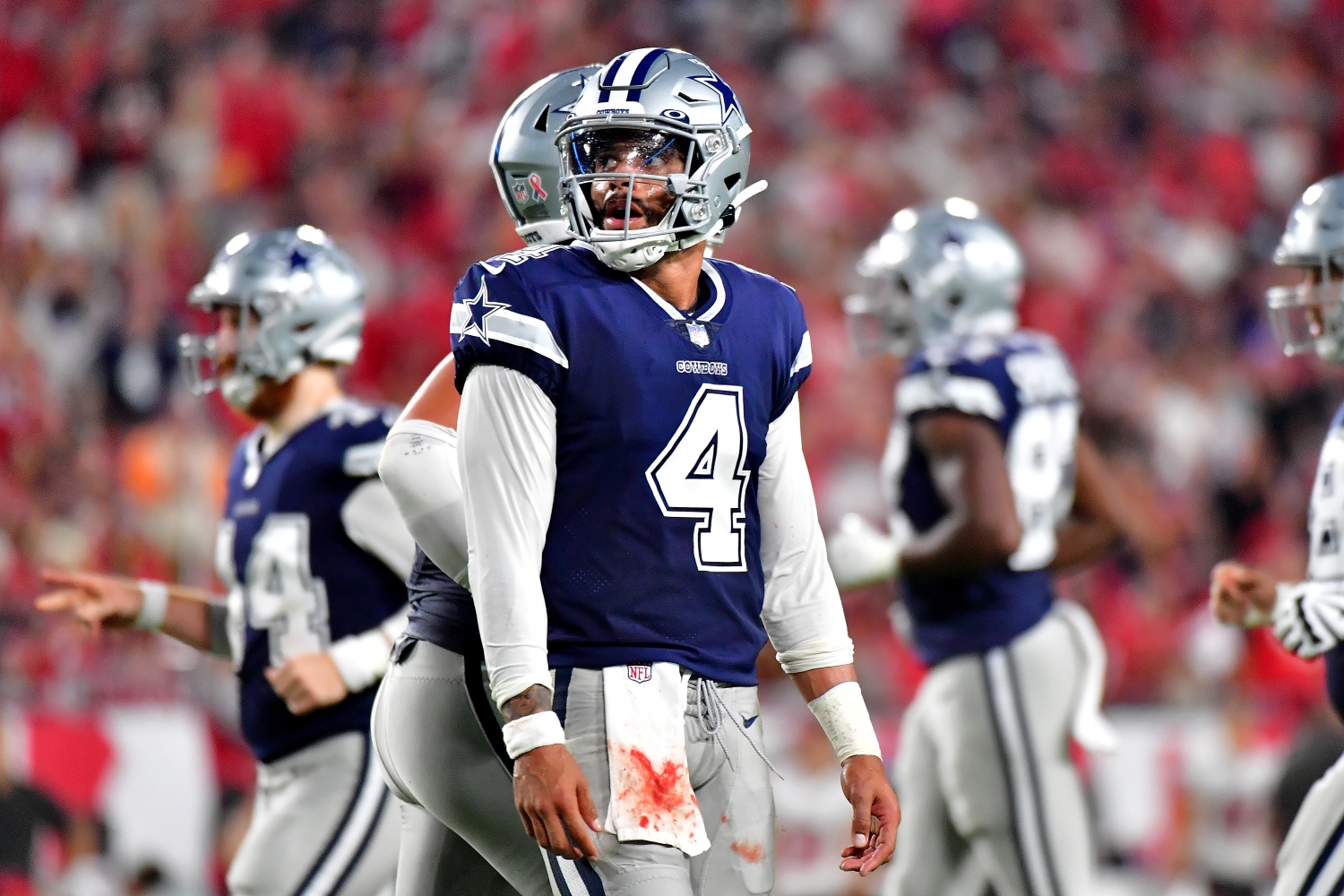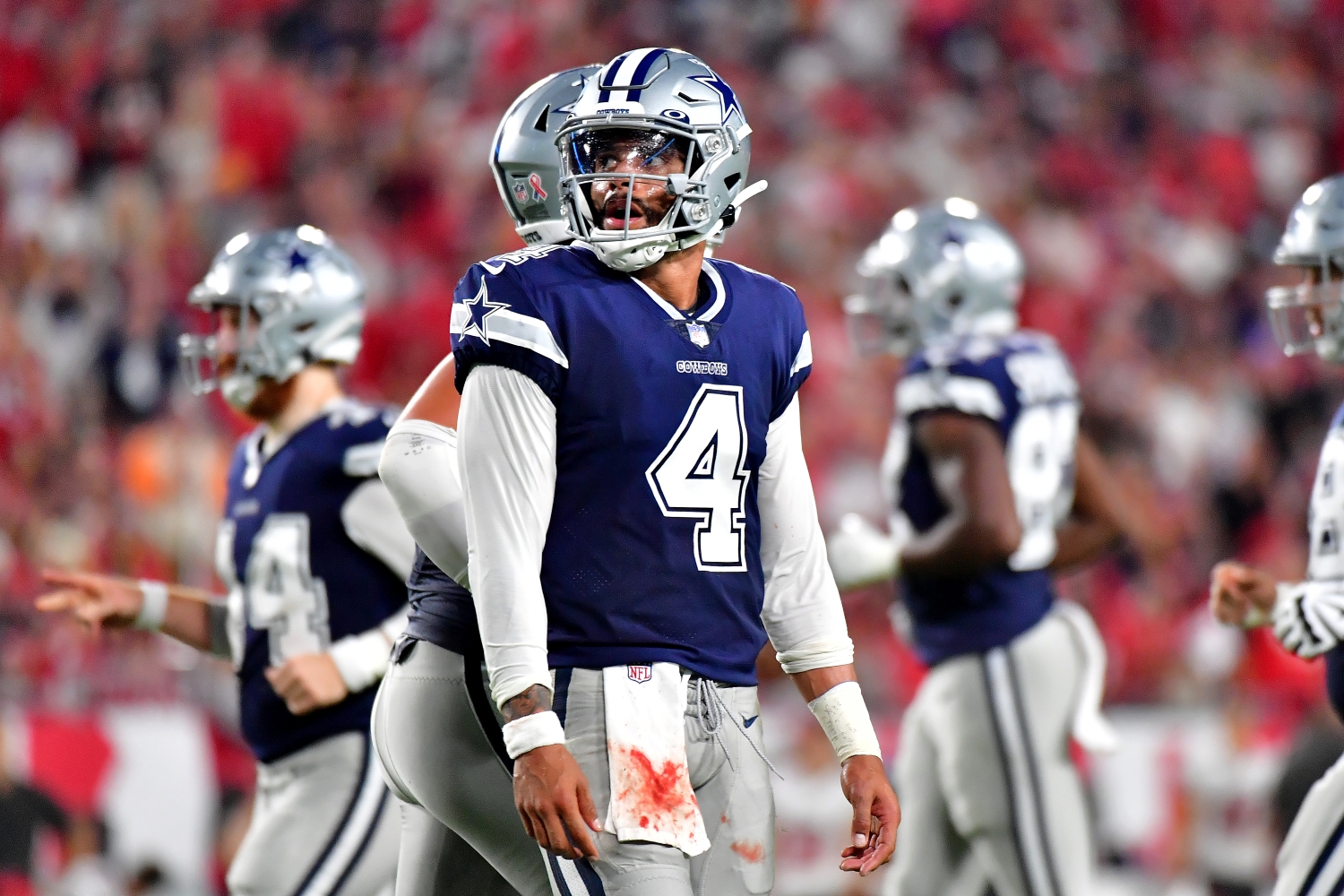 As great as Prescott played against the Buccaneers, he seems destined to watch the playoffs from home in light of Lawrence's injury.
Why's that the case?
First, you cannot ignore the schedule factor.
The Cowboys have to travel to Los Angeles this week to take on a Chargers team that has blue-chip players on both sides of the ball. Second-year quarterback Justin Herbert racked up 337 passing yards in a 20-16 win over the Washington Football Team — a team that finished fourth in points allowed in 2020 and looks capable of finishing in top-10 territory again thanks to a loaded front seven that includes five first-rounders.
If Prescott and Co. leave LA without a win, that won't bode well for their chances of playing in January. All 11 teams that got off to an 0-2 start in 2020 missed the playoffs. Needless to say, falling in an 0-2 hole would make it mightily difficult for Dallas to earn a postseason berth.
Plus, with Lawrence likely out until November, the Cowboys could run into more trouble against talented offenses. Jalen Hurts looked sensational against the Atlanta Falcons; could he cause problems for the Philadelphia Eagles' division rival in Week 3?
Lawrence's absence could also get exposed in matchups against a Carolina Panthers squad that includes exciting playmakers like Christian McCaffrey, DJ Moore, and Robby Anderson. And the New England Patriots have a stout offensive line that could do damage against a depleted Dallas defensive line in Week 6.
Ultimately, if the Cowboys get exposed over the ensuing weeks and suffer a few more losses, they will have a tough time making up ground in the standings. Prescott could very well win Comeback Player of the Year, but the odds don't appear to be in his favor in terms of making the playoffs.
Will Jerry Jones go shopping for a replacement at defensive end?
With their highly-paid pass rusher out for essentially half the season, will the Cowboys make a move to shore up their newest roster hole?
It would make sense for Jerry Jones to explore adding a defensive end via free agency or the trade market. After all, getting after the quarterback is critical, and Dallas doesn't have enough capable players on the roster who can accomplish that task.
Who could Jones consider going after?
Olivier Vernon remains the biggest name available. The 30-year-old has recorded 63.5 sacks since he entered the NFL as a third-round pick by the Miami Dolphins in 2012. He racked up nine sacks and 16 quarterback hits with the Cleveland Browns last season, so he has a solid track record of production.
Trent Murphy also has yet to find a new NFL home. He doesn't bring nearly the same upside, but the 30-year-old used to give the Cowboys problems during his days in Washington. A return to the NFC East would make sense for Murphy, who spent the last three years with the Buffalo Bills.
As for a trade candidate?
Clelin Ferrell hasn't come close to living up to expectations with the Las Vegas Raiders. Drafted No. 4 overall in 2020, the 6-foot-4, 265-pound edge rusher has a near-identical build to Lawrence and obviously showed enough potential in college to become a top-five pick. A change of scenery might be the best solution for both sides, and the Cowboys certainly need more talent along their banged-up defensive line.
Even if they do bring in another body or two, though, it probably won't matter.
Nobody can replace what DeMarcus Lawrence brings from a production and leadership standpoint. And no matter how much Dak Prescott balls out, he can't make up for Dallas having major holes on defense.
All statistics courtesy of Pro Football Reference.