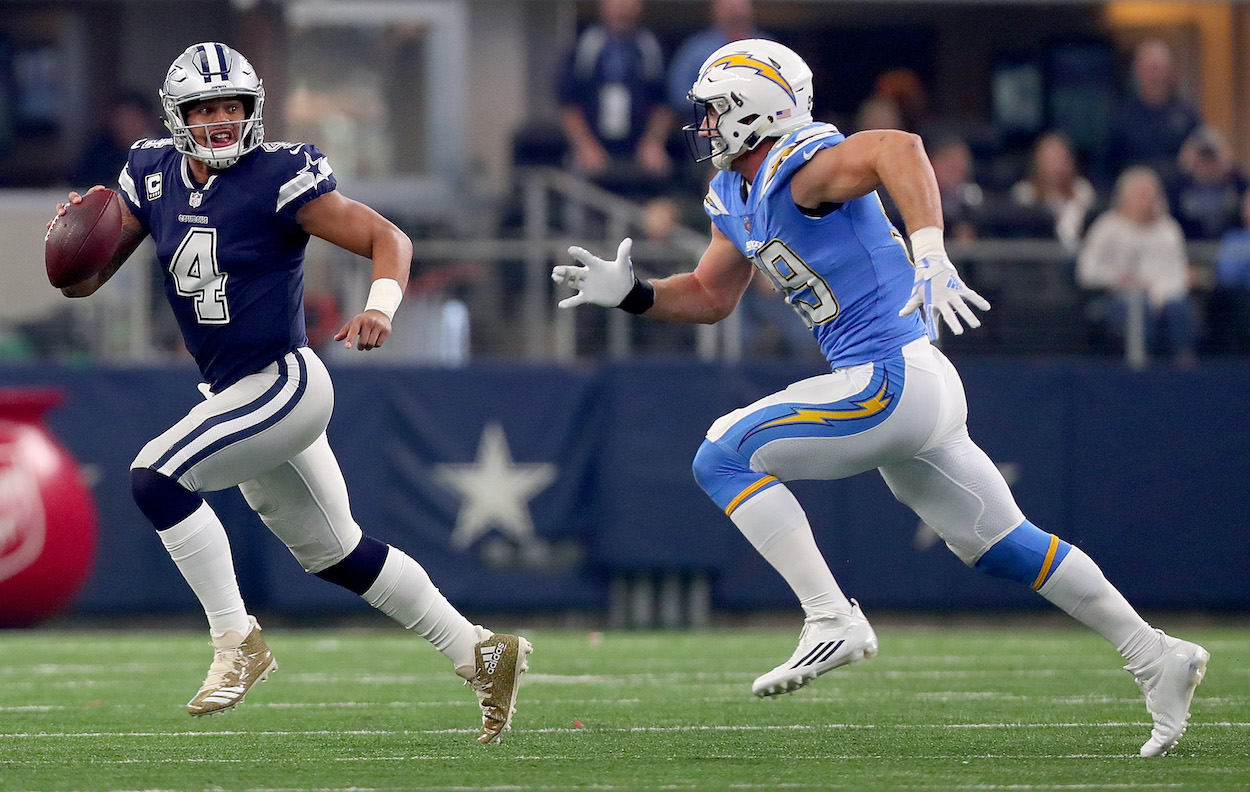 Dak Prescott Battles a Young Gun, 2 Teams That Might Be Good, and a Matchup That Could Decide a Division in Just the Second Game: The 3 Most Intriguing Matchups of NFL Week 2
NFL Week 2 is upon us and it brings several matchups that will not only be fun to watch, but also tell us a lot about the teams involved, especially in the AFC and NFC East.
Week 1 of the football season is in the books and, while we may have learned some things, we can't be totally sure. During the NFL Week 2 slate, we start to confirm our opinions from the opening weekend or re-evaluate what we think we saw. For example, in Week 1 of 2020, the Jacksonville Jaguars beat the Indianapolis Colts, and the Tampa Bay Buccaneers lost to the New Orleans Saints. The Jags haven't won a game since, and the Bucs went on to win the Super Bowl. 
Sometimes, Week 1 lies, which is why Week 2 is critical in determining what happens for the rest of the season. To get you ready for what's in store in this crucial second round of games, here are the three most intriguing matchups of NFL Week 2.  
Buffalo Bills vs. Miami Dolphins – Sunday, September 19, 1:00 p.m. EST, FOX
The Buffalo Bills lost to the Pittsburgh Steelers in Week 1 but might feel good about it. The Steelers may have one of the best defenses in the league and, if not for a blocked punt, the Bills could have won the game. 
The Miami Dolphins beat the New England Patriots in Week 1 but might feel bad about it. If not for an un-Patriot-like fumble as rookie quarterback Mac Jones led his team on a game-winning drive, the Dolphins could have easily walked away with an L. 
"Coulda, woulda, shoulda" doesn't fly in the NFL, though. The Dolphins are 1-0, and the Bills are 0-1. 
This is a huge contest for both teams, and as close as it gets to a must-win game in Week 2 for the Bills. A Dolphins victory would put them up two games on the division favorites (and maybe the Pats and the New York Jets, too, depending on their NFL Week 2 results) and give them two head-to-head victories over their AFC East rivals. 
Division titles aren't often decided in September, but Miami can make a major statement and give themselves a huge leg up with a home win against Josh Allen and company. 
San Francisco 49ers vs. Philadelphia Eagles – Sunday, September 19, 1:00 p.m. EST, FOX
This matchup is a battle between two teams that might be really good this season. We just don't know yet because they both played teams that might be really bad this season. 
After one week of football, it's hard to make any definitive, season-long pronouncements. That's why the 49ers' 41-33 victory over the Detroit Lions and the Eagles' 32-6 demolition of the Atlanta Falcons are hard to quantify right now. 
While both victories were impressive in their own right, the fact that there is a solid chance that the Lions and Falcons end up as two of the worst teams in the league when it's all said and done makes both W's hard to judge accurately. 
When San Fran and Philly face off this week, we'll get more answers to our burning questions from Week 1. Is the Niners' offense as explosive as it seems? Can Jimmy Garoppolo/Trey Lance continue to coexist? Is the Philly defense for real? Did Jalen Hurts make the leap in the offseason? 
The NFL Week 2 matchup between Philadelphia and San Francisco will be the first real test for either team and will tell us more about these two squads that could meet again in the NFC playoffs. 
Dallas Cowboys vs. Los Angeles Chargers – Sunday, September 19, 4:25 p.m. EST, CBS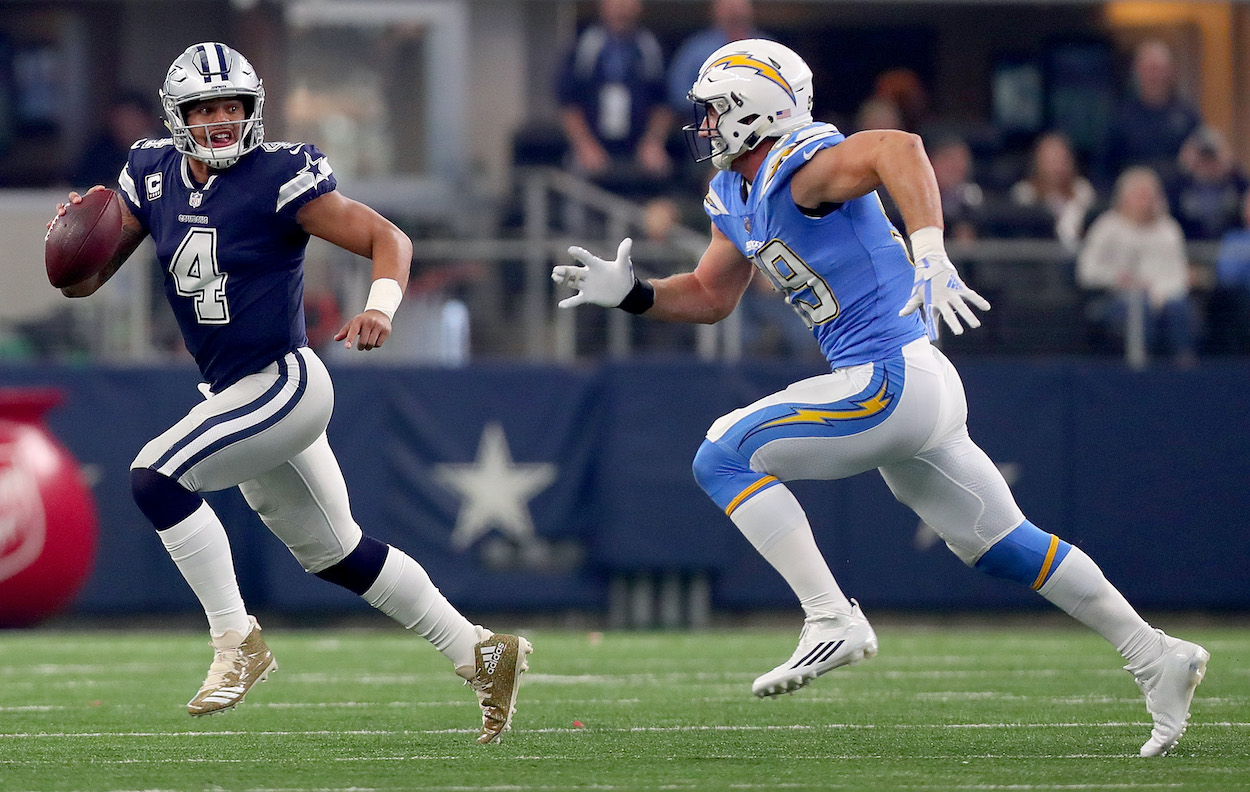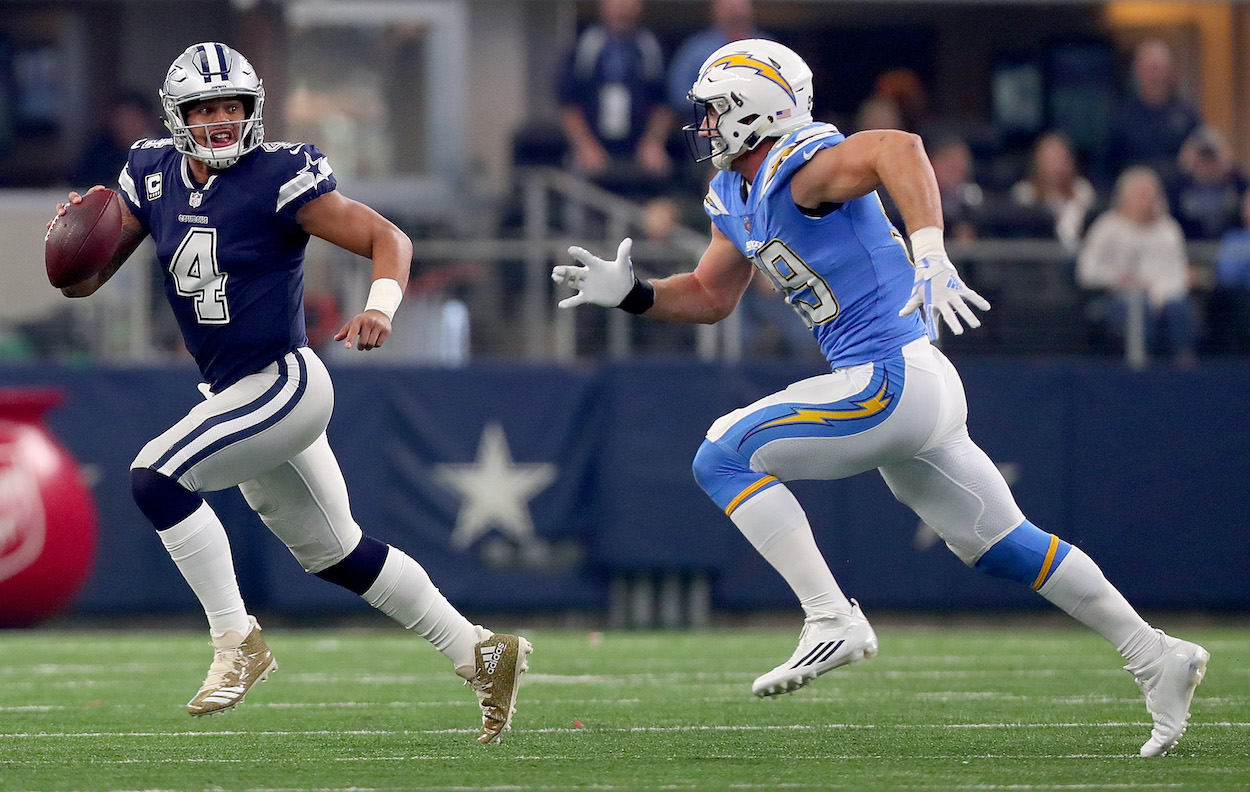 Last week Dak Prescott faced off and lost against the oldest starting quarterback in the NFL. This week, he's taking on one of the youngest in Los Angeles Chargers' second-year sensation Justin Herbert. 
This isn't the same type of must-win game that Buffalo faces because it isn't against a division rival, and the NFC East isn't as strong as its AFC counterpart. However, it will be another tough test for the Cowboys and an excellent way to prove they are for real. 
The Cowboys' defense, reeling from the shocking loss of DeMarcus Lawrence, will have to show that they can bend but not break and make a stop when needed late in the game. On the offensive side of the ball, Prescott has to keep up his impressive level of performance from Week 1, where the QB was 42-of-58 for 403 yards and three touchdowns. 
The reason it's so essential Prescott plays at a high level again on Sunday is that we know one thing about this game for sure: This. Will. Be. A. Shootout. It will also be exhilarating to watch as two of the premier passers in the NFL face off. 
If the Cowboys are a true playoff team (or even more), they need to beat good teams. Their quest to do so starts in the NFL Week 2 showdown against the Chargers. 
All stats courtesy of Pro Football Reference