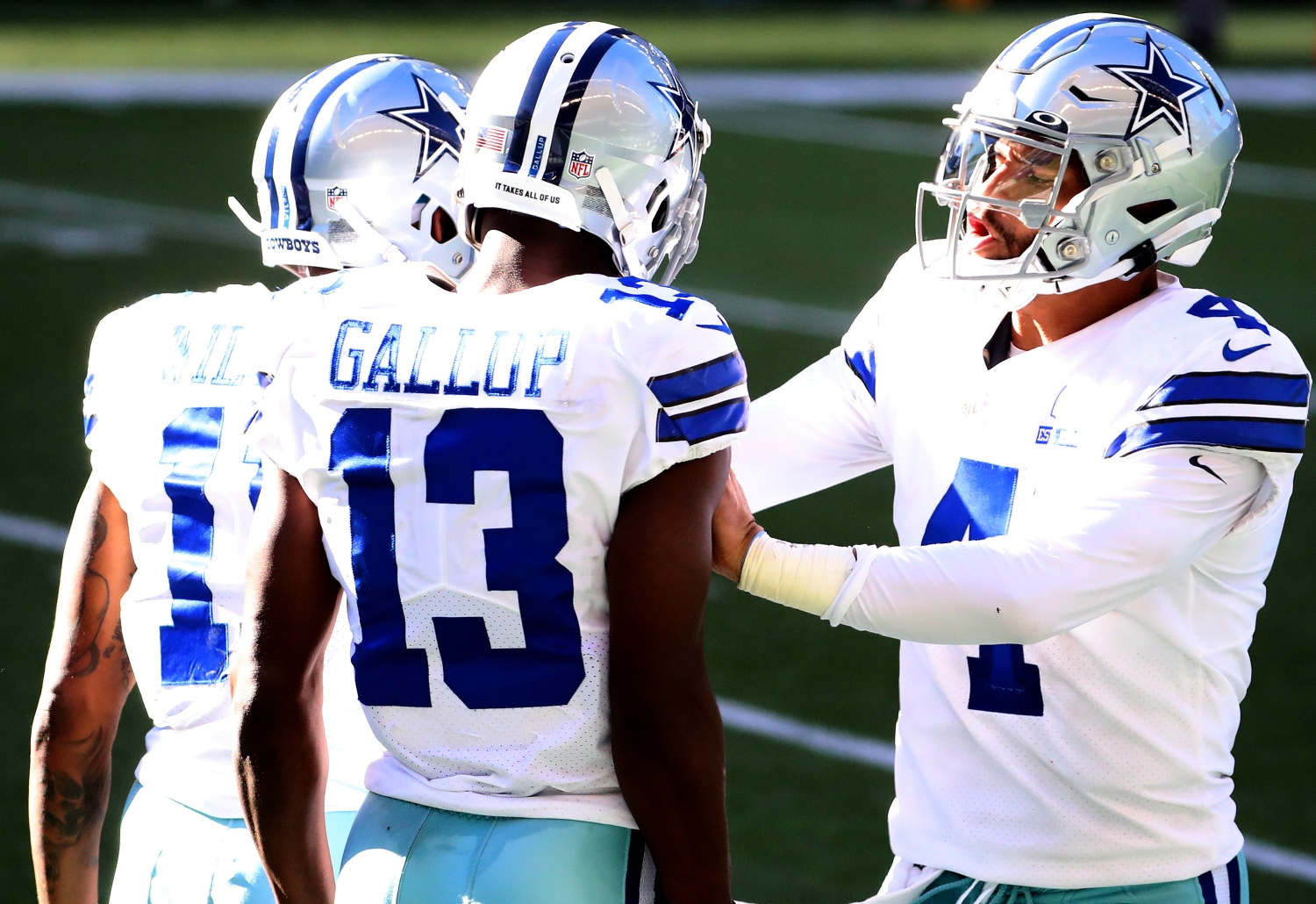 Cowboys Suffer Critical Injury Blow That Carries Costly Implications for Everyone in Dallas
The Cowboys suffered a tough blow in Thursday's loss to the Buccaneers. Michael Gallup's injury carries costly implications for multiple members of a Dallas team that has playoff aspirations.
At least some Dallas Cowboys fans would call Thursday's loss to the reigning Super Bowl champions a moral victory. After all, it took a signature fourth-quarter drive from Tom Brady to prevent Dak Prescott from ruining the Tampa Bay Buccaneers' dreams of going undefeated.
Unfortunately for the Cowboys, not only did they suffer a season-opening defeat, but they also sustained a critical injury blow that carries costly implications for everyone in Dallas.
The Cowboys suffered a critical blow to their offense in Week 1
The Cowboys struggled to run the ball against arguably the best front seven in the league, but they had their way with the Buccaneers' secondary. Prescott racked up 403 passing yards on a whopping 58 attempts. Amari Cooper caught a career-high 13 passes for 139 yards and two touchdowns. And promising second-year pro CeeDee Lamb overcame a slow start to finish with seven catches for 104 yards and a touchdown of his own.
However, the third member of the team's talented receiver trio experienced a rather unpleasant night at the office.
Despite getting targeted seven times, Michael Gallup only hauled in four receptions for 36 yards. To make matters worse, he exited the game in the second half with an apparent left ankle injury and did not return.
And it will take a while before Cowboys fans see him in the lineup again.
On Saturday, Michael Gehlken of the Dallas Morning News reported via Twitter that Gallup suffered a calf strain that's expected to cause him to miss three to five weeks.
Although the 25-year-old will return at some point, his injury could prove costly on multiple levels.
Michael Gallup's injury carries costly implications on multiple levels
Talk about a case of bad timing.
For Gallup, his calf strain could not have occurred at a worse moment. The 2018 third-round pick will become a free agent next spring, so he needs to do everything possible to prove he deserves a lucrative multi-year contract. Gallup racked up 125 receptions for 1,950 yards and 11 touchdowns across the last two seasons, which would seem to put him in line for a substantial raise. But if his production declines for the second straight year — he posted 264 fewer receiving yards despite playing two more games — will teams see him as a worthwhile investment?
Missing even a few games doesn't bode well for Gallup's chances of getting paid. At least, not at the level he probably expected after his breakout 2019 season.
Plus, it's impossible to ignore the potential trickledown effects of his injury.
Will the passing game take a step back? Prescott looked terrific in Week 1, but without Gallup in the lineup, the Cowboys definitely don't boast the same ceiling on offense. The 6-foot-1, 198-pound receiver has flashed star ability, so Dallas will definitely downgrade by replacing Gallup with 2018 sixth-round pick Cedrick Wilson.
The injury also places far more pressure on Dan Quinn's defense. That unit already faced questions heading into Week 1, but if the offense takes even a slight step back due to Gallup's absence, DeMarcus Lawrence, Micah Parsons, and Co. can't afford to have early-season growing pains.
In other words: The Cowboys have less margin for error moving forward.
Can Dak Prescott get Dallas on track without one of his top weapons?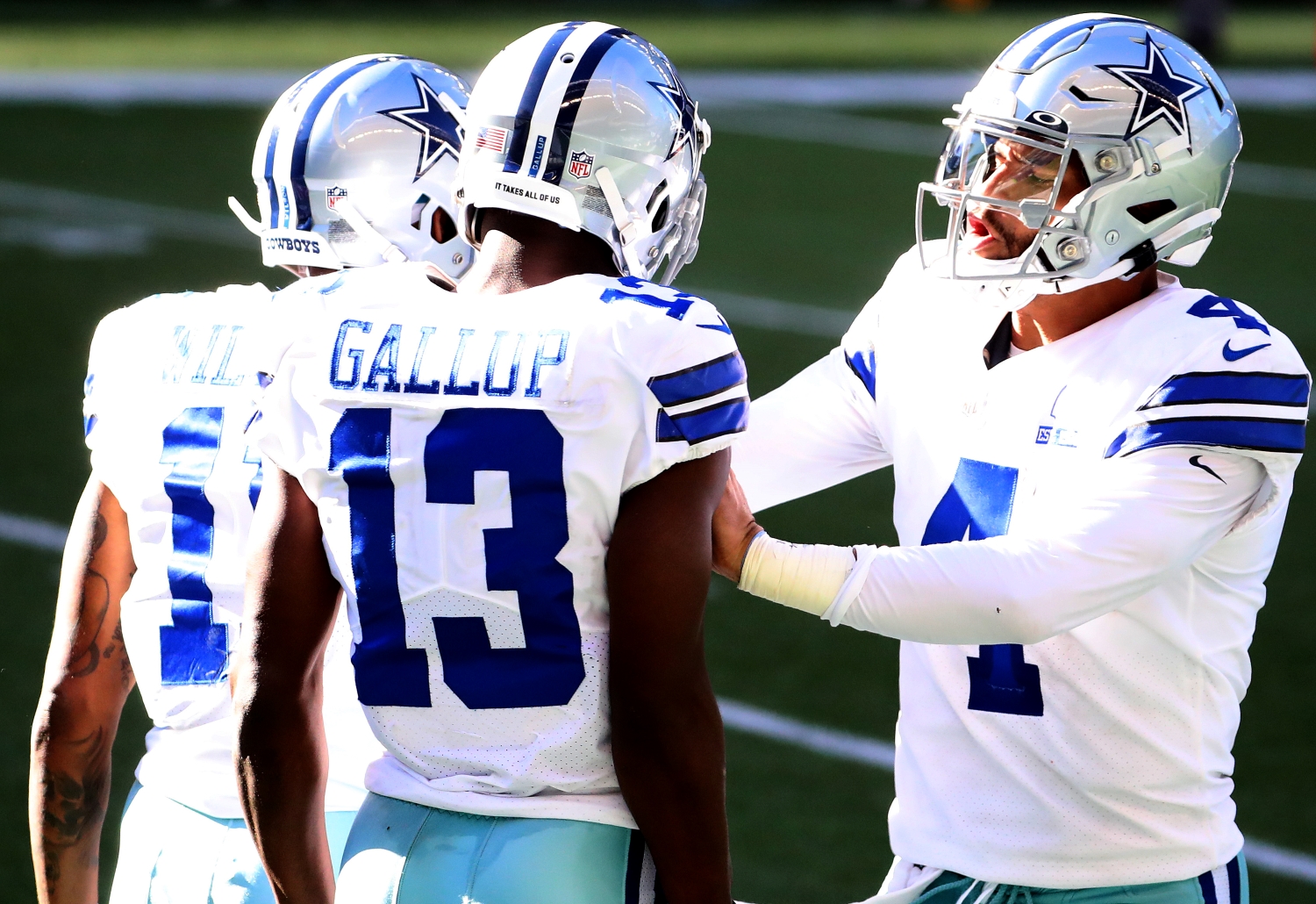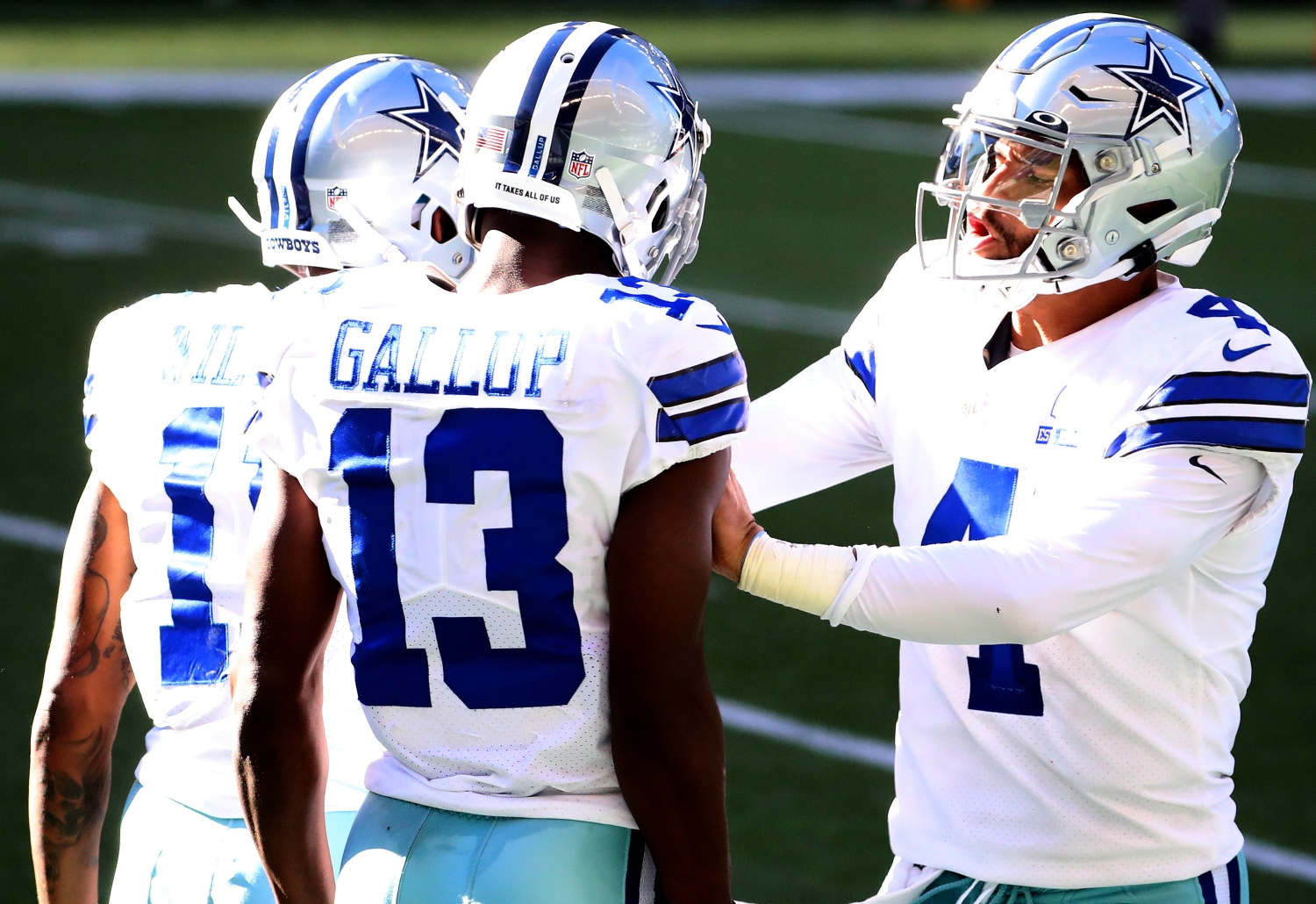 Prescott gave a heroic effort in his first game back from suffering a gruesome ankle injury. Considering he didn't have stalwart right guard Zack Martin protecting him, his Week 1 performance should inspire confidence about the Cowboys' decision to make him one of the league's highest-paid quarterbacks.
But with Gallup sidelined for about a month, can Prescott put Dallas in a position to win the NFC East?
Luckily for the two-time Pro Bowler, the schedule falls in his favor.
While a Week 2 road matchup against the Los Angeles Chargers could lead to another loss, the Cowboys have a chance to get on track as September turns to October. They host a rebuilding Philadelphia Eagles team in Week 3, an unproven Carolina Panthers squad in Week 4, and the Daniel Jones-led New York Giants in Week 5. Dallas could easily win all three games and head into a Week 6 matchup against Bill Belichick and Mac Jones with a 3-2 record.
Of course, by that time, the Cowboys could have Michael Gallup back.
Unfortunately for the Patriots, Stephon Gilmore can't play until Week 7 since he started the year on the physically unable to perform list. So, even if Prescott has to get by without one of his top receivers for a few games, he can at least look forward to facing a New England defense that won't have its All-Pro cornerback in the lineup.
All statistics courtesy of Pro Football Reference. All contract data courtesy of Spotrac.