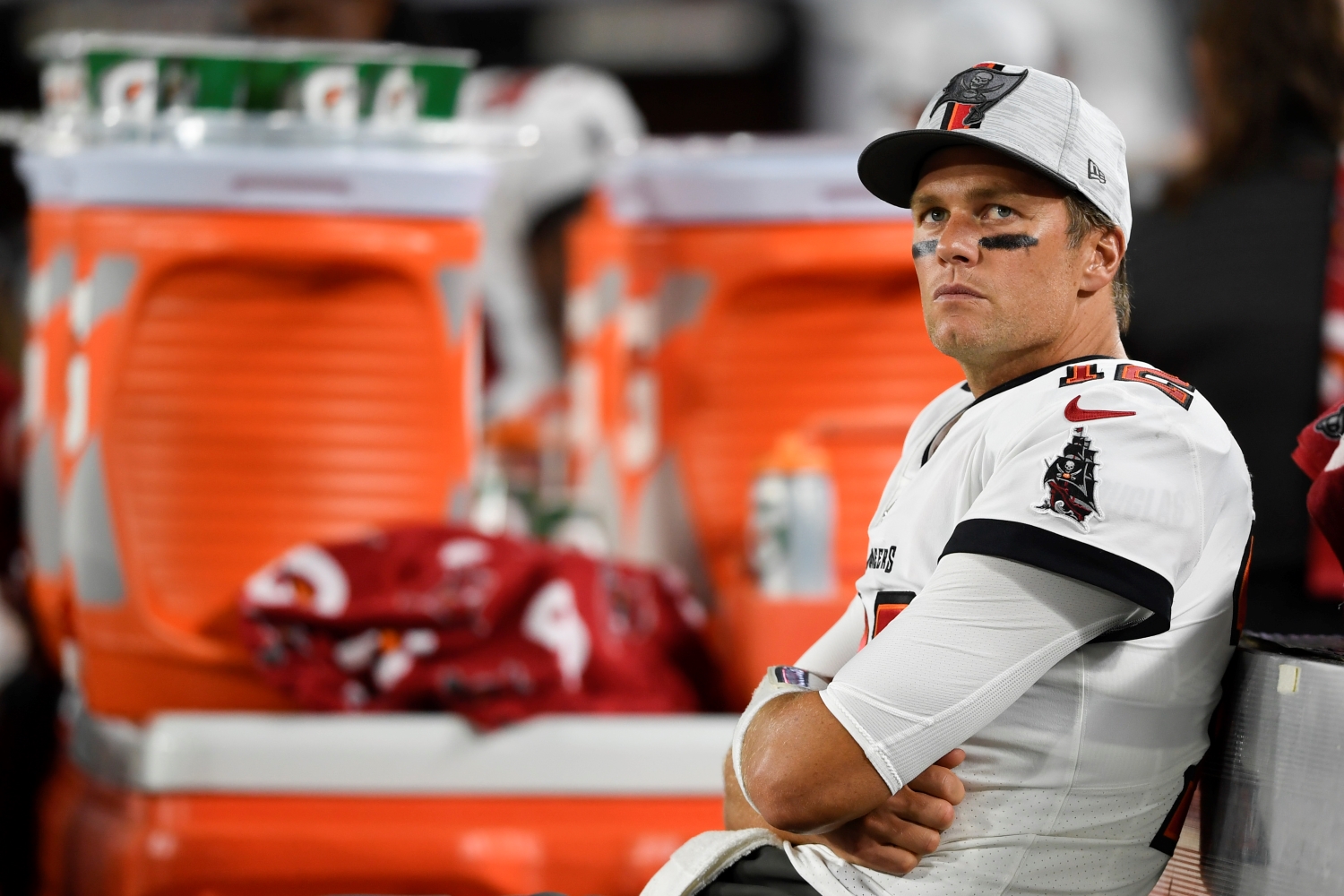 Tom Brady is Dangerously Close to Suffering Permanent Damage to His Legendary Resume
Tom Brady is dangerously close to suffering permanent damage to his legendary NFL resume. Of course, he has nobody to blame but himself.
Tom Brady spent the last two decades doing everything possible to prove everyone wrong. After all, he fell to the 199th pick of the 2000 NFL Draft before the New England Patriots finally ended his infamous slide. But once Brady took over for an injured Drew Bledsoe, it became clear Bill Belichick had stumbled upon a hidden gem in the sixth round.
Of course, even TB12's biggest supporters couldn't have predicted he would develop into the greatest quarterback of all time. Yet 20 years later, there's no doubt Brady deserves that title, and he may even give Michael Jordan a run for his money as the most dominant athlete in the history of team sports.
Winning seven Super Bowl titles has to count for something, right?
Plus, even though he turned 44 in August, Brady has an excellent chance to add another ring to his collection based on the Tampa Bay Buccaneers' stacked roster. Barring injuries, it certainly wouldn't be a surprise if Gisele Bundchen's husband hoists the Lombardi Trophy for the eighth time.
Unfortunately for the GOAT, he's also dangerously close to suffering a permanent blow to his legendary resume.
The most ironic part?
It's basically Brady's fault.
Sort of.
By defying Father Time for longer than anyone expected, the 14-time Pro Bowler has been able to rack up an impressive list of of accomplishments.
Besides winning seven titles, Brady has captured three regular-season MVP awards and five Super Bowl MVP awards. He's earned first-team All-Pro honors three times (2007, 2010, 2017) and second-team All-Pro twice (2005, 2016). And he set the single-season record for touchdown passes (subsequently broken by Peyton Manning in 2013) during his first year working with Hall of Fame receiver Randy Moss.
Brady's ability to extend his career into his mid-40s has put him in a position to dominate NFL record books. He already surpassed Drew Brees for the No. 1 spot in all-time touchdown passes (581). And it won't take him long to total the 1,155 yards needed to pass the longtime New Orleans Saints star for the all-time passing yards record.
However, longevity also comes at a cost.
While Brady ranks surprisingly low in career interceptions (33rd heading into the 2021 season) compared to another Hall of Famer who played into his 40s, he will soon become the most-sacked quarterback in league history.
Not exactly something you want to list on your resume, right?
Currently second on the all-time list behind Brett Favre, Brady will take over the No. 1 spot after he gets sacked for the fifth time this season. The Green Bay Packers icon absorbed 525 sacks in 302 regular-season games. Meanwhile, the former Patriots signal-caller checks in at 521 through 301 games.
Although he made a number of clutch throws over the years by buying extra time in the pocket, Brady couldn't always avoid oncoming rushers. In fact, he got sacked 104 times during his first three seasons as a starter.
New England's offensive line play improved, but the team had issues keeping Brady out of harm's way in 2013 and 2015. He got sacked 40 and 38 times, respectively, and the Patriots suffered two crushing AFC Championship Game losses due largely to protection issues. Thankfully for TB12, the line did its job in 2016 and 2018, and his new protection squad in Tampa kept him upright for most of the 2020 season.
Still, it's inevitable that Brady will suffer the fallout of playing pro football for a 22nd year.
As great of a job as the Buccaneers do of putting him in a position to succeed, he will certainly get taken down at least 15-20 times this season. Essentially, it's only a matter of time before he passes Favre for the "honor" of absorbing more sacks than any quarterback to step foot on an NFL field.
With a Week 1 matchup against a Dallas Cowboys defense that features the talented defensive end duo of DeMarcus Lawrence and Randy Gregory and the athletic linebacker trio of Micah Parsons, Jaylon Smith, and Leighton Vander Esch, the most accomplished player in NFL history could start the year off by setting a record that won't inspire any cheerful social media posts. Even if it takes another game or two, the reality remains that Tom Brady will soon suffer permanent damage to his NFL resume.
Luckily for the GOAT, quarterbacks get judged on Super Bowl rings.
And it's safe to say nobody will surpass him in that regard.
All statistics courtesy of Pro Football Reference.