Dale Earnhardt Jr. Admits His Home Life Coincided With Success and Failure on the Race Track
Like most in the motorsports world, Dale Earnhardt Jr. had his streaks. He had his good days and his share of bad ones. The NASCAR Hall of Famer recently got personal on the Dan Patrick Show, revealing his home life set the tone for his successes and failures on the track.
Dale Earnhardt Jr. explained the mental grind of a NASCAR schedule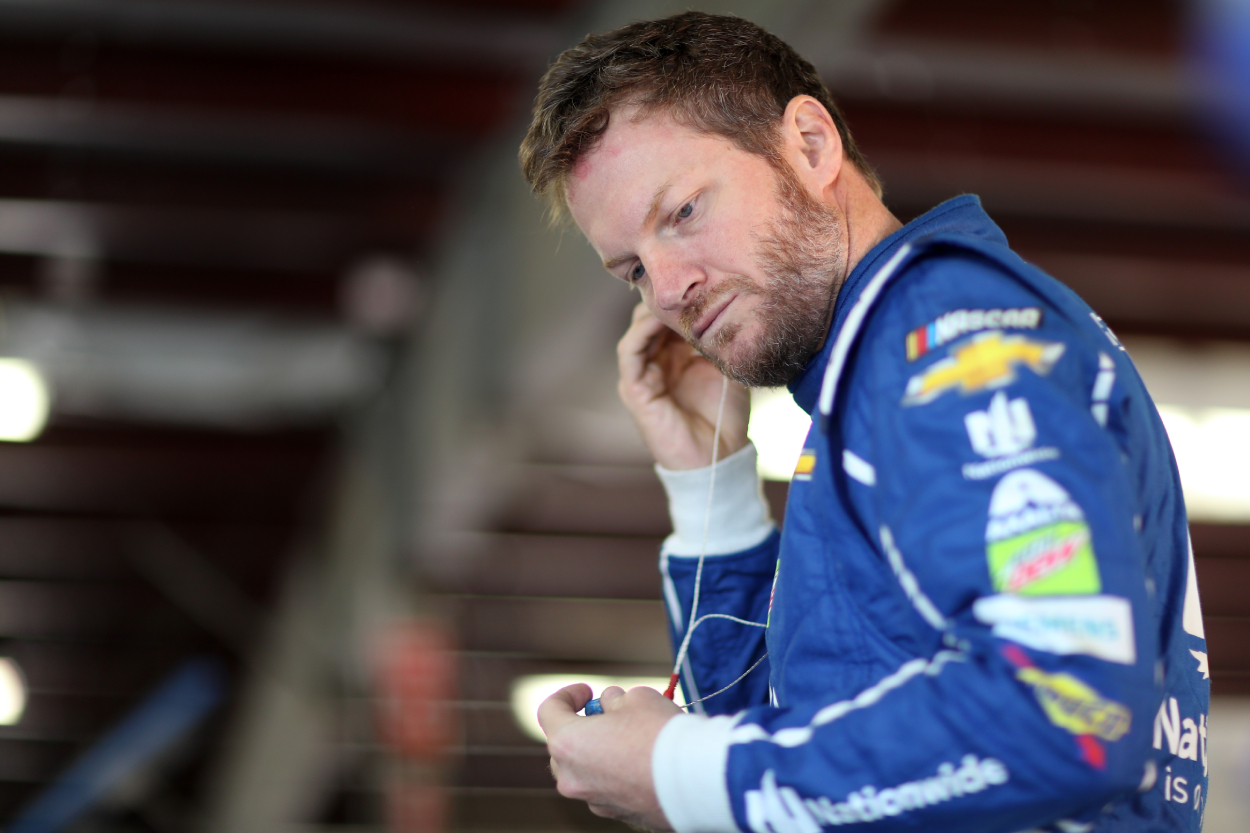 For Earnhardt Jr., racing has always been a part of his life. Growing up in a racing family with a Hall-of-Fame father and a grandfather who built NASCAR cars, he was destined to hit the tracks.
He joined his father, the legendary Dale Earnhardt Sr., on the racing scene. Racing became their bond. Racing also became a grind. Junior spoke about the mental aspect of being a driver week in and week out.
"When you're doing it every single week, you certainly had your good days and bad days," he said this week on the Dan Patrick Show. "You can tell where you were last week mentally and where you were this week. It was happening in such a repetitive process. There were days when you woke up, and you felt really great. You felt like, man, this is going to be a great day. You had a great disposition, and you felt you could handle adversity better.
"Then there were days when you got up out of bed, and you had no motivation or you had no confidence. You may have had something going on in your personal life that had you down and depressed. Then when you were faced with any adversity during that day or that race, you didn't handle it well, and you kind of fell apart."
Dale Earnhardt Jr. said his home life set the tone for his racing days
Junior bounced around from school to school while growing up and didn't get to spend a whole lot of time with his father, who was consumed by his career. His home life was unstable as a kid. His sister Kelley wound up looking after him while their dad was away. As Junior grew older, father and son grew together and spent more time with each other at the track.
Even as he grew, Earnhardt Jr. said his home life dictated how things would go on the track. He explained the situation to Patrick.
"My personal life and my home life was the driving factor for me," Earnhardt Jr. said. "If things were good and if things were smooth for me at home, things were going to go pretty well at the race track."
He did say that it also worked the other way.
"I think that may have been the other way around, too, sometimes. If things didn't go well at the race track, things went bad at home. That's for sure."
Earnhardt Jr. said he could usually tell before a race which drivers would be on their game
Earnhardt Jr. and Patrick engaged in a mental preparation conversation. The topic triggered an interesting comment from Junior, who said he could tell which drivers he would be competing with were in a good frame of mind before the race began.
"When we go to the drivers' introduction, all the drivers are forced into this little space together and we're going to get introduced to the crowd," he said. "So you are exposed to all the competition right there at that moment before you're going to compete.
"You can see guys that are ready to get after it, and you can see guys that just are not fired up to be there. I don't know, everybody kind of approaches it differently."
Junior did say when he felt like he wasn't quite there mentally, he kept it to himself. He hid everything, hoping not to give anything away.
"You suppressed it and didn't say a thing," he said. "Now, after the race, you might go up to your crew chief and said, "Hey man, I'm sorry. As you can probably tell, I wasn't with it this week' and you try to do a better job next week."
Like most athletes, mental preparation and focus are a big part of their sport. For Earnhardt Jr., that mental state of mind usually was aided or hindered by what was going on at home.