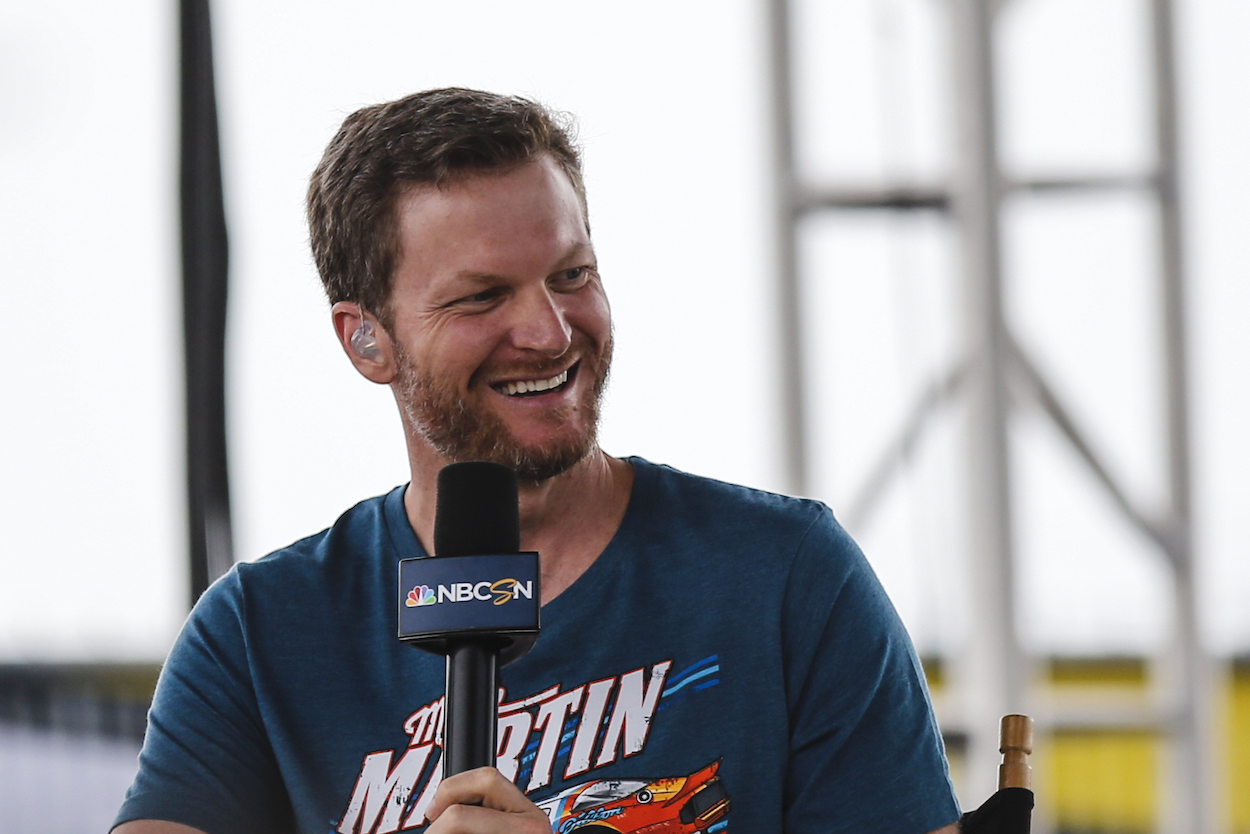 Dale Earnhardt Jr. Calls Out NASCAR and Its Troubling Hall of Fame Induction Policy That Is Hurting Families
Dale Earnhardt Jr. won't allow his induction into the NASCAR Hall of Fame later this month to prevent him from criticizing the organization for a troubling induction policy that's hurtful to the families of some Hall of Famers.
Dale Earnhardt Jr. will be inducted into the NASCAR Hall of Fame on January 21. While that moment will undoubtedly be special for Junior, his recent comments show that he realizes it's bigger than him and understands the importance of the ceremony and why the Hall of Fame needs to make an adjustment to a troubling induction policy that is hurting the families of some inductees. 
Dale Earnhardt Jr. races to Hall of Fame career
Dale Earnhardt Jr. joined NASCAR knowing there was a high likelihood he would always be in his legendary father's shadow. He was throughout much of his career.
However, to his credit, Earnhardt authored an impressive career of his own that included a pair of back-to-back Xfinity Series championships in 1998 and 1999. He followed that up by establishing himself in the Cup Series early on, winning a couple of times in his first full-time season.
Over the next 17 years, Earnhardt posted impressive numbers, even outperforming his own father on the sport's biggest stage by winning the Daytona 500 a couple of times in 2004 and 2014. He concluded his career in 2017 with 26 wins to his credit. All of it combined made him Hall of Fame-worthy. 
Earnhardt calls out NASCAR Hall of Fame on induction policy
In late 2020, NASCAR announced that the 2021 Hall of Fame class included Earnhardt, Mike Stefanik, and the legendary Red Farmer. Farmer established himself in 1956 when he won his first Modified title. A dozen years later, he was dominant on the Late Model Sportsman Series (now Xfinity Series), winning titles from 1969-71. 
Stefanik was a legend in the NASCAR Whelen Modified Tour and raced from 1985 to 2014, winning seven titles. He also won a pair of Busch North titles. He died in 2019 in an ultralight aircraft accident. 
Reports surfaced on Twitter recently that Stefanik's wife, Julie, had written a speech for the ceremony but a specific NASCAR Hall of Fame policy wouldn't allow her to read it.
Earnhardt, who has never been one to shy away from criticizing NASCAR, offered his thoughts on the matter.
"I've learned it's Nascar HOF policy that individuals enshrined posthumously are celebrated throughout the weekend with exception of someone giving a speech during the ceremonies," he tweeted. "I advocated for them to consider bypassing this rule for Julie. I hope they allow her some time."
Families of NASCAR Hall of Famers speak up
Not surprisingly, Earnhardt's comments generated a response. Davey Allison's wife, Liz, shared her Hall of Fame experience in a reply.
"The same for us when Davey was inducted. I expressed my disappointment & sadness to the powers at be," she said on Twitter. "We will never have that chance again to express how much this honor meant to us. This is a huge oversight on @NASCARHall @NASCAR. This should be changed."
Former Cup Series driver Kenny Wallace and brother of Hall of Famer Rusty was also vocal on the subject. 
"I am very disappointed in the @NASCARHall new rules. When we lose a legend," Wallace wrote. "The wife should at least be able to accept his award. What are they thinking?" 
Interestingly, preventing spouses from speaking hasn't always been the standard policy. Teresa Earnhardt delivered the speech posthumously for Dale Earnhardt Sr. in 2010. 
Dale Earnhardt Jr. has power in NASCAR. His Hall of Fame induction says it all. His words matter. There's no doubt NASCAR and the Hall of Fame have seen his comments. Now the question is whether they do anything about it. 
[Correction: An earlier version of this article incorrectly stated the number of Modified titles won by Mike Stefanik.]
Like Sportscasting on Facebook. Follow us on Twitter @sportscasting19.