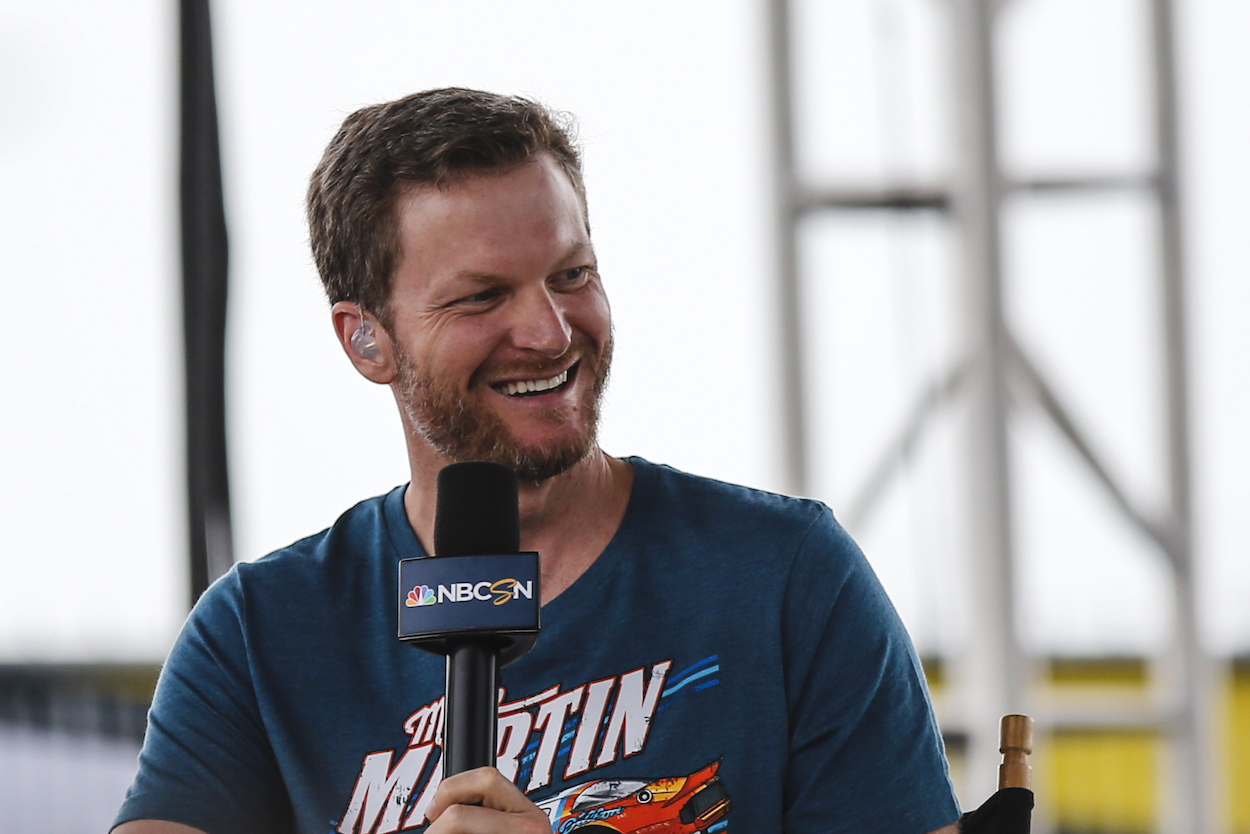 Dale Earnhardt Jr. Reveals on Podcast How Happy He Was to Receive a Surprise Text This Past Weekend From a Legendary Entertainer He Hadn't Heard From in Years
Dale Earnhardt Jr. detailed on his podcast how excited he was this past weekend when he received an out-of-the-blue text from a legendary entertainer he hadn't heard from in years.
Dale Earnhardt Jr. is synonymous with NASCAR, and even more than four years removed from full-time competition, he's still one of the most popular personalities in the sport. Junior giving a wave, a handshake, or, even better, an autograph understandably makes a fan's day. 
In the latest episode of his podcast, Earnhardt revealed how the tables were reversed this past weekend after the race at Atlanta when he received an out-of-the-blue text from a legendary entertainer he hadn't heard from in years. He admitted the complimentary words left him "skipping" for the rest of the day. 
Dale Earnhardt Jr. had an adventurous weekend in Atlanta
Dale Earnhardt Jr. has been a busy man in the last month, with NBC picking up coverage of the NASCAR Xfinity and Cup Series races for the remainder of the year. This last weekend in Atlanta, Earnhardt found himself unexpectedly busier than normal just minutes before the start of the Xfinity Series race on Saturday.
That's because Michael Annett, who drives the No. 1 car for JR Motorsports, announced just 20 minutes before the start of the race that he was unable to drive due to a leg injury. Junior had to scramble to find a driver. 
Moments later, when the broadcast started, the NASCAR Hall of Famer detailed the developing situation and admitted the thought of driving the car himself crossed his mind.   
"Michael Annett is not able to go because of a leg injury that he suffered. We were calling and scrambling. I'm going to tell you right now, if I had my helmet and my HANS device, I would have left you in a New York minute, Rick," Earnhardt told broadcast partner Rick Allen.
Austin Dillon came through in the clutch and drove to an 11th-place finish.
Dale Earnhardt Jr. talks about his wardrobe
Dale Earnhardt Jr. traded in his firesuit for a business suit since joining the NBC NASCAR broadcast team full-time in 2018. During the latest episode of the Dale Jr. Download, Junior went into details about his attire, including his complete lack of involvement in its selection.
"I don't pick what I wear," Earnhardt admitted on the podcast. "NBC has our clothes. They have about five shirts, and they have about five jackets, and about 15 or 10 ties, something like that. And they just kind of pick it out and they put it together and it goes to the booth and when we get up there, it's there and we put it on. Twenty minutes before the show, I tie my tie and I get ready."
Earnhardt said before he makes it up to the broadcast booth he asks what they've got picked out for him because he wants to know what color of pants he needs to bring from his bus. This past weekend, his attire included a pink shirt with a hot pink tie. Earnhardt admitted he was a little surprised by the selection.
"I was like, 'Oh man,' pink shirt with a hot pink tie," he said. "We usually only wear pink during October (breast cancer awareness month). I'm going to be down on the grid before the race without my jacket, so I'm going to be in there with gray pants, pink shirt, hot pink tie. It's a little bit out of my comfort zone."
Earnhardt acknowledged he wore the outfit, thinking that some viewers might be clowning him on social media. And he also said he considered taking the pink ensemble home with him to prevent the NBC crew from having it available for selection in the future. 
Reveals he received a surprising text from Ric Flair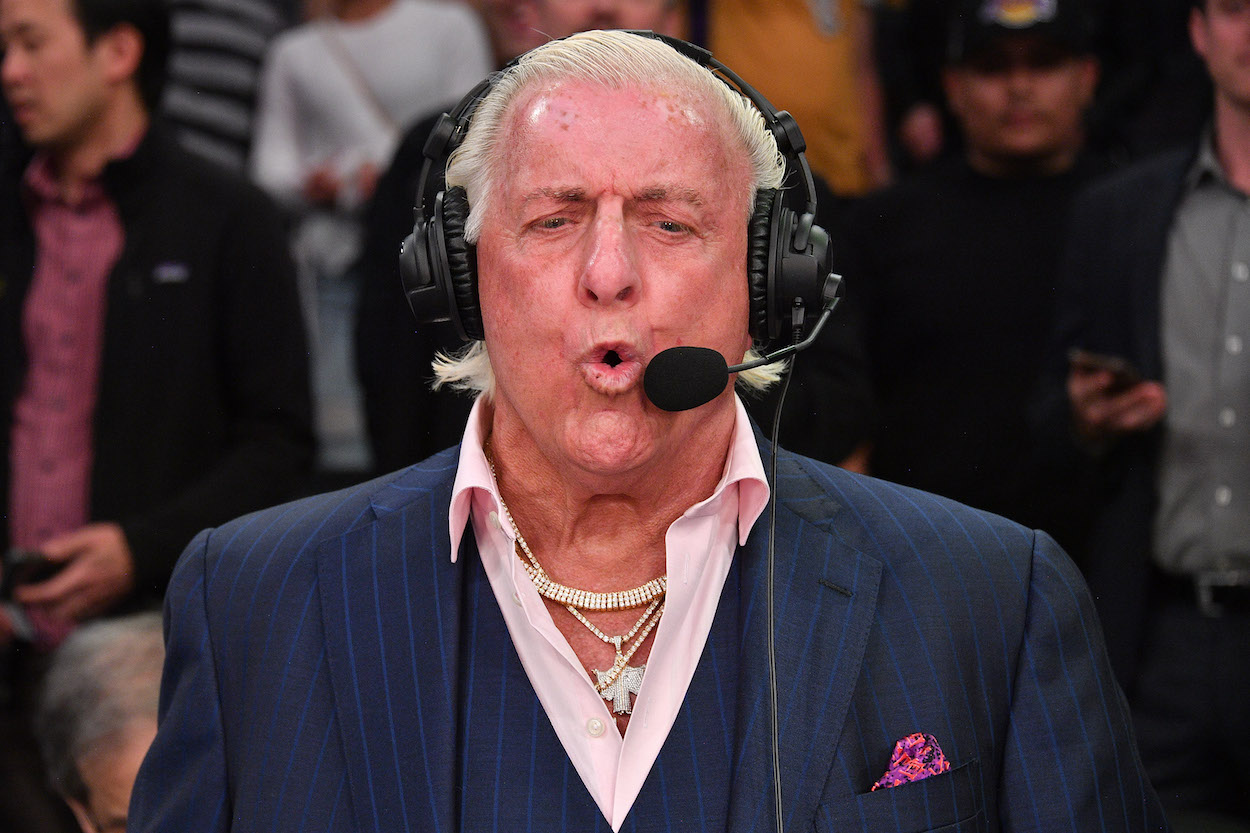 Earnhardt's concerns about the outfit and the reaction by fans were allayed right after the broadcast was over when he exited the booth and received an unexpected text message. 
"I haven't heard from this man in probably six years," Earnhardt said, recalling the details on the podcast. "I got a text message, and it said, 'Way too slick, my man. Woooo!'"
Earnhardt paused. His co-host, Mike Davis, didn't. "No! Ric Flair?" Davis asked.
"Yes, Ric Flair!" Earnhardt excitedly answered, which drew a collective gasp from those in the room. 
"You're out of your mind! You're kidding me!" David said, stunned.
"He liked it," Earnhardt said. "I got a woo! He saw us on camera as we closed out the race and he texts me, 'Way too slick, my man. Woo!' And I said, 'What's up Nature Boy?' He said, 'You. Looking great.' I said, 'Thanks pal. Always good to hear from you.' He said, 'You the man. Much respect.' I said, 'Thanks, legend.' 
Earnhardt admitted he's had Flair's number in his phone for a long time but the pair hadn't talked in years. He said he screen-grabbed the text and it "made my damn day." 
Not surprisingly, the pink shirt and hot pink tie will appear on the broadcast again in the future.  
Like Sportscasting on Facebook. Follow us on Twitter @sportscasting19.