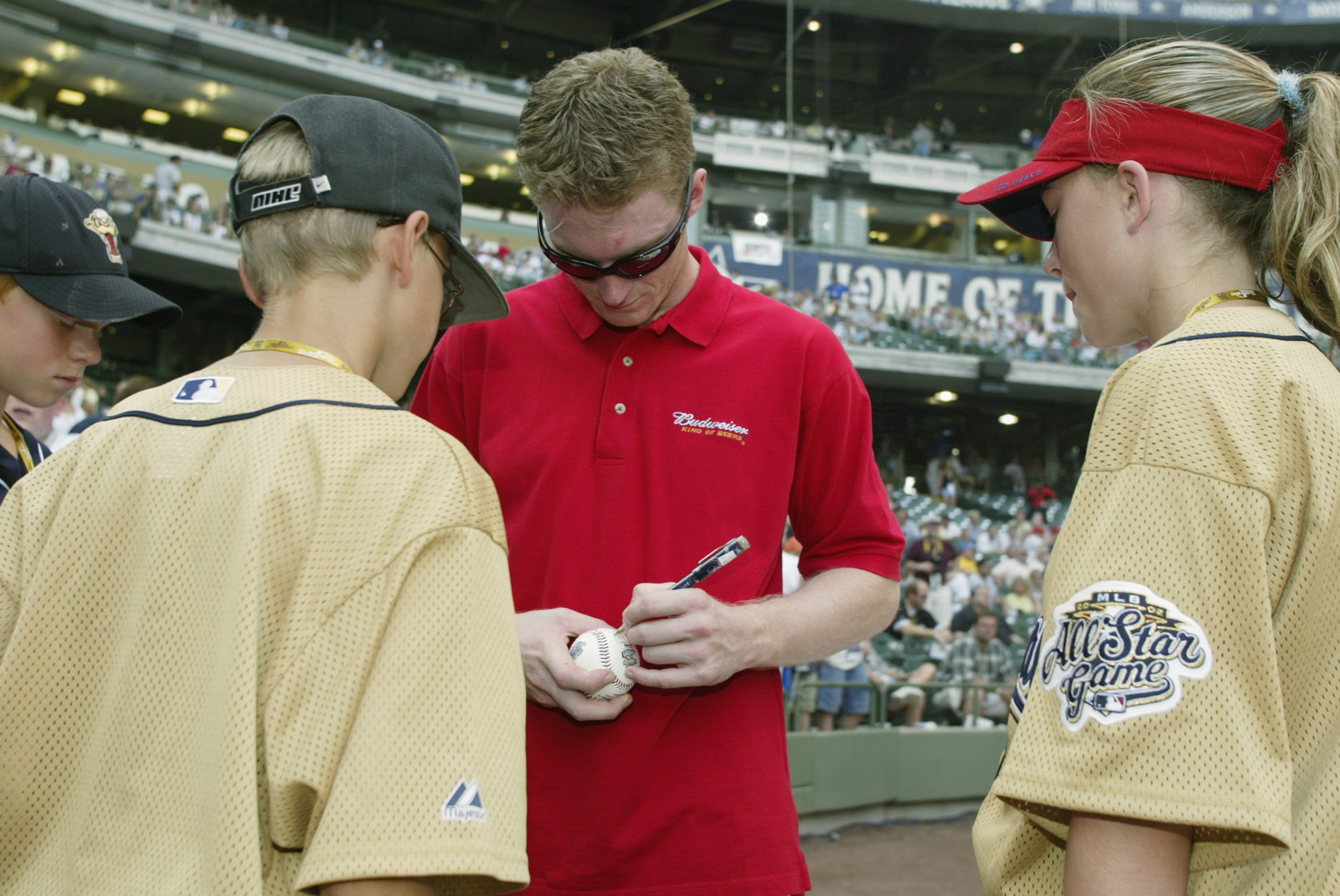 A Stunned Dale Earnhardt Jr. Came Up Big During His MLB All-Star Moment: 'I Was Freaking Out Inside'
Dale Earnhardt wasn't expecting to play baseball in 2002.
Dale Earnhardt Jr. had no idea it was coming. During his most recent episode of the Dale Jr. Download podcast, the NASCAR Hall of Famer was asked about the time he played in the Legends & Celebrities All-Star Softball Game in 2002. Junior made an appearance during All-Star Weekend at Milwaukee's Miller Park, but he was expecting just to mingle and sign a few autographs. When he was told he would be taking part in the softball game, he admitted, "I was freaking out inside." Not only did he take part in the game, but he also came up big.
Dale Earnhardt Jr. wasn't a big-time athlete growing up
It wasn't that Earnhardt Jr. wasn't a big fan of sports outside of racing. He loved football. He was on the high school basketball and soccer teams, but his physical presence was hardly intimidating. "I think I was (5-foot-3) when I got my driver's license, so I was real short," he said, according to USA Today.  
Junior recalled being about 4-foot-10 when he was entering the ninth grade and was about to enter a public high school. He wanted to play football but because of his lack of size, he was convinced to play soccer. He made the team as a reserve.
"So I played soccer anyways," he said. "I got me a letter jacket and all that. We went to states and lost, but it was a lot of fun. I played one year, and I was the backup. So I sat on the bench all year, and I got to play a couple of games. We were a pretty good team, so we would get a big lead, I would get in a couple of games, but I never got to play football, but just was a fan all these years."
Dale Earnhardt Jr. was shocked when he found out he was playing in the All-Star celebrity softball game in 2002
During the Q&A session of his latest Dale Jr. Download podcast, a listener asked Earnhardt Jr. about his appearance in the Legends & Celebrities All-Star Softball Game back in 2002. Junior didn't remember a whole lot about what happened in the game, even though he had a major impact. He did remember stressing out about playing because he wasn't expecting to be a part of it.
"This is just the way I am," he said on the podcast. "When I get asked to do things or when I used to get asked to do things back in the day like go to the MTV Music Awards and introduce Linkin Park, it was a terrifying thing. You're like, 'I know I need to do this. I want to do this but I'm scared to death to get in front of all these celebrities and everybody watching at home.
"I didn't know I was going to play in that game. It was part of the baseball All-Star Weekend festivities. There was quite a decent crowd there in the grandstands. I was going for Budweiser, but they didn't tell me anything about the celebrity game. I get there and they're like, 'Hey man, here's your uniform. Do you want to go get some batting practice?'
"I'm like, 'I don't know why I would want to do that. I just want to sign some autographs and take some pictures.' They're like, 'Don't you want to get ready for the celebrity game?'
" I'm like, 'Am I playing in that?' and they're like, 'yeah.' This is my first time hearing about it. I don't have a glove or anything. What position am I playing? I was freaking out inside. I was about to vomit."
Earnhardt Jr. took a little BP and it paid off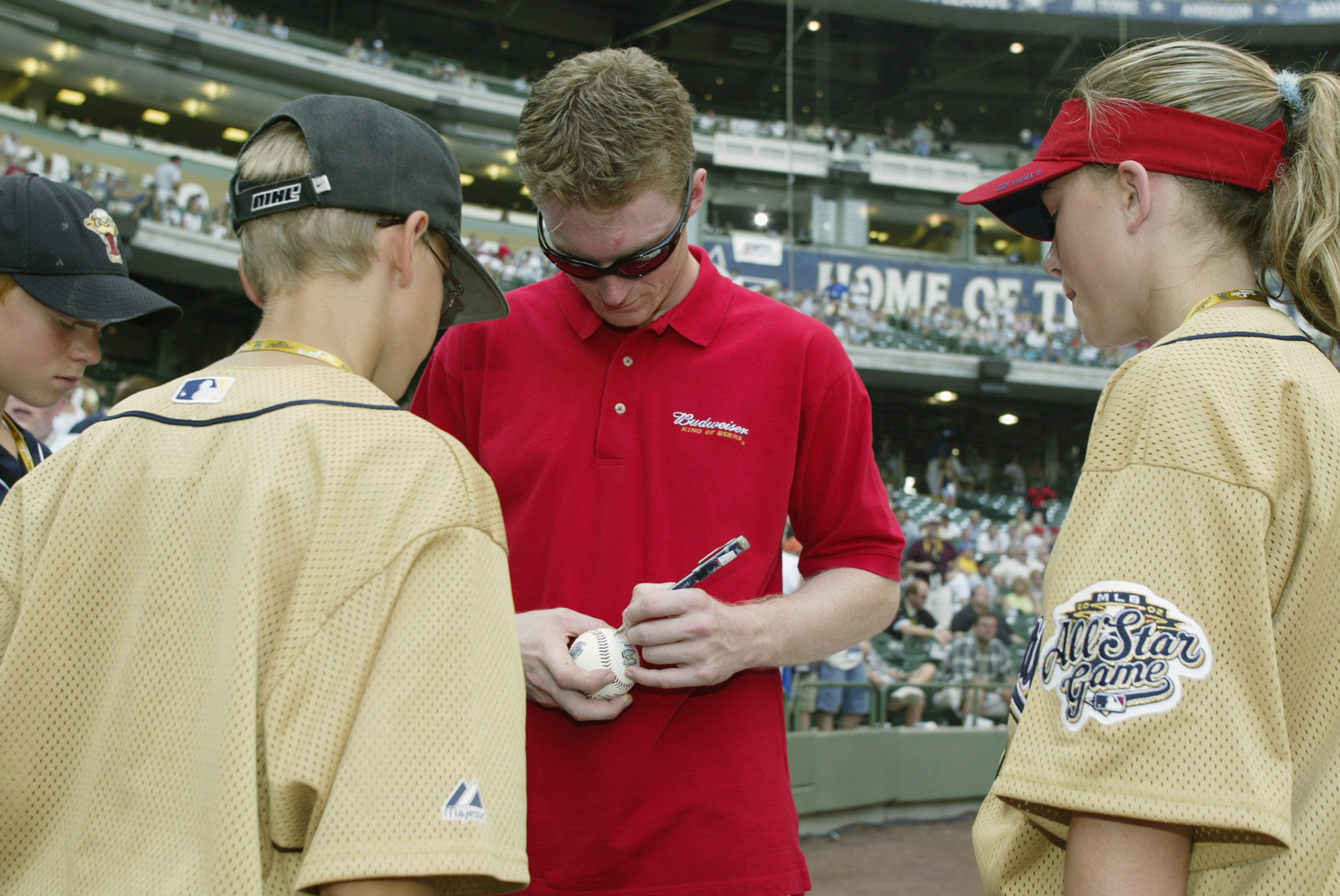 Earnhardt Jr. had never played baseball in his life. He finally went over to the practice field next to Miller Park and got in a few swings.
"I've swung a bat before but never played in any organized, even local softball league," he said on the podcast. "None of that. I've got no clue how to play third base. I can catch a ball, and I can throw a ball, but I don't know what I'm doing. It was terrifying. They put me on third base. Luckily for me, I didn't get time to show how badly prepared I was for it. There were so many people on each team that everyone was getting rotated in and out of the game in like two innings.
"I got one at-bat and got on base. I caught a pop fly from Coolio. Coolio hits a foul ball to me and I'm like, 'Oh Lord." I get under it and catch it."
Junior then caught another popup the following inning before being sent to the bench by coach Kenny Mayne. What Junior failed to remember was his only at-bat of the game broke up a no-hitter with a single to center off Dave Winfield. He apparently was too stressed out about being there that he failed to remember his offensive heroics.