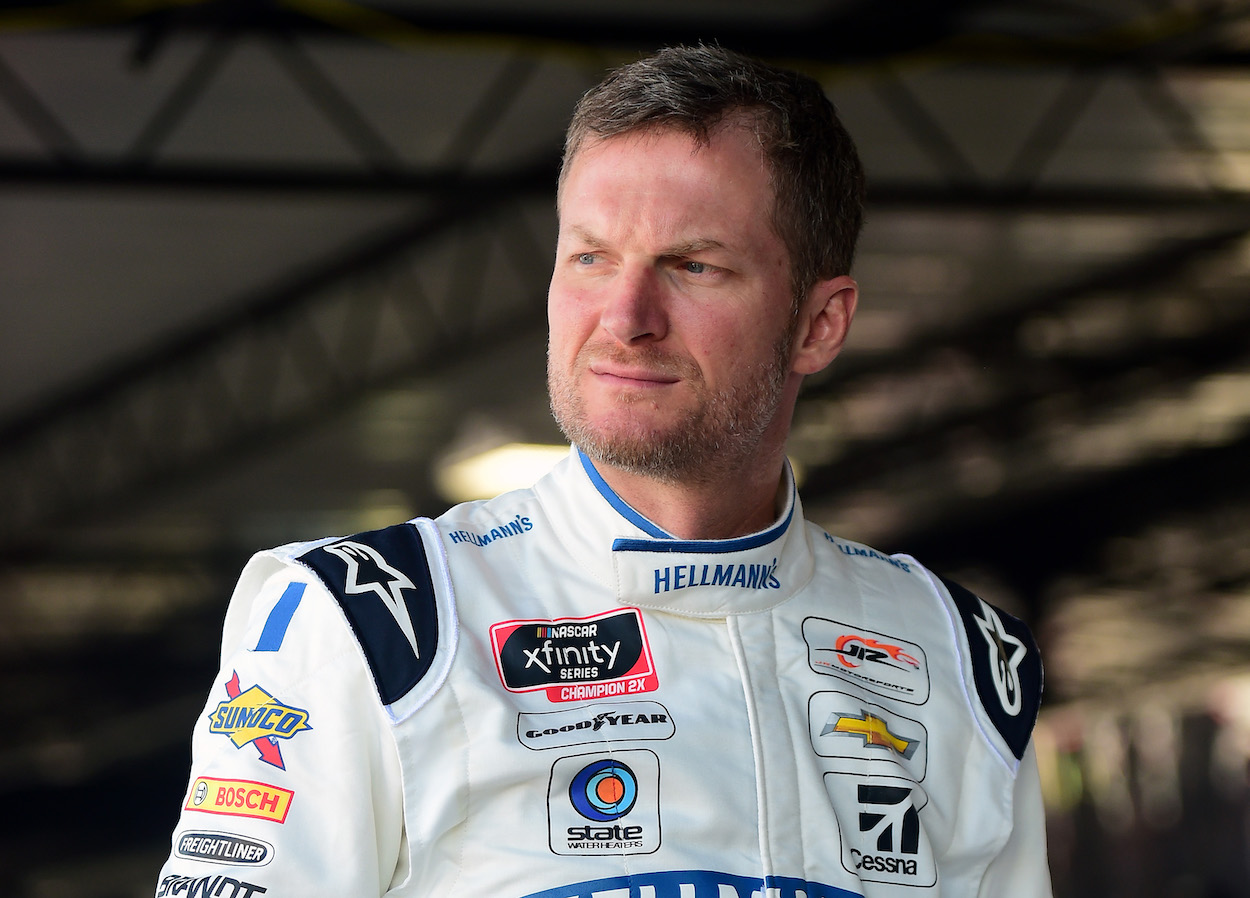 Dale Earnhardt Jr. Dramatically Reveals During Broadcast How Close He Came to Driving Atlanta Xfinity Series Race After JR Motorsports Driver Dropped Out Just Minutes Before Start
Dale Earnhardt Jr. admitted during the Xfinity Series broadcast how he almost drove the team car because team driver Michael Annett suffered an injury and couldn't race.
Dale Earnhardt Jr. retired from full-time NASCAR Cup Series racing in 2017. Since retiring, Earnhardt has raced one Xfinity Series each year. This year he's already committed to racing at Richmond in September. 
On Saturday, due to a crazy turn of events, Earnhardt almost found himself acting as an emergency substitute driver, following the unexpected loss of JR Motorsports driver Michael Annett just minutes before the race start. Earnhardt admitted during the opening moments of the broadcast how he wanted to get behind the wheel, but two things stopped him.  
Dale Earnhardt Jr.'s driver Michael Annett mysteriously misses NASCAR Truck Series race 
This week Dale Earnhardt Jr. was excited for Michael Annett. The Xfinity Series driver, who has driven for JR Motorsports since 2017, had a chance of a lifetime to return to his home state and compete with the Truck Series on the famed dirt track at Knoxville Raceway. 
Strangely, after telling reporters this week how excited he was to race at Knoxville, Annett never showed up. The truck with his name on the back was there. His race suit was there. He wasn't. 
During the entire broadcast, the announcers detailed how Chris Windom was driving Annett's truck and even wearing his suit, but never once mentioned why Annett was not in the race. Fans were left to speculate.
Earnhardt considered racing himself before getting Austin Dillon
On Saturday before the start of the Xfinity Series race at Atlanta, Dale Earnhardt Jr. revealed Annett missed the Truck Series race on Friday night because of a leg injury, which would also keep him out of Saturday's race. Then, the two-time Daytona 500 winner made another surprising admission.
"Michael Annett is not able to go because of a leg injury that he suffered. We were calling and scrambling. I'm going to tell you right now, if I had my helmet and my HANS device, I would have left you in a New York minute, Rick," Earnhardt told broadcast partner Rick Allen.
"We went through a bunch of different drivers and reaching out to everybody, scrambling to try to find out who was even here that could do the job. A lot of the Cup guys don't come in until tomorrow. Looks like Austin Dillon is down there trying to fit in the car right now, and I don't even know if he knows whether he can even fit in the car. So we can't confirm Austin."
"That was pretty crazy, by the way," Allen admitted. "He was trying to figure out if you were going to have to drive that car." 
Will race Xfinity Series in September
Dale Earnhardt Jr. joked later in the broadcast that he will bring his helmet and HANS device in the future. He then watched Austin Dillon run a solid race in the No. 1 car and finish 11th. Now Junior can focus on his broadcasting duties with an eye toward the September Xfinity Series race at Richmond.
If his past results since retirement are any indication of how well he will perform, he's earned three top-5s, including a pair of fifth-place finishes at Homestead and Darlington. His best finish of the three came at Richmond in 2018 when he finished fourth.
Based on that, Earnhardt will likely do well in September. Unexpectedly hopping in a car on Saturday may have helped sharpen his skills and would have undoubtedly thrilled those fans in attendance. Unfortunately, it didn't happen and fans are only left to imagine what might have been.
Like Sportscasting on Facebook. Follow us on Twitter @sportscasting19.