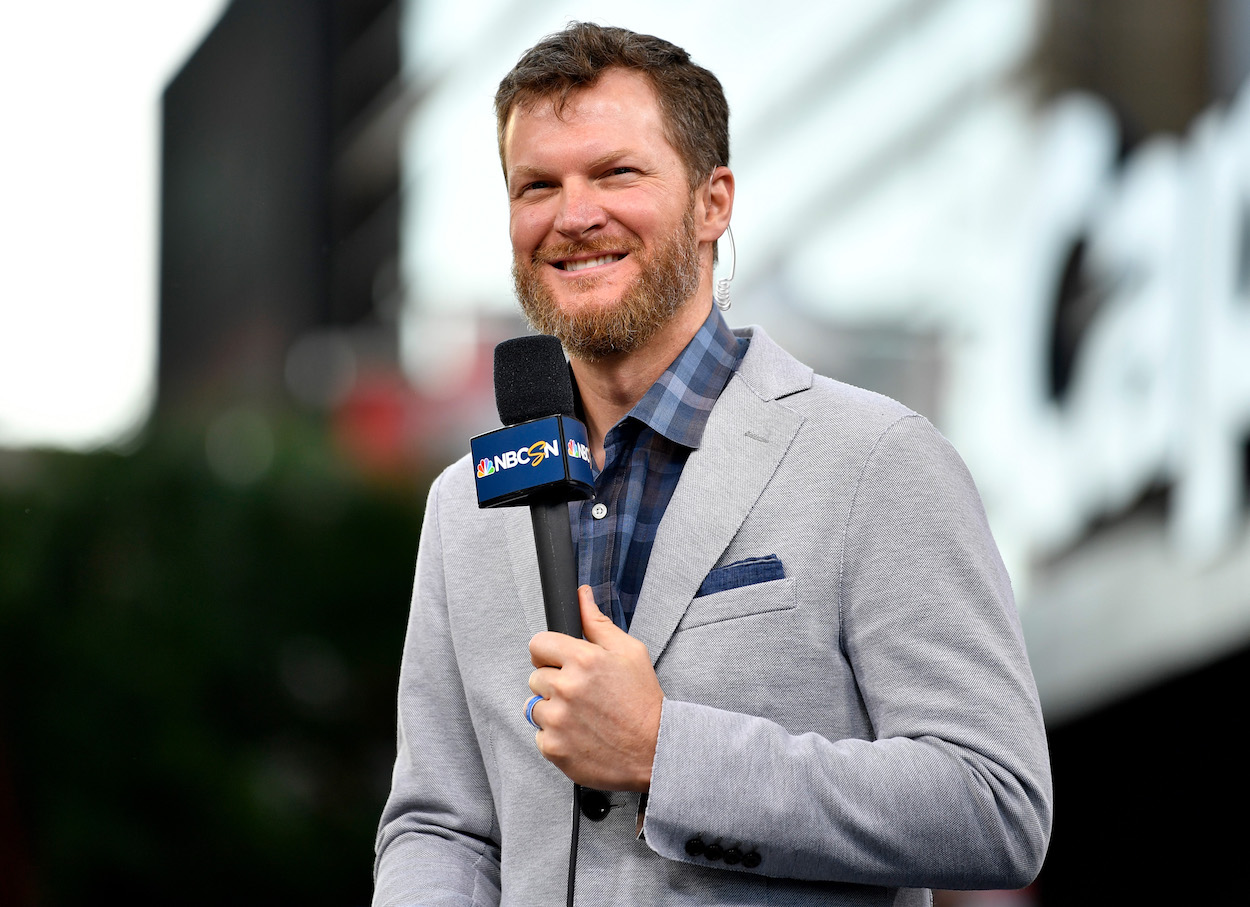 Dale Earnhardt Jr. Joining Forces With Tom Brady Inc. and It's an Intriguing Look Into the Future for NASCAR Fans
Dale Earnhardt Jr. is partnering with Tom Brady's company and venturing into the high-tech collectibles market.
Dale Earnhardt Jr. was quite successful on the race track. His NASCAR Hall of Fame induction later this week confirms that. He's also proven to be a savvy businessman with multiple prosperous ventures, including co-owner of JR Motorsports and the owner of a content production company that creates multiple popular NASCAR-related podcasts like the Dale Jr. Download. 
The two-time Daytona 500 winner recently announced that he's starting off 2022 in interesting fashion, partnering with Tom Brady's company and venturing into new territory that could be the future of collectibles for NASCAR fans. 
Dale Earnhardt Jr. successful businessman off the track
While Dale Earnhardt Jr. is undoubtedly known for his success inside a race car, including a pair of Xfinity Series championships, 28 wins in the Cup Series, and induction this week into the NASCAR Hall of Fame, he's also assembled an impressive portfolio off the track.
In addition to serving as co-owner of JR Motorsports, which has won multiple Xfinity Series championships (2014, 2017, 2018), Earnhardt has become quite adept behind the mic, working for NBC in its NASCAR coverage and hosting his weekly podcast that talks about the present and past in the world of motorsports. 
His business acumen, however, isn't limited to racing. He owns several Whisky River restaurants, a car dealership, and co-owns Filter Time, an air filter subscription service. Last year, he and his wife Amy announced a new partnership with Sugarlands Distilling Co. that includes the Earnhardt name placement on existing and new products. 
Dale Earnhardt Jr. announces move into digital collectibles market
Just a few weeks into 2022 and Earnhardt has teased his latest business venture on social media that involves working with Tampa Bay Buccaneers quarterback Tom Brady and his company, Autograph. 
"Proud to announce my Victory Lap NFT Collection coming to @Autograph," Earnhardt tweeted. "Dropping January 27. See you on the racetrack, @tombrady?"
Last spring Brady launched Autograph, which sells digital collectibles featuring some of the most well-known athletes across all sports, including Simone Biles, Wayne Gretzky, Tony Hawk, Derek Jeter, Naomi Osaka, and Tiger Woods. 
Earnhardt would certainly classify as one of the biggest names in NASCAR and fits in well with the rest of the high-profile athletes offering collections.
Speedway Motorsports first NASCAR-related business in digital collectibles
While Earnhardt is the first NASCAR driver involved in the digital collectibles market, he's not the first NASCAR entity entering the space. That occurred in September when Speedway Motorsports Inc. (SMI), which owns and operates multiple tracks, including Charlotte, Bristol, Atlanta, and Las Vegas, announced its move into NFTs.  
SMI created multiple offerings in 2021, including a variety of commemorative ticket NFTs for races at its tracks around the country. It also offered the NFTs in tiers, which included limited-edition collectibles available for purchase at the track, plus a special "Winners Edition," with the race winner receiving one and an identical version auctioned off to the highest bidder.
NASCAR is making a dramatic transition in technology during 2022 with the introduction of the Next Gen car. Off the track, it's companies like SMI and personalities like Dale Earnhardt Jr. who are trying to advance the sport in a completely new and futuristic way. 
Like Sportscasting on Facebook. Follow us on Twitter @sportscasting19.