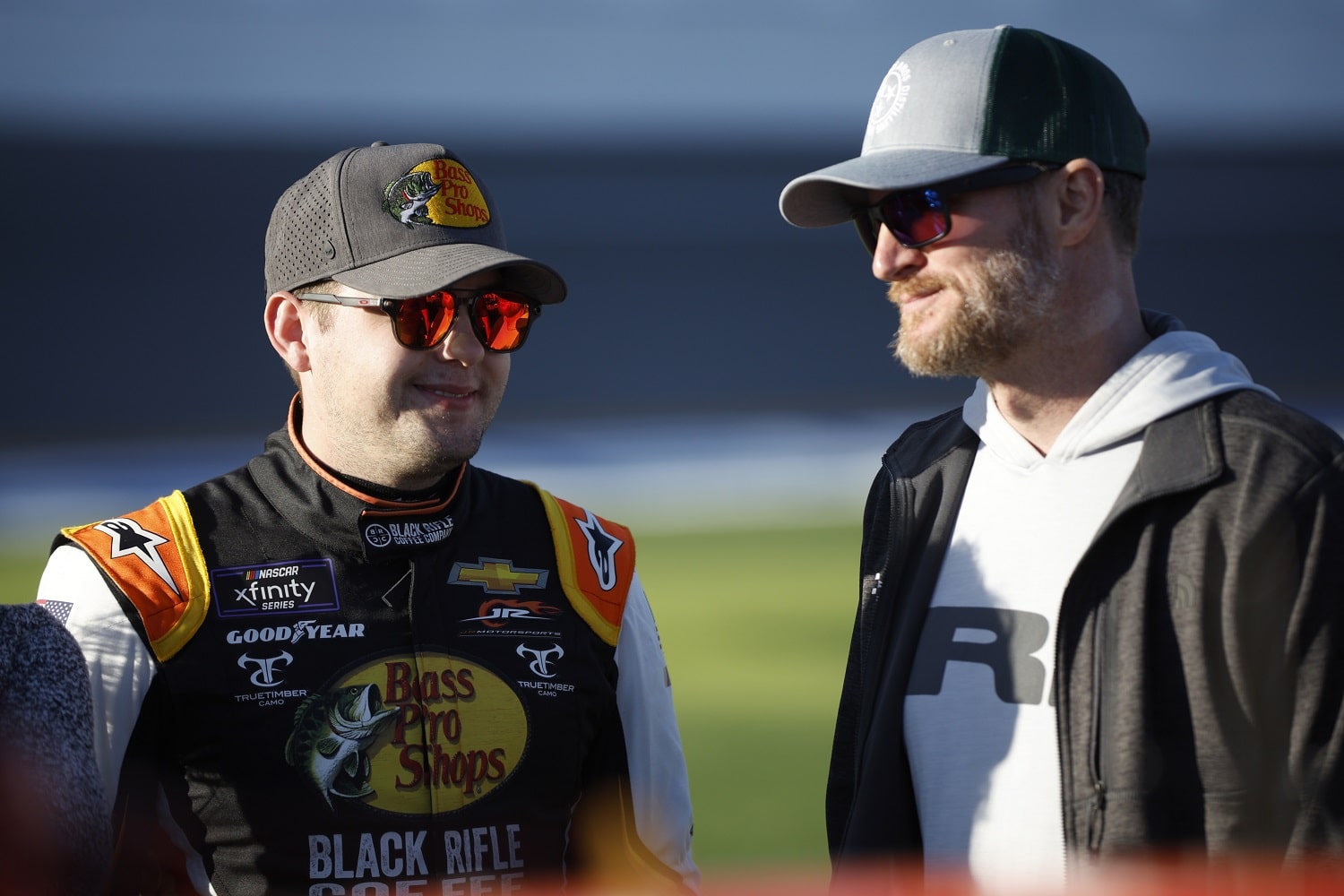 Dale Earnhardt Jr. Reveals the Impending Phone Call From Noah Gragson He's Eager to Answer
Dale Earnhardt Jr. is used to seeing his Xfinity Series drivers move up to the NASCAR Cup Series. Noah Gragson could be the next to get the call.
Just like a college basketball coach, Dale Earnhardt Jr. has mentored one-and-done stars. Chase Elliott, William Byron, and Tyler Reddick all moved on after winning a championship in their only season with JR Motorsports.
Unlike those coaches, though, Earnhardt doesn't worry about job security. That's why he doesn't mind when drivers leave for a better opportunity. In fact, he encourages it.
Dale Earnhardt Jr. runs a potent Xfinity Series team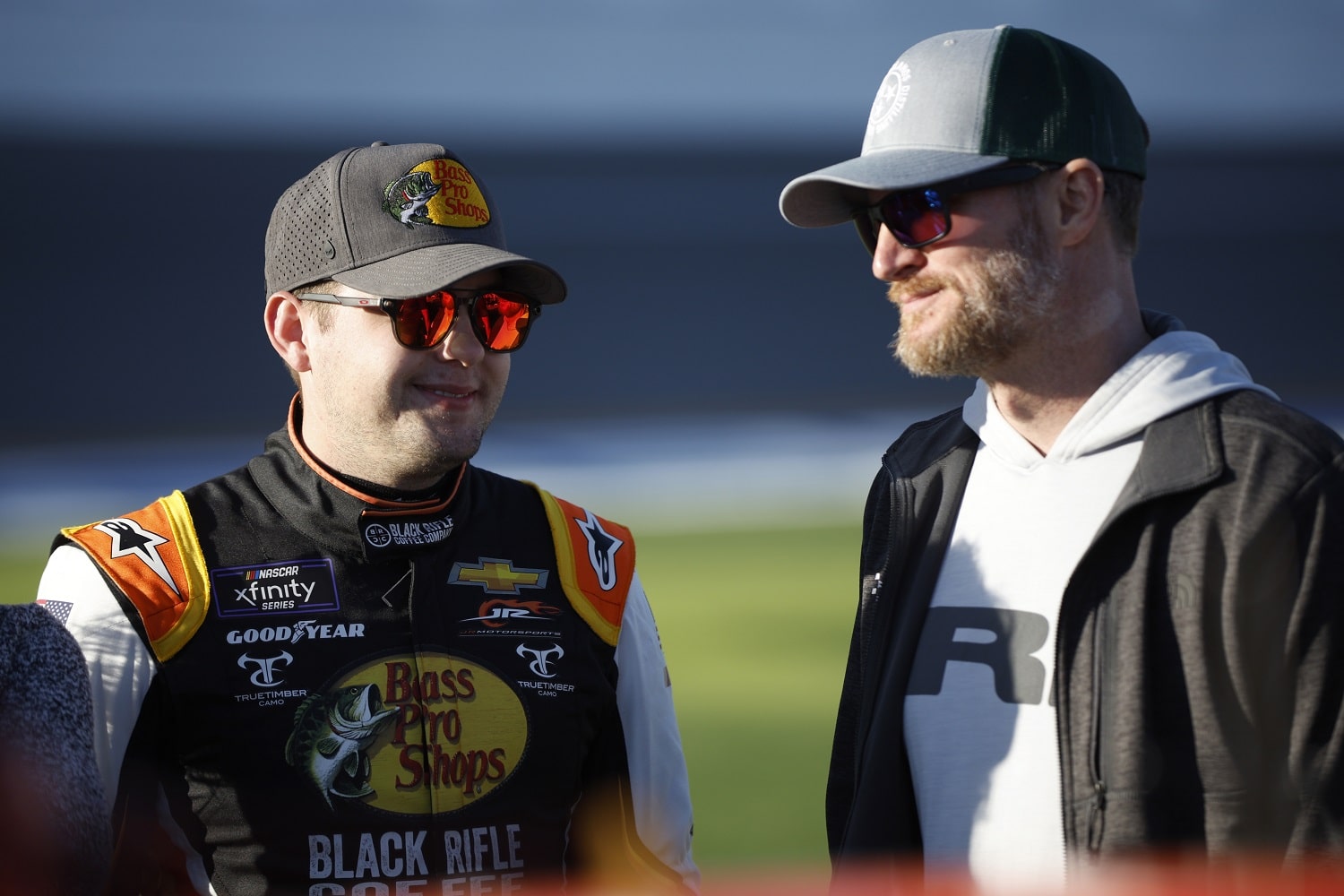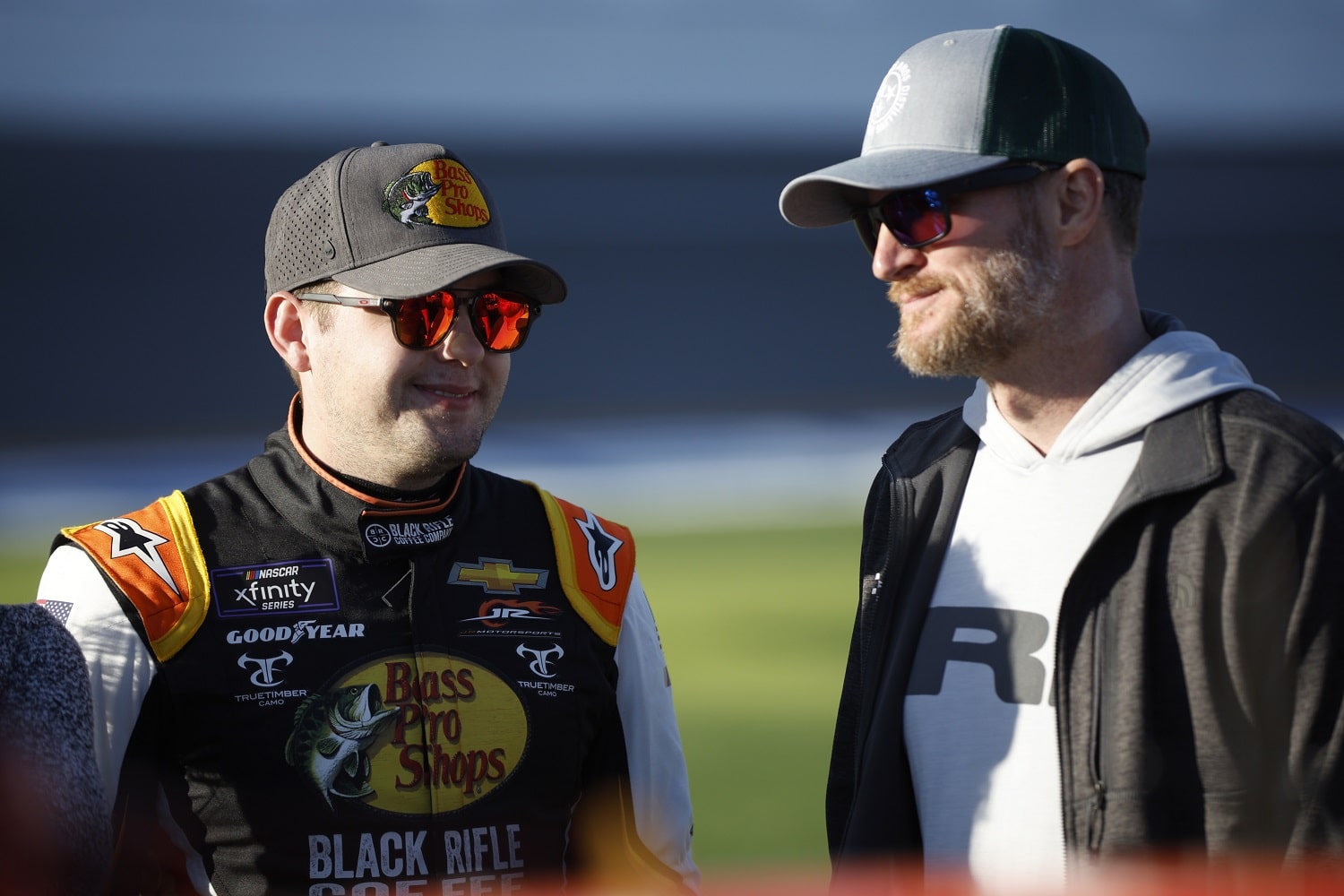 Dale Earnhardt Jr. was still early in his career as a NASCAR Cup Series driver when he branched out to start building his own racing team. It all began with putting Mark McFarland in the No. 88 Chevy at Homestead-Miami at the end of the 2005 season. McFarland placed 20th that day, and it would take until Brad Keselowski for one of Earnhardt's charges to end a season better than 25th on the season points list.
It's been a steady stream of success since. Keselowski posted a second consecutive third-place showing the following season, Aric Almirola finished fourth in 2011, and Regan Smith was third in 2013.
Chase Elliott began Earnhardt's parade of Xfinity Series champions while winning three races in 2014. William Byron captured the championship in 2017, and Tyler Reddick triumphed in 2018. Elliott and Byron graduated to the Hendrick Motorsports NASCAR Cup Series team the next season. Reddick moved to Richard Childress Racing, where he repeated as champion in 2019 and advanced to Cup racing the next season.
With Noah Gragson's triumph on Saturday at Pocono after a great duel with Ty Gibbs, JR Motorsports drivers have won 66 races in more than 1,500 starts. Aside from the three season champions, Earnhardt's drivers have ended seasons in the top five in points 20 other times.
Dale Earnhardt Jr. is happy when his drivers move up the ranks
Dale Earnhardt Jr. is used to seeing his drivers leave JR Motorsports for the chance to race in the NASCAR Cup Series. It's the nature of the Xfinity Series, which can be somewhat lucrative for successful drivers but has always been a development circuit for the top series.
Earnhardt always assembled a deep roster and doesn't have a Cup Series team (yet). That means owners keep close tabs in case they need to make a new hire.
"I can't wait for the phone to ring for any of our four guys to get a call," Earnhardt told NBC Sports. "I want to know about it as soon as it happens. I can't wait to help them to make a decision of whether that is a smart move or not.
"I was in the foyer of my house when Aric Almirola called me. He said, 'I got some tough news.' He said, 'Richard Petty has called me to see …'
Earnhardt interrupted Almirola before he could finish the thought.
"You've got to go.' I didn't even let him finish his sentence," Earnhardt recalled. "That's it. That's what we do this for."
Noah Gragson is likely to be the next to go
Saturday's thrilling finish at Pocono Raceway marked Noah Gragson's third Xfinity Series win in 2022 for JR Motorsports. Gragson also runs limited Cup Series schedules for Kaulig Racing and Beard Motorsports, and full-time employment may be coming. His is mentioned prominently as a candidate to replace Ty Dillon at Petty GMS.
"It's kind of getting pulled up from the minors," Earnhardt said. "It could happen any minute. In the middle of the year. I'm excited anytime that happens and the potential for Noah to have that opportunity.
"I'm waiting. I'm waiting to hear that phone ring any second for him and for any of our guys."
All stats courtesy of Racing Reference.
Like Sportscasting on Facebook. Follow us on Twitter @sportscasting19 and subscribe to our YouTube channel.
Got a question or observation about racing? Sportscasting's John Moriello does a mailbag column each Friday. Write to him at [email protected].