Dale Earnhardt Jr. Has a Unique Way of Remembering the Random Fans He's Met
Dale Earnhardt Jr. built up a great resume during his career journey in motorsport racing. Even though he wasn't able to realize the same level of success as his father, he was still made famous and accumulated a massive net worth. Earnhardt Jr. began racing to aim to create a positive relationship with his father and proved to be talented. In 1996 he made his Busch Series debut, and in 1998, he made it to the Cup Series. Meeting fans along the way, Earnhardt Jr. was able to come up with a neat way of remembering them.
Dale Earnhardt Jr.'s achievements and wishes for his fans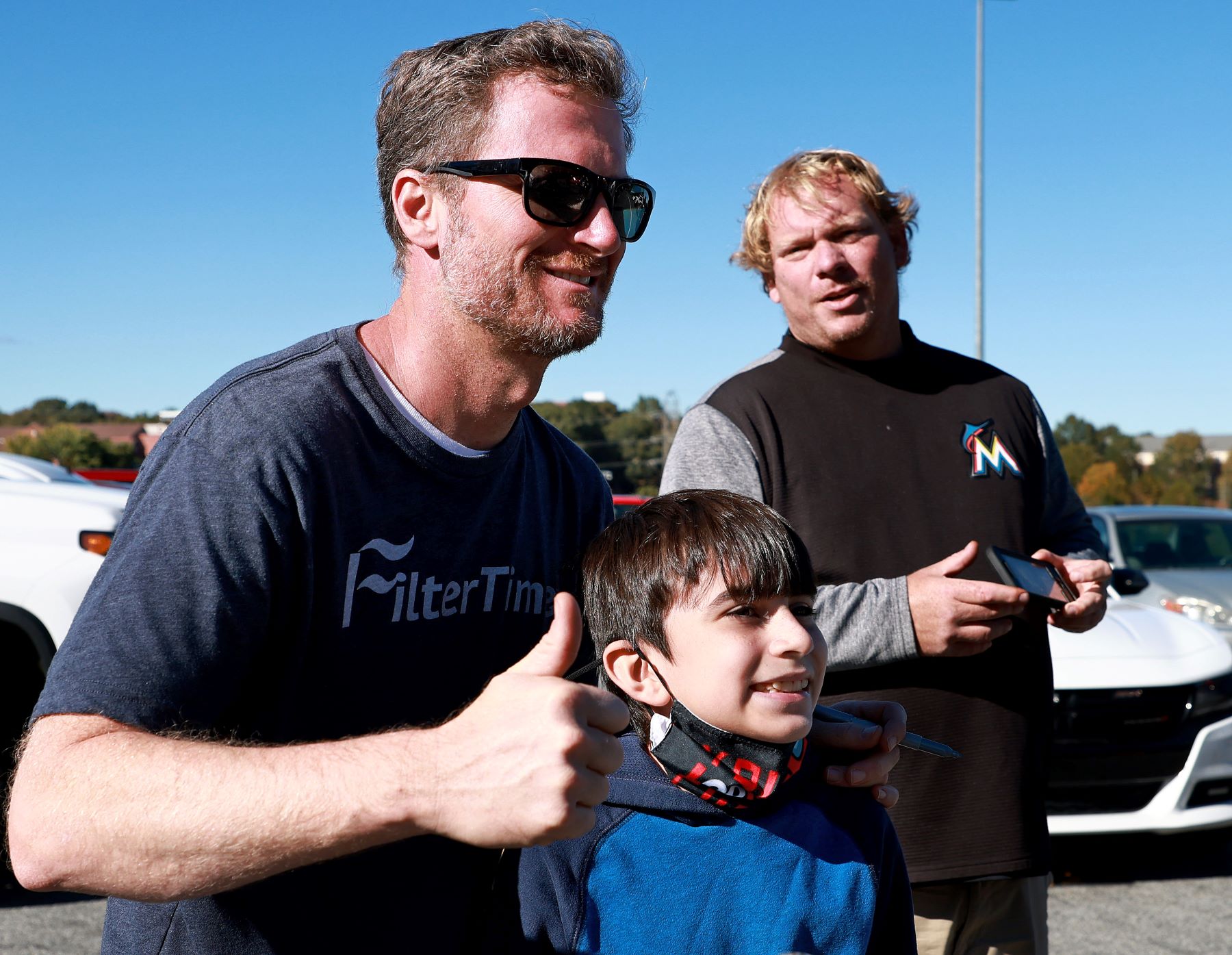 Dale Earnhardt Jr. has won two Busch Series crowns. On top of that, Dale Earnhardt Jr. won 50 races in two series he participated in, claiming 15 NASCAR' Most Popular titles and winning two Daytona 500s. Earnhardt's popularity with sponsors and fans enabled him to make more than $400 million from salary, race winnings, and endorsements.
Earnhardt Jr. retired in 2017 but still races occasionally and still works with media and in his JR Motorsports. Currently, his net worth is $300 million. Earnhardt's only wish to his fans is to remember him for something other than NASCAR success.
Earnhardt Jr.'s way of remembering fans
Who does not want Dave Earnhardt Jr.'s' autograph on a painting, mobile cover, or on their palm? Earnhardt Jr. is regarded as racing royalty and was among the sport's most famous drivers throughout his profession. The excellent news for racing lovers is that Earnhardt Jr. was always aspiring to satisfy his supporters, limiting them to a single regulation. Dale Earnhardt Jr. did not want to associate himself with weeping fans.
During a press conference in 2013, Earnhardt declared he recalls fans who bring distinctive gadgets for him to autograph. Earnhardt Jr. categorically used a die-cast model vehicle as an illustration.
"It's something distinctive to them in any location I go, 'yeah! The person with the ornament! Generally, it may be a narrative they express to me or a special thing when I identify them years later, they say,' hi, I'm the person who made this experience take place.' That's the simplest way for me to recall."
Before a race, Earnhardt Jr. only prioritizes fans who want signatures, not photographs, to avoid wasting time and not having distractions before he gets to the race, according to USA Today. After his race, however, Earnhardt Jr. says he has more windows for issuing autographs and even taking photos with fans. Usually, he allocates 30 minutes for that.
How Dale Earnhardt Jr. holds onto most of his memorabilia
From USA Today, Dale Earnhardt Jr. explained that he collects as much of his memorabilia as he can. Even though most drivers' suites end up at charity events and other similar occasions, he tries to hold back a few helmets each season. Among the six uniforms made for each season and paint schemes, Earnhardt Jr. remains with at least one.
One of the craziest expensive sales of his collectible includes the sale of his Autographed Wrangler Jeans Jacket, as documented by Jaqueline Stallone. The jacket, marked as a rare collectible, sold at $4,535.99. The jacket produced by Sports memorabilia and autographed and owned by his father was authenticated by James Spence Authentication. The piece is still available for sale on Amazon.
RELATED: Dale Earnhardt Jr. Addresses Fans Who Take Passion Too Far and How It Adversely Affects Relationships With Other Drivers