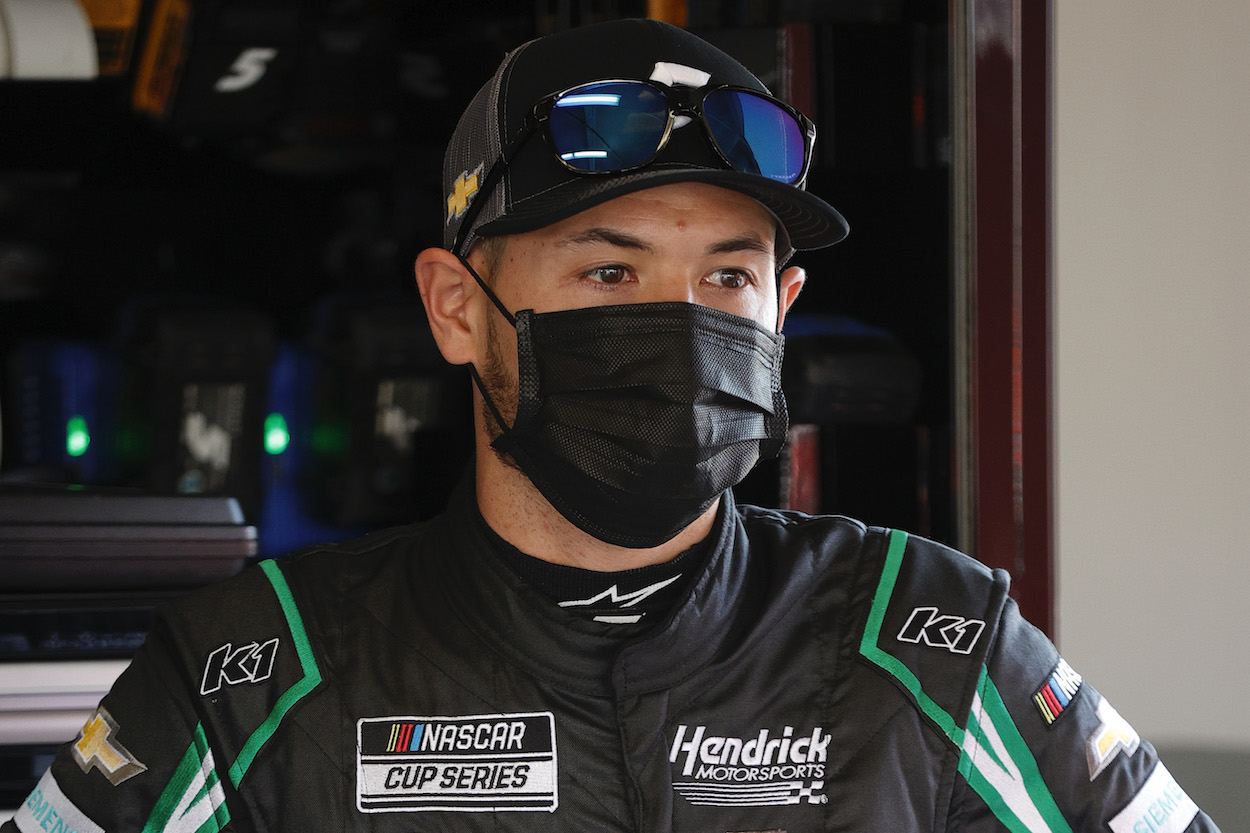 Dale Earnhardt Jr. Sends NASCAR a Warning About the Return of Kyle Larson in 2021
Kyle Larson returns to NASCAR in 2021 after almost a year layoff and according to Dale Earnhardt, Jr., he expects the No. 5 car with Hendrick Motorsports to have an impressive season.
Like most people, Kyle Larson couldn't be happier 2020 is in the rearview mirror. In addition to dealing with the pandemic, Larson dealt with the consequences of a career-altering mistake he made that led to a suspension and cost him his reputation and millions of dollars.
NASCAR reinstated Larson late last year for the 2021 season. Now, driving for the Hendricks Motorsports team and just days before the Daytona 500, Dale Earnhardt Jr. offered up his thoughts on the 28-year-old driver and his return for the upcoming season and sent a warning to his competition.
Kyle Larson suspended last season for racial slur
Since making his debut in 2013, Kyle Larson has been successful with the NASCAR Cup Series, winning six races, including his best year in 2017 when he won four times. After the 2019 season where he finished sixth in the season-ending points standings, there were high expectations for Larson in 2020.
That all came crashing down in April when Larson was driving in online virtual races with other NASCAR drivers and used a racial slur. NASCAR indefinitely suspended him, the Chip Ganassi Racing Team fired him, and he lost all of his sponsors.
Kyle Larson took the mandatory sensitivity training required of NASCAR, and to his credit, he didn't stop there. He went on a self-exploratory journey, visiting the George Floyd memorial, meeting with Olympic legend Jackie Joyner-Kersee and fellow driver Bubba Wallace. Larson admitted he was a changed man late in 2020 and NASCAR took notice and reinstated him, effective Jan. 1, 2021.
Joins Hendrick Motorsports
The NASCAR rumor mill swirled for months on where Kyle Larson might land upon reinstatement. That speculation ended in late October when Hendrick Motorsports announced Larson would be driving the No. 5 car in 2021. 
"Kyle is unquestionably one of the most talented race car drivers in the world," said Rick Hendrick, owner of Hendrick Motorsports. "He has championship-level ability and will be a significant addition to our on-track program. More importantly, I have full confidence that he understands our expectations and will be a tremendous ambassador for our team, our partners and NASCAR. Kyle and I have had many, many conversations leading up to today's announcement. I'm confident about what's in his heart and his desire to be a champion in all aspects of his life and career. Kyle has done important work over the past six months, and Hendrick Motorsports is going to support those continued efforts."
While Kyle Larson is undeniably talented and racing with one of NASCAR's top teams for 2021, there's still some question about rust and how long it will take him to get back up to speed. Despite racing on dirt tracks for much of the year, he last raced on the Cup Series in early March when the pandemic shut down the sports world. 
Dale Earnhardt expects a big year for Kyle Larson in his return
With the Daytona 500 and start of the 2021 NASCAR season just days away, Dale Earnhardt resumed his Dale Jr. Download podcast this week and took audience questions. When asked which driver might surprise this upcoming season, Earnhardt didn't hesitate in bringing up Kyle Larson. 
"I don't know if it would surprise anybody if Larson has this incredible year and makes it all the way into the final four, but he's a guy that I would not really be surprised. He might be a little lukewarm to start the season because he's got to get his legs again. I don't care what sport you're in, this is the elite level, right. If you take a year off and come right back in, there's a bit of a period where you got to get yourself back in shape, get mentally conditioned for what's happening on the race track.
"I think once he does that — whether that takes a week, a month, whatever — I think that he can position himself into a great run in the playoffs and be a guy that could be hard to beat. Plus, with the success that the No. 9 car had, Chase Elliott, to lean on his teammate, their ability to be a championship team, I think Larson will be pretty tough this year."
Kyle Larson's much-anticipated return to NASCAR begins on Sunday. No one knows for sure whether or not he will find his old form at the Super Bowl of NASCAR or if it might take a little bit longer. Simply based on his past track record, Earnhardt and many others think his return to victory lane is just a matter of time. 
Like Sportscasting on Facebook. Follow us on Twitter @sportscasting19.